Six Startups Inspired by Dogs
An uptick in dog adoptions gives rise to a boom in sales for Minnesota-made pet products and services.
Pet ownership is at an all-time high, thanks to a rush of more than 23 million pandemic adoptions, and more dogs mean a bigger market for treats, gear, and accessories. In 2021, U.S. pet owners spent more than $44 billion on food and treats for their furry friends, and that demand is spurring growth for industry stalwarts and pet-centric Minnesota startups alike. From organic treats to pet portraits, here are a few local businesses to keep an eye on.
​​Project Hive Pet Co.
HQ: Minneapolis
Founded: 2021
Products: Dog treats and toys with a mission to save the bees. Owners Jim Schifman and Melissa Rappaport Schifman leverage their experience in retail and passion for sustainability to prompt "purchases with purpose." In modern designs inspired by beehives, the toys are nontoxic, BPA-free, dishwasher safe, and made of recyclable material. The vegetarian dog treats have no artificial flavors or colors. Give-back: One percent of every purchase goes to creating a healthy habitat for butterflies and bees. Pet favorite: Hive Chew Treats and Chew Sticks help clean your dog's teeth and freshen their breath. Each treat is "kissed" with honey from local bee farms. Where to buy: Major retailers and local shops like the Wedge and Bone Marche; projecthivepetcompany.com
---
Luca's Dog Boutique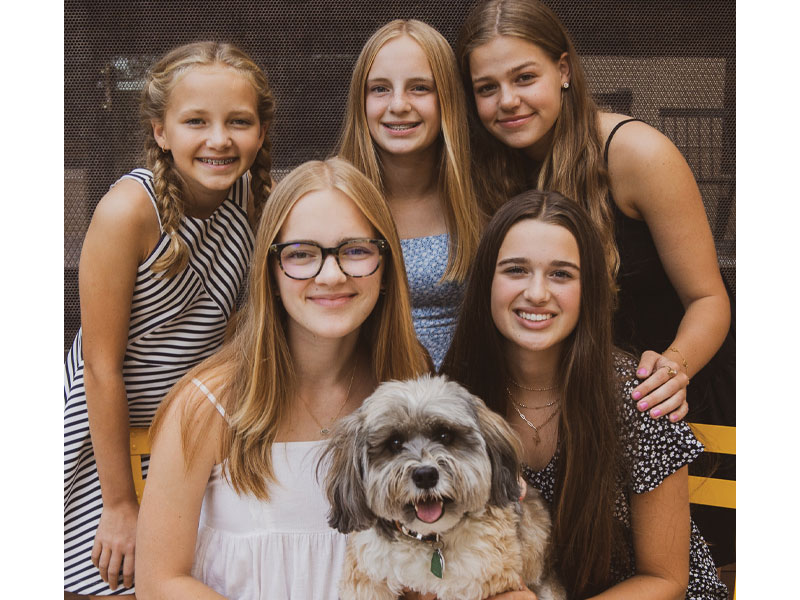 HQ: Edina
Founded: 2017
Product: Organic, high-protein dog treats made by a group of 14-year-old girls from Edina. The friends bonded over their shared love of dogs and entrepreneurship. They started selling at lemonade stands when they were still in elementary school, and three years later, the product line was picked up by Lunds & Byerlys. With growing demand, the girls outsourced treat baking to a professional kitchen. They've still got to keep up with school, after all.  Give-back: Luca's donates at least 5%of its sales to Como Zoo and the Animal Humane Society. The company also hires seniors and people with disabilities as bakers. Pet favorite: Organic peanut butter and pumpkin-flavored treats. Where to buy: Select Lunds & Byerlys; lucasdogboutique.com
---
Adventure Is Barking
HQ: Twin Cities (locations vary)
Founded: 2018
Dog training beyond the classroom. With the new wave of people who treat their pets like family members, Sara Spevacek saw an opportunity to humanize obedience school, so to speak. Spevacek's real-world training program can include taking your pooch paddleboarding on Lake Minnetonka, skijoring winter trails around town, or socializing at dog-friendly breweries. One collar does not fit all, and neither does one training regimen. Give-back: The company recently launched Adventure Is Barking Assistance Canines, a nonprofit program to train service dogs. Sign up: adventureisbarking.com 
---
K Schulz Photography
HQ: Bloomington
Founded: 2012
Kelly Loeffler, a 10-year veteran, has worked with nearly every type of dog out there, offering a mix of posed and candid photography in natural surroundings to capture the bond between pet and owner. Loeffler started out as a wedding and baby photographer but gravitated to furry subjects when she began taking photos at local dog shelters. Many clients recommend Loeffler for her ability to work with animals—although, as she likes to joke, it's easier than human subjects because the dogs don't talk back. Give-back: Loeffler donates dog portraits to local rescue services. Pet favorite: Sunflower minis. Scheduled in advance; photo shoot in August when fields are in full bloom. Book a shoot: kschulzphotography.com
---
Must Be Ruff
HQ: Brooklyn Park
Founded: 2021
Raised on a farm in Mississippi, Reggie Carter had animals that lived to nearly 20 years old. When he got his first dog, a Doberman named Kirby, Carter became interested in why the breed's lifespan was more like 10 years, and how diet affected dogs' health. He sought advice from a veterinarian and began experimenting with homemade dog treats that contained oils, fats, protein, and vitamins. When he shared his treats with friends who had pets, they wanted more. That inspired Must Be Ruff, a gourmet dog bakery selling fresh treats with locally sourced ingredients. Give-back: Must Be Ruff donates treats to local dog shelters. Pet favorite: The Ruffcake, made of carrot, applesauce, and pumpkin with a small cinnamon pumpkin "bone" on top. Where to buy: Available at eight Twin Cities locations including Able Brewery; mustberuff.co
---
Loon and Beau
HQ: Maple Grove
Founded: 2019
Danica Reitzner started making bow ties and bandanas three years ago, and pups (or, at any rate, their owners) responded: she doubled her profit in year two and tripled it in 2021. The products are available in a wide array of whimsical patterns and vibrant colors, and Reitzner sources her materials locally. Custom designs are available. Give-back: Loon and Beau donates 20 percent of profits to local rescues and nonprofits. Pet favorite: Plaid flannel bandanas, which come with a reclaimed leather clip to hold the bandana in place. Where to buy: Available online and three local stores, including Fox Run in Maple Grove and Stillwater-based Smith + Trade Mercantile; loonandbeau.com 
---
SHOP LOCAL: Copilot Dog Outfitters is a full-service pet boutique in Linden Hills that specializes in gear both functional and fashionable. A go-to for doggie snowshoes (paw-shoes?), carriers, and other lifestyle accessories. copilotdogoutfitters.com