Business Optimism Still Strong But Concerns Are Growing
Chief among them: finding and keeping good talent, and intensifying trade conflicts
The economic forecast for Minnesota this quarter: steady as she goes, with a slight pull back in business investments, continued desire to hire more people and increased concerns over foreign trade policies in Washington, according to TCB's Quarterly Economic Indicator study conducted in late March.
Fewer of the 245 business leaders responding to the study this quarter say they expect business conditions nationally and globally to improve during April, May and June. Forty-one percent express optimism—down from a record 52 percent last quarter and before President Donald Trump began a trade conflict with China.
Meanwhile, 20 percent of respondents now expect conditions to worsen, up from only 10 percent responding about anticipated conditions during the first quarter.
Economic optimism cools a bit when getting closer to home: 32 percent of respondents expect economic conditions in Minnesota to improve in the months ahead—about the same as the sentiment heading into the last quarter. But 20 percent expect conditions to worsen, which is twice that of last quarter's. This also could be due to Trump's recent foreign policy initiatives that attack NAFTA and China: Minnesota's three largest export countries are Canada, Mexico and China.
TCB's findings of higher economic confidence in the previous quarter (January through March) was similar to what Creighton University found with its nine-state Mid-America Business Conditions Index released April 2. Its research found Minnesota manufacturers' production, order and hiring levels through March were the strongest they've been since June 2017. But it also found economic confidence began to slip here and elsewhere in the nine-state Midwest region during that month as trade concerns began to increase.
Minnesota's greatest economic concern continues to be finding qualified talent. TCB's study found 61 percent of respondents expect finding qualified talent will become more difficult this quarter —the highest percentage recorded since this survey started in the summer of 2011. Only 0.8 percent said they thought it would become easier, which is also a new record.
Nonetheless, 44 percent say they plan to increase hiring in the second quarter, compared with a trailing average of 36 percent; only 5 percent plan to reduce. Fifty-four percent say they plan to increase wages, the second-highest percentage since TCB began tracking this indicator at the beginning of 2016 (it was highest last quarter). Meanwhile, 45 percent of employers say they expect to keep wages the same.
Among other indicators, capital expenditures are expected to increase at 40 percent of the companies responding to the survey. This compares with a trailing average of 33.8 percent. But 10 percent of respondents now plan to reduce spending, up from only 7 percent from last quarter and the highest since fourth quarter of 2016.
Twenty-seven percent of business leaders plan to increase R&D spending, higher than in recent quarters but slightly below 28.1 percent a year ago at this time. Here, too, more plan to retract: 10.8 percent plan to reduce spending, which is the highest level since the end of 2016.
Revenue is expected to grow at 55 percent of businesses responding to the survey, about the same as last quarter and above the 26-quarter trailing average of 50 percent. Profit margins are expected to increase at 34 percent of responding businesses, compared with a trailing average of 29 percent.
TCB's quarterly study also asks respondents to tell us what they expect to be their greatest business challenge in the second quarter. Finding good employees topped the list among the 198 written responses, with nearly half of the answers expressing this concern. Among the other issues:
"Increased costs due to tariffs on steel and aluminum."
"Employee productivity enhancements."
"Inflation. We have started to see significant increases in prices on raw materials."
"Minnesota taxes. 83% high school graduation rate. Met Council. Minneapolis involvement in employee matters."
"Finding motivated individuals with the necessary skill levels. The school systems no longer have shop classes and [support a] culture of anti-interactivity with others on a face-to-face setting."
"Finding 'qualified' employees is not nearly as difficult as finding people 'interested' in working."
"Political uncertainty, primarily out of Washington, D.C., but also at the state level."
"New business. With the current tax structure in Minnesota, our potential clients are moving to low personal and business tax states."
Given a chance to add their opinion on any other issue, 38 respondents chimed in. Here are a few of their responses:
"Our politicians brag about the state budget surplus but young Minnesota families can't find affordable housing. Where are our priorities for the future?"
"We need less welfare benefits to bring employees back to the working environment. We need our education system to realize that the product of their efforts [is] not employable."
"Trump's tariff games could throw us into a manufacturing recession very quickly. This has influenced my answers to the above questions."
"Overall, corporate tax and especially 'S-Corp' tax structure is not competitive in this state. Looking to expand in more tax-friendly states and eventually will move."
Another question asked whether those businesses that plan to expand will do so in Minnesota. This quarter, 55 percent indicated they will, down from 59 percent last quarter and the same as one year ago at this time; 28 percent said they won't—the highest level since second quarter of 2016.
---
Gov. Mark Dayton's Approval Rating
31% % (slightly below last quarter's 32.1%) The governor's approval rating amongst Minnesota business leaders decreased from 33.5 percent a year ago at this time. The percentage of those who disapprove of the governor came in at 56.3 percent, about the same as last quarter and one year ago. Slightly more people are "unsure" today than in the previous periods.
---
Key Forward-Looking Indicators
Below, percentage of respondents anticipating increases or improvements in these areas during the second quarter of 2018. Note: this is diffusion-indexed.For each question, all responses for "increase" added to one-half of responses for "maintain/stay the same." Above 50 is positive; below is negative.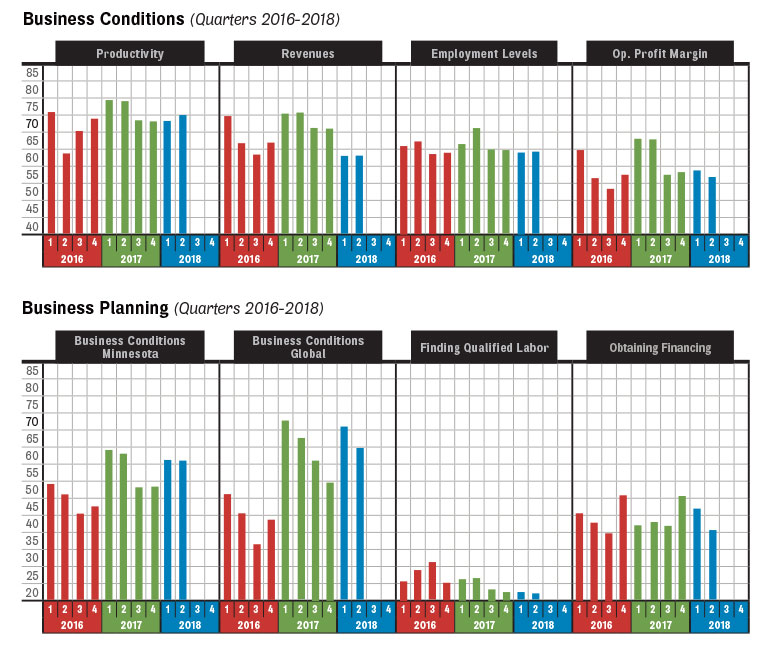 Minnesota Economic Outlook Index
Survey responses are used to compile TCB's Minnesota Economic Outlook Index, which comes in at 52 this quarter. This is down from last quarter's 53.4, and last year's second quarter (53.7). An index above 50 indicates healthy business growth; below signals slowing business growth. This indicator compares with a 26-quarter average of 52.4.
---
Who's Investing, By Industry
Percent of 245 Minnesota businesses, by industry, that anticipate increases in these areas during the second quarter of 2018.
---
Who's Investing, By County
Percent of respondents, by county, that anticipate increases in these areas during the second quarter of 2018.
Methodology
Twin Cities Business conducts its survey quarterly to provide a look at business planning and sentiment among leaders across all industries in Minnesota. An email link to an online survey was sent to 13,185 Minnesota business leaders in mid-March, and reminder emails were sent the following two weeks to those who had not yet completed the survey. The Minnesota Chamber of Commerce provided some of the email addresses used in this outreach. As of March 26, 245 leaders responded, resulting in a 1.9 percent net response rate.