The New College Normal?
Covid-19 is forcing schools to be ready to deliver high-quality courses online in 2020-2021.
Before the Covid-19 pandemic hit, online postsecondary programs had been growing in popularity. "Online learning has evolved by leaps and bounds in recent years," says Rick Revoir, former dean of the Stender School of Business and Technology at the College of St. Scholastica in Duluth. It now offers nine graduate and undergraduate online degree programs. "This is due to better technologies, but it also helps that more and more people have access to the internet," Revoir notes.
The virtual boom started well before the virus began to spread. At the University of Minnesota's Carlson School of Management, online classes made up nearly half of the course enrollments in the MBA programs. "We don't think of online as a cheap alternative," says Joel Waldfogel, associate dean of MBA and MS programs and a professor of economics and of strategic management and entrepreneurship. "It's not our discount brand."
Starting in March, colleges and universities at every level were forced to shift to remote delivery of their programs. Now, as they mark the beginning of the traditional school year and the coronavirus is still not under control, there are signs that digital technology may permanently change the way institutions of higher learning offer their programs.
Online models
While online learning was thrust into the national spotlight because of Covid-19, it isn't new to those who like the convenience of the practice. Numerous U.S. colleges and universities have offered at least some courses that students can take via their laptops. Some institutions, notably Minneapolis-based Capella University, are exclusively online.
St. Scholastica's Revoir describes the dominant demographic for online learning as "working adults in various stages of their careers who want to advance within their careers or change careers." Andrea Carroll-Glover, vice provost for online strategy and programs at Saint Mary's University, says students want flexible ways to continue their education.
People who are working while they're doing their program still like interacting with each other, and they still derive a lot of benefit from interacting with the faculty."

—Anne McCarthy, Hamline University
"The demand has continued to grow for online options," Carroll-Glover says. "Before online was available, many students who wished to weren't able to go back to school." In addition to the flexibility, she adds, part of the appeal of online learning for many students is "leveraging a community of learners that is potentially more diverse, because you're able to draw from outside of a specific geographic region, really enriching that teaching and learning experience, and bringing greater diversity of thought."
For students requiring that flexibility, online programs have typically offered what are called asynchronous courses. These courses don't "meet" at set times, except for meetings that the learner and the instructor might schedule. Learners listen to lectures as they fit their own schedules and work with their instructors virtually. A learner might get together with other students in the course, but that, too, is done all online. 
An increasing number of remote-learning courses follow what educators call a hybrid format. Students do most of their work online, but they also may come to campus from time to time to meet in person with the instructor and fellow students. Depending upon the level of Covid-19 infection in the fall, some colleges could use the hybrid approach.
Before the pandemic, hybrid courses had been growing a great deal, says Anne McCarthy, dean of the Hamline School of Business and professor of management at Hamline University in St. Paul. "We think they combine the best of both worlds."
The hybrid approach has been well-received by people with varying needs and schedules. "Students want the convenience of online and not have to come to class, say, every Wednesday afternoon from 3 to 5," McCarthy says. But "people who are working while they're doing their program still like interacting with each other, and they still derive a lot of benefit from interacting with the faculty."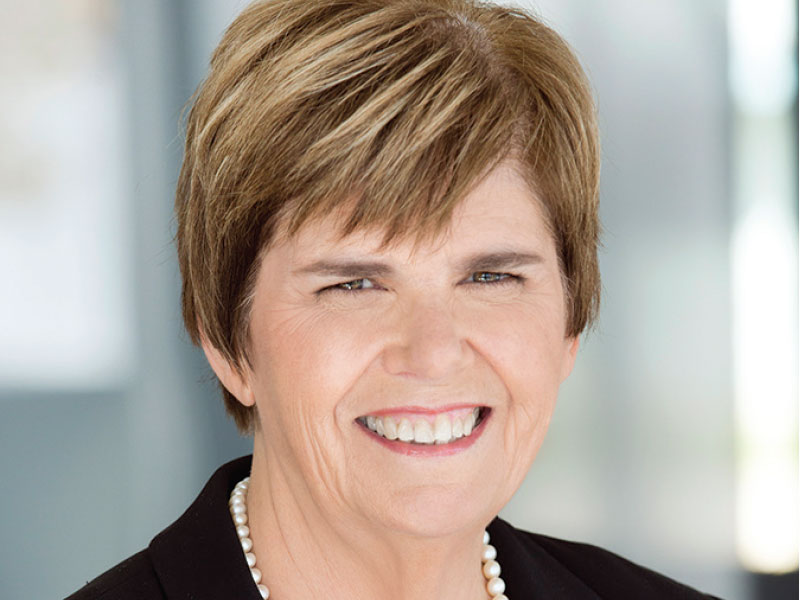 In the case of Hamline's online master's in business analytics program, students meet together with the professor on campus every eight weeks for a weekend "residency" for hands-on data mining and data analysis instruction. The program's students live within a 100-mile radius of the Hamline campus. While that would mean unpleasantly long drives for a weekly class, "to come to the school for a face-to-face session once every eight weeks or so isn't onerous for them," McCarthy says.
Hamline's first hybrid offering was its master of public administration program, which it launched in 2012. It was targeted to people with full-time jobs in rural counties, who wanted access to a strong master's program. Recently, about half the program's students were from the Twin Cities, and half from greater Minnesota. Hamline plans to launch an all-online MBA program this fall.
There's another species of online learning program, one that's taken center stage with the arrival of Covid-19—synchronous courses. In these classes, all students meet at the same time, but online. What has made all of these online options viable is the variety of digital tools that can re-create the functions of traditional face-to-face learning.
Making room for Zoom
On March 1, I learned what Zoom was," recalls Ginny Arthur, president of Metropolitan State University in the Twin Cities. Not that digital technology was new to her: Metro State has been offering online courses for 20 years. Before Covid-19 hit, she notes, about a third of the school's coursework was taken online.
In March, it all went online. Metro State took two weeks to convert to a completely online curriculum. This also allowed the university to offer training to faculty members who hadn't taught online before, Arthur says. Now she knows Zoom very well: "By the end of April, we had an astounding number of meetings on Zoom, and I felt like I'd been in all of them."
All kinds of businesses have become familiar—perhaps excessively—with Zoom meetings. For online education, it's largely been a boon. "Zoom, while having some security issues on the back end, is more flexible than other meeting tools we had," says Phil Miller, the Carlson School assistant dean for MBA and MS programs. "It can handle a large number of people and allows you to break them up into smaller groups" via Zoom's Rooms function. "Forty-eight people can come into a class, and following a 10-minute set-up, they can be assigned into separate breakout groups of any size, then come back into the main 'room,' " Miller says. 
Many online learning programs have added Zoom to their tool boxes. These programs long have used digital platforms called learning management systems (LMS). The Minnesota State college and university system, which includes Metro State, uses Desire to Learn (D2L). According to Metro State's Arthur, D2L allows instructors to embed video, set up discussion groups with students, and offer a variety of digitized educational resources such as readings and textbooks.
The Carlson School uses an LMS called Canvas, whose capabilities include online quizzing. That way, Waldfogel notes, "students—and faculty, for that matter—can know right away whether they're understanding the material. In the 'old days,' students would hand in a problem set eight or nine days after they supposedly learned something."
To facilitate student collaboration on projects and presentations, online programs and courses are using technologies such as Flipgrid, Microsoft Teams, and Google Meet. At Saint Mary's, a video capture system called Panopto allows instructors to share video material for asynchronous learning and students to share video presentations with classmates.
"There are all of these different things we used to do in class, and now there are ways to do them online," Waldfogel says. That now includes tools such as Zoom that allow instructors to conduct online discussions with students. "All of these things were challenging even a few years ago," he adds. Miller notes that a lot of these technologies are not new. "They're just more fully implemented now because everybody's living in this world. But any online program has been using some form of many of these for a long time."
Another technology Miller cites is Proctorio, an "e-proctoring" tool that takes over the camera of a student taking an online final or other test. Miller says it will flag "questionable behavior—and there are a lot of parameters you can set for that. That has, in the last three to five years, eliminated a barrier for a lot of classes that were more oriented to conventional tests."
Other digital technologies have been developed to facilitate specific aspects of online education. For instance, Saint Mary's is introducing a tool called Blackboard Ally, designed to help faculty create an inclusive learning environment. This technology allows students with disabilities, such as vision or hearing impairment, access to online course content. There also are technologies designed to detect (or prevent) plagiarism.
Educators say that one of the notable side benefits of online education is that students become more adept with the technologies they'll use in the work world.
"One of the things I've seen over the years is the demand for people who understand how to work with remote teams, how to use technology effectively, and are supported quite well by leveraging online learning," Carroll-Glover says. "That gives [students] an opportunity to practice those sorts of principles before they hit the job space."
She emphasizes that many work efforts need to come together coherently to allow remote teams to successfully complete projects. "Across many industries, technology continues to change the way that we work," she says. For instance, the pandemic has put pressure on health care providers to increase telehealth services. Many hospitals and clinics, Carroll-Glover notes, "had never done anything like that. Now they're all asking, 'How do we work virtually?' "
The pandemic and the increasing demand and need for remote learning are likely to profoundly change another industry—namely, education itself.
Getting to class
Because of Covid-19, education at all levels shifted from the classroom to computers. "Every faculty member in the nation is getting comfortable with this sort of setup," the Carlson School's Miller says. "So I do think you'll see face-to-face teaching change, whenever we get to something like a new normal."
He cites a possible scenario called "flipping the classroom." Miller contrasts this with what he describes as the traditional "sage on the stage" model, where the instructor lectures and the students are a passive, note-taking audience. Everyone is present, but "only one person is talking and engaged," Miller says.
An increasing number of online programs are taking a different approach. Instructors are putting lectures in the cloud, which allows students to listen to them at any time, individually. Then, when the students can meet together, the class "becomes an active learning environment," Miller says. This scenario was a challenge when there was a tools hurdle, he adds. "Now everybody is over the tools hurdle." Surveys show that "students value synchronous engagement online, but not when it's just a lecture," he says.
This approach could help keep online students from feeling alone in cyberspace. "Typically in higher education, students in hybrid courses are more successful than those in fully online courses," Metro State's Arthur says. "It's hard for some online learners to keep themselves motivated." The hybrid model offers personal face-to-face time with the faculty member and classmates, "and that sustains them when they're in the online environment," she says. Some classes are face-to-face, others are online using a synchronous approach.
Typically in higher education, students in hybrid courses are more successful than those in fully online courses."

Ginny Arthur, Metropolitan State University
Despite all the tools that instructors and students have available, there are still some barriers to effective online education, whatever forms it takes. "One thing we've learned during the pandemic is that synchronous online learning is fraught with technological difficulties," Carroll-Glover notes. Students in rural areas can't always access the bandwidth needed to launch Zoom or e-learning platforms.
But as these digital methods become more familiar, it's possible that postsecondary education at all levels will evolve in ways that bring together online and offline methods. Before the pandemic, "we found the majority of our part-time program students end up mixing it up," the Carlson School's Waldfogel says. Working with instructors, these students can put together a course load that mingles face-to-face learning with synchronous and asynchronous online study.   
"We'll see a growing acceptance of online among people after Covid-19," Waldfogel maintains. But he doesn't believe it will completely replace face-to-face education. "It's going to be another arrow in our quiver that I think students will find attractive."
Gene Rebeck is TCB's northern Minnesota correspondent.