Like many companies, 2020 was expected to be a banner year for Lakeshirts. Through February, the Detroit Lakes-based maker of promotional apparel had posted 38 straight months of record monthly billings. Then came Covid-19.
"The effect on us has really been profound, and unlike anything that I've ever experienced here," says Michelle Daggett, president of Lakeshirts, which supplies resorts and schools around the country with the apparel that documents a college visit, a memorable vacation, a favorite sports team.
"The first thing we saw was March Madness being cancelled—and that's a good chunk of our business," Daggett says. Then vacation spots shut down. As of May, about 50 percent of the company's orders were on hold indefinitely or had been cancelled. Lakeshirts furloughed most of its 700 employees, and cut the pay of nonfurloughed managers by more than half. Since Lakeshirts employs more than 500, it didn't qualify for relief from the federal Payroll Protection Program.
But like numerous manufacturers throughout Minnesota, Lakeshirts has been able to shift to other types of production related to combatting the virus. The company's nimbleness and durability is helping get it through these uniquely stressful times.
This isn't the only reason why Twin Cities Business is recognizing Lakeshirts as one of the 2020 Manufacturing Excellence Awards honorees. Each company spotlighted here has cultivated a successful business model. They can react quickly to market changes, thanks in large part to a deep understanding of customer needs. They have incorporated innovative technologies and techniques into their manufacturing processes.
In addition to honorees in five categories, Twin Cities Business is also recognizing five manufacturers that answered the call when health systems, businesses, and communities clamored for equipment to battle Covid-19. We are grateful for their life-saving response and appreciative of the critical role Minnesota's manufacturers play nationwide.
Join us, starting Aug. 18, for virtual conversations with our Manufacturing Excellence honorees about pivots, challenges, and opportunities in the industry.  Register here.
---
Local
Growth;
National
Impact
Lakeshirts
Location: Detroit Lakes  |  Employees: 660  |  Products: Printed clothing and accessories sold at colleges, universities, and resorts.
Ever bring home a souvenir t-shirt from a far-flung vacation destination? Good chance it was made in a small town in central Minnesota. Detroit Lakes-based Lakeshirts designs and produces wholesale tees, sweatshirts, caps, promotional stickers, and signs for hundreds of colleges, resorts, and businesses throughout the U.S.
So why don't these schools, hotels, and the like get their garments made overseas, where so much apparel production has shifted? Because Lakeshirts, founded in 1984 by Mark Fritz and Mike Hutchinson (who remain co-CEOs), knows exactly what those customers want, and they can get it to them when they need it. The company's staff artists, which now number 90, have created "half a million designs, with tens of thousands of new ones every year," says Lakeshirts president Michelle Daggett, using printing, appliques, embroidery, and other decorative techniques.
Thanks to its vertical integration, Lakeshirts can get items made quickly. Lakeshirts has a cut-and-sew facility in California, and it operates its own fabric-dyeing plant in Detroit Lakes. (It works with other garment vendors when business volumes get heavy.) This allows the company to dye garments on demand. "That also helps us to be able to pivot to whatever colors are trending," Daggett says. Quantity is no problem: Lakeshirts' average order is 70 pieces. Lakeshirts also can ship on short notice—just in time for Homecoming or a long holiday weekend. "If you run out, we'll be able to get you restocked quickly," Daggett says.
Given its hospitality-heavy customer base, it's not surprising that Lakeshirts was able to bill only 10 percent of what it had projected for April, when much of the country was in lockdown due to Covid-19. But the company was able to pivot to making masks for hospitals, nursing homes, and clinics. "We learned how to make them quickly with materials that we had on hand," Daggett says. As of late June, Lakeshirts had produced 160,000 face coverings. By mid-July, the company had more than 400 back on the job as resort sales resumed in some parts of the country.
"Our business was really strong going into the pandemic," Daggett notes. "And we've developed a great relationship with our customers over the years." Now it's a matter of how quickly colleges and resort areas can reopen. Lakeshirts will be ready whenever shirts and accessories are suddenly needed. "We're focused more than ever on quick turn times," she says.
In December, Lakeshirts received major investment funding from Minnetonka-based Carlson Private Capital Partners. "They've been extremely supportive during this challenging time," Daggett says. "And along with us, they're very optimistic about our future 'on the other side.'"
---
Diversification
Dalsin Industries
Location: Bloomington  |  Employees: 140 |  Products: Sheet-metal products for various industries, including construction, transportation, and solar energy.
Now in its 75th year of business, Dalsin Industries has benefited from a diverse customer base.
That diversification has helped the Bloomington-based metal fabricator grow 20 percent annually over the past few years. Dalsin CEO Gary Fruth acknowledges that the pandemic has been a setback, but as of late June, business showed signs of improvement—"to 65 to 70 percent of our pre-Covid revenue levels." At the same time, gross profit margins have actually increased in the first two quarters of 2020.
Again, diversification has helped. When one sector slows, another can pick up at least some of the slack. While sectors such as travel and restaurants have all but shut down during the Covid-19 pandemic, others, including  construction, utility trucks, and RVs, are still sending in orders for metal components. Dalsin also is making parts for sanitation and other protective equipment in high demand due to the coronavirus outbreak. These include steel "spacers" that help employees maintain the proper distance from each other. Dalsin also makes its own product, the Memphis Wood Fire Grill, which has been selling well as people cook more at home.
Dalsin's fastest-growing sector is one the company entered just recently: outdoor power equipment. The category includes generators, compressors, and pumps used primarily by industrial and commercial contractors. Dalsin's customers are also diversified by location—many solar clients are based in California, for instance.
These customers, Dalsin executives say, constantly push the company to improve its production processes. "We stay abreast of the technology that our industry utilizes," Fruth says. He stops short of saying Dalsin is "on the bleeding edge." But the company does adopt new processes as needed in order to meet customer requirements. "We take that technology and combine that with strong [in-house] engineering support in order to understand how to best utilize the technology." Examples include automated flat-sheet processing equipment for production and stacking, automated panel benders, and dual-arm robotic welders for larger assemblies.
"Our engineering and sales interact with the customer to design for manufacturability, tying it to our technology," says Tom Schmeling, Dalsin's vice president of sales and marketing. "We work with customers at the front end of the production process." These customers "are always pushing us to be better and to be more efficient," he adds. New technology also helps to combat the manufacturing industry's talent shortage. Says Schmeling, "We can't find as many skilled people willing to go into manufacturing and the sheet metal industry as we could 20 or 30 years ago."
At the same time, Dalsin is staying in touch with customers in harder-hit sectors so that it's prepared when they rebound. The company is also connecting with other potential sources of business. "We're actually increasing our sales pipeline," Dalsin CMO Mark Coronna says. "The short- to longer-term prospects for the business look good. We intend to come out of this quite quickly, with more opportunity than we had coming into it."
---
Full Service
Teamvantage
Location: Forest Lake  |  Employees: 250  |  Products: Injection-molded plastic parts for med-tech companies and other sectors.
There are numerous manufacturers of plastic injection-molded parts. Forest Lake-based Teamvantage, which averaged 15 percent annual growth for the three years leading up to 2020, has set itself apart by focusing on adding value rather than simply producing large quantities.
"We're a low- to mid-volume injection molder," Teamvantage general manager Kelly Stichter says. "We're willing to work with startup companies and companies that are a little bit smaller," as well as larger firms. Teamvantage, she adds, "likes to work with customers that have a challenge that we can help them solve."
One way the company has added value is by translating its customers' product designs into something that can actually be manufactured. Teamvantage's engineers are quick to suggest improvements—for instance, making recommendations of materials "that might be better than the ones that they were thinking about," Stichter says.
"We spent a couple of months looking at the entire assembly for one particular customer," she recalls. "We worked with their design firm and said, 'Here is how you can resize components, here are the kinds of tolerances you need, in order to make your final product work.' We look at the whole picture." The molded part that resulted from this collaboration came off the line right the first time, allowing the customer to get to market more quickly.
Teamvantage's engineering and technical expertise is notably strong in med-tech—and that has helped it stay busy during the pandemic. The company has been producing components for ventilators and hospital beds, along with parts for products used for diagnosing Covid-19.
"We are an essential manufacturer, so we have been running the whole time," Stichter says. "We've had to categorize our customers based on whether the customer made a Covid-related product. We have a daily scheduling call to prioritize orders." Teamvantage likes a challenge. And the pandemic is offering a challenge like no other.
---
Artisan Manufacturing
Cameron's Coffee
Location: Shakopee  |  Employees: 131  |  Products: Coffee sold in retail markets.
Specializing in packaged products made Shakopee-based Cameron's Coffee well positioned for the lockdown. With local coffee shops closed, meetings cancelled, and most people working from home, supermarket sales of coffee beans spiked, Cameron' CEO Bob Waldron says. This spring, the coffee-roasting company had to bring in an extra 3 million pounds of coffee.
And Cameron's makes sure that it's buying high-quality coffee—"the top 10 percent of the beans in the world," Waldron says. Coffee's market growth "continues to move toward premium," he adds. Cameron's "magical position" is "premium coffee at a mid-tier price"—lower than many of its premium brand competitors.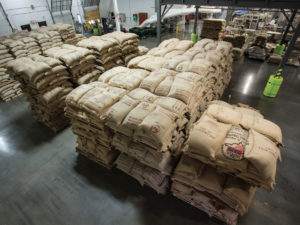 Cameron's might not have the name recognition of coffee-house brands like Caribou and Dunn Bros, but its profile is high in the retail market. According to Chicago-based retail industry analyst IRI Scanner Data, Cameron's was the fastest-growing retail brand in the Midwest's Plains Region and number four in total retail sales. Cameron's sales hit $72 million in the 12 months ending July 31, 2019. Since then, Waldron says, the company has grown in double digits on average each month compared to the same month the previous year.
One of the main drivers of that growth is Cameron's distinctive single-serve EcoPods. The story of these compostable coffee pods began about 12 years ago. Bill Kirkpatrick, Waldron's predecessor as CEO, wanted to enter the booming single-serve K-cup market. But according to Waldron, Kirkpatrick didn't like the "plastic, watery taste" he felt pods imparted to coffee. Working with an Italian packaging design firm, Kirkpatrick developed a single-serve design whose key component is a soft, thick mesh filter that "traps the water against the beans," says Waldron, who became CEO in 2015. "So your extraction time is longer, and you get fuller flavor."
Waldron says he and Anne Maus, Cameron's vice president of supply chain, "saw the opportunity to take the three materials—the lid, the ring, and the filter—and make them more sustainable, whether recyclable or compostable." After two and a half years of development, Cameron's introduced its new EcoPods in 2018, and is freely sharing the technology with other coffee roasters.
Cameron's maintains its mid-tier prices in part by keeping production costs down. "We favor streamlining and simplification whenever we can do it," Waldron says. For instance, all of Cameron's packaging lines are manufactured by Bologna, Italy-based ICA. This allows the company's maintenance team "to optimize training and performance, because it's all the same equipment," he says. Cameron's runs lean, with about 25 people in a front office that's adjacent to the roaster area.
The company also is getting some global recognition. Last October, Colombia-based packaged foods company Grupo Nutresa acquired Cameron's for $113 million. According to Waldron, Grupo Nutresa will help Cameron's with coffee sourcing. And the Dow Jones Sustainability World Index in 2019 ranked the Colombian company the most sustainable food company worldwide.
Last October, Colombia-based packaged foods company Grupo Nutresa acquired Cameron's for $113 million. Grupo Nutresa will help Cameron's with coffee sourcing. And the Dow Jones Sustainability World Index in 2019 ranked the Colombian company the most sustainable food company worldwide.
---
Health Tech Breakthrough
Abbott (Structural Heart Division)
Location: Little Canada (headquarters: Chicago)  |  Employees: 840 in Minnesota  |  Products: Medical devices for treating cardiac conditions.
Though its medical devices don't directly address Covid-19, a beating heart is always essential. And Little Canada has become the epicenter of cardiac device innovation for Chicago-based med-tech and health products giant Abbott.
"Abbott has a rich history of innovation here in Minnesota," says Brad Roberts, Abbott's divisional vice president of structural heart operations. That builds on the tradition of cardiac-device breakthroughs developed by St. Jude Medical, which Abbott acquired in 2017.
Key examples of newer Minnesota-made devices are two that Abbott introduced to the market in 2018:
+ The 15-millimeter pediatric version of the Masters HP valve is the world's smallest mechanical heart valve. It has been developed to treat babies in need of a replacement heart valve due to congenital heart defects, the most common form of birth defect in the U.S.
+ The Amplatzer Piccolo occluder treats premature infants and newborns suffering from a potentially fatal condition called patent ductus arteriosus (PDA). A PDA happens when a naturally occurring hole between two blood vessels in the heart doesn't close after birth. The Piccolo device, approved for babies weighing as little as just under two pounds, corrects PDAs through a minimally invasive procedure.
"Both of these products utilize a broad range of manufacturing methods," Roberts says. These include highly automated systems along with complex manual assembly. To manufacture its heart valves, Abbott uses state-of-the-art CNC machining. Production of the Amplatzer occluder line incorporates laser machining as well as "intricate processes for braiding shape-memory metals that have a diameter about the size of a human hair," Roberts says. (Shape-memory metals are engineered to combine flexibility, light weight, and durability.)
With these two newest devices, Abbott is helping to maintain one of Minnesota's globally renowned manufacturing traditions.
---
Manufacturing Excellence:
Special Recognition
Answering the Call
The pandemic associated with the novel coronavirus has been, to put it mildly, something out of the ordinary, and from its earliest days, Minnesota manufacturers have been at the center of the fight against Covid-19. As part of this year's Manufacturing Excellence Awards, Twin Cities Business honors five Minnesota companies that responded to these extraordinary times by manufacturing urgently needed products to address the Covid-19 outbreak. For some, it required boosting output of existing products; for others, it meant learning how to make something completely new—and then producing large quantities, quickly.
Protolabs:
Rapid Response Team
When the pandemic hit, Maple Plain-based Protolabs set up a Covid leadership team that prioritized the design, engineering, and manufacturing of all Covid-related orders while waiving fees that the company typically charges for expedites. Those fast turnarounds are a company specialty: Protolabs provides rapid manufacturing of custom parts for prototyping and low-volume production using 3D printing, injection molding, CNC machining, and sheet-metal fabrication.
"We received a huge response," Protolabs president and CEO Vicki Holt says. As of mid-July, Protolabs had produced more than 8 million parts, and more than 1,000 different geometries or unique CAD parts for Covid-19 applications.
"We're very well known in the medical device space," Holt says. "It's our largest industry vertical and makes up 25 percent of our sales revenue. So a lot of companies already in that device space knew of us and reached out to us."
So did numerous businesses that don't ordinarily operate in that space. When the federal government requested that General Motors manufacture ventilators under the U.S. Defense Production Act, "we were one of the critical suppliers to quickly scale up some of the injection-molded parts that go into those ventilators," Holt says.
Other examples demonstrate the range of Covid-19 products in which Protolabs' design and production capabilities played a role:
+ For South Carolina-based ZVerse, a developer of a CAD-based platform for digital manufacturing, Protolabs designed a part used in headbands for holding face shields in place. Protolabs has produced millions of these headbands.
+ Michigan-based molecular diagnostics company NeuMoDx worked with Protolabs to produce tens of thousands of injection-molded components used in Covid-19 test kit production.
+ Closer to home, Protolabs manufactured six prototype components for a low-cost ventilator being developed by a group of University of Minnesota physicians in order to accelerate its FDA approval and get it quickly into production.
Protolabs didn't need to change its processes to accommodate this wide variety of Covid-19 parts. "This is what we do every day," Holt says. The fact that those processes are completely digital "from our e-commerce website through our manufacturing and execution, we can handle that level of complexity, and we do it at scale," she adds. This puts Protolabs in the right place at the right time "to help companies with this crisis."
Holt notes that Protolabs was still able to take care of its non-Covid customers, even though they often had to wait in line. "Customers were supportive," she says. "And they did get their parts."
Lakeview Industries:
Moving Fast Into New Territory
John Schwanke first heard about face shields in March. He also discovered that this type of personal protective equipment (PPE) was in high demand—and that face shields were a product his manufacturing company could make.
Schwanke is CEO and co-owner (along with his mother, Lorretta Magnuson) of Carver-based Lakeview Industries, which makes flexible components for manufacturers in a wide range of sectors, including health care, agriculture, and construction. Customers range from Fortune 500s to what Schwanke describes as "ma-and-pa" firms. Its capabilities include molding, extrusion, and cutting. Conferring with his engineering supervisor, Mike Petersen, confirmed to Schwanke that face shields were something "we could make … all day long."
Still, this was a product that was outside Lakeview's comfort zone. The company had produced many med-tech components, "but they're not the finished product," Schwanke says. Lakeview had never made something sold directly to the end user. Schwanke's wife, Cathy, got in touch with Erin Smith, community development director for the city of Carver. Smith, in turn, connected the company with Jim Nash, the city's state representative. Nash promptly introduced Lakeview to a medical supply company "that needed a million shields," Schwanke recalls. "Every single call we had with the people looking for this product wanted it faster than we could make it."
So Lakeview "fast-tracked everything," he says. Developing and manufacturing a completely new product would normally take eight to 10 weeks from start until the product was ready to go to market. "We started cutting parts less than a week after we decided to get into this," Schwanke says. Lakeview found a company that could supply the hard-to-find plastic material right away. And because many longtime customers were temporarily shutting down production due to the pandemic, Lakeview had the capacity for face shield manufacturing.
The company needed all the time it could get. "A million face shields right out of the gate would have taken us a month to produce, based on the equipment and tooling I had available and how quickly I could get [additional equipment]," Schwanke says. Lakeview was able to get new tooling in a week, which was faster than expected and made it possible to ramp up to 300,000 units a day. Lakeview also added more production equipment, including a plastic-cutting machine that it had transported from New York.
"We moved from a two-shift operation, with both shifts working about 40 hours a week, to two 12-hour shifts, seven days a week," Schwanke says. The company also hired more than 120 temporary employees to help with assembly of the finished shields. Lakeview kept up this pace for eight weeks, until the middle of May. Production focused almost solely on face shields during that period, though Lakeview did produce some parts for customers that needed them.
After the first six weeks of production, Lakeview had shipped 5 million shields across the country. By the end of June, Schwanke believed that the company had enough inventory on hand to wrap up production, at least for the time being. With the virus not yet under control, he says, "we anticipate that there will be future demand."
Schwanke noted in late June that "we're down in revenue in our core business from where we were a year ago." Face shield production kept the business going into early summer, when Lakeview's core business began trending up.
Stratasys:
Team Effort
PPE face shields were also a new product for Eden Prairie-based Stratasys, which makes and sells 3D printers and related materials. The company didn't go it alone. "It really was a group effort," says Scott Drikakis, Stratasys's health care segment leader for the Americas. In early March, Mayo Clinic contacted a number of Minnesota manufacturers about jumping into face shield production. Stratasys then established a coalition of more than 100 companies and universities to produce the shields.
The coalition, which included Mayo and Medtronic, "made sure that everything being produced was safe and effective," Drikakis says. The coalition partners worked together to establish protocols for material cutting, 3D printing, and clinical efficacy.
Stratasys produces the face shields through its production unit, Stratasys Direct Manufacturing. "It was seven days a week for the first six to eight weeks," Drikakis recalls. By the end of June, Stratasys and its coalition partners had fabricated more than 250,000 of these high-demand items.
Face shields aren't the only Covid-related product Stratasys has provided. It also has sold nasal pharyngeal swabs and prototyped a variety of ventilator components. These include ventilator splitters, which allow a single ventilator to support more than one patient. "None of these were products we'd made before," Drikakis says. For many weeks, he adds, "we were pretty much neck-deep in all things Covid-related." Stratasys's regular customers were understanding about delays on products not related to the pandemic, Drikakis says. "Everyone understood that we all had to do our part."
Demand for items to address the pandemic slowed a bit in June. Still, at the end of the month, Drikakis says manufacturing face shields and Covid-related parts was "still a primary focus."
3M and Medtronic:
Stalwarts
Two of Minnesota's largest manufacturers, 3M and Medtronic, didn't need to get up to speed on the products needed to treat Covid-19. What they needed to do was speed up.
3M, of course, is well-known for its production of N95 disposable particulate respirator masks. Since the beginning of the pandemic, the company has doubled its global output of all of its respirator lines. Company spokesperson Tim Post says that 3M is on track to double that rate again, and expects to produce more than 2 billion respirators by the end of 2020. "The reality is, demand for respirators continues to exceed supply," Post says. "This is an industry-wide challenge, not just a 3M issue."
3M also ramped up production of reusable respirators as well as powered air-purifying respirators (PAPRs), which can be used as alternatives to N95s.
The masks grabbed the most headlines, but 3M also makes biopharma filtration, hand sanitizers, and disinfectants that have been in demand since the outbreak began. "Our factories are operating 24/7 to get much-needed personal protective equipment to frontline health care workers and first responders," Post says.
3M has partnered with other companies, too. The St. Paul-based manufacturer provided expertise in personal safety equipment, technology, and regulatory requirements to help Ford Motor Co. rapidly produce a new PAPR design and also worked with Indiana-based engine manufacturer Cummins (whose power generation business is headquartered in Fridley) to increase production of high-efficiency particulate filters used in PAPRs. In addition, 3M is collaborating with several manufacturers and institutions that have been helping hospitals develop ways to safely decontaminate, reuse, and extend the life of N95 respirators.
Fridley-based Medtronic has been in the thick of the fight against the novel coronavirus. In addition to ventilators, the company manufactures pulse oximeters and sensors used to detect oxygen levels in the blood. (A low reading could signal Covid-19 infection.) Lesser known are Medtronic's extracorporeal membrane oxygenation (ECMO) machines. These devices, which function outside the body, help keep patients' blood oxygenated when the heart and lungs are too weakened to do so on their own.
Since March, Medtronic has increased ventilator production five-fold, producing 1,000 ventilators per week. The company also has made the intellectual property for its PB560 ventilators available for free to other manufacturers in order to increase their production globally. According to the company, there have been more than 200,000 downloads of the PB560's IP from early April to late June.
---
Minnesota Manufacturing: Bouncing Back?
Manufacturing is Minnesota's unsung hero. According to the Minnesota Department of Employment and Economic Development, manufacturing contributed $52.7 billion, or 14 percent, of the state's $380 billion in GDP in 2019. The sector's direct and indirect employment accounted for 40 percent of all jobs statewide. It's a varied sector, too, one that includes small components manufacturers, taconite pellet plants, transportation vehicles, processed food, and many more types of products. 
Like most economic sectors in Minnesota, manufacturing was hit hard by the Covid-19 outbreak, though not as badly as, say, hospitality and leisure. In May and June, there were signs of a comeback. Nationally, the Arizona-based Institute for Supply Management's Purchasing Managers Index, derived from a variety of manufacturing-related data, was measured at 52.6 in June, up from 43.1 in May. The Midwest experienced a similar (partial) recovery. A regional survey of business conditions conducted by Creighton University showed that the Midwest's manufacturing sector also posted improvement in June. Creighton's regional index of nine states rose to 50.3 in June, following three consecutive months of contraction.
But Minnesota's comeback lagged compared to its neighbors, posting a June index figure of 45 (compared to 39.8 in May). According to Creighton's protocols, an index number below 50 means no growth. The reasons? One that Creighton analysts cite is that Minnesota's manufacturing sector is more reliant on exports than other Midwestern states. That global reach benefits the sector during flush times—and less so when the worldwide economy is suffering, as it has been during the pandemic.  —Gene Rebeck