Tools for Digital and Hybrid Events
Covid-19 forced the events industry to go digital. Experts say it'll never be the same.
As the Covid-19 pandemic drags on, businesses and nonprofits are looking to the hospitality sector to keep them safely connected to employees, peers, donors, and consumers. The industry has been doing just that, thanks to quick-thinking leaders who have been working for months to cultivate a growing set of best practices for virtual events.
"Something a lot of clients don't realize at first is that we can accomplish the same objectives with a virtual experience as we can with an in-person one," says Wendy Porter, owner and chief events architect at Minneapolis-based Wendy Porter Events LLC.
Of course, nothing can replace connecting in person, and we know local venues will be ready to welcome us back in. Until then, industry professionals are adapting so their clients can continue hosting effective events in a coronavirus era. Some new practices may even become best practices—maximizing technology and event space—when we gather again.
Turning to the experts
By late spring, Northwestern Health Sciences University in Bloomington had twice rescheduled its commencement ceremony because of the pandemic. "By then, we began to realize it wasn't going to happen in person at all," says university vice president of marketing Kathy Hagens. 
So the university reached out to Minneapolis event production company AVEX, which it had partnered with for various live events in the past, to help produce a virtual commencement ceremony for its May graduates.
"We needed to make a pivot, and we had heard that AVEX was building expertise in virtual ceremonies," Hagens says.
It's true. AVEX, like many other event planners and producers, saw the pandemic tidal wave coming in early March and began planning for how to keep the industry afloat should in-person gatherings be prohibited—which is exactly what happened.
For the first couple months of the pandemic, as people adjusted to state-mandated gathering restrictions, the events industry "was pretty much crickets," says Tim McVean, vice president of sales marketing at AVEX. Everything was postponed or cancelled. "Then we started having requests for one or two virtual events a week. Then three or four. I think we have another four or five next week," he said in early July; at that time, McVean estimated AVEX had produced 15 to 20 virtual events, ranging from trade shows and webinars to bar mitzvahs, with another 80 or so events on the books.
AVEX isn't the only one. Bloomington-based event technology company Heroic Productions had produced around seven digital events by late June.
That demand for new ways to gather has prompted events professionals to stretch their digital expertise. 
"Meeting planners, producers, all of us event folks—we already knew live events upside down and five ways 'til Tuesday," says Jon Young, president and CEO of Heroic Productions. "But we had to quickly learn how to host completely virtual events. It was a whole new vocabulary, a whole new set of expectations. We went through a learning curve for ourselves and on behalf of our customers—and it was as steep as could be because there is no single definition of a virtual event."
Save company time (and headaches) by relying on a professional planner or producer who has already figured out best practices for digital events, McVean advises.
"It's truly fascinating how complicated live events are, when they appear so simple," echoes Young. 
"There's a lack of education on [virtual events] among the general public, and I think that's why our clients look to us to be the expert in all these areas," says Stephanie Lindo, Heroic Productions manager of new generation business development. "And I think we're finally confident to say we've really done our research and we're able to give the best recommendations based on clients' end goals."
Most people come to AVEX overwhelmed by what they're trying to accomplish, McVean says. They've usually got Facebook, YouTube, their website, maybe another website, Twitter—and no idea how to create a cohesive, virtual platform for an event.
In June, AVEX, which has a second location in Kernersville, N.C., helped an agricultural company there with a large-scale training event. By the time the company sought AVEX's help, it had already attempted to plan 80 different breakout sessions for that single event.
"They had 80 different links to 80 different individual video sessions, and they wanted to be able to organize who could go to what, get them registered, send them instructions and links, organize speakers, etc.," McVean says. "If they had been left to do that all on their own, the time spent doing it would have been mind-boggling."
First step: Know your audience
Whether you're hosting an in-person, virtual, or hybrid event featuring elements of both, the starting point remains the same.
"When you hire an event planner or producer, they're always going to start with the same series of questions," McVean says. " 'What are you trying to say, or what is your message or information you are trying to get out?' "
"We plan a virtual event just like we would any other event," event planner Porter says. "We start with goals and objectives, talk through what the client is trying to accomplish, who their audience is, and those sorts of standard questions you would ask with a live event—and then go from there to figure out what the right fit is in terms of technology, the right type of engagement, and all the tactical components."
Choosing the right technology
Along with establishing event objectives comes the task of establishing how to achieve those objectives.
Like most event planners, Porter partners with audio-visual and technology production companies like AVEX or Heroic Productions to help clients choose the best technologies for their digital events.
To determine how to proceed, your planner and/or producer will ask at least three main initial questions about your event:
1. How large is your audience?
The size of your audience is a key aspect that will inform which technology platform(s) you'll use to host your event, McVean says. While Zoom may seem like the easy answer to all our virtual needs these days, the video communications platform has its limits, he says. With so many people using Zoom on a daily basis—Zoom saw 300 million individual meeting participants per day in April, according to app media site Business of Apps—it's not uncommon to experience technical glitches while using the platform. Depending on the size and objectives of your event, it's likely other software will need to be implemented, McVean says.
2. Do you want one-way or two-way communication with your audience?
"One- or two-way communication is the difference between a web conference and a webcast," McVean says.
Web conferencing, or videoconferencing, is two-way communication, usually used among smaller groups when you want participants to collaborate. Internet-hosted tools such as Zoom, GoToMeeting, or Webex are typically platforms to host web or videoconferencing.
Webcasting, which involves a video streamed to the audience, is typically used for events with larger audiences. However, your audience cannot directly respond. "Webcasting requires solutions that are more robust and meant to deliver content on a much wider scale, to thousands or even hundreds of thousands," McVean says. YouTube Live, Vimeo, IBM Video Streaming, ON24, Digitel are better, more stable options for webcasting to large groups, he says.
"A lot of times people don't understand that those two things, [web conferencing and webcasting,] are very different when you get into the internet space," McVean says. Producers can help you review the various platforms' prices and features to help determine which is best for what you want to accomplish with your event.
3. Will your content be live, pre-recorded, or some combination of the two?
If your entire event consists of two-way communication, the majority of footage will obviously need to be live. However, McVean says, there's a good chance that you can pre-record at least some content, such as introductions. "You can save a little hassle and money this way," McVean says, "and, if you screw up, you can do it over."
"Most people, after they have a conversation with me or another producer, decide that they're going to do a mix of pre-recorded and live," McVean says. "Then they have to decide, 'OK, if we're going to do some live stuff, where are we going to do the live stuff from? Are we bringing in our presenters remotely, or are we going to bring them into a studio setting and have them up on stage?' Now that things have opened up a little, it's not so necessary for everyone to be on Zoom from their home. There are a growing number of options to increase the look and feel of your event."
A safe space
Whether the content for your digital event is live or pre-recorded, there are also a range of options for where and how to record. Of course, you can always record from your computer, home, or office, but if you're looking for something a little more professional, local producers can take care of it.
When production studios saw what was coming in March, they not only began to ready their knowledge and technology to handle the new era of virtual events, they also began preparing their physical spaces to meet clients' new needs.
In March, Heroic Productions got to work turning its 8,000-square-foot storage warehouse space in Minneapolis into a professional-level performance and event broadcasting studio equipped with a soundstage, cameras, lights, and the equipment to broadcast and livestream high-quality videos.
"We've been doing livestream and broadcast-quality streaming for the last several years at live events, and now we're providing a space where [others] can come and produce their meeting, still at the same level of quality," CEO Young says.
AVEX also opened up its studio and office space to clients in March. Like Heroic, AVEX has the equipment and space to make a digital event look polished. AVEX employees have also given up their office spaces to provide workspaces for clients recording at their studio. "They can have their own office and desk that's been cleaned," McVean says.
It's not just the AVEX offices that get a good scrub-down. Both AVEX and Heroic Productions sanitize their entire spaces after each use and ensure that only absolutely necessary production staff are in the building with clients.
"Our building allows for clients to host events at the same level of quality as the live events they're used to, but in a Covid-safe environment," Lindo of Heroic says.
A virtual home
When you attend a live event, that event has a "home"—usually, a traditional venue or hotel that the host company or organization has rented out.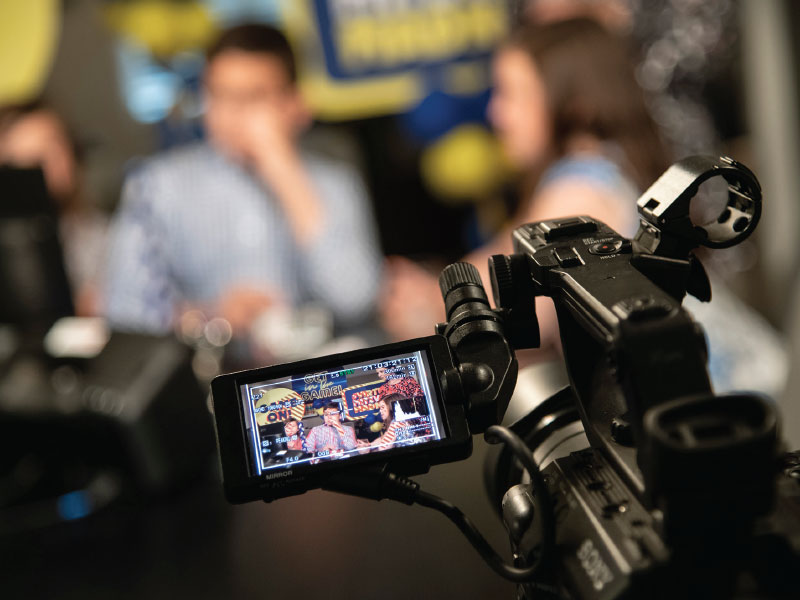 Which raises the question: "If the venue or hotel is the home for a live event," McVean of AVEX asks, "what's the home for a virtual event?"
The answer, he says, is a website.
When AVEX is hired for a digital event, its team creates a website specifically for that event so people can easily find the event stream, its resources and assets, and more.
"We can customize a landing page that feels just like your brand or your organization or your event," says Amy Zaroff, owner and creative director of Amy Zaroff Events + Design, a boutique multichannel creative agency.
McVean and Zaroff have teamed up for a number of digital events in recent months. While Zaroff manages the branding and creative direction, McVean builds the website, organizes the data, and streams the event.
"What really we're trying to sell when we're talking about AVEX and Amy Zaroff together is an event that is as close to a live event as possible," McVean says. "And the beauty and alchemy of a live event is that it feels really special."
Building an experience
Most event planners agree that modern events are all about the experiences and engagement they create with attendees. People absorb more information, donate more freely, and simply look at events and their hosts more favorably when an event has a "wow" factor, Zaroff says.
It's not enough to just talk at your audience during live events, she advises, and the same goes for virtual ones.
"If it's hard to be engaging in a live environment, you have to be twice as engaging in a virtual one in order to get anywhere with your audience," McVean adds. "Otherwise, people will turn off the stream."
McVean recommends elevating the production level of your event with tools and services to host interactive elements such as Q&As, polls, chats, and more.
"Otherwise, what ends up happening is you have what feels more like a classroom, and you're just not going to get people to retain information on the same level," he says. "I just watched a virtual event the other day that had no audience interaction, no Q&A, nothing; it was just somebody talking for an hour. And there's only so long I can look at my screen and watch someone talk into their webcam before I just really don't care. So that's the challenge we've been facing."
Other ideas to engage virtual audiences include cocktail hours, virtual photo booths, word clouds, breakout sessions, and digital auctions. (For more audience engagement ideas, see "Creative Ways to Engage Your Virtual Audiences" below.)
Zaroff also offers what she calls a "Party in a Box": a customized, branded box of goodies—snacks, drinks, cocktail ingredients, party favors, props, shirts, books, and more—which she sends to all attendees prior to an event. From the moment the event starts, guests have tangible ways to connect and break the virtual ice. Boxes also afford companies and organizations a new way to sell sponsorships.
Wendy Porter Events is working with Minneapolis curated gift company Minny & Paul to create something similar. "We've been putting together really cool, custom event kits that are being sent out to all of the attendees ahead of time," Porter says. "It'll have not only the meeting collateral in it, but then also some fun things like snacks, a T-shirt, or just some fun stuff to make them feel like they're part of the group."
Is digital better? 
As virtual events become more common, it's increasingly apparent to planners and producers that certain aspects may actually be more successful than their in-person equivalents.
Porter is planning a 200-person virtual user conference for a technology company that typically hosts two smaller, in-person conferences per year with about 50 attendees each.
"I think people are realizing that virtual events really extend your reach," Porter says.
Likewise, digital exhibitors have found that they garner around 40 percent more leads during
virtual trade shows than at in-person ones, Porter says, likely due to increased overall accessibility. They no longer have to hope that their intended audience will travel to the event; it's as convenient as logging on.
Digital events not only broaden the audience; they also vastly extend the potential talent and keynote pool with no additional travel expenses. Amy Zaroff's first fully digital event in early June featured DJ Sye Young, streamed in from Chicago. 
Here to stay
Event planners and producers are confident that live events will return post-pandemic. But the industry will never be the same. AVEX's McVean, Heroic's Young, and planners Zaroff and Porter all agree that hybrid events, or live events with virtual components, will be the way of the future.
"In the absence of a vaccine, we will continue to do virtual or hybrid events, and I believe that is going to take us through 2020 and likely into the beginning of 2021," Zaroff says. "But even after that, I think that the hybrid is here to stay, especially for nonprofit and corporate events, because you'll get more eyes on the prize and more donors. It's a reminder that attendees don't have to dress up and show up in person to attend and donate."
"We're figuring out a new way to do business," Young says. "And I think that as people see and learn this way of doing things, there will be a space for that in the future."
"When this [pandemic] is all over," McVean says, "we're just going to have more tools in the belt."
---
Resources for Virtual Events
A few virtually-experienced local planners, producers, studio spaces, and rental companies with all the ideas and equipment you need:
Amy Zaroff Events + Design
Boutique, multichannel creative agency & event planners | 612-382-9471| amyzaroff.com
Ann Plans
Event planner specializing in nonprofits | 651-308-9824 | annplans.com
Aria
Venue available for virtual events | 612-342-2742 | ariampls.com
Auction Harmony
Virtual platform for auctions & galas | 612-605-7301 | auctionharmony.com
AVEX
AV specialists & full-service event producers; studio space available | 952-929-2839 | goavex.com
AV For You
AV equipment rental; studio space available | 952-500-8839 | avforyou.com
Brave New Workshop
Theater venue open for virtual events | 612-332-6620 | bravenewworkshop.com
Cinequipt
AV equipment rental; studio available | 612-627-9080 | cinequipt.com
EideCom
Live & virtual event production & AV services; studio space available | 763-843-7371 | eidecom.com
Earle Brown Heritage Center
Venue available for virtual events | 763-569-6300 | earlebrown.com
Feedback.video
Performative experience design for modern events | 612-695-1688 | feedback.video
The Fillmore Minneapolis
Venue available for virtual events | 612-524-1901 | fillmoreminneapolis.com
Freestyle Productions
Full-service event production company; studio space available | 763-417-9575 | freestyleproductions.com
Heroic Productions
Event technology services & production company; studio space available | 952-224-9591 | heroic-productions.com
Legacy Production Group
Corporate event production company & AV rental company | 612-568-1213 | legacy-pg.com
Mall of America Events
Venue spaces & AV production | 952-883-8809 | mallofamerica.com
metroConnections
Conference & event services company; virtual exhibitions; studio space available | 612-333-8687 | metroconnections.com
Qwickcast.TV
Online event broadcasting service | 612-339-8255 | quikcast.tv
Stage Time Productions
Full-service event management & production company for corporate meetings, gala fundraisers, & conferences | 763-360-7750 | stagetimeproductions.com
Treasure Island Resort & Casino
Venue spaces & AV production | 800-222-7077 | ticasino.com
VoiceHive
Provider of web-based custom event management tools | 612-483-2606 | voicehive.com
Wendy Porter Events
Experiential events management agency (specializing in, but not limited to, health care events) | 612-310-7107 | wendyporterevents.com
---
Unlike in-person events, virtual events aren't limited by geography or travel. TCB has compiled a list of talent with virtual event experience, both locally and across the country: 
A Proper Pour
Cocktail-making classes | Minneapolis | 571-262-1762 | info@aproperpour.com | aproperpour.com
Elena Imaretska
Keynote speaker | Minneapolis | 612-322-6620 | creativeoutreach@bravenewworkshop.com | Bravenewworkshop.com/keynotes/
Equal Parts Cocktail Co.
Cocktail-making classes | Minneapolis | 612-345-8116 | info@equalpartsco.com | equalpartsco.com
Ian Rans
Comedian, Trivia Host, & Entertainer | Minneapolis | 612-354-3297 | ian@uptightmedia.com | drinkingwithian.com
Jason Hewlett
Keynote speaker & leadership expert | Salt Lake City, Utah | 801-674-3668 | jason@jasonhewlett.com | jasonhewlett.com
Jenni Lilledahl
Keynote speaker | Minneapolis | 612-322-6620 | creativeoutreach@bravenewworkshop.com | Bravenewworkshop.com/keynotes/
John Cosgrove
Emcee & Trivia Host | Minneapolis | 612-361-6002 | info@glberg.com | glberg.com
John Sweeney
Comedian & keynote speaker | Minneapolis | 612-322-6620 | creativeoutreach@bravenewworkshop.com | bravenewworkshop.com/keynotes/
Justin Willman
Magician, comedian, & entertainer | Los Angeles, California | 310-273-8151 | edleyd@unitedtalent.com | justinwillman.com
Margi Simmons
Keynote speaker | Minneapolis | 612-322-6620 | margi@bravenewworkshop.com | bravenewworkshop.com/keynotes/
Miral Kotb
Artist & entrepreneurial speaker | Los Angeles, California | 212-343-0956 | info@conceptartists.com | conceptartists.com/artist/miral-kotb/
Nancy Lyons
Tech CEO & keynote speaker | Minneapolis | 612-746-1850 | nancy@clockwork.com | nancylyons.com
Phil Hansen
Artist & keynote speaker | Chanhassen | 651-321-4996 | iam@philinthecircle.com | philinthecircle.com
Ross Bernstein
Keynote speaker | Apple Valley | 952-683-1141 | ross@rossbernsteinspeaking.com | rossbernsteinspeaking.com
Shawna Suckow
Keynote speaker | Eagan | 651-470-0066 | info@shawnasuckow.com | shawnasuckow.com
The Passing Zone
Jugglers, entertainers, & speakers | Los Angeles, California | 212-343-0956 | jon@passingzone.com | passingzone.com
Vinh Giang
Magician & keynote speaker | Los Angeles, California, + Australia | admin@vinhgiang.com.au | vinhgiang.com
---
This story appears in the Aug./Sept. 2020 issue with the title "More Tools in the Belt."
Tess Allen is TCB's associate editor.