The List: Startup Founders with Corporate Training
Meet 60+ founders of Minnesota-based startups who gained experience at a big company in town.
Name a startup medtech company in Minnesota, and there's a good chance its founder gained experience at Medtronic, Mayo Clinic, or Boston Scientific. A new packaged food item or consumer product? Look for Target or General Mills on the founder's LinkedIn profile.
Minnesota's Fortune 500s and other large companies are magnets for talent and, often, are launch pads for future entrepreneurs. The Minnesota startups listed here were founded by entrepreneurs who began their careers at large companies in the Twin Cities; the businesses range from new ventures on the fast track to well-established brands with big potential. And as impressive as this list is, it's only a sampling of the local entrepreneurs with roots in large companies.
---
Follow the links below to navigate companies by category:
(♦ = former employment)
---
Bizzy Coffee
Co-Founder and ceo: Alex French (♦General Mills marketing analyst; Best Buy forecast analyst)
Co-Founder and coo: Andrew Healy (♦St. Jude Medical research and development engineer; Spectrum Plastics project manager)
ProducT: Cold brew coffee sold direct to consumer and through grocers. It's the top-selling cold brew brand on Amazon. 
Funds raised to date: $4.85 million in debt and equity
2021 projection: 75 percent growth over last year
Corporate insights: "Most corporate employees want to be an entrepreneur but don't have the risk profile," French says. "What that means for entrepreneurs is that there are extremely smart people who want to help because it gives them the satisfaction of being involved without the risk." bizzycoffee.com
D'Avocado
Greg D'alessandro founder (♦General Mills marketing manager)
A chocolate dip with avocado and six other natural ingredients, manufactured in Loretto. fromtheavocado.com
Flackers
Donn Kelly co-founder and CEO (♦Best Buy marketing director; Pillsbury marketing manager)
The Minneapolis-based natural foods company offers flaxseed crackers and seed crisps. flackers.com
Fulton Beer
Ryan Petz Co-founder and CEO (♦General Mills associate channel manager)
Brewing craft beer in Minneapolis since 2009. fultonbeer.com
Katana AgriScience Corp
James Kirk co-founder and president (♦Cargill securities manager; Ameriprise Financial director, alternative investments)
Diwa Ratnam (♦3M lab manager)
The St. Paul-based global biotech company develops next-generation solutions for agricultural safety and sustainability. katana-ag.com
Minneapolis Cider Co.
Jason Dayton co-founder (♦Target food and beverage merchant) 
David O'Neill co-founder (♦EY risk advisory consultant)
Maker of craft hard cider, with a Minneapolis taproom. minneapoliscider.co 
Mostly Made
Jillian McGary founder (♦Target marketing analyst)
The Wayzata company makes refrigerated, fresh meal starters. mostly-made.com
Ommie Snacks
Claudia Fierro-Poppen founder (♦General Mills marketing communications manager)
The Chanhassen company makes "allergy-friendly" vegan energy bars from fruit, seeds, and spices. ommiesnacks.com
Pimento Jamaican Kitchen & Rum Bar
Tomme Beevas founder (♦Cargill director of community involvement) 
The restaurant features authentic Jamaican street and comfort food at its Minneapolis and St. Paul locations. pimentokitchen.com 
◊ Pimento has been featured on Food Network and Travel Channel. 
So Good So You
Rita Katona co-founder (♦Target senior buyer)
The Minneapolis-based wellness brand sells probiotic health-juice shots. sogoodsoyou.com 
◊ Closed on $14.5 million in growth funding in late 2020. 
The Twisted Beverage Co.
Scott Dillon founder (σGeneral Mills sales director)
The Minneapolis-based company creates shrubs (The Twisted Shrub) and health shots (The Twisted Shot) using apple cider vinegar as the primary ingredient. thetwistedshrub.com
"What the pandemic has done is accelerate this movement of people understanding that investing proactively and managing their own health pays dividends when it comes to their immunity."

—Rita Katona,So Good So You,By All Means podcast
---
Alice Riot
Kelly Groehler co-founder and CEO (♦Berkshire Hathaway communications; Best Buy communications executive)
The Minneapolis accessories brand offers silk scarves with original designs by contemporary women artists, plus original artworks on canvas.  aliceriot.com
Friska
John Peine founder (♦Target divisional merchandise manager)
The Minneapolis-based company makes digestive supplements designed to promote wellness. getfriska.com
Rae Wellness
Co-founder: Eric Carl (♦Target wellness and emerging brands strategy leader)
Co-founder and CEO: Angie Tebbe (♦Target merchandising director)
Product: The Minneapolis-based health and wellness brand offers a range of vitamins and supplements.
Recent fundraising: In June, Rae announced $9.5 million in Series A funding.
2021 projection: Rae had 1 million customers in 2020 and is on pace for triple-digit year-over-year growth in 2021.
Corporate insights: "Being a leader at Target prepared me with the toolkit I needed to start and lead a growth company—including seeing the white space opportunity, developing products around a mission, partnering with investors and retailers, and recruiting and developing a strong team," Tebbe says. "When we started Rae, we put our consumers at the forefront of every decision. It was our mission to understand what they are thinking about, what they need and want, and where and how they live. Ultimately, that guided our brand strategy, our product development, and the essence of who we are." raewellness.co
HiBAR
Dion Hughes co-founder (♦Fallon creative director)
The St. Paul company makes plastic-free solid shampoo and conditioner bars.hellohibar.com
Odele Beauty
Britta Chatterjee co-founder (♦General Mills channel manager; Target partnerships and negotiations manager)
Lindsay Holden co-founder (♦Target merchandising manager)
Shannon Kearney co-founder (♦Renpure product manager)
The Minneapolis brand makes clean beauty products including shampoos, conditioners, and body washes sold online and at Target stores. odelebeauty.com
Omnia Fishing
Chris Morgal co-founder and COO (♦Navico account manager)
Dan Wick co-founder and CTO (σTaylor Corp. product manager)
The high-tech sporting goods company helps anglers buy fishing gear based on specifics such as which lake they're fishing and what they want to catch. Available via e-commerce and its Golden Valley store.omniafishing.com
Womaness
Sally Mueller co-founder and CEO (♦Target senior marketing executive)
The Minneapolis-based founder and CEO runs this beauty and wellness company based in New York City. The company offers modern menopause solutions such as supplements, serums, wipes, and pads, available at Target. womaness.com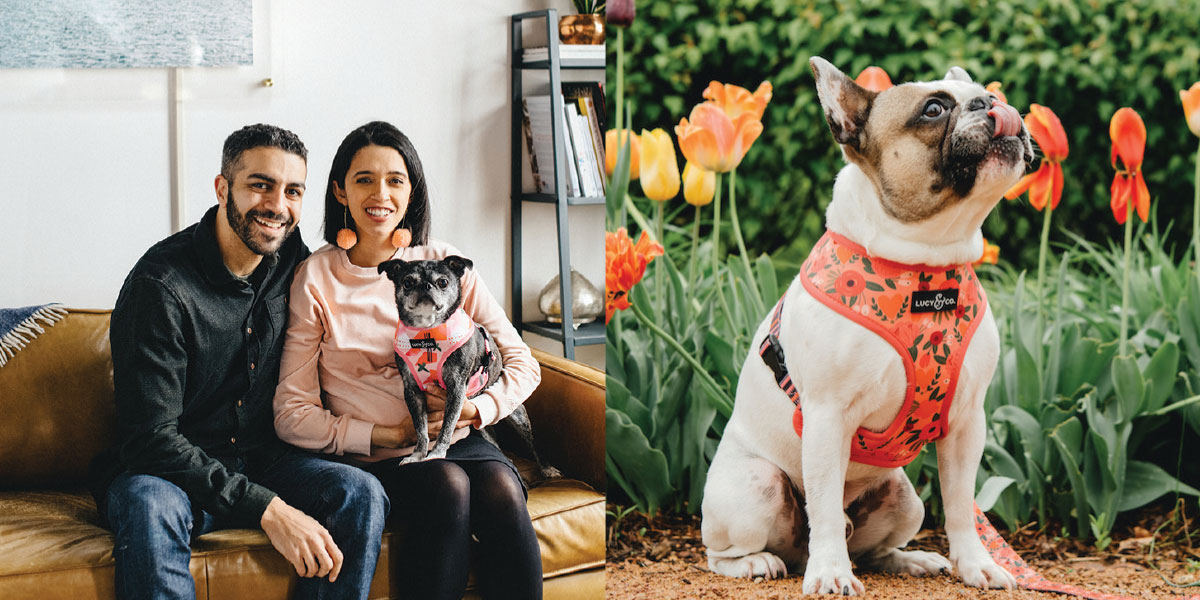 Lucy & Co.

 
Ahmed El Shourbagy co-founder and CEO (♦Target analyst) The Minneapolis-based company makes dog apparel, gear, and bandanas. lucyand.co
◊ El Shourbagy also founded Dogs of Instagram, an account with more than 5 million followers.
---
Abilitech Medical
Angie Zavoral Conley founder and CEO (♦Medtronic marketing manager) 
An Eden Prairie-based medical device company known for its Abilitech Assist, a wearable orthotic device that supports patients with upper-limb weakness or injury. abilitechmedical.com
♦ Abilitech Medical was a 2019 MN Cup Grand Prize and Tekne Medtech Award winner.
"The mission is what carries you through. … This is my imprint on the world … an exciting opportunity to fill an unmet need and change the lives not just of patients but their caregivers." 

—Angie Zavoral Conley, Abilitech Medical, By All Means podcast
Bright Health Group
Bob Sheehy co-founder and chairman (♦UnitedHealthcare CEO)
The Minneapolis-based integrated health care company uses technology and a curated network of doctors, clinics, and hospitals to provide quality health care at a low price. brighthealthgroup.com
◊ Bright Health went public in June, raising $924 million.
Clinician Nexus
Katrina Anderson co-founder and CEO (♦HealthPartners communications associate)
The Minneapolis computer software company offers products with multidirectional data sharing that enables health systems, schools, students, and clinicians to coordinate, monitor, and measure student success in clinical settings. cliniciannexus.com 
"A world without Clinician Nexus was scarier than quitting my job." 

—Katrina Anderson, Clinician Nexus, By All Means podcast
Collagen Solutions
Jamal Rushdy president (♦Tornier USA [now Wright Medical] vice president of sales operations and business development)
Eden Prairie-based Collagen Solutions is a global supplier, developer, and manufacturer of medical-grade collagen, tissues, and other biomaterials for use in regenerative medicine, medical devices, and research. collagensolutions.com 
DiaspoCare

 
Serge Alain Wandji co-founder and CEO (♦Children's Minnesota vice president of business development and innovation; Cargill asset manager) 
The St. Paul-based digital health care platform connects patients, doctors, and pharmacists  in African countries to pharmacists and clinicians in the U.S., allowing people in the U.S. to access and pay for quality medications for their family members in Africa. diaspocare.com 
◊ Wandji has founded four startups, including NextPakk and Sandogame. 
Geneticure
Scott Snyder co-founder and CEO (♦Target buyer and business analyst) 
The Rochester-based biotech company uses genomics and integrative physiology to develop personalized diagnostics tests and tools for clinician use. geneticure.com 
HabitAware
Aneela Idnani Kumar co-founder (♦Fallon senior integrated producer) 
Sameer Kumar CEO (♦Ameriprise Financial director of strategy and business development)
The Minneapolis-based wearable technology company is known for its development of a habit-tracking awareness bracelet called Keen, which helps users break the cycle of behaviors including hair pulling, skin picking, and nail biting. habitaware.com
"When things get hard, you have to focus on the reason why you're in it, which for us was to solve this problem."

—Sameer Kumar, HabitAware, By All Means podcast
Imanis Life Sciences
Kah-Whye Peng co-founder and COO (Current Mayo Clinic professor of oncology)
Dr. Stephen Russell co-founder and CEO (Current Mayo Clinic professor of molecular medicine)
The Rochester-based biotech company provides novel virological solutions for the advancement of science and public health. imanislife.com 
◊ Developed the Immuno-Cov test to measure the body's defense capabilities against Covid-19.
Inspire Medical Systems
Tim Herbert president and CEO (♦Medtronic product developer and clinical researcher)
The Minneapolis-based medical device company is developing products to treat sleep apnea. inspiresleep.com 
Kavira Health
Andrew Headrick founder and CEO (♦Piper Jaffray health care investment banking analyst)
A direct-to-employer health care provider based in Minneapolis, offering subscription-based primary health care via telehealth and in-person house visits. kavirahealth.com 
◊ Launched in March and currently serving Twin Cities companies.
Marani Health
Co-founder and CEO: Ann Holder (♦Mayo Clinic entrepreneur in residence; Medtronic executive director of integrated health solutions; General Mills operations manager)
Co-founder, CFO, and COO: Kathy Tune (Current partner at Capita3; ♦Piper Sandler analyst; partner at Thomas, McNerney & Partners)
Product: A tech-enabled digital health platform for prenatal and postpartum care. In addition to standard biometrics, the company is developing a wireless, reusable textile-based product for maternal and fetal monitoring at home. 
Funds raised to date: $10 million
2021 projection: Completion and official launch of the platform
Corporate insights: "I was fortunate to have a fulfilling corporate career that gave me the experiences I needed across engineering, operations, finance, and business development to start and build a company," Holder says. "I was in positions as an individual contributor as well as leading teams. I learned a lot about bringing products and services to market in both large and small companies." maranihealth.com 
Morari Medical
Jeff Bennett founder and CEO (♦Medtronic product manager; Boston Scientific marketing manager)
The Maple Grove company makes a wearable device that uses neurostimulation to treat premature ejaculation. morarimedical.com
Rebiotix
Lee Jones founder, president, and CEO  (♦Medtronic general manager)
The Roseville clinical-stage biotech company is using the microbiome to treat gastrointestinal diseases. rebiotix.com 
◊ Jones is also the director of New Prague-based home health service company Electromed. 
Rion
Dr. Atta Behfar co-founder (Current director of the cardiac regeneration program and deputy director of translation, regenerative medicine at Mayo Clinic)
Dr. Andre Terzic co-founder (Current Mayo Clinic professor of cardiovascular research)
Rochester-based Rion is a clinical-stage regenerative medicine company developing exosome therapeutics to treat conditions where tissue regeneration is needed.  riontx.com
Sonex Health
Dr. Darryl Barnes founder and CEO (♦Mayo Clinic Health System medical director and physician) 
The Eagan medical device company's SX-One MicroKnife allows for a less invasive procedure to treat carpal tunnel.  sonexhealth.com  
Vyriad
Kah-Whye Peng co-founder and CTO (Current Mayo Clinic professor of oncology)
Dr. Stephen Russell co-founder and CEO (Current Mayo Clinic professor of molecular medicine)
Rochester-based Vyriad develops viral and gene-based therapies to attack cancer cells and prevent recurrence. vyriad.com 
NEW RULES
Christopher Webley founder (♦Target textile engineer)
NEW RULES is a modern real estate collective that turns empty buildings in Black and brown communities into innovative spaces designed by the communities they serve. newrulesmn.com
---
Float
Jake McHenry co-founder and CEO (♦Target business analyst)
The Minneapolis-based company is like an Airbnb for boats, connecting boat owners and renters across the Land of 10,000 Lakes. letsfloat.com
Kaleidoscope
Gregory Dehn founder and CEO (♦Target and Medtronic technology director; UnitedHealth Group mergers and acquisitions technology integration leader; Boston Scientific information systems leader)
The Minneapolis-based company's goal is to make education more accessible using its hosting platform and by matching organizations offering awards, scholarships, and grants with students who need them. mykaleidoscope.com
LegalQ
Zeb Anderson co-founder and CEO (♦Medtronic analytics manager)
Wagma Gharwal co-founder and advisor (Current Deluxe Corp. senior contract strategist)
Tim Schuster co-founder and CMO (♦Thrivent development consultant)
The Minneapolis-based app offers users on-demand 15- or 30-minute consultations with a licensed attorney. legalq.io
"People don't want to stay in an uncomfortable place, but there's no quick fix to becoming inclusive." 

—Rosemary Ugboajah, Neka Creative, By All Means podcast
GenEQTY
Founder and CEO: Dionne Gumbs (♦U.S. Trust senior vice president, private client advisor) 
Service: GenEQTY is a Minneapolis-based financial technology company developing digital banking solutions to help small businesses and solopreneurs improve financial performance, manage business health, and get faster access to funding through a single central, data-driven business hub. 
Funds raised to date: Previously self-funded, the company has recently raised an undisclosed amount to accelerate product development and growth.
2021 projection: Set to launch this fall, GenEQTY was recently accepted into the Mastercard Start Path startup engagement program. "Being chosen for this highly selective program accelerates our brand presence and allows us to leverage the power of a massive, powerful global player," Gumbs says. "Start Path companies have gone on to raise more than $4 billion in post-program capital."
Corporate insights: "Two decades working in financial services highlighted many areas of opportunity for the industry. Notably, the barriers to success—let alone entry— for women and minority business owners were all too prevalent. My most successful clients would often share how unnecessarily difficult their journey in accessing capital and resources had been. The potential of women and minority business owners is overlooked far too often," Gumbs says. "But not anymore. GenEQTY is a platform born out of the intense desire to give financial freedom and relief to more business owners." geneqty.com
Neka Creative
Rosemary Ugboajah CEO (♦Target marketing senior specialist; Colle McVoy account supervisor; Yamamoto account supervisor)
The Minneapolis-based brand development agency focuses on what it calls Inclusivity Marketing—a holistic approach of integrating different perspectives and experiences into one cohesive brand process. nekacreative.com  
Pivot Strategies

 
Stacia Nelson founder and CEO (♦Target global affairs manager) 
Minneapolis-based Pivot Strategies is an internal communications agency with clients including Abbott Laboratories, 3M, General Mills, Medtronic, and Cargill. pivotstrategies.com 
Sidewalk Dog Media
Ali Jarvis founder and CEO (♦Target accountant)
The Edina-based media company creates content geared to "pup parents" in the Twin Cities, Chicago, Denver, and Seattle. sidewalkdog.com
VF Health Fitness Solutions
Valerie Fleurantin founder and CEO (♦Target data governance analyst; Medtronic software engineer)
The fitness company offers a variety of in-person and virtual classes, including Zumba, HITT, and abs boot camps. vfhealthfitnesssolutions.com
"There's so much technology that comes out that is just a flashy light and spinning wheels. We want to deliver competitive advantage."

—Dan Mallin, Lucy AI, TCB interview
---

Apple & Banana
Rishi Murugesan co-founder and head of design  (♦Best Buy UX designer) 
Sibi Murugesan co-founder and head of product and growth (♦Best Buy senior strategy analyst) 
Varun Murugesan co-founder and head of research (♦Best Buy research manager and United HealthGroup data analyst)
The Minneapolis-based computer software company makes UX resources and software. appleandbanana.org 
Lucy AI
Dan Mallin founder and CEO (♦3M manager)
The Minneapolis-based artificial intelligence-powered management assistant helps securely integrate internal files and systems. lucy.ai
SayKid
DeLonn Crosby founder and CEO (♦Target senior general manager, corporate social responsibility)
The Minneapolis-based voice technology company's ToyBot, a plush voice-interactive robot, is designed to make early education more accessible. saykid.com
◊ 2020 Grand Prize winner at the Alexa EdTech Challenge at South by Southwest's education conference and festival.
Peach Mindfulness
Founder: Quyen Balter (♦Target data scientist)
Software: An AI-personalized meditation app created by the St. Paul-based company in collaboration with a Buddhist monk. 
Funds raised to date: $35,000
2021 projection: 50 percent revenue growth by the end of the year 
Corporate insights: "My experience working in top technology companies has inspired me to develop products that humanize tech," Balter says. "In the past, we used to think machines were cold and aloof. At Peach, we are building a system that understands your mood, wants, and needs, and we deliver the exact meditation that you need at the moment." peachmindfulness.com