Evereve Adds Stores, Anticipates "Pent-Up Demand"
The women's apparel retailer plans to double the size of its Edina flagship, build at least six new stores nationwide, and expand assortment.
Despite store sales dropping by 33 percent in 2020, Evereve believes shoppers will return to brick and mortar—so much so that the women's apparel retailer plans to double the size of its hometown flagship store in Edina, Minn. and open at least a half dozen new locations nationwide this year.
"We're bullish on the future of brick and mortar," co-CEO Mike Tamte said Thursday, confirming that he signed the lease on a 13,000-square-foot two-level space just two doors down from Evereve's current 50th & France store. Evereve will take over the former Steele Fitness and an adjacent storefront. The sales floor totals 6,400 square feet, which is 1,600 square feet larger than any current Evereve store nationwide. The additional lower-level space will be used for new initiatives, like a studio to produce social media videos, as well as a generous stockroom. The backspace flies in the face of today's showrooming trend, particularly popular among digitally native brands, where the physical store is primarily for display and purchases get completed online.
"Our strategy is to go deeper in fewer products," Tamte said. "We believe the biggest customer frustration is not having her size."
The Evereve expansion comes as many retailers downsize. More than 12,200 U.S. stores closed last year, according to real estate firm CoStar Group. That included high profile bankruptcies like J.C. Penney, Neiman Marcus and Pier 1 Imports. Other chains, including Gap and Macy's, are reducing store count to stay afloat.
Evereve was no exception to the downturn; the company lost $1 million a week when its 94 stores were closed during nationwide lockdowns last spring. Tamte said he had to lay off 50 employees, mostly sales associates, and cut way back on inventory to "keep a healthy balance sheet" without borrowing money. Evereve employs around 2,000 nationwide.
Like many retailers, Evereve's e-commerce sales surged in 2020, but even a 50 percent increase couldn't make up for the loss of store sales. "Stores are going to come back for most apparel retailers," Tamte said. "We crave human connection."
A fashion renaissance?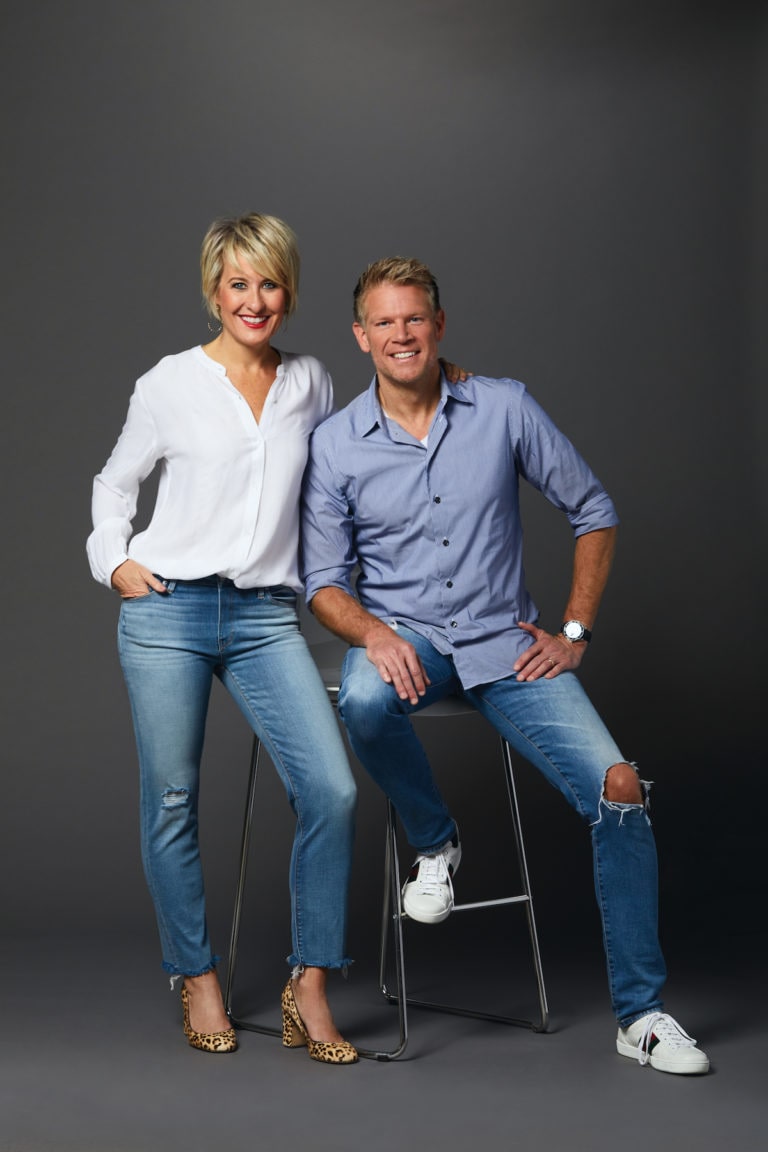 Husband and wife co-founders and co-CEOs Megan and Mike Tamte opened their first boutique in the Tony suburb of Edina in 2004. They parlayed a successful formula of catering to moms with contemporary fashion and friendly service into a national chain with a robust e-commerce business that generated $150 million in annual revenue, pre-pandemic.
"Service is our secret sauce," Tamte said. In focus groups, Evereve customers have said they shop in store for the assistance and validation. A few years ago, Evereve introduced Trendsend in an attempt to deliver styled selections to online customers and compete with juggernauts like Stitch Fix and Trunk Club. That piece of the business grew 20 percent last year, which was lower than Tamte expected. Overall, the retailer ended 2020 down 10 to 15 percent from 2019.
The hits keep coming: about a third of Evereve's stores, from Texas to Ohio, had to close this week due to extreme weather and power outages.
Still, Tamte remains undeterred.
"We're always in the futures business," Tamte said. Last March, when the pandemic took hold and stores shut down, "We asked ourselves, when will customers start shopping again? And we said: March 1, 2021."
Following many subdued months focused on comfy clothes and essentials, Evereve is planning a spring fashion blitz with more than $6 million in new inventory arriving in stores and online in the next two to three weeks. That's compared to $10 million in inventory over the past six months. "We're planning for a renaissance," Tamte said.
"Women's apparel sales are linked to social activities. Nothing could have pronounced it more than a pandemic."
Evereve's target date of March 1 may have been about 45 days premature, Tamte acknowledged. "By April or May, we believe the sales will come back, people will get out. I think we're going to see pent up demand from women who haven't bought dressier clothes in a year."
Of course, casual clothing has always been Evereve's sweet spot, but even sweatshirts and joggers couldn't make up for the pandemic downtown in overall traffic. "Women's apparel sales are linked to social activities," Tamte said. "Nothing could have pronounced it more than a pandemic. The fate of restaurants is tied to our fate. We had no idea how interlinked they were."
Overall, the retail industry ended 2020 up 6.8 percent with consumers spending a quarter of a trillion dollars more than they did in 2019, according to the National Retail Federation. But the growth came from grocery and staples, building materials and garden equipment. At Evereve, the average order size stayed the same; there were simply far fewer of them.
Without anywhere to go, many of Evereve's customers didn't buy. "As travel comes back, concerts return, and restaurants open up, that's going to benefit us for sure," Tamte said.
Evereve will be ready with new brands and expanded categories, like footwear. "The digital world has decimated contemporary footwear. We're going to try it." Shoes take up a lot of display space—something Evereve will have in abundance when the new Edina store opens in September. The current selection of around 30 styles will jump to 100, Tamte said. And if it sells in Edina, expect a rollout to other locations. "This is going to be our playground," Tamte said of the new Edina flagship store.
More store openings
While Evereve revised its 2021 growth plans, Tamte still expects to open six or seven new stores this year. The company just signed its first California lease, at The Point in El Segundo and two in Florida at Waterside Shops in Naples and a corner store in the shopping district of Winter Park, Florida, a northern suburb of Orlando similar to 50th & France. Last week, Evereve opened its doors at American Dream in New Jersey, the Ghermezian family's new millennium version of Mall of America, which delayed its opening due to Covid-19. That store was built before the pandemic.
"We're getting closer to the 50-yard line—better locations, bigger stores, bigger risks," Tamte said. Calculated risks, at that.  Edina remains Evereve's top performing location (other than a pandemic dip that had a Scottsdale, Arizona store outperform it last year). "If we believe customers are going to come back, we need more space."
Listen now: Megan and Mike Tamte share the story behind Evereve on By All Means.