Minnesota Businesses Tap the Brakes
Optimism about the economy and plans for further business investment are receding after two quarters of increased confidence and spending.
Minnesota businesses plan to reduce hiring and spending, anticipating softening economic conditions between now and Sept. 30, according to TCB's Quarterly Economic Indicator (QEI) study completed by 388 business leaders statewide. Their sentiment is similar to that seen during 2016, when leaders more often expressed plans to maintain current spending levels and expected economic conditions to go unchanged in the months ahead.
Economic optimism had increased during the first half of the year to its highest level recorded during the six years this survey has been conducted. For the third quarter, however, opinions changed significantly: 31 percent more business leaders say they expect the state's economic conditions to worsen this summer and early fall, while 36 percent fewer expressed optimism, compared with second quarter findings. Similarly, 30 percent fewer believe national and global economies will improve in the months ahead, compared with last quarter.
The 21 percent of leaders who still say they believe the state's business conditions will improve compares with a 24-quarter trailing average of 32 percent. Nearly 60 percent expect they'll stay the same, which is above the trailing average of 50 percent; 20 percent say they'll worsen, which is above the trailing average of 18 percent.
When it comes to national/global economic conditions, 34 percent of respondents say they expect things will improve (above the 30 percent trailing average); 59 percent say they'll remain the same (above the trailing average of 45 percent) and only 18 percent anticipate they'll weaken (well below the trailing average of 25 percent).
These findings follow an easing of inflation and tepid consumer spending nationally through the month of May. The price index for personal-consumption expenditures rose 1.4 percent in May from a year earlier, the lowest level in six months, according to the U.S. Commerce Department. Excluding the often-volatile categories of food and energy, core prices were also up 1.4 percent, the lowest level since December 2015.
Perhaps no surprise to most readers, finding qualified labor is expected to continue getting harder in the months ahead in Minnesota, according to a record-high 56 percent of respondents to the TCB quarterly survey. Only 1.3 percent think it will become easier, and 43 percent say the ability to find talent will remain the same.
The quarter's brightest news: Business leaders say they plan to continue investing in capital expenditures at a healthy pace: 37 percent say they plan to increase such spending, down 13 percent from last quarter but up 32 percent from one year ago and above the trailing 24-quarter average of 34 percent. Only 10 percent say they plan to reduce spending in this area, compared with 14.5 percent who planned to do so one year ago at this time.
Other findings include:
Fewer employers plan to increase hiring this quarter: 33 percent say they plan to add to their head counts, down from last quarter's 45 percent and the 24-quarter trailing average of 36 percent.
Fewer employers plan to increase wages: 36 percent say they will do so, compared with last quarter's 47 percent. However, this quarter's findings are slightly above the 33.5 percent who planned to raise wages in the third quarter of 2016.
Only 19 percent of respondents say they plan to increase investments in research and development, down from the second quarter's 28 percent and a trailing average of 21 percent.
A healthy 46 percent expect revenues to increase, but this is down from last quarter's 62 percent and a trailing average of 50 percent.
Employee productivity is expected to increase at 44 percent of the businesses participating in the survey, down from last quarter's 50 percent and a trailing average of 49 percent.
Operating profit margins are expected to increase at 28 percent of the businesses responding, down from 41 percent last quarter, but down only slightly from a trailing average of 29 percent.
TCB's quarterly study also asks respondents to tell us what they expect to be their greatest business challenge in the third quarter. Among the 302 written responses, finding good employees topped the list as usual. But more than in previous quarters, employers are expressing concerns about growing their revenues and keeping their profit margins under control. Other common concerns covered regulation and taxes. Here are a few of the responses:
"Retaining and attracting labor when wages are stagnant, as customers will replace subcontractors who raise prices."
"Increasing our market share while not dropping our margins."
"Completing work-in-progress on schedule. Currently working at maximum productivity."
"Increasing the conversion rate of qualified leads into paying customers."
"Being able to reach other people and new customers through all of the digital clutter in all of our landscapes."
"Getting customers to want to come downtown [to Minneapolis] despite all the construction and undesirables loitering around."
"Crime in downtown Minneapolis. Endless road construction makes it difficult to access our offices, and clients have the same difficulty. We are likely moving out of Minneapolis when our lease expires."
Asked if there was anything else they would like to add, 58 people responded. Here are a few of their responses:
"Minnesota has a toxic business culture: High taxes plus an anti-business culture throughout the state forces successful people [to] plan their exit from the state."
"The republican focus on widening the income gap between the top earners and the rest of the country's earners will continue to make the economy less stable. The continued trend toward monopolization of markets, the rise of technology and AI and the death of traditional businesses that used to employ much of the workforce (e.g., retail, manufacturing, etc.) will be what affects all companies and markets. The country and our region need to begin to figure out how to keep small businesses strong and people employed as our economy needs less and less workers.
"My only concern is what the crazy uncle Trump effect will be on the country and international relations."
"Minnesota needs to drop the estate tax. We are losing entrepreneurs once they sell their businesses."
Another question was whether those businesses that plan to expand will do so in Minnesota. This quarter, 52 percent indicated they would, down from 58 percent last quarter but up from 47 percent one year ago at this time; 23 percent said they wouldn't, and 25 percent answered "unknown."
Above, percentage of respondents anticipating increases or improvements in these areas during the third quarter of 2017—diffusion-indexed: For each question, all responses for "increase" added to one-half of responses for "maintain/stay the same." Above 50 is positive; below is negative.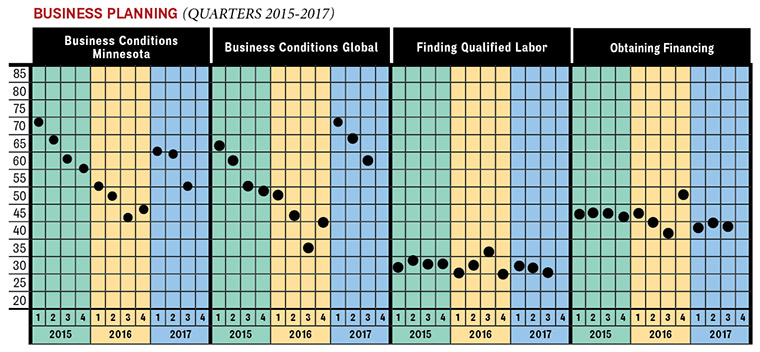 Percent of 388 Minnesota businesses, by industry, that anticipate increases in these areas during the third quarter of 2017.
Methodology
Twin Cities Business conducts its survey quarterly to provide a look at business planning and sentiment among leaders across all industries in Minnesota. An email link to an online survey was sent to 14,514 Minnesota business leaders in mid-June and reminder emails were sent the following two weeks to those who had not yet completed the survey. The Minnesota Chamber of Commerce provided some of the email addresses used in this outreach. As of June 29, 388 leaders responded, resulting in a 2.7 percent net response rate.