How JonnyPops Overcame a Root Beer Apocalypse
The frozen treat maker works to save Fourth of July after two truckloads of its most in-demand flavor melted.
For months, JonnyPops, the fast-growing St. Louis Park maker of frozen treats, has been planning a Fourth of July marketing blitz around one of its newest flavors, Root Beer Float—the embodiment of Independence Day on a stick. But earlier this week, that plan seemed destined to fizzle when two truckloads of the pops melted on their way to grocers nationwide. That's about 100,000 pops turned to root beer soup, right before the biggest picnic day of the summer.
 
"You always have to be prepared for whatever gets thrown at you," says CEO and co-founder Erik Brust, who started JonnyPops with Connor Wray in their dorm room at St. Olaf College. In the four years since graduating, they've gone from selling at farmers markets to being a nationally distributed brand sold at 10,000 locations and with more than 60 employees on staff.
 
Described as a smoothie-on-a-stick, JonnyPops uses simple ingredients and adheres to a 200-calorie limit per pop. Because JonnyPops avoids stabilizing chemicals, its frozen pops tends to melt even faster than the average popsicle.
 
"We used to do all-nighters in college to overcome a problem," says Brust, who along with Wray made Forbes' 30 under 30 list this year. "Now, it takes a whole team effort."
 
Bad enough when the first report came in last week of a truck breakdown, packed with pops. Then it happened again.
 
"It was two fluke maintenance things," Brust says. "Due to the hot weather, I'm sure."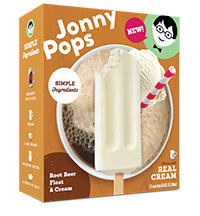 Grocers planning end cap displays featuring Root Beer Float JonnyPops begged for replacement orders in anticipation of this weekend being the busiest time for shopping before the exodus to cabins early next week.
 
The JonnyPops team kept its cool and sprung into overdrive, making root beer pops from 4:30 a.m. to midnight all week to meet the holiday demand. As of Friday morning, Brust felt confident they has replaced every melted pop. "The last order went out yesterday. They'll be coming in hot."
 
But not too hot, he hopes.