Half Price Books Workers Unionize at Four Minnesota Stores
For frontline workers, the pandemic continues to drive interest in organized labor.
Is there another organized labor movement afoot?
Workers at the Half Price Books store in St. Louis Park started the new year off by winning union recognition. Joining workers at three other Half Price Book stores in Minnesota, they became part of the United Food and Commercial Workers union, the largest private-sector union in the nation.
"We're so excited to be part of this labor movement happening right now with booksellers and other members of the working class across the country," said Kristin Tamayo, who works at the St. Louis Park store, in a statement.
The news means that four of the six Half Price Books stores in Minnesota are unionized. Of course, that's a small fraction of Half Price Books' footprint nationwide; the used book seller operates more than 120 stores throughout the country, and the Minnesota locations are so far the first and only ones to unionize. But observers say the news may spur other retail workers to consider joining a union.
"In the short run, every successful election becomes an inspiration for others," said Peter Rachleff, co-executive director of the East Side Freedom Library in St. Paul and retired history professor at Macalester College. "There is a kind of uphill momentum."
For retail workers, the push for unionized labor is certainly something of an uphill battle. Aside from grocery store workers, retail workers are generally less likely to be represented by a union. "There has always been some presence of unionization in retail," Rachleff said. "Most of that has been in supermarkets."
Aaron Sojourner, associate professor at the U of M's Carlson School of Management, estimates that just about 5 percent of retail workers are part of a union nationally. That compares to about 10 percent of manufacturing workers. But similar to the push for organized labor in the hospitality industry in late 2020, the Covid-19 pandemic continues to raise the stakes for frontline workers of all stripes.
"Many jobs worsened in terms of working conditions during the pandemic, especially face-to-face service jobs," Sojourner said in an email. "More risks and more stress. Workers have more leverage right now, with more openings per jobseeker and more quits per discharge, than anytime in recent decades. They want to push to claim more of the value that their jobs create."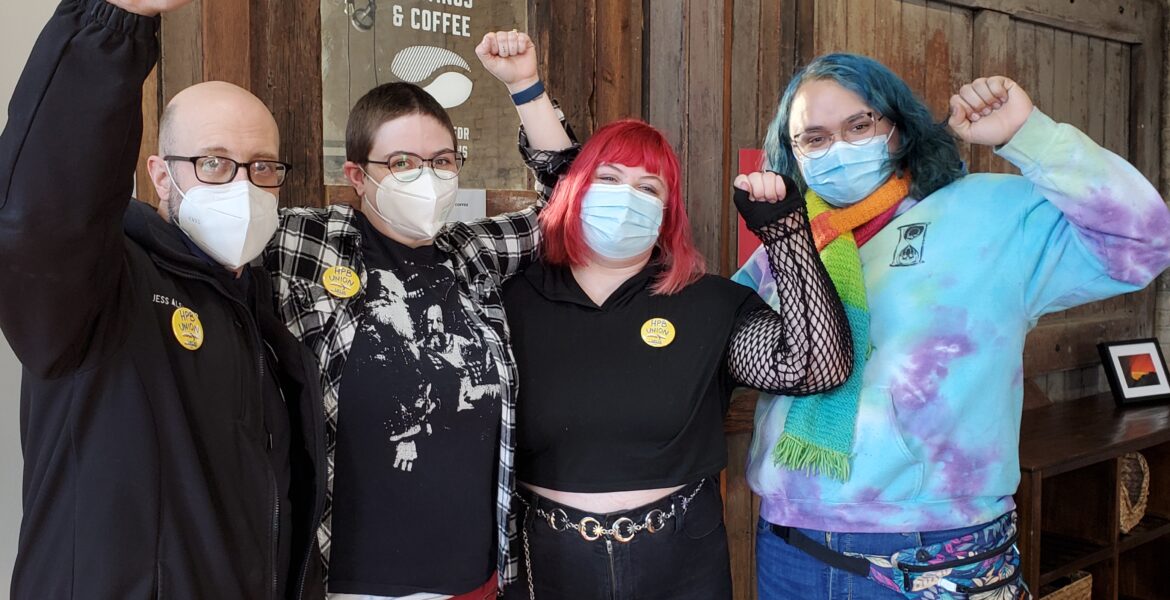 For Half Price Books workers in St. Louis Park, unionization provides a chance to secure "livable wages, better working conditions, and a seat at the table," they said in a statement. Back in October, a worker at the Half Price Books in Roseville told The Racket that a union would be "huge for worker power."
Though smaller in number these days, unions certainly still have some degree of leverage. Consider the recent strike at four Kellogg's food plants, which lasted nearly three months and led some Americans to boycott the company's brands. That strike finally ended when Kellogg's agreed to an across-the-board wage bump for workers.
Then there's the John Deere strike in late 2021, which lasted five weeks and resulted in a 10 percent wage immediate wage increase for workers.
Organized labor has been on a steady decline over the last few decades. Back in 1973, about 1 in 4 American workers were part of union; by 2020, just 10.8 percent of the nation's workforce were unionized, according to research by Georgia State University professors Barry Hirsch and David Macpherson.
Another shot at retention?
As Americans continue to quit their jobs in record numbers, unionized labor may actually help businesses hold on to workers, Rachleff said. "Some commentators have pointed out that maybe it's actually in the best interest of the employer to create a stable workforce," he said.
Rachleff argues that booksellers, in particular, stand to benefit from longer-term employees. "Customers often look to the workers for recommendations," he said. "I would think that a more stable workforce would be better for a bookstore, given the importance of those interactions."
What might all this mean for other retail workers? Might we one day see a unionized workforce at, say, Target or Best Buy? For now, U.S. labor law makes it a bit more difficult to organize at massive chains, Rachleff said. Under existing law, workers at chain stores can only organize one store at a time, instead of setting up a companywide union. "That has made organizing at chains stores particularly difficult," Rachleff said. But he says he's heard reports from Target workers in Virginia who appear to be inching toward organizing.
With scores of American companies pulling in record profits – including a few in Minnesota – workers may feel more emboldened than ever.
"U.S. corporate profits are at a record high, though that's very unequally distributed across enterprises," Sojourner said. "Some employers are raking it in, while others struggle."