2023 Best of Business
Your little black book of the go-to vendors and service providers that will keep your business running smoothly.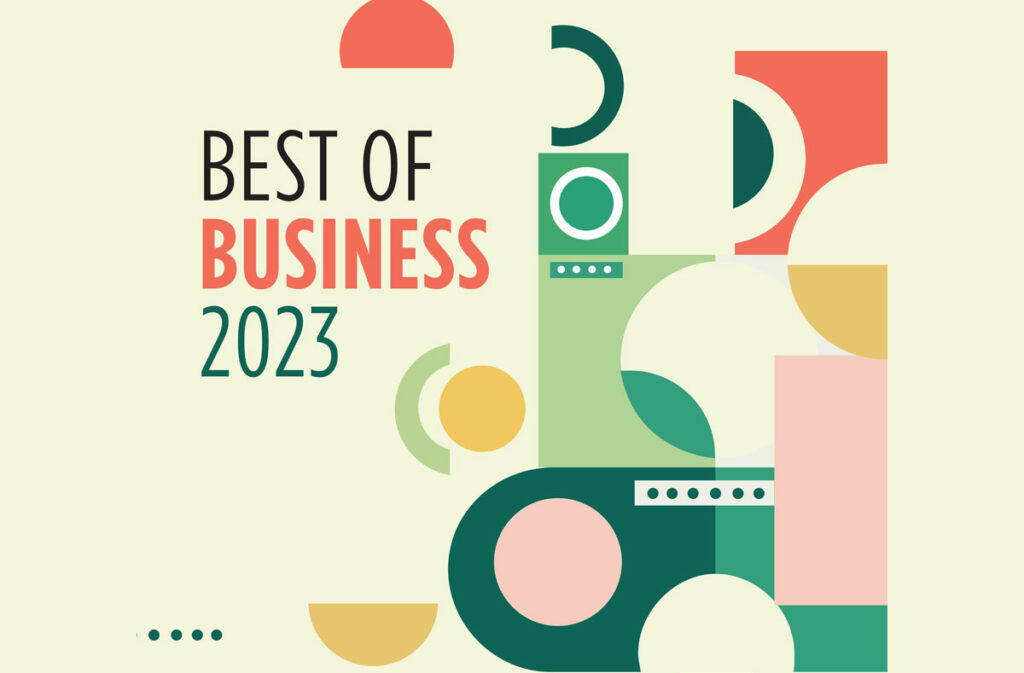 An abiding commitment to customers. The ability to execute. And exceptional service. These are some of the elements that unite the winners of TCB's 2023 Best of Business awards. These 100+ winners and finalists, selected by our readers, are at the top of their game.
Whether you need to hire an attorney, plan a memorable event, or find expert help with technology, they have been vetted by companies like yours and are the best of the best in their niche. —Adam Platt, executive editor
---
Click on the links below to navigate through this year's categories:
---
CONSTRUCTION AND DEVELOPMENT
Commercial Architecture
Doran Architects
When companies hire Doran Architects, they gain access to the full scope of Doran Companies' services. A fully integrated real estate company, Bloomington-based Doran provides start-to-finish expertise to clients, including property acquisition, development, architecture, and interior design. Its 123 employees work on in-house projects for Doran and for third-party clients, applying their skills and collaborative approach to create amenity-rich buildings. Doran Architects has deep experience designing retail, office, mixed-use developments, and multifamily housing for all ages and life stages. In 2022, the company won awards from NAIOP and the Minnesota Multi Housing Association for Carrick, an 86-unit apartment building in Tonka Bay.
FINALISTS
JLG Architects | RSP Architects
Commercial Interior Design
Doran Interiors
At Doran Companies, crafting a building's interior design is not an afterthought—it's an essential part of the process that is emphasized from the start of every project. Working in interdisciplinary teams of developers, architects, and engineers, designers at Doran Interiors create a sense of community and connection to the space through thoughtful details. Each Doran structure builds off previous projects, as the team gathers feedback from leasing agents and residents about what works and what could be better. Doran Interiors' portfolio includes affordable, market rate, and luxury housing, united by its signature style that connects to the location's history and branding.
FINALISTS
Archimea Interior Design Services | BDH
Commercial Real Estate Developer
Doran Companies
Launched in 2007, Doran Companies continues to thrive under the leadership of CEO Anne Behrendt. One of the largest woman-owned companies in Minnesota, and the largest woman-owned general contractor in the Upper Midwest, Doran develops office, housing, hospitality, and retail projects in Minnesota and wherever else its customers want to go. From offices in Minnesota, Colorado, and North Carolina, Doran has developed more than 15 million square feet. Clients benefit from Doran's numerous disciplines under one roof, including construction, architecture, and interiors. This brings holistic knowledge of market dynamics and streamlines projects to help Doran efficiently meet client goals.
FINALISTS
The Doran Group | Ryan Companies
Commercial Real Estate General Contractor
Doran Companies
One of the largest general contractors in Minnesota, Doran Companies applies its construction expertise to diverse projects for all manner of industries. It offers its services and skills from the start of every project, joining interdisciplinary teams of developers and designers to ensure that projects are completed on time and on budget. Its special projects arm allows Doran to take on a wide variety of work including tenant improvements, retail build-outs, and renovations. Whatever the project size, Doran brings the same commitment of excellence, performance, and efficiency to the table. At press time, Doran had nearly 900,000 square feet under construction.
FINALISTS
Frana Companies | Kraus-Anderson
Engineering
Michaud Cooley Erickson
Michaud Cooley Erickson (MCE) is an indispensable partner for designing and building the engineering systems that make structures run smoothly. Founded in 1946, the Minneapolis firm specializes in mechanical, electrical, and plumbing engineering. It especially shines when it can develop innovative and sustainable solutions to engineering challenges, tapping into its expertise in fire protection, lighting design, and technology systems. MCE's 125 employees have helped develop more than 10,000 buildings. Think of landmark structures in Minnesota and MCE has likely contributed, from Minneapolis-St. Paul International Airport and the University of Minnesota to the Mayo Clinic and the Cathedral of St. Paul, plus numerous corporate headquarters.
FINALISTS
BKBM Engineers | Hallberg Engineering | WSB
Multifamily Developer
Doran Companies
Multifamily housing comprises a significant share of Doran Companies' workload in the development, design, and construction industries. Its structures are known for spaces that fit their neighborhoods and amenities that foster a sense of community. This year, Doran has more than 700 units scheduled for completion, including The Laker, a six-story multifamily development in the Northeast Minneapolis arts district, and Alcott, a 350-unit development in Minnetonka with extras like a theater room, market, and clubhouse. Doran's projects are regulars on the real estate awards circuit, and the company has been named a Star Tribune Top Workplace six times since 2015.
FINALISTS
The Doran Group | Sherman Associates
---
CREATIVE SERVICES
Advertising and Marketing
Broadhead
One of the largest independent advertising firms in Minnesota, Broadhead has been growing organically and through acquisition. It recently brought into its fold local branding agency Fame and public relations firm Kohnstamm Communications, as well as HMH Agency, a Portland, Oregon, branding firm. Dean Broadhead founded the company in 2001, building it into a comprehensive powerhouse that serves the intertwined agriculture, food and beverage, and health and wellness industries, plus retail and transportation. Employee-owned and 175 people strong, Minneapolis-based Broadhead stays true to its name by bringing broad expertise and skills to its work that covers any format clients desire.
FINALISTS
Digital Marketing
Br8kthru Consulting
Br8kthru Consulting of Minneapolis pairs its technical chops with a diehard commitment to stay focused on the humans who use the technology. Add sky-high standards and a team-centric approach, and that's Br8kthru. Founded in 2017, Br8kthru and its 25 employees serve clients by listening, asking questions, and collaborating with them. The team starts by collecting data that reveals the big picture, making strategic decisions from there. Br8kthru operates as a one-stop digital marketing shop with a diverse scope of services, which come together to make clients' digital ecosystems stand out and—most importantly—function well.
FINALISTS
Public Relations Firm
Broadhead
Broadhead takes a full-service approach to working with clients, providing a tasty stew of marketing, advertising, branding, and public relations options that elevate Fortune 500 clients. Centered on its mission to transform the way people eat, move, and live, Broadhead isn't afraid to push buttons with its work. Its "Meth. We're On It." campaign for South Dakota, attracted national attention and introduced Broadhead as a firm that will make a splash to help clients grow, innovate, and change. From offices in Minnesota, Oregon, and North Carolina, Broadhead has doubled the size of its team and grew revenue by 70 percent in 2022.
FINALISTS
Beehive Strategic Communication | Fast Horse
---
DINING AND ENTERTAINMENT
Catering Company
Chowgirls Catering
Founded in 2004, Chowgirls made a name for itself as the Twin Cities' first organic and sustainable catering company. The Minneapolis caterer still prides itself on that reputation, especially food sourcing practices and green operations. The women-owned firm with 140 employees caters to a range of events and styles, spanning casual to black-tie. Each gathering reflects Chowgirls' commitment to providing genuine hospitality and exceptional fare, with flair. Last year, Chowgirls launched By-the-Box, providing sustainably packaged and deliverable food—still with the caterer's from-scratch items—to any kind of event.
FINALISTS
---
EDUCATION
College and University
University of Minnesota
The University of Minnesota has played an integral role as an educator, employer, researcher, and thought leader since 1851. It's an economic engine that generates more than $8.6 billion annually in economic activity, along with 225,000 graduates who have joined the Minnesota workforce. As one of just five universities in the United States with law, medical, veterinary medicine, engineering, and agriculture schools on one campus, the U provides opportunities for students and faculty to engage in multidisciplinary learning and research. Minnesotans understand the value of a University of Minnesota education; in fall 2022, the Twin Cities campus enrolled its second-largest freshman class in more than 50 years.
FINALISTS
Macalester College | University of St. Thomas
MBA Program
University of St. Thomas Opus College of Business
University of St. Thomas designed its MBA programs to meet the needs of working professionals and provide them with immediately applicable, real-world learning. The Opus College of Business in Minneapolis offers three MBAs: part-time, health care, and executive, with various settings and lengths. Part-time students take courses online, in person, or a combination of the two. They also select half their classes as electives that match their professional interests, from social entrepreneurship to negotiation. The health care MBA is structured for working health professionals who want to understand the field from a business viewpoint, while the executive MBA offers a cohort model that emphasizes experiential learning.
FINALISTS
St. Catherine University School of Business | University of Minnesota Carlson School of Management
---
FINANCIAL SERVICES
Accounting Firm
KeyLin Advisors
Small businesses and others rely on KeyLin Advisors for expert help—and years of experience—with accounting and taxes. Since 2016, the St. Louis Park firm has assisted clients with a varied mix of services, including bookkeeping, payroll, accounting, and sales tax compliance. That way, when it's time to prepare taxes, everything is done correctly, with information already under the same roof. KeyLin's accounting and tax planning services help clients prepare for any future they desire, whether that's growth, a sale, succession planning, or retirement. A member of BIG1 Business For Good, KeyLin embeds giving as a natural course of business.
FINALISTS
Business Bank
Bridgewater Bank
When the founders of Bridgewater Bank came together in 2005 to launch a new financial institution, they aimed to create a bank that was as entrepreneurial as they were. They developed a culture where entrepreneurs get responsive service and fast answers, paired with an optimistic outlook and local expertise. Based in St. Louis Park, Bridgewater is a full-service bank that serves entrepreneurs, business owners, commercial real estate investors, and individuals. This model has led to continuous growth, with Bridgewater celebrating $4.3 billion in total assets, seven branches, and 257 employees. In 2022, American Banker and the Star Tribune recognized Bridgewater as a top workplace.
FINALISTS
Consumer Bank
U.S. Bank
As consumer banking has become increasingly digital, U.S. Bank has adapted to provide the services customers need in the way they want to access them. The Minneapolis-based bank championed a transformation that provides a seamless experience using mobile, web, or in-person services. U.S. Bank now handles more than 80 percent of its consumer transactions and nearly 65 percent of its loan sales digitally. As the fifth-largest bank in the United States by total assets, U.S. Bank provides numerous options for consumers, including interest-paying checking accounts, savings vehicles, credit cards, and loans, backed by 24/7 customer support.
FINALISTS
Wells Fargo | Wings Financial Credit Union
Community Bank
Bridgewater Bank
A key component of Bridgewater Bank's approach to operating a strong community bank starts with being local and truly knowing its customers and their goals. Then it extends its efforts to the broader community. Bridgewater made $211 million in community development loan originations in 2022—15 percent of its total loan originations that year. Its Community Reinvestment Act committee works with nonprofit organizations that focus on affordable housing and education in low- to moderate-income areas. The FDIC recently awarded Bridgewater its outstanding rating for meeting the credit needs of its community.
FINALISTS
Bremer Bank | Sunrise Banks
Credit Union
Wings Financial Credit Union
The largest credit union in Minnesota and one of the 35 largest in the United States, Apple Valley-based Wings Financial Credit Union has served customers since 1938. Now with $8.4 billion in assets, it was started by a group of Northwest Airlines employees who believed in taking a cooperative approach to finances. With locations in five states, Wings' 349,000 members take advantage of personalized services for individuals and businesses, paired with a nonprofit's approach to personal financial health. Wings was named the best credit union for customer service by the personal finance site The Balance in 2022.
FINALISTS
Affinity Plus Federal Credit Union | TopLine Financial Credit Union
Mortgage Lender
Wings Financial CU
Wings works to ensure that its members walk into the homebuying process with their eyes wide open. It offers in-person seminars and online webinars with real estate professionals and loan officers. They answer questions for people with all levels of homebuying savvy. Members have access to HomeAdvantage, which pairs buyers with its network of real estate agents while offering cash rewards for transactions. Wings' membership is open to those who live or work in 35 Minnesota and Wisconsin counties, aviation industry employees, and residents of the Atlanta, Detroit, Seattle, and Orlando, Florida, metro areas.
FINALISTS
New American Funding | TopLine Financial Credit Union
Wealth Management
From its start in St. Paul in 1909, the brokerage firm that became RBC Wealth Management has helped customers achieve their financial goals. Its employees build close relationships with clients that help them clarify their objectives. RBC serves individuals and families, entrepreneurs, business owners, and corporations to ensure that they have road maps for retirement, wealth management, and risk mitigation. Its new RBC Gateway tower in downtown Minneapolis—the company's North American headquarters—celebrates its Minnesota roots. Today, RBC's U.S. branch has $510 billion in total client assets and more than 2,100 financial advisors nationwide.
FINALISTS
Ameriprise Financial | Edward Jones
---
HUMAN RESOURCES
Staffing Services
Salo
A perennial favorite in TCB's Best of Business, Salo capped off a productive run that started in 2002 and culminated in its acquisition by Korn Ferry International this year. Minneapolis-based Salo grew into a staffing player with customers across the country and 850 employees. Salo now has a global staffing agency with $2.6 billion in revenue behind its operations, providing ample new opportunities. It will continue helping employers and individuals with interim staffing, focused on finance, accounting, and human resources, as its leaders continue partnering with employers to develop people-first workplaces that attract the best talent.
FINALISTS
Award Staffing | True Talent Group | Versique
---
LEGAL SERVICES
Law Firm
Winthrop & Weinstine
After 44 years of serving the business community of Minnesota and beyond, Winthrop & Weinstine lawyers know how to provide the legal expertise and innovative thinking that clients need. Its 65-plus practice areas address any legal concern a business could encounter, paired with experience serving 13 industries; this makes the Minneapolis firm a trusted legal partner for legions of business clients. Its 160 attorneys work as a team to counsel clients during any challenge, from litigation and mergers to intellectual property and regulation. The Best Lawyers America 2023 recognized 46 of the firm's attorneys, including two named Lawyer of the Year.
FINALISTS
Fredrikson & Byron | Stinson LLP
---
MEETINGS AND EVENTS
EventAV Service Provider
AV For You
There's a reason AV For You has been a repeat winner of TCB's Best of Business and Minnesota Meetings and Events awards for audio-visual provider. The Crystal company has served clients big and small for 22 years with expertise and equipment that helps events stand out. It starts with pairing top-tier rental technology with planning services that ensure a seamless setup and execution on the day-of. Customers appreciate that AV For You delivers and picks up equipment—including audio, video, lighting, and staging—eliminating a big task from their to-do list and erasing worry about their audio-visual performing as planned.
FINALISTS
Decor and Equipment Rental
Après Event Decor and Tent Rental
Family-owned Après Event Decor and Tent Rental has been making Twin Cities events look good and stay dry since 1987. The Minnetonka company's 65 employees are passionate about creating memorable events with Après' fresh inventory and creativity. It specializes in tenting and structure needs for corporate and private gatherings of any kind and offers an expansive menu of options for transforming spaces, including seating, linen, and tabletop decor, plus event consultation and design. Après keeps customers' gatherings on-trend by regularly bringing in new inventory, and it opens its showroom for inspiration that brings their event to life.
FINALISTS
Meeting/Event Venue (Hotel)
Hewing Hotel
The Hewing oozes charm, from its brick-and-timber warehouse structure to its lofty-ceilinged spaces, set in the vibrant North Loop neighborhood of Minneapolis. It provides an array of meeting and event spaces to suit any occasion, including two board rooms, a ballroom, and a private dining room, totaling 7,500 square feet. Opened in 2016, the hotel has been meeting the event needs of businesses and individuals ever since. For one-stop gatherings, groups take advantage of 124 guest rooms and multiple venues to eat, drink, and be merry, including Hewing's Rooftop Lounge and acclaimed Tullibee restaurant.
FINALISTS
Canopy by Hilton Minneapolis Mill District | Four Seasons Hotel Minneapolis | Hilton Minneapolis
Meeting/Event Venue (Non-Hotel)
Machine Shop
When events are held at Machine Shop, guests get a taste of Minneapolis history in a stunning space. The building was an integral part of the Pillsbury A Mill, one of the largest working mills in the world. Machine Shop opened in 2016 as a venue after a transformation into a high-end event space for diverse gatherings. With 19,000 square feet, Machine Shop offers two levels, high ceilings, and movable walls to create endless options. Customers host striking events thanks to features like the fully furnished Break Room lounge, architectural details including original fixtures, and an upstairs option complete with wraparound views. 
FINALISTS
Nicollet Island Pavilion | Urban Daisy
---
NONPROFIT
Nonprofit
Second Harvest Heartland
Second Harvest Heartland is an essential part of the multifaceted effort to address hunger in Minnesota. Through partnerships with more than 1,500 food shelves, nonprofit partners, and hunger relief programs, Second Harvest distributes food (123 million pounds in 2022), leads anti-hunger programming, and champions equitable policies. Now with 200-plus employees, the Brooklyn Park organization and its network of partners support more than 813,000 residents across Minnesota. It continually finds new ways to serve people, developing the FoodRx program to open access to nutritious food through the health care system and its Kitchen Coalition, which has provided more than 3.5 million free, ready-made meals.
FINALISTS
Amherst H. Wilder Foundation | Feed My Starving Children
---
PROPERTY SERVICES
Commercial Property Management
Whitecap Management
A division of Doran Cos., Whitecap Management has been engaged in commercial property management since 2020. Whitecap manages Doran's many properties developed across the Twin Cities plus properties for other clients. It does third-party property management for multifamily, retail, and office properties, with a special focus on leasing out new multifamily developments. Whitecap and Doran apply their perspective as a developer and owner to its property management work, keeping a keen eye on helping owners meet investment objectives. Whitecap has a busy 2023 ahead, including taking over five multifamily developments, as well as office parks, and expanding into industrial building management.
FINALISTS
CBRE | The Doran Group | Ryan Companies
Commercial Real Estate Brokerage
Davis
As a commercial real estate brokerage, Davis goes deep in the health care market to help meet clients' complicated and specific real estate needs. This expertise makes Davis the go-to commercial real estate firm for health care clients that need to lease or build new facilities. Founded in 1986, Minneapolis-based Davis offers a breadth of services, including tenant and landlord representation, strategic planning, property development, and project management. Serving on all sides of health care projects—including leasing or selling more than 15 million square feet of medical space for landlords—helps Davis deeply understand and meet clients' needs.
FINALISTS
JLL | Suntide Commercial Realty
Co-Working Space
WeWork
Co-working spaces are as popular as ever, as people continue to navigate the transition back from total work-from-home to various hybrid models. WeWork provides the flexibility and range of options that workers crave for getting their jobs done solo, in small numbers, or in larger groups. Customers utilize its range of offerings, including day passes, meeting room rentals, or monthly memberships, with access to phone booths, lounges, and WeWork's many amenities. Need to exercise between meetings? Check. Need to host an event? Check. WeWork's sites in downtown Minneapolis and the North Loop help professionals use their work time better.
FINALISTS
---
TECHNOLOGY SERVICES
Data and Security
Ascent Solutions
When it comes to providing cybersecurity services, Ascent Solutions takes full advantage of the U.S. military veterans on staff and their special forces expertise. It's been a selling point as Ascent grew its cybersecurity business, with a specialty in Microsoft environments. The Minneapolis firm provides industry-agnostic lines of defense to help clients with security technology, enterprise defense, and secure cloud services, starting from strategy development through to technology implementation. Ascent attracted outside investment in 2018 and 2021 to fuel growth, recently in California and Texas.
FINALISTS
Atomic Data | Marco Technologies
Document Management, Printers, and Copiers
Marco Technologies
Marco Technologies' foundational business is supplying the equipment clients need to operate—work that has propelled the St. Cloud company for 50 years. Growing from a two-person team that sold typewriters and office furniture to a staff of 1,100 serving customers in 12 states, Marco aims to provide elegant and simple solutions to complex technology challenges. Along with essentials like printers and copiers, Marco offers technology ecosystems that include IT and audio-visual, telecommunications, and physical and cybersecurity services. This all-inclusive structure—and Marco's emphasis on engaging employees and building strong partnerships with clients and communities—has netted the company numerous excellence awards.
FINALISTS
Loffler Companies | Metro Sales
IT Consulting and Managed Services
Ascent Solutions
Ascent uses its expertise in cybersecurity and the Microsoft universe as its vantage point for providing customers with IT consulting and managed services. The firm applies this lens to solve customers' business problems, deploying technology to help secure, unify, and manage enterprise systems. One of Ascent's early goals was to become the world's best Microsoft partner, a mission the firm secured by becoming the company's core partner for cybersecurity strategy, implementation, and integration. Ascent customers benefit from this relationship with Microsoft, gaining access to the in-the-moment tools they need to run their IT and stay safe from mutating cybersecurity threats.
FINALISTS
Web Development
Hutman
Hutman got its start in 1996 helping photographers migrate to the digital realm, quickly evolving into a critical partner for web development. The small but nimble firm of seven employees often links up with design agencies to provide the technical backbone that helps them realize their vision. From Hopkins, Hutman operates as a small, cohesive team of senior developers who provide highly personalized service to clients in web development and e-commerce. Understanding that technology can be confusing and intimidating, the Hutman team strives to serve as a resource for clients and design partners that knows how to deploy tech tools to their advantage.
FINALISTS
Clockwork | Rocket55
---
TELECOMMUNICATIONS, INTERNET, & ENERGY
Energy
Xcel Energy
While Xcel Energy goes about providing the power we all need, the company also devotes significant energy to work toward a carbon-free sector and becoming a net-zero energy provider by 2050. Its clean-energy goals focus on electricity, natural gas use in buildings, and transportation. Minneapolis-based Xcel offers several subscriptions for customers to access wind and solar energy, along with helping individual and business customers transition to electric vehicles. For this work and more, Xcel received its 10th-consecutive Fortune magazine award as one of the World's Most Admired Companies, thanks to its top ranking in social responsibility and management quality.
FINALISTS
CenterPoint Energy | Dakota Electric
Internet Service
Comcast
As the nation's largest provider of internet services, Comcast and its Xfinity brand work to ensure that customers have fast, reliable, and secure service no matter where they are connecting. From local headquarters in St. Paul, Comcast and its nearly 1,100 Minnesota employees focus on innovation and building the next generation of broadband that supports users' unquenchable demand for bandwidth. Ookla, which provides performance data, named Xfinity the fastest internet provider for 2022's fourth quarter. Comcast uses its Internet Essentials program to connect low-income families with affordable access to high-speed internet, serving nearly 300,000 families in Minnesota since 2011.
FINALISTS
CenturyLink | Verizon
Mobile Phone Service
Verizon
American consumers are as attached to their cell phones as ever, making it critical to have reliable, expansive coverage wherever they roam. Verizon continues to be the mobile provider of choice for its fast and steady service. It racked up network quality awards from J.D. Power 30 straight times—more than any other provider—and is regularly ranked No. 1 by RootMetrics for overall network performance in the United States. As 5G becomes more widespread, Verizon is developing services that help businesses take advantage of the technology, such as deploying it to modernize supply chains or improve global payments.
FINALISTS
---
WELLNESS
Health Care System
Allina Health
Allina Health has been taking care of the community for 130 years, emphasizing care that supports people through every stage of life. The integrated system of 12 hospitals, 65 primary care clinics, more than 100 specialty care sites—plus 27,000 employees—fuel its service in communities across Minnesota and western Wisconsin. U.S. News and World Report regularly ranks Allina's Abbott Northwestern Hospital first in the Twin Cities. But that doesn't stop Minneapolis-based Allina from aiming higher. Its whole-person model aims to nurture patients' mind, body, spirit, and connection to community. It also propels innovation and partnerships to improve individual care and tackle health disparities. 
FINALISTS
HealthPartners | M Health Fairview
Health Insurance
HealthPartners
Since 1957, HealthPartners of Bloomington has taken an integrated approach to ensure that Minnesotans get the health care they need. Its founders created one of the first consumer-governed, prepaid health plans in the United States to help people pay for their medical care, while serving them at its St. Paul clinic. The cohesive model of care, insurance, and research endures, allowing the nonprofit to provide a full scope of services to customers. HealthPartners' broad insurance offerings provide coverage to individuals and families, group plans for companies big and small, and public programs with the overall goal to help people be as healthy as possible.
FINALISTS
Blue Cross Blue Shield of Minnesota | UCare
Hospital
Methodist Hospital
Whether patients go to Methodist Hospital for an emergency or for cancer treatment, its physicians, nurses, and other clinicians serve them well with their expertise and quality care. Founded in Minneapolis in 1892, Methodist moved to St. Louis Park in 1959 to bring excellent care close to home, and it meets that mission with 50 specialties on its campus. Now serving 30,000 patients annually, Methodist is regularly honored as a U.S. News & World Report Best Regional Hospital. It also was named a Watson Health 100 Top Hospital by performing well in metrics like fewer patient deaths and complications, paired with higher satisfaction. 
FINALISTS
Abbott Northwestern Hospital | M Health Fairview