The Truth Behind The Founder
Ray Kroc/McDonald's biopic is Twin Cities-centric.
"Based on a true story"—a favorite but often measureless phrase touted by Hollywood—can give filmmakers the flexibility to blur the lines between fact and fiction in search of a more entertaining story.
It's widely known that Ray Kroc, who turned McDonald's hamburger joints into a global behemoth, met his third wife, Joan, in the Twin Cities (she had roots in the Dakotas), but we wondered how many of the other local tidbits in the movie held up to a fact check.
In the new film The Founder, Joan, then married to Rollie Smith, is portrayed as cooking up the idea to cut franchisee overhead by using powdered milkshake mix instead of real ice cream and milk.
Although refrigeration expenses were a drag on early McDonald's franchisees, "Joan most definitely did not come up with Instamix," says Lisa Napoli, author of Ray & Joan, regarded as the company's definitive unofficial history. "In fact, Instamix isn't even real. The entire milkshake controversy was complete fiction."
Napoli adds that the film also takes liberties with the story behind Ray and Joan's first meeting. Joan's reputation as a pianist had been growing ever since Stanley Hubbard hired her to play piano live on KSTP-TV. The work helped land her a gig playing the Hammond organ and piano at the Criterion, an upscale supper club then on University Avenue in St. Paul.
In the film, it's 1957, McDonald's first local franchise had opened on Snelling Avenue in Roseville, and Kroc walks into the Criterion to celebrate with his local franchisee—a man named Dave Crimmins. In real life, Kroc was at the restaurant to meet with the Criterion's owners, James Zien and brother-in-law Sim Heller. They were hoping to secure the next franchise—which eventually opened on Lake Street in St. Louis Park (inset photo). The film makes no mention of Zien or Heller, instead inserting Rollie Smith, Joan's husband, as the Criterion's owner, apparently to simplify the narrative.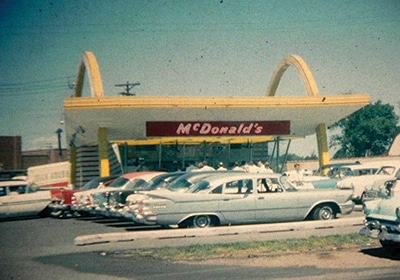 "Rollie was most definitely not the [Criterion's] owner, and he absolutely did not introduce Ray to Joan," Napoli says of the film's version of events. "[Smith] was a Navy veteran who worked on the Milwaukee Railroad as a fireman, who was hired by Jim Zien to manage the store that was built in St. Louis Park."
Incidentally, the St. Louis Park venture was nothing short of controversial. NIMBY residents felt the McDonald's would become a magnet for hoodlums. Only after months of assuring St. Louis Park officials that the restaurant would not include seating, cigarette dispensers or pinball machines did Zien get his permits, allowing Ray and Joan's relationship to begin to cook.