MSP Airport's Newest Agent Is a Droid
It's rolling all over Terminal 1, delivering food to hungry travelers.
Minneapolis-St.Paul International Airport introduced apps that deliver food at your gate pre-pandemic. Now, as travelers ease back into modern conveniences with a newfound appreciation for contactless service, those orders will be delivered by a silent droid on wheels—larger than a Roomba, but smaller than your carry-on bag.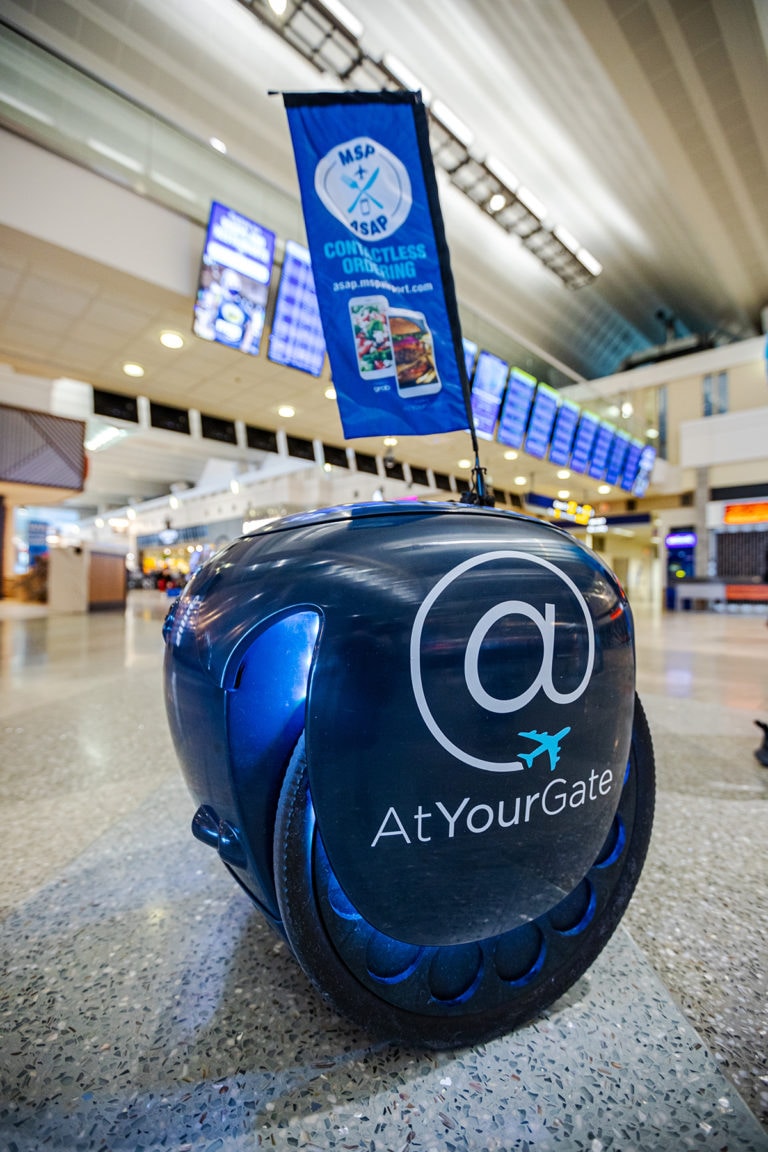 In partnership with airport food delivery platforms AtYourGate and Grab, which launched at MSP Airport in 2019, and prompted by the Covid-19 pandemic, airport food delivery portal MSP ASAP now offers contactless food delivery in Terminal 1 via the rolling droid, named gita (pronounced jee-tah).
"There is convenience and safety for customers to be able to order food from their phones or laptops, and within 15 to 30 minutes, the gita rolls up and opens its cargo doors for the customers to grab their order," said Eric Johnson, director of commercial management and airline affairs for the Metropolitan Airports Commission, which operates MSP Airport. "It's fun and whimsical, but there is also a purpose behind the technology for customers to feel more confident in avoiding queue lines and having their orders delivered."
The droid does require human help, however. Using visual sensing technology, the gita follows an AtYourGate delivery staff member to reach customers. But it isn't a gimmick—in addition to minimizing contact, the droid can carry orders up to 40 pounds in its cargo bin, making it possible to deliver to more than one customer at a time. Order demand and locations factor into when and where the gita is dispatched. The droid, which began its rounds about two weeks ago in a soft roll-out, currently offers delivery from 17 restaurants and food vendors. 
"We see gita as the first step towards introducing robotics as an innovative and safe new option for passengers who shop and dine while at MSP," said AtYourGate co-founder Chris Hartman. "Plus, the surprise and delight moments created when guests meet gita for the first time provide a terrific opportunity for the AtYourGate team to promote the MSP ASAP experience." 
Check out a video of gita rollin' here.