MN Businesses Continue Investment Ramp-Up Plans
Leaders remain optimistic about national and global economies and plan to increase hiring, R&D and capital expenditures through June 30.
Business leaders from across the state remain optimistic about the economy, though slightly less so than at the beginning of the year, according to TCB's Quarterly Economic Indicator (QEI) survey of leadership plans for the second quarter ending June 30.
Business conditions in Minnesota are expected to remain healthy. Among the 368 leaders responding to the survey, 33 percent expect business conditions here will improve, up from the previous quarter's 30 percent; but 15 percent now expect they'll worsen, which is up from 10 percent in the first quarter. (See "Business Conditions" table at right below.)
Last quarter's robust optimism about national and global business conditions cooled as well, but remains strong overall. Some 48 percent of respondents expect conditions elsewhere in the U.S. will improve this quarter, down only slightly from the first quarter's 50 percent, which was the highest recorded by this survey since it began in mid-2011. However, 21 percent now say they anticipate conditions nationally/globally will worsen between now and July 1; that's nearly double last quarter's 11 percent.
Perhaps no surprise to most readers, finding qualified labor is expected to continue getting harder in the months ahead, according to 51 percent of respondents, up slightly from both last quarter and a year earlier. Only 2.4 percent think it will become easier, and 47 percent say the ability to find talent will remain the same.
On the bright side, hiring is expected to increase this quarter at 45 percent of respondents' companies. This is up 26 percent from last quarter, 25 percent from a year ago and well above the trailing average of 36 percent. Only 8 percent say they plan to decrease headcounts, which is identical to the trailing average.
Capital expenditures also are expected to increase at 42 percent of the companies responding, up by 13 percent from last quarter and 31 percent from one year ago. Only 9 percent expect to decrease spending in this area, up slightly from last quarter, but down 31 percent from a year ago.
And, spending on research and development is expected to grow. In fact, a record 28 percent of respondents expect to increase spending in this area, up 65 percent from one year ago. Meanwhile, only 7 percent plan to decrease spending this quarter, down 28 percent from one year ago.
Meanwhile, employee productivity is expected to increase at 50 percent of the companies responding to the survey—about the same as last quarter, but a 43 percent increase from one year ago. Half of respondents reported plans to keep wages the same this quarter, while 47 percent say they'll be raising them. Only 3 percent plan to decrease.
Revenue and operating profits also are expected to increase for companies led by 62 percent and 41 percent of respondents, respectively, during the second quarter.
Gov. Mark Dayton's Approval Rating Rises
33.5 (up from 27.8% last quarter) The governor's approval rating of 33.5 percent is up by roughly 20 percent from last quarter and from a year ago at this time. The percentage of those who disapprove of the governor's performance decreased to 56.7 percent from 58.6 percent last quarter.
Fourteen percent of respondents say they believe obtaining financing will become easier in the months ahead—a new record high and up 60 percent from last quarter and 83 percent from one year ago at this time. The difficulty or ease of obtaining financing is expected to stay the same among 56 percent of respondents; 11 percent expect it will become more difficult, which is below the 23-trailing quarter average of 14.
TCB's quarterly study also asks respondents to tell us what they expect to be their greatest business challenge in the fourth quarter. Among the 279 written responses, finding good employees topped the list, followed by concerns about regulation and taxes. Here are a few of the responses:
"Uncertainty in the national and international community."
"Absorbing price increases in materials costs. Also, covering wage increases from January, and future rising health care insurance costs."
"Impact of Trump's policies on travel and visas, affecting U.S. as destination and trade."
"Business development. People are still uncertain about upcoming policy changes, program/funding cuts, etc., and are hesitant to make decisions about marketing spending."
"Media and liberal politicians blocking the Trump agenda."
Asked if there was anything else they would like to add, 41 people responded. Here are a few of their responses:
"Both service providers and clients are becoming pickier about who they bring into the fold. We all want to know that our clients/agencies share our politics. We have never encountered this before."
"I am hopeful that the [Minnesota] House and Senate will pass the legislation aimed at providing statewide consistency for benefits and hourly wages, and that when they do, Gov. Dayton will sign the law. The hodgepodge of municipal ordinances creates a nightmare for employers with employees working in multiple municipalities. We need less government regulation of these items—the market will take care of itself."
"Trump is the trump card. He may be good for the economy but there is also a good chance he could screw up what has been a nice, slow, steady growth with very low inflation since 2009. He could either screw it up by speeding up growth and driving inflation and [the] prime rate up at too fast a rate. (Like the 1980s, when [the] prime rate got to 22½ percent) or his presidency, its policies, and his government's appointees could [send] our economy and the world's in a downward spiral."
Another question was whether those businesses that plan to expand will do so in Minnesota. This quarter, 58 percent indicated they would, up from 56 percent last quarter and from 49 percent one year ago at this time; 21 percent said they wouldn't, and 21 percent answered "unknown."
About the survey
Every three months, Twin Cities Business sends to more than 15,000 business leaders throughout the state the same set of questions, asking them about plans and expectations for the next three months. This issue's survey, conducted at the end of March, provides insight into the second quarter of 2017 ending June 30.
Survey responses are used to compile TCB's Minnesota Economic Outlook Index, which comes in at 53.7 for the second quarter of 2017—about the same as for the first three months of 2017. This remains at the highest level since the second quarter of 2015. An index above 50 indicates healthy business growth; below signals slowing business growth. Through the third quarter of 2016, this indicator had slid downward for five consecutive quarters.
Above and below, percentage of respondents anticipating increases or improvements in these areas during the first quarter of 2017—diffusion-indexed: For each question, all responses for "increase" added to one-half of responses for "maintain/stay the same." Above 50 is positive; below is negative.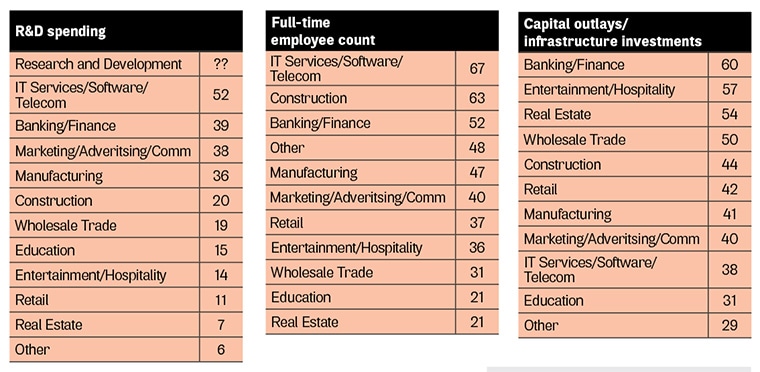 Percent of 368 Minnesota businesses, by industry, that anticipate increases in these areas during the second quarter of 2017.
Percent of respondents, by county, that anticipate increases in these areas during the second quarter of 2017.
Methodology
Twin Cities Business conducts its survey quarterly to provide a look at business planning and sentiment among leaders across all industries in Minnesota. An email link to an online survey was sent to 15,729 Minnesota business leaders in late December and reminder emails were sent the following two weeks to those who had not yet completed the survey. The Minnesota Chamber of Commerce provided some of the email addresses used in this outreach. As of March 23, 368 leaders responded, resulting in a 2.5 percent net response rate.