Exit of North Face, Columbia Sportswear Highlights Uptown Retail Challenges
Market demographics are strong in the area, so why are stores struggling?
Two high-profile national apparel retailers are leaving the Uptown area of south Minneapolis. The North Face and Columbia Sportswear are both closing store locations this month on the western side of Hennepin Avenue, across the street from the Calhoun Square mall. The North Face and Columbia stores are directly adjacent to each other.
Victoria's Secret, another store on the same block, closed its Uptown store in January 2018 after a 10-year run on the corner of Lake Street and Hennepin Avenue; the space remains empty.
"In reviewing our portfolio of stores, we determined that the Uptown [Minneapolis] location no longer fits with our strategic direction. The Columbia brand remains very strong in Minnesota, and we will continue to invest in our omnichannel businesses there," said David Lawner, Columbia's senior vice president of its North America direct-to-consumer division, in a statement. Columbia still has locations at the Mall of America and Albertville Premium Outlets.
"Omnichannel" has become a buzzword to refer to retailers who are trying to reach customers wherever they are: in a store, online, on their phone, et cetera.
A representative of North Face said that the company isn't commenting on reasons for its store closure. North Face's Uptown location opened about 10 years ago and will close this month. North Face still has other metro stores at the Galleria in Edina, the Mall of America in Bloomington, and on Grand Avenue in St. Paul.
Commercial real estate retail broker Jeffrey Herman knows the Uptown market well. He brokered the deals that brought North Face, Columbia Sportswear, and Victoria's Secret to the neighborhood. Herman said that leases were expiring for both North Face and Columbia Sportswear, a standard juncture for companies to reassess business locations and strategies.
"Right now what you're seeing with many retailers that have brick and mortar locations is right-sizing," said Herman, president of Minneapolis-based Urban Anthology.
Herman now has the job of trying to lease out both the Columbia Sportswear and Victoria's Secret retail spaces and said he's optimistic about the prospects for both.
But one veteran retail broker sees ongoing challenges for stores in Uptown.
"I want it to do well, but it's been a challenge for retailers," said John Johannson, senior vice president with the local office of Toronto-based Colliers International. "We want to be an urban market. We want to be New York or Chicago, but Minnesota consumers constantly remind us that they travel by car."
Johannson said that parking in Uptown can be challenging and frustrating for shoppers. He noted that the Lunds & Byerlys grocery store, a long-standing neighborhood anchor, has the advantage of having its own parking lot where shoppers can park for free.
On paper, it looks like Uptown should be a great retail market.
"People love the demographics: the income, the density," said Johannson.
But he adds that retailers considering the market often want to know from the businesses that are already there: how are you doing?
"My gut is that recently they would say they're not doing very well," said Johannson of Uptown retailers.
There are other holes in the Uptown market: apparel retailer Heartbreaker closed in 2017 on the Hennepin Avenue block between Lake Street and Lagoon Avenue. The space remains empty.
The most common concern for Uptown retailers of late? The fallout from the city of Minneapolis' recent reconstruction of Hennepin Avenue. On the key retail block between Lake Street and 31st Street — home to both The North Face and Columbia Sportswear stores — the city eliminated street parking for cars on both sides of the block. While the total amount of parking spaces there was not huge, retailers say that they're seeing an impact.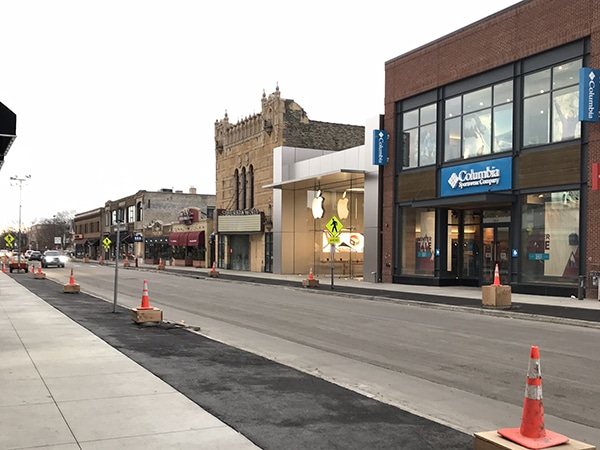 The City of Minneapolis eliminated street parking on Hennepin Avenue between Lake Street and 31st Street in Uptown. (Photo by Burl Gilyard)
"That has really, really been challenging for all the retail tenants on both sides of the street. I think that's a factor that's going to continue to be significantly harmful to the retailers in general," said Stuart Ackerberg, CEO of the Minneapolis-based Ackerberg Group. "I think the parking was kind of the final nail in the coffin for some of these retailers. Everybody is complaining that their sales are off."
Johannson and Herman both echo Ackerberg's concerns about the project's effect on Uptown retailers.
Ackerberg is seeing many of the same challenges at Calhoun Square, which the Ackerberg Group acquired in 2014. He said that retailers with storefronts on the street have fared much better than tenants in the mall's interior.
"In general, the street tenants have done pretty well," said Ackerberg.
National beauty retailer Sephora opened a Calhoun Square location in 2018, a sign of confidence in the market. But interior mall tenants that have left Calhoun Square include Visionworks, Bremer Bank and Sox Appeal.
"It's slow on the inside," said Ackerberg. "There just isn't a lot of traffic."