Does No Study Mean No Impact?
Despite the lack of a report, the X Games still pack a punch.
A key to justifying the costs and inconvenience of hosting a major national sporting event is its implied economic impact.
Minneapolis scored a two-year renewal of the annual X Games; yet the city lacks much sense of its economic impact and did not invest in an economic-impact study. That's not an oversight, says Sports Minneapolis (a Meet Minneapolis spin-off) director Matt Meunier.
The X Games is what Meunier calls a "self-contained" event, not one that requires investments from private parties, like the Super Bowl or Final Four, where "we have to demonstrate ROI to partners investing," he says. Economic impact studies are also expensive and they weren't in the budget.
Meunier insists the economic critical mass is nonetheless evident. The X Games is projected to attract 90,000 fans, 42,000 of whom are unique attendees. "Those are people staying in hotels, eating in restaurants, and taking light-rail," Meunier says. "That has a large impact."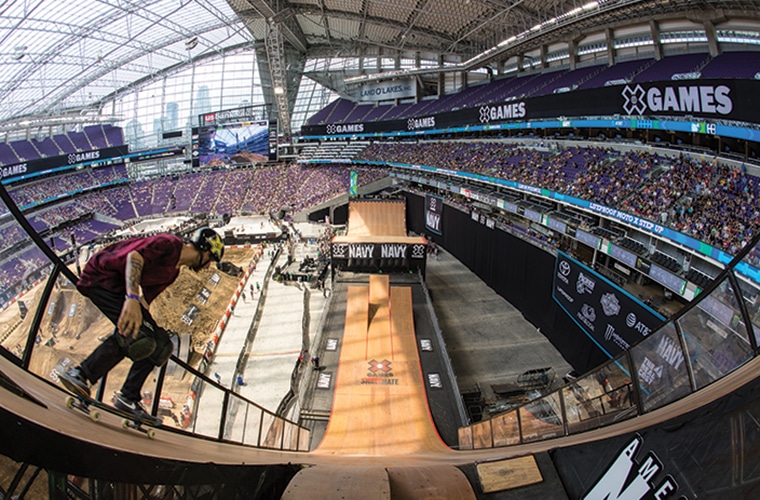 Clay Kreiner competes in the Skateboard Big Air event during the 2017 Minneapolis Summer X Games.
X Games also stands out as a repeat event. "It'll probably be a few years before the Super Bowl is back in Minneapolis," Meunier notes. But X Games is here to stay—at least through 2020.
According to an ESPN economic impact study, the X Games generates $42.1 million in local spending, plus $1.8 million in local tax revenue and 26,000 hotel room bookings. Substantial TV viewership showcases Minneapolis as well. In 2018, year-over-year viewership was up 38 percent.