Crafting A Business District In Northern Minnesota
A distinctive group of businesses is revitalizing and reinventing Duluth's Lincoln Park neighborhood.
Duluth Grill owner Tom Hanson, whose restaurant is popular with both locals and visitors, got a call in 2013 from Chris Benson, owner of Frost River, one of Duluth's many small outdoor-products manufacturers.
Benson asked Hanson whether he'd be interested in opening a second location in Duluth's Lincoln Park neighborhood. Benson had just the spot in mind: a run-down old bar across the street from his business that had recently closed. Hanson didn't want a second restaurant, but he was willing to take a look.
"My wife, Jaima, and I have this bad habit of seeing the potential in something," Hanson recalls, laughing and noting their love of fixing up old houses. They saw that there was a lot of restoration and risk in the purchase, but despite some curious design choices, the bar's building was fairly sound. Still, Hanson took a pass—at first. A year later, the building was still available. The bank that owned it accepted Hanson's cash offer of $37,000. "I thought, 'Oh my gosh, what have I done?' "
What he did was create a new restaurant. In mid-February, Hanson opened OMC Smokehouse, a barbecue restaurant that gives two talented longtime employees—the Hansons' son, Louis, and Jeff Petcoff—a chance to run their own show.
OMC Smokehouse is also one of the newest participants in what a group of local organizations and businesses have branded the Lincoln Park Craft Business District. And it's part of a remarkable story of businesses, nonprofits and government working together to rebuild a neighborhood.
Good bones
Located just southwest of downtown Duluth, Lincoln Park is one of the city's oldest neighborhoods.
As industrial businesses that employed Lincoln Park's mostly working-class residents started to disappear about 40 years ago, this vibrant neighborhood began to fade, and residential incomes dropped.
That's not to say Lincoln Park became a ghost town. There's a handsome new public school, the splendid eponymous park, and numerous solid buildings, many dating back to the 19th century. West Superior Street, the main commercial corridor, was redesigned some years ago to provide a unified, walker-friendly feel. It's home to furniture stores, auto repair shops, the Duluth Children's Museum, motorcycle-clothing maker Aerostich, and the Clyde Iron restaurant and event complex. Still, empty storefronts outnumber occupied ones. What's more, its residents have shorter life spans than most of the rest of Duluth. Lincoln Park also lacks a supermarket, clinic and pharmacy.
But Lincoln Park also is home to Bent Paddle Brewing, which along with its popular taproom, opened in 2013. "It was zoned appropriately for light industrial manufacturing, which is what a brewery is," says Bent Paddle co-founder Laura Mullen. "The building's bones were great, with heavy slabs for the tanks. And there was inexpensive square footage and highway visibility."
Early on, Bent Paddle Brewing joined an informal group of neighborhood business advocates called Advancing Lincoln Park. Launched with the help of the Duluth-based Entrepreneur Fund, Advancing Lincoln Park was established to "capture the energy of the existing businesses which were largely craft businesses," says Lars Kuehnow, a former Entrepreneur Fund staff member who is now a program officer with the Duluth office of the Local Initiatives Support Corp. (LISC), a national housing and economic development nonprofit. LISC Duluth is assisting the Entrepreneur Fund by providing financial support.
Promotion of the neighborhood as a craft business district is another one of LISC's roles. In 2015, LISC created a marketing event called the Lincoln Park Craft Business Pop-up. Ten businesses engaged in craft manufacturing or having a craft approach to their enterprise took part. LISC also has partnered with Ecolibrium3, a Lincoln Park-based energy, environment and economic development nonprofit, to hire a neighborhood coordinator to market and coordinate community activity along the corridor.
Last year, Ecolibrium3 received a grant from Washin0gton, D.C.-based economic development nonprofit NeighborWorks America, which allowed the Duluth nonprofit to engage Ecolibrium3 staff member Shannon Laing to develop neighborhood branding and other strategies to attract and retain residents, businesses and investment. This initiative has resulted in a new neighborhood logo and tagline, "#CraftingSomethingGreat."
"Some people on the East Side don't come over to the West Side, and vice versa," Mullen says. "But because of Bent Paddle and Frost River, new people did start coming here." The neighborhood had something of a stigma—poorer, more crime. Businesses like Bent Paddle showed people "it's OK to come here," Bent Paddle co-founder Karen Tonnis adds.
They've also showed that it's OK for other businesses to move there. Since 2014, the city reports, there have been 25 commercial property transactions and 17 new businesses.
"Part of the attractiveness of Lincoln Park is the low real estate cost," Kuehnow says. But there's a challenge associated with that, he adds. Along with those low costs, "you have prohibitive rehabilitation costs." He notes, however, that the city of Duluth has "really stepped up." Last year, the city established a development fund called Advance West. The program provides subordinated, partially forgivable gap financing to help building owners finance building rehabs.
Keeping it real
In addition to the city funding, LISC is providing capital to the Entrepreneur Fund for neighborhood storefront rehabilitation. LISC also offers a loan program to help business owners expand or add capacity.
However successful the efforts are, Advancing Lincoln Park and its allies don't want to create another tourist destination in Duluth. "I don't want there to be a misconception about what 'craft' means," Tonnis says. The Lincoln Park craft businesses "are making food, they're making beer, they're fixing things. There are people who've been in this neighborhood for a long time, and we want them to stay. That's part of the authenticity we want to maintain."
Hanson seconds that, explaining there are auto mechanics, plumbers and tire shops in the neighborhood. "Shannon came up with the idea that craft is working with your hands and making a living with that," he says, "So we say that the craft district really has been here already. But it's attracting more people."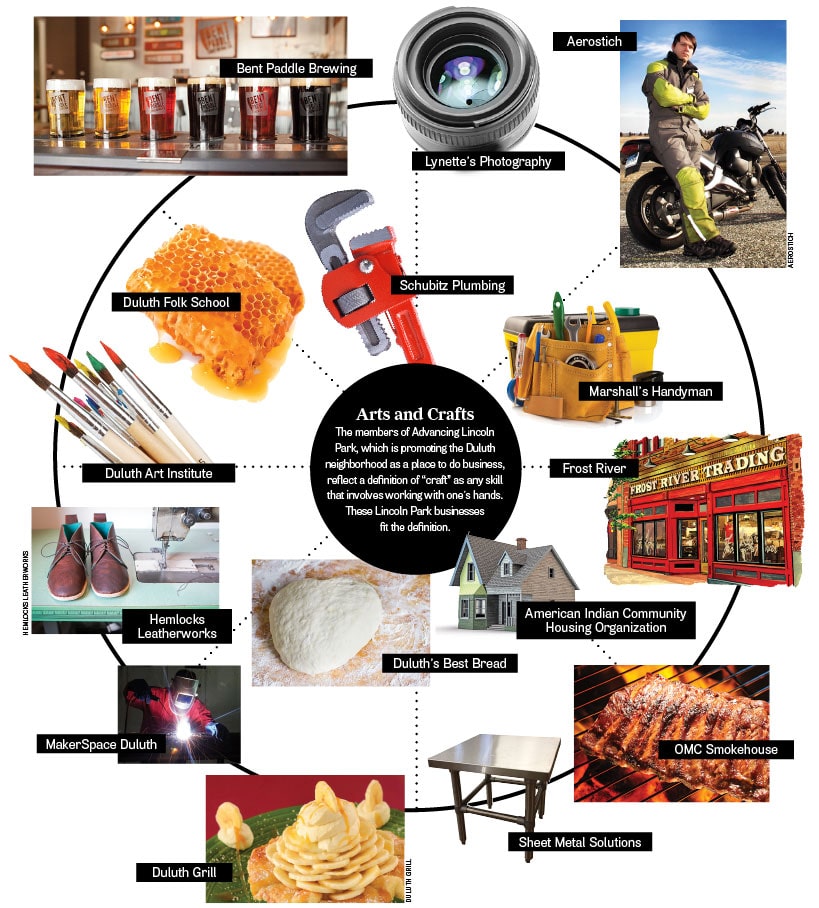 The members of Advancing Lincoln Park, which is promoting the Duluth neighborhood as a place to do business, reflect a definition of "craft" as any skill that involves working with one's hands. These Lincoln Park businesses fit the definition.
Gene Rebeck is a Duluth-based freelance journalist who writes monthly for Twin Cities Business.