Bemidji 2.0
A special report on how this former lumber town has rebuilt itself as a high-speed, regional center of enterprise.
---
Think of Bemidji and you likely recall what it was like when you were last there several years ago—a quiet community 230 miles northwest of the Twin Cities that seemed okay with thinking that its best years were behind it, and content to be a haven for retirees and tourists enjoying innumerable fishing lakes and the Chippewa National Forest.
But while you weren't looking, this town of 14,500 people—and surrounding population of another 65,000—have become one of the most dynamic regions in Minnesota—if not, in fact, the most dynamic. It may be the best-kept secret in the state.
Consider the evidence:
Its one-gigabit high-speed internet access—better than what's available in the Twin Cities—is available to just about anyone in the region, thanks largely to a foresighted cooperative that put in fiber optic cable more than a decade ago. This in turn is attracting businesses, including data centers.
Its energetic entrepreneurial scene is reflected in the fact that four Bemidji companies made the 2015 Inc. 5000 list of America's fast-growing small companies—more than any other city in Minnesota.
Bemidji Regional Airport, which has undergone $70 million in updating over the past decade, is Minnesota's fourth-busiest airport based on the number of passengers "enplaned."
The Sanford Bemidji Medical Center has transformed a small-town hospital into a regional health care provider that offers state-of-the-art orthopedics, cardiology and (soon) cancer-care facilities. Since Sanford Health has taken over the hospital and local clinics, it has added 90 doctors and numerous support staff employees.
The region is home to six postsecondary educational institutions, including one of the Minnesota State college and university system's four-year schools.
The city has guided redevelopment of a former brownfield on the south shore of Lake Bemidji into a lively area that includes a new park, a popular biking and walking trail, new hotels, and north central Minnesota's most popular event and convention center.
Along with a strong arts and theater scene, the city has its own symphony orchestra.
Its thriving downtown includes Tutto Bene, a chef-driven restaurant that features locally grown ingredients.
Tutto Bene also features locally brewed, award-winning craft beers from Bemidji Brewing, which opened its popular taproom last year.
All this is due largely to the work begun a little over a decade ago by a visionary group of leaders. As Bemidji Mayor Rita Albrecht notes, city residents asked themselves more than 10 years ago, "What kind of town do we want to be—a sleepy little college town or a regional center? Well, if we want to be a regional center, there are some things we need to do."
And Bemidji has done them. This is a hands-on community that created a new vision for itself—and has built it, through its own efforts.
A new center of town
The century-old Mayflower Building is now a focal point of Bemidji's entrepreneurial activity
Though Paul Bunyan and Babe the Blue Ox have long been the most visible symbols in the city, the one local business leaders hold up today is the Mayflower Building on the south edge of downtown.
Built in 1901, it's the only remaining building from several warehouses that handled freight near the Great Northern rail line. Most were torn down in the 1980s when Bemidji ceased to serve as a regional rail center. (The picturesque Great Northern depot now houses the Beltrami County Historical Society and its eminently tour-worthy museum.) The Mayflower survived, and after several years sitting vacant, it was purchased a few years ago by Greater Bemidji, the region's economic development entity. Greater Bemidji renovated the structure, transforming it into what many consider to be the city's new center of business.
Inside, it resembles a pocket version of Minneapolis's Butler Square or St. Paul's Lowertown renovated warehouses, with a warm interior of exposed brick and wood beams. One tenant is TEAM Industries Inc., which opened its Bemidji operations the same day the building was opened for business. TEAM, a 50-year-old, $300 million company whose headquarters is in nearby Bagley, manufactures shafts, gears and other components primarily for small vehicle manufacturers including Arctic Cat, John Deere and Polaris. TEAM's Mayflower office provides a space where 20 TEAM engineers and designers can work side by side with customers on component projects.
Bemidji State University and Northwest Technical College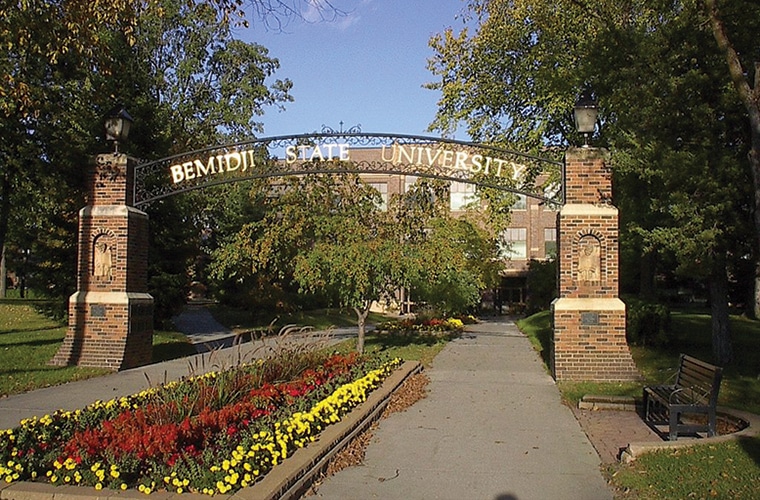 BSU
Founded: 1919
Enrollment: 5,100
Programs: Undergraduate degrees in liberal arts and sciences, business, accounting, education, criminal justice, human performance, indigenous studies, technology, design and pre-professional studies; master's degree programs in education, business and environmental studies, English, mathematics and biology.
Named a top 100 Midwest regional university by U.S. News and World Report magazine for the past nine years.
NTC
Founded: 1965
Enrollment: 2,000 (on-campus, online and blended)
Programs: 32 certificates, 15 diplomas; 18 associate of applied science degrees, five associate of science degrees; 31 fields of study in career paths including automotive motorsports, building trades, business, child care, health care and manufacturing technology.
To staff this new space, TEAM brought in new as well as established employees, attracting engineering talent from Greater Minnesota and North Dakota. "By moving to Bemidji, we knew recruitment would be a little bit easier for us," says Jim Russ, TEAM Industries' director of corporate development. "We have beautiful facilities—something that young engineering talent would recognize." In addition, TEAM is helping encourage local talent. "We are the very first manufacturer with a certified state of Minnesota apprenticeship program that allows 16- and 17-year-olds to work on our floor," Russ says.
Another Mayflower tenant is EXB Solutions Inc., which provides software and systems engineering services to a roster of clients that includes Lockheed Martin and Boston Scientific. The building is also home to a coworking space and to Bemidji State University's Marketing Assistance and Research Solutions (MARS) program, which provides university marketing students paid opportunities to help local area businesses with their marketing needs.
The Mayflower also serves as headquarters for Greater Bemidji. "Our mission is pretty simple: We drive development and promote prosperity in the Greater Bemidji region," says its executive director, Dave Hengel. "That includes supporting entrepreneurs and companies looking to expand in the region, recruiting companies, and growing, attracting and retaining our talent pool. Since economic development has become a race for talent, we are also the only economic development organization that I am aware of that runs its own training center."
In addition to the Mayflower renovation, Greater Bemidji can point to a number of recent accomplishments and initiatives. One that Hengel cites in particular is the LaunchPad, which is looking to create a "start-up ecosystem" in Bemidji. Included in that ecosystem is the LaunchPad's "entrepreneur meet-up" that takes place every Wednesday morning at the Mayflower. Here, local entrepreneurs can share ideas and war stories; others ask questions and offer insight and camaraderie. "They get the feeling that they are supported and what they're doing is valued," Hengel says. Weekly LaunchPad attendance typically numbers 40 to 50.
In addition, the LaunchPad provides co-working space for start-ups and freelancers, free small business counseling through the Small Business Development Center; and a program called "Office Hours", where several retired CEOs in the area provide mentoring and free business advice.
What has attracted these entrepreneurs to Bemidji? The outdoorsy good life and the kinds of support they receive is part of it. "Not only do they want to grow their businesses, but they also want to grow their community," Hengel says. In other words, the Bemidji region is a land of opportunity.
Fertile landscape for entrepreneurs
Held each summer, the Lake Bemidji Dragon Boat Festival features races between these distinctive vessels, as well as a variety of children's and cultural activities.
Bemidji's entrepreneurial companies are a remarkably diverse and distinctive group. Case in point is Red Zest Design, a seven-year-old, one-person company that designs presentations for CEOs, executive directors and "people who are preparing for TEDx talks and events," says company owner Samantha Nienow, 35. (Those clients have included Twin Cities-area serial tech entrepreneur Phil Soran.) Nienow, who grew up in Minnesota, worked as a graphic designer in California for five years before moving in 2006 to the Bemidji area with her husband, Nathaniel, who operates a business called Wood Wildflowers. Both wanted to be closer to family. And both can run their businesses here thanks to the region's high-speed broadband access.
"I'm able to live a life that's high-quality," Nienow says. "I'm able to do things outside of work that I love to do. I can train for triathlons, bike through woods, and run a creative design business." In addition, "there's opportunity here, and people here work together to create the kind of community we want to live in."
South Shore Rising
The land on the south shore of Lake Bemidji was an industrial site for more than 100 years. Over the years, several timber-oriented businesses were located there. About 15 years ago, a local developer had consolidated many parcels into a large tract of about 150 acres.
Then in 2007, the city of Bemidji acquired the property. The City Council went to the voters to extend the sales tax to build an event center. With the help of state bonding funds and a contamination and cleanup grant, the city cleaned up industrial contamination and subdivided the property into development lots to sell. A key reason for purchasing the property was to preserve a public corridor along the lake; the city partnered with the Minnesota Department of Natural Resources to complete the Paul Bunyan State Trail through the city.
The former brownfield now includes three new hotels. But the jewel of the redevelopment is the Sanford Center, the 5,500-seat event center that opened in 2010. The $50 million-plus center also includes the George W. Neilson Convention Center. It has become a popular venue for local sports contests as well as for cultural events and conventions. More hotels, along with condos and apartment buildings, are now being planned for this once-unused land by the lake.
"The City Council showed a lot of leadership" in acquiring and redeveloping the site, Bemidji Mayor Rita Albrecht says. "But the city got behind it and said, 'We want this.' "
Another new business has become such a landmark in Bemidji that many people describe it as an amenity. Bemidji Brewing was founded in 2012 by two couples, the Kaneys (Tina and Bud) and the Hills (Megan and Tom). It started brewing out of the kitchen of the Harmony Natural Foods Co-op in downtown Bemidji, then moved to a small storefront nearby, steadily building up production. The gradual growth "gave us a chance to determine market viability," Bud Kaney says.
Bemidji Brewing has proven to be quite viable. In April 2016, the company moved into its current brewery, a former implement service and dealer's shop on the edge of downtown that offers plenty of room for expansion. Its convivial taproom, which has quickly become a local gathering spot, opened three months later. Bemidji Brewing now has 35 accounts within a 50-mile radius. Expansion and packaging are both part of its near-term plans.
The beers it produces are delicious and adventurous; a couple have won medals at the Great American Beer Fest, a prestigious competition. (Head brewer Tom Hill plans to brew American-style "sour" beers using old wine barrels to develop their flavor.) Kaney also notes that "our business is no different than the many others that rely on excellence in fundamental practices pertaining to accounting, human resources, sales, marketing and community outreach. Tina and Megan both lead us in these essentials."
When the four founders were contemplating their business, there was no certainty they'd open it in Bemidji. The founding couples had lived in many places all over the country, including Austin, Texas, the Twin Cities and Montana, and were open to any possible location. Though Bud Kaney and Tom Hill are Bemidji State graduates, they thought other Minnesota cities, like Rochester, might offer more promising markets.
"But as we went deeper into our research and looked at what made sense for our goals and our lives, Bemidji just came to the top," Kaney says. It was a new market for craft beer, and its outdoor ethos was appealing to all four founders. But there was another factor: Despite its so-called "isolation," the Kaneys and the Hills discovered in Bemidji a city that's open to creativity and new ideas.
"The opportunity for ideas to collide here is great because you have just enough people to have diverse perspectives and ideas," Kaney says. "But it's a small enough environment so that you're going to meet those people." Bemidji, he adds, "is uniquely positioned as a growing community to help you realize your dreams." The region might be off the beaten path, "but it also gives us distinctiveness. We can be creative in a less competitive environment."
This city set amid woods and lakes has proven to be fertile ground for entrepreneurship—indeed, for businesses of all kinds. That did not happen by chance.
Laying the groundwork
Bemidji State University's hockey team lures fans throughout northwestern Minnesota.
About 15 years ago, Hengel recalls, Bemidji "was not all that dissimilar from other rural communities I've seen over my 25-year career." It was "focused on what it couldn't be, and on the distractions, problems and challenges it was facing." With the timber industry trimmed back to just a few small firms, and jobs provided mostly by education and government entities (Bemidji is the Beltrami County seat). The city simply wasn't moving forward.
It also was discouraged. To Hengel, one of the hurdles the city faced was overcoming "the myth it had about itself." That myth, he adds, was a narrative of a town that was "poor, small, remote, hard to get to, cold, disconnected." Though the area is picturesque, too many residents looked upon Bemidji as a place whose best days were behind it. It was still a popular tourist destination, but the timber and other legacy industries had been in decline. "The stories were all about what we couldn't be and the distress that we had," Hengel says. "We intentionally had to change the story to that of a vibrant, energetic community in control of its future."
While many held tight to the myth, many others were more eager to embrace the future. "We started comparing ourselves and expecting things of ourselves," Hengel says. "We stopped comparing ourselves to our rural neighbors. We compared ourselves to other regional centers in the Upper Midwest, like Duluth or St. Cloud or Grand Forks or Mankato." In other words, he adds, "we were looking to fight above our weight as a community."
The Bemidji Region's Outdoor Amenities
Even with all of Bemidji's indoor amenities, outdoor activities—fishing, biking, hiking, snowmobiling and more—are still the main draws the region.
State Parks and Forests
Lake Bemidji State Park
Itasca State Park
Mississippi Headwaters State Forest
Chippewa State Forest
WIthin the city limiits of Bemidji are 22 parks comprising approximately 225 acres.
Trails
The Paul Bunyan State Trail extends 115 miles from Lake Bemidji State Park south to Crow Wing State Park near Brainerd. It's the longest continuously paved rail-trail in the country.
Within the city limits, the East-West Trail connects downtown Bemidji with the Paul Bunyan Trail to the west. It was constructed in 2008 on a former brownfield on the south shore of Lake Bemidji.
Lakes
In addition to Lake Bemidji, there are about 400 fishing lakes within 25 miles of the city.
In addition:
More than 500 snowmobile trails and 160 kilometers of cross-country ski trails in and around the city.
A local leader everyone cites as jump-starting the boom is Jim Bensen. In 2004, Bensen, who'd retired three years earlier as Bemidji State University president, helped put together a group of local leaders that called itself "Bemidji Leads!"At that time, Bensen recalls, "many people were working on good things, but they weren't working together." He and his Bemidji Leads colleagues called a meeting of those who "wanted a say in what Bemidji would like in 10, 15, maybe 20 years out." The "packed house" that attended comprised a wide range of residents: businesspeople, bankers, senior citizens, young people. What Bemidji Leads was seeking was a deep, energized commitment to Bemidji's future. "And 24 leaders stepped up and said, 'Let's go for it,' " Bensen says.
This meeting was followed by eight months of community meetings and listening sessions. The goal of these gatherings, Bensen says, was to determine the region's assets, values and economic drivers—the attributes that made Bemidji distinctive. As Bensen recalls it, the attributes that participants cited were that Bemidji was "a knowledge-based community." It had a "pretty good health care center, but it needed to take the next step and get into advanced medicine." It needed to upgrade its airport so that "it's a first-rate operation." It needed an event center. But to make these things happen, the community needed "alignment" to "take itself to the next level."
On July 4, 2004, Bemidjians came together to sign what Bensen describes as "a declaration of interdependence." It was a pledge to work together and make Bemidji "the best place in the world to live and work and raise a family."
Residents were prepared to back up that pledge. "One of the key things that really turned the corner for this city was that we passed a referendum for a half-cent sales tax in 2003 to upgrade our parks," says Albrecht, who served the city as an assistant planner, community development director and City Council member before being elected to her first term as mayor in 2012.
The city did not receive legislative approval to collect the sales tax for parks until 2006, which is when the city began raising and spending nearly $10 million on city parks. Another source of funding was Blue Cross Blue Shield Center for Prevention. Bemidji applied for and received five years of funding for "active living" projects. The city was able to install and upgrade amenities and trails and hire a recreation director.
The park sales tax was extended in 2007 to pay for a new event center. The city would like to implement a food and beverage tax to support tourism, conventions, and visitor activities. "Most of the money spent in Bemidji comes from people living outside the city. "About 80 percent of sales tax receipts come from outside the city limits—people who shop and work in the city," Albrecht says. The discussion about additional "tourism investment revenue" is still occurring with city partners and businesses.
While residents of the Bemidji region banded together to build its future, another foresighted local entity had already laid the groundwork to drive Bemidji's boom. This was Paul Bunyan Communications, a locally run telecom cooperative that provides broadband that's as fast as any offered in Minnesota.
"Our gigabit service—what we call the GigaZone—isn't something we could have done had we not back in 2004 started putting in fiber optic cable all the way to the premise," says Gary Johnson, Paul Bunyan's CEO and general manager. "To make that early technology decision and investment as a member-driven co-op was a big deal." In fact, Johnson says that gigabit broadband service wasn't Paul Bunyan's original intention: "It's just because we thought that fiber was the most advanced, future-proof technology available." The GigaZone extends as far east as Grand Rapids and as far north as the Red Lake reservation, likely making Red Lake the first Native American reservation in the nation with a fully fiber optic network providing symmetrical gigabit broadband.
The GigaZone was launched in January 2015. Paul Bunyan now has thousands of customers using the gigabit service, "or some variation of it," Johnson says. Some customers, including medical centers, the university and large businesses that need to connect multiple locations, may be served with speeds greater than one gigabit per second, as Paul Bunyan's fiber network enables speeds of 10 gigabits per second and beyond. All of Paul Bunyan's lines throughout its region are buried underground enabling very resilient service, and unlike some competitive telecoms, it doesn't "resell" services using CenturyLink's older infrastructure, the local incumbent telecom.
In addition to voice and data services, economic development is another part of Paul Bunyan's mission. "If a new business comes to town, we're eager to be part of that conversation," Johnson says. His cooperative's powerful broadband service helps make for a powerful sales pitch.
So does the Bemidji Regional Airport. Starting in 2008, the airport renovated and lengthened its out-of-date runways. This allowed the facility to handle 50-seat regional jets, above and beyond the smaller turbo-prop planes that had used the facility up to that point. Four years later, the airport undertook a major updating of the terminal, which roughly doubled its size. Jet bridges were added, allowing passengers to walk directly into the concourse from their planes. A geothermal HVAC system was installed for greater energy efficiency.
Perhaps most crucially, the airlines serving the airport could introduce jet service as well as jet bridges. The Bemidji Regional Airport has two departure and two arrival flights each day to and from the Twin Cities provided by Delta Air Lines, as well as occasional charter service to Laughlin, Nev., provided by Sun Country Airlines. "If someone is traveling in the morning, they can generally get to the Twin Cities and have a full day to do business," says Karen Weller, the airport's executive director.
Community legacies
Summer nights on the shores of Lake Bemidji charm locals and visitors.
Bemidji began as a timber town and railroad center, and remained one for some time, even after most of the trees had been logged off. These days, the city has no dominant commercial employer. "From a banker's standpoint, that means a lot of diversity, which puts a little less risk on the loan portfolio," says Tom Welle, CEO of First National Bank Bemidji.
There are still some lumber-related businesses in the area. Washington-based Potlatch Corp. has a plant in Bemidji that makes precision-cut studs for the construction industry. Toronto-based wood products company Norbord Inc. operates a pressboard plant west of Bemidji in the town of Solway.
Though lumber no longer plays a predominant role in the Bemidji region, the city still has legacy businesses that have thrived for decades. One of the most notable is Bemidji Woolen Mills, founded in 1920 by the Batchelder family, which still owns the business. In its downtown store, it sells hardy outdoor clothing and accessories as well as its own brand of classic garments and blankets.
Another long-time family-owned business still going strong in its hometown is Security Bank USA. The Baer family and its bank's employees are active in numerous local philanthropic and volunteer endeavors. The same is true of the Johanneson family, which owns the six-store Marketplace Foods supermarket chain. Another Bemidji-based grocer, Lueken's Village Foods, is now 100 percent employee-owned, thanks to an employee stock ownership plan (ESOP) that owner Joe Lueken set up in 2013 before he died. (The Lueken family also established a foundation that has given millions to educational initiatives and other Bemidji-area programs.)
Lueken set up his ESOP though First National Bank Bemidji, the city's largest financial institution. Founded in 1897, First National has three locations, all in Bemidji. "The bank has grown organically from the Bemidji community," says Welle, whose family has owned First National since 1942. Like Security Bank USA, First National is a community bank, "meaning we focus on what we think are the needs in our community," Welle says. That means a lot of retail lending (cars, boats, mortgages) and a commercial base that comprises mostly smaller businesses. And with no dominant industry, those businesses are diverse in the products and services they offer.
In 1985, First National set up its own ESOP when one of the owning family members retired. Employees now own about 27 percent of the company. (The company now employs 110). An ESOP, Welle says, "means that you can retain management that's local, making local decisions, still living in this community. We think it's worked well for us. I think it's aided us in our performance over the years."
First National Bank and Lueken's Village Foods aren't the only ESOPs in town. Welle has helped set up several others, including air-charter firm Bemidji Aviation. Local businesses, he notes, tend "not to want to go corporate." Joe Lueken, for instance, "wanted to see the business continue with ownership and management being local."
Speaking of legacies: The region also is home to three Ojibwe tribes. (The city is named for a local chief, whose name in the Anishinaabe Ojibwe language is Shaynowishkung.) Most band members reside on one of the three reservations near the city (Leech Lake, Red Lake and White Earth). But many live and work in Bemidji; about a fifth of the students in the city's public school system are Ojibwe.
In establishing its long-term community goals, Bemidji Leads set an ambitious goal of improving race relations. A survey completed by the Wilder Foundation revealed that native and non-native residents wanted to learn more about each other and about each other's culture. Within the past few years, city leaders shared their culture with tribal members at a lutefisk dinner, and more than 3,500 area residents attended the first of two community powwows held at the Sanford Center.
The Sanford Center is the crown jewel of the south shore redevelopment. The 193,000-square-foot event and convention center is the home of the Bemidji State University hockey team; it's also a top entertainment venue in Northern Minnesota.
In addition, a new 9-foot statue of Shaynowishkung was erected as a focal point in the city park between downtown and Lake Bemidji; next to him are informative plaques about local Ojibwe history and heritage. The city's Ojibwe Language Project has helped more than 150 businesses and public buildings add Ojibwe language signage in their facilities. And Bemidji State professor Anton Treuer (who is Ojibwe himself) wrote Everything You Wanted to Know About Indians But Were Afraid to Ask, which answers common questions about Indians and debunks long-held stereotypes for non-native people of Bemidji (and elsewhere).
A member of the Red Lake band, Andy Wells Sr., runs a remarkable Bemidji business. He started his manufacturing company, Wells Technology Inc., out of his garage in 1989. "Our goal right from the beginning was to create jobs and serve our community," Wells says. He was particularly concerned by the high levels of unemployment on the Bemidji-area reservations. "At the same time, I had to create value for the customers," he says. "And that's what it comes down to—creating value for both the community and customers."
Wells' first products were air-powered scissors designed to reduce carpal tunnel syndrome for poultry industry workers. Within a few years, he was producing hardware and other components for other industries. Currently, about 55 percent of its business serves the aerospace defense industry, for which it manufactures high-performance, precision-tooled components, including small metal parts with tolerances measured in millionths of an inch. Wells now manufactures about 18,000 unique fastener products, along with its own line of tools as well as solar-tracking systems for homes and businesses. His company now has 50 employees.
By 2005, with his business growing, Wells discovered that very few applicants had the kind of industrial skills he needed. He also found that a lot of those who showed up to apply had "background experiences that were not necessarily positive." Some had dropped out of high school, others had no machine shop training. A few had served time in prison or had DWIs on their records. "I began to realize that these are the very people I need to help," Wells says.
In response, he started an on-the-job apprentice program called Wells Academy, designed to train some of those people who "want to work, want to have a job, but have issues in their past that keep them from getting to the top of the list when there's a job opening." So he has hired and trained many of these people along with the "top-of-the-line" accounting people and engineers on his staff.
Wells Academy trains these hires while providing the kind of "industrial cultural" support they need, he says. "Some things most of us take for granted are new to these folks, like the need to show up on time in the morning, the importance of staying all day and working the full shift." In some cases, the challenge is "encouraging them to add new friends" who provide a more positive influence. "So we help them make new, more productive connections and constructive decisions."
Not everyone succeeds, and Wells has continually made changes to the program. Still, the academy has "graduated" numerous employees who've each received 2,000 hours of hands-on training. Many are still at Wells, others are working elsewhere. "Helping others find their pathways to success is my way of giving back and saying thank you to all those who have helped me along my journey in life," Wells says.
The statue of Ojibwe leader Shaynowishkung (Chief Bemidji) stands prominently in a park between Lake Bemidji and the city's downtown. Its presence bespeaks the higher profile of Ojibwe people, language and culture in the life of the city.
The next generation
Like most Bemidji businesses, Wells is concerned about finding skilled employees. In that regard, Bemidji is no different from most Greater Minnesota communities.
"Overall, I think businesses here are doing quite well," says Lori Paris, president of the Bemidji Area Chamber of Commerce. She notes "the strong, eclectic group of entrepreneurs that are really working together—and they're very driven to do that. They get that what's good for one business is good for them. I think that has helped make our region grow." At the same time, "helping fill the pipeline of talent has been one of our biggest concerns," Paris adds.
The Bemidji Area Chamber is partnering with Greater Bemidji and the Bemidji School District to develop the next generation of employees and business leaders. This year, Bemidji High School is launching its Career Academies, designed to connect students with instruction, information and experience they need to make better educational and career choices. Career fields include health care, building trades, mechatronics and engineering.
The Bemidji Area Chamber also offers the "Executive in the Classroom" program: 21 local business leaders have volunteered to talk to students about real-life experiences and career opportunities to consider as they go through school. What's more, chamber members organize business tours and job shadowing for area students.
The Career Academies represent just one program designed to get students thinking seriously about their life's work. In 2009, Bemidji Leads launched Students First!, a program that helps middle and high school students prepare for the work world by guiding them to establish career goals and by providing adult "coaches" as mentors. Several foundations support the program, which is directed by the Beltrami Area Service Collaborative, a Bemidji-based nonprofit.
Postsecondary education and training are also crucial, of course. In 2013, Greater Bemidji established the Minnesota Innovation Institute, which provides training in computer-numerical controlled (CNC) machining and mechatronics. The Bemidji Area Chamber, along with Greater Bemidji, Bemidji State University (BSU) and Northwest Technical College (NTC), has created the Bemidji Works website. The site, which went live early this winter, includes resources for jobseekers, information on training programs and contact information for regional employers and potential hires.
Both BSU and NTC are critical to the economic vitality of Bemidji, says Faith Hensrud, president of both institutions since July. "Not only do our community members employ our students, but they also are very supportive of our institution." Imagine Tomorrow, a fundraising campaign that concluded in June, raised $36.5 million for scholarships and academic program support, more than doubling scholarship funds distributed by the BSU Foundation.
This year, Hensrud is kicking off a strategic planning process that will include a series of listening sessions with various industry sectors in the region to glean their insights "not only from an economic development perspective but also from a cultural perspective," Hensrud says. Her goals include continuing to build partnerships with businesses and community organizations throughout the region. Hensrud also sees BSU's focus on environmental sustainability as another way to attract students and to help the community and businesses make environmentally wise operational decisions.
Hensrud notes that BSU's School of Technology, Art and Design has graduated students whose skills are in demand both locally and nationally. She's also proud of the school's music program, as well as a music series that brings in outside performers, such as the St. Paul Chamber Orchestra. The series is popular with the community as well as with students.
Looking ahead, Hensrud says that she would like to attract more American Indian students to her schools. BSU, NTC and the three tribal colleges in the area are embarking on partnerships that include shared courses and programs. These partnerships could provide Indian students the opportunity to complete their four-year and technical-education degrees and add their needed skills to the local workforce.
The region takes particular pride in the Bemidji Symphony Orchestra, one of its chief cultural draws.
A hands-on past—and future
Workforce development is just one of the challenges on the minds of local leaders, who are open about the issues that Bemidji, for all of its recent success, continues to face. Housing is one. Mayor Albrecht observes that while developers are adding new multifamily homes for the middle of the market, "our challenge seems to be the ends of the spectrum—lower-income and higher-income housing."
Entrepreneur Erik Hokuf, co-owner of plane renovation company AirCorps Aviation LLC, would like to see more space at the Bemidji Regional Airport for general aviation. It's great to have commercial flights, he says. But owners of growing businesses need more flexibility for traveling by private plane—to visit customers and their company's other facilities, for instance.
Bemidji Brewing co-owner Bud Kaney says that those challenges are, in a sense, part of Bemidji's appeal, and one of the key reasons he and his colleagues opened their business here. "If you identify yourself as a leader, you go to where there are issues, not to where everything's been solved," he says. Being in Bemidji, the Kaneys and the Hills can help address challenges and build the community.
The city is by no means resting on its laurels. Recently, it has launched to Bemidji Leads 2.0 to develop and pursue new goals, building on these past successes. Yet even with all the development and the growth of both new and established businesses, local residents don't want to lose "what is authentically Bemidji," Greater Bemidji's Hengel says. "They didn't want to be a community that lost its identity." That identity is a "lumberjack spirit," he adds, channeling his small city's biggest legendary figure. "We've never lost that sense of being hard-working, hands-on. 'Sturdy' would be a word I'd use."
In other words, "we want to balance regional center amenities with a small-community character," Hengel adds. While Bemidji continues to boom and grow, its residents want to create "a location of choice for people with talent and businesses without losing what makes this place special."
Entrepreneur profile:
Jason Brodina
Owner and co-founder,
Choice Therapy
North Dakota native Jason Brodina moved with his wife to her hometown in 2004 after working for four years in Iowa and Hibbing. Both were 28 at the time. In 2009, he and two business partners launched Choice Therapy, which provides physical, occupational, and speech therapy for six outpatient clinics, six long-term care facilities and four school systems in the area. The company, which now has 66 employees, also provides industrial rehabilitation services to area manufacturing firms.
Choice Therapy is one of the four Bemidji companies that made the 2015 Inc. 5000 list of America's fastest-growing companies, posting a three-year growth rate of 167 percent, with 2014 revenues of $3.1 million. Why the growth? Very simply, there's opportunity here. "Bemidji is a hub of northern Minnesota for business activity," Brodina says. "We're drawing from a large area." Within a 50-mile radius of Bemidji, the population is nearly 100,000. Brodina cites another advantage: "We were the first private practice clinic in the area when we started."
While Brodina has found most of his hires in North Dakota and northern Minnesota, his last two therapist hires were from the Twin Cities area. "They love the outdoors," Brodina says. "We don't have all the amenities of the Minneapolis-St. Paul area. But we do have college sports, and a vibrant young cohort at the colleges and university." What's more, people "can still watch a loon on a lake. If they live 15 miles away, they can get to work in 15 minutes."
Entrepreneur profile:
Mike Karvakko
President,
Karvakko PA
At the beginning of 2012, the civil engineering firm that Mike Karvakko launched six years earlier had six employees. By year's end, it had 30. Three years later, Karvakko PA was one of the four Bemidji-based businesses on the Inc. 5000 list of America's fastest-growing companies. It was ranked 1,158, with $3.4 million in revenue and a three-year growth rate of 365 percent.
Some of the company's growth was due to a Bemidji-based architecture firm Karvakko acquired in 2014 to expand its services. The firm now has 15 employees and a second office in Minot, N.D. "We provide a lot of services," Mike Karvakko says. That includes a variety of municipal and commercial projects, including residential developments and energy projects throughout the Upper Midwest. "One of our main staples is aviation work," he adds. His firm has managed about $35 million in work for Bemidji Regional Airport and has worked on smaller airports in surrounding areas.
Karvakko, a native of Michigan's Upper Peninsula, married a Bemidji native and was more than happy to settle in his spouse's hometown. Bemidji is "an excellent community to raise a family," says Karvakko, who's a father of five. He's also found it a good place to find the talent his growing firm needs. A number of Bemidji High School and Bemidji State University graduates have worked for him over the past few years, and his hires love outdoor activities. "Everyone who works for us grew up with snow," Karvakko says. Karvakko also has found a great deal of support from other local entrepreneurs. When it comes to succeeding in Bemidji, "You get out of it what you put into it," says Karvakko, who's active on several local boards. "You have to be part of the community to get out of it what it has to offer."
Entrepreneur profile:
Erik Hokuf
Managing partner,
AirCorps Aviation LLC
Recovered in a New Guinea jungle more than 15 years ago, the fuselage on the shop floor of AirCorps Aviation is little more than the skeleton of a plane. But to Erik Hokuf, it represents the kind of opportunity that he and his crew of craftspeople can't resist. With some hard work, research and some old-school machine shop skills, this 70-year-old fuselage will once again be a Republic P-47 Thunderbolt, one of the mainstays of the U.S. World War II fighter plane arsenal.
Restoring World War II military aircraft is more than a labor of love for Hokuf and AirCorps' 28 employees. It's a highly successful niche business. In 2015, AirCorps Aviation was one of four Bemidji companies to make the 2015 Inc. 5000 national ranking of small businesses, with nearly 800 percent growth over three years. Founded in 2008, AirCorps Aviation is still a small company, with revenue of about $3 million. But the demand for these craft remains strong.
"They're a major part of world history," Hokuf says. "There are still aircraft that can be restored relatively easily." World War II planes are also more elegant in design and less complicated to fly than, say, B-52s. "If you have a P-51, one person can pull it out of the hangar and fly it," says Hokuf, who has a pilot license himself. What's more, the design standards developed for World War II aircraft "are still standards being used today in aviation."
Hokuf was raised on a farm north of Bemidji, the son of an industrial arts teacher who also was a hobby farmer. "We grew up very hands-on," he recalls. He and his brothers were all fascinated by aviation, and Erik Hokuf took a job at Bemidji Aviation Services Inc., a charter airline, when he was 16. He later worked in the Twin Cities metro area, then moved to Granite Falls, where he did rebuilding projects for engineering entrepreneur Ron Fagen's World War II plane collection. When Hokuf and his three partners were looking for a place to establish AirCorps Aviation, they chose Bemidji.
"We wanted to be off the beaten path a little bit," Hokuf says—away from the distractions of a larger urban area. And he can find the type of hands-on workers he needs—people who are fascinated by solving problems in metal.
Hokuf also has found other types of business help in Bemidji, thanks to the Northwest Small Business Development Center. "Grant Oppegaard, the retired CEO of Genmar Holdings, comes in and gives us business advice for free," Hokuf says. Oppegaard, who lives near Bemidji, offers this kind of free consulting as a way of giving back. This kind of guidance, and support "is harder to tap into in the metro," Hokuf says.
Hokuf and AirCorps Aviation are now planning for major new growth by fabricating custom-made parts of legacy aircraft built in the 1980s and earlier. These planes are still in use in general and corporate aviation, commercial carriers and even the U.S. military. And they should help keep AirCorps Aviation flying high.
Entrepreneur profile:
Justin Frederick and Jerusa Ricke
Co-owners,
Tutto Bene Restaurant
After working for several top Twin Cities restaurants, Justin Frederick and Jerusa Ricke were ready to start their own. "We always talked about opening up our own place, but Minneapolis is very competitive," says Ricke, who met Frederick, her husband and fellow chef, while working at Masa, the late lamented Nicollet Mall Mexican spot. "There are too many restaurants there," Frederick adds.
Ricke also wanted to get back to the Bemidji area, where she grew up. "I wanted to be closer to my family," she says. "And there really wasn't anything like this up here."
"This" is Tutto Bene, a chef-driven Italian/Latin restaurant in downtown Bemidji. Frederick and Ricke bought an existing restaurant and kept the name but remodeled the interior and created an entirely new menu—and an approach to dining that Bemidji had never before experienced. The couple and their kitchen staff make everything from scratch except for the canned tomatoes used in the marinara sauce. "We don't have microwaves, we don't have deep fryers," Frederick says.
Frederick and Ricke, both culinary-trained, change the menu three or four times a year. During certain times of the year, that menu features the heirloom tomatoes, squash and kale that they grow themselves. And despite Bemidji's relative remoteness, the two chefs get high-quality provisions, such as imported prosciutto and salumi, from the top suppliers they used in the Twin Cities.
The response from the community, Ricke says, "has been great. In the beginning, it's hard for people to accept change. A lot of people were used to the previous place," which had a less adventurous menu. "We have some really awesome regulars." Business is particularly strong during the summer tourist season, and from weekend dinner business from attendees of the theater down the street. Tutto Bene also holds specialty dinners—one of them features courses paired with craft beers from Bemidji Brewing.
Gene Rebeck is TCB's Northern Correspondent.
A Healthy Move
Sanford Bemidji Medical Center has transformed the city's hospital into a regional health care center.
Ask local leaders about the region's selling points, and they'll all rank the Sanford Bemidji Medical Center (above) and clinics high on the list. Sanford Bemidji and its associated clinics and specialty centers have made the city a growing regional health care nexus.
With its headquarters in the Dakotas, Sanford Health is one of the largest health systems in the nation with 43 hospitals and nearly 250 clinics in nine states and three countries. In 2009, Sanford Health merged with Fargo-based MeritCare Health Services, which operated clinics in Bemidji. Two years later, Sanford Health merged with North Country Health Services, which owned the hospital in Bemidji, creating Sanford Bemidji Medical Center and Clinics.
Since then, "we've invested about $73 million in different types of investment, including physician and clinic development and expansion and other initiatives," says Bryan Nermoe, executive vice president for Sanford Health of Northern Minnesota. Among Sanford Bemidji's first projects was a new Heart and Vascular Center, which provides 24-hour cardiology services. Sanford Bemidji also undertook a two-story, 46,000-square-foot expansion that made room for the Orthopedics and Sports Medicine Center. In 2016, Sanford Bemidji announced plans for a new cancer care center.
"In the Bemidji market, people were traveling to different places for their health care," says Nermoe, citing cardiology as a prime example. What Sanford Health realized is that "there is enough population and enough demand for those services to be provided in Bemidji."
Bemidji's attractions have helped Sanford Bemidji lure physicians and other health professionals needed for an expanding facility. According to Nermoe, the Sanford Bemidji system provides practitioners with a diverse patient population as well as resources and equipment "that you might not find in a community our size." The region's other amenities and outdoor activities add to the appeal.
Looking to the next decade, Nermoe projects a possible additional capital investment of nearly $100 million for new facilities and equipment. Over the next five years Sanford Health will be adding more than 50 new physicians in Bemidji to meet the growing demand and need for services and specialties close to home. "We've had some really good success in the past couple of years with physician recruitment," Nermoe says. It's a healthy sign for the region's future.