A Minnesota State Fair Staple Slides into a New Era
A look at the business of the Giant Slide, a State Fair icon celebrating its 50th anniversary this year.
The time has come once again for the Minnesota State Fair. As usual, there are some new elements to the 160-year-old event: new foods, new looks to old buildings or sections, and even a new ride.
But amid all that's new, the fair staples remain—and one of them is celebrating its 50th anniversary.
The Giant Slide, one of the most beloved fair attractions, this year caps off its fifth decade at the Great Minnesota Get-Together.
The slide—a bright yellow and green structure standing 30 feet wide and 50 feet high—was first built by Fred Pittroff in the late 1960s after he was inspired by a smaller version at a California amusement park. Once he'd perfected the design, he pitched the Giant Slide at trade shows, ultimately booking 42 Giant Slide locations. Minnesota was one of them, and the slide debuted at the Minnesota State Fair in 1969.
Fifty years later, it's going strong as a fair icon.
"It's probably the best ride [at the fair]," says Pittroff's daughter Stacey Pittroff-Barona, who now helms the operation at three fairs, including Minnesota's.
At the Minnesota State Fair, about 200,000 riders every year pay to experience the slide, and Pittroff-Barona says it's only getting more and more popular each year.
And that's likely due to the slide's universal appeal, she says.
"It's something that pretty much everyone can do," says Pittroff-Barona. "A grandparent can actually take their grandkid down. [People] can bring their infant babies if they want. It's teens, it's adults, it's everyone."
Since the slide has been around so long, three generations of people have come to know and love it, she says. People who brought their kids on it because they loved riding it when they themselves were kids, now have grandchildren they want to share it with, says Pittroff-Barona.
Work Hard, Play Hard
The popularity of the slide doesn't necessarily translate to equal gross profit, but Pittroff-Barona notes that's because the family keeps the price so low. At just $2.50 per turn, it's the most affordable fair ride.
To earn as much as other fair rides, the family need around three times as many visitors, says Pittroff-Barona.
Plus, the family needs to factor in insurance, employee wages ($10 per hour or more), and maintenance costs, she says.
The slide stays on the fairgrounds year-round. It's repainted before the fair each year, though occasionally it requires big repairs, like this year's $100,000-plus project to replace scaffolding.
"Some people think it's all fun and games, it's the State Fair, it must be awesome, but there's actually a lot of hard work and dedication that goes into it," says Stacey Pittroff-Barona's daughter Isabella, who helps run the slide and the family's cheese-on-a-stick and lemonade stand.
But the family does turn a profit from the Giant Slide. In fact, Stacey Pittroff-Barona says the Giant Slide does better at the Minnesota State Fair than anywhere else in the country. She credits that to the fact that the fair draws such a significant crowd—it's considered the second largest fair in the U.S.—and because of the "gorgeous fairgrounds." It helps, too, that the slide is right in the middle of the grounds. 
More important than performance stats though, as both mother and daughter note, is that they simply enjoy running the slide.
They like the people they work with, saying employees have become like added family members. After all, they have three-generation employees, and of their 110-person team—which ranges in age from 15 to 70—nearly 80 percent are returning employees.
And they like watching the customers' enjoyment. 
"My favorite part is the smiles on the kids' faces. You can't beat it," says Stacey Pittroff-Barona. "I love it when the kid jumps up and turns around to the parent and says 'again, again, I want to go again!'"
Marking a Milestone
To commemorate 50 years of kids begging their parents to "go again" on the Giant Slide, Isabella Pittroff-Barona decided to develop and sell 50th anniversary merchandise at the fair this year.
The 21-year-old took on the endeavor partly as a project to fulfill a business class requirement at the College of Saint Benedict. She also knows Giant Slide fans want it, she says.
"I've been working at the fairs for years and I always have customers saying I'd love to buy that shirt, or that hat—I'll give you $100 for it," says Isabella Pittroff-Barona. "So I've been wanting to do it for years, but I wanted to have a special occasion to sell it for. I thought, no better opportunity than our 50th anniversary."
She enlisted the help of the Giant Slide team's uniform makers, St. Louis Park-based Spartan Promotional Group. After getting  approval from her grandfather and funds from her father, she designed and ordered the merch. The family will be selling a $20 baseball-style T-shirt, $15 regular T-shirt, and $20 trucker hat with the Giant Slide logo and "50th anniversary" emblazoned on them.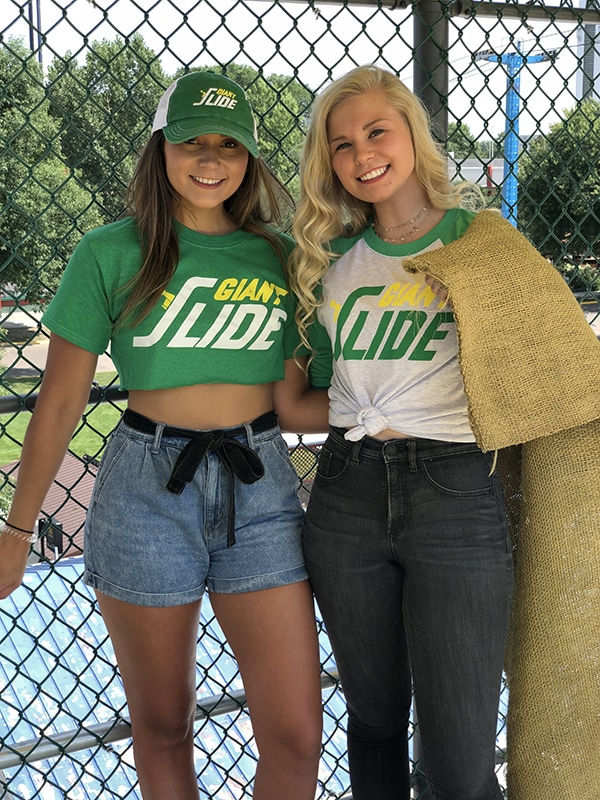 Sisters Anabella (left) and Isabella (right) Pittroff-Barona, the third generation of the family behind the Minnesota State Fair's Giant Slide, stand atop the slide in 50th anniversary merchandise (modified to their own personal styles). (Photo courtesy of Giant Slide). 
Isabella Pittroff-Barona says they've already sold some at a pre-fair event and through the State Fair Foundation. She expects the merchandise to move fast as the fair begins.
"I'm really happy that we're doing this. I think people are excited about it," she says.
Down for more
Whatever happens with the merchandise, Stacey Pittroff-Barona is just pleased the Giant Slide has made it to this point.
It's a huge part of the family's DNA. She herself grew up with it, and she even met her husband because of the Giant Slide: She had been working at the slide while he was working at a nearby concession stand. The two ultimately got married on the top of the slide, and Pittroff-Barona settled down with him in Roseville. Her father is still very much a part of the business, and both her daughters want to take it over.

Stacey Pittroff marries Robert Barona atop the Giant Slide at the State Fair, where the two met. (Photo courtesy of Giant Slide).
"We're really, really fortunate because sometimes in business, it never really hits the third generation," says Pittroff-Barona. "So, we're really lucky that my kids are so interested in taking over the business and preserving it."
Indeed, Isabella is just as excited for the next era of the slide as her mother is.
"I'm hoping another 50 years down the road, people will still be coming out to the fair and going down the slide, and I hope to keep it in the family," she says. "The slide… it's kind of timeless."