2020 NAIOP Awards Minnesota Properties of Distinction
NAIOP, the Commercial Real Estate Development Association, recognizes this year's top projects from the metro's core to the state's regional centers.
The Minnesota Chapter of NAIOP, the Commercial Real Estate Development Association, did not allow Covid-19 to get in the way of recognizing excellent projects. Sixteen projects recently won Awards of Excellence, including three projects that tied for best senior living development.
This was a big year for suburban development. Eight of the award winners are located in Twin Cities suburbs, five are in Minneapolis, and one apiece are in Rochester, St. Cloud, and St. Paul.
A total of 37 projects were nominated this year for awards in 14 categories. The judges evaluated the buildings on project development, function and design, architectural integrity, market feasibility, sustainable attributes, and unique project challenges. The winning properties, announced at a virtual event on September 23, are profiled below.
Category: Hospitality
GRAZE
|
PROVISIONS
+ LIBATIONS
Location: 520 4th St. N., Minneapolis
Owner: Gregory Cuda, 45th North Loop Partners LLC
Developer:  N/A
General Contractor: Rochon Corporation
Architect: ESG Architecture & Design
Interior Designer: Horwitz, Inc.
Size: 17,236 square feet
This food collective or food hall was constructed on top of an underground parking ramp for the Bookmen Stacks condominiums. Located in the North Loop neighborhood of Minneapolis, the exterior design of the food hall features buff colored brick, grey, and black metal panels, glass, and cedar wood. The building's two levels house six kitchens, two bars, and a café. A local chef, offering distinctive dishes, works out of each of the kitchens. The project's second-floor patio offers an exceptional view of the city's downtown skyline. The interior's industrial aesthetic is achieved through exposed concrete flooring and ceilings. 
---
Category: Industrial, Build-to-Suit
CROWN IRON WORKS
Location: 9879 Naples St. NE, Blaine
Owner: Mortenson
Developer: Colliers International
General Contractor: Mortenson
Architect: Mohagen Hansen
Interior Designer: Mohagen Hansen
Size: 68,000 square feet
The company relocated its headquarters from Roseville to Blaine. To ensure the move was affordable, builder and developer Mortenson secured $1.2 million in tax-increment financing from the city of Blaine. The 68,000 square-foot project was completed in May 2019 for Crown Iron Works, which is an equipment manufacturer for the oilseed processing industry. The project land was formerly a Mortenson equipment yard, so the headquarters will enhance the property tax base over the long haul. A workforce of about 120 moved into the new facility in 2019, with about 100 earning more than $90,000 a year.
---
Category: Industrial, Bulk Distribution
DODD ROAD BUSINESS CENTER
Location: 580 Opperman Dr., Eagan
Owner: Opus Development Company, LLC
Developer: Opus Development Company, LLC
General Contractor: Opus Design Build, LLC
Architect: Opus AE Group, LLC
Interior Designer: Opus AE Group, LLC
Size: 153,000 square feet
With a low vacancy rate in the southeast metro for industrial space, this bulk warehouse was built as a speculative project. Thirty percent of the building was preleased before construction was finished. The building, which has 153,000 square feet of space, is located near major transportation routes. The construction team needed to adjust to a rainy fall and the arrival of Covid-19 in early 2020, but it managed to successfully complete the project. A storm sewer also had to be relocated. The front facade contains a large amount of brick, which is unusual for an industrial bulk warehouse.
---
Category: Light industrial, High finish
NORTHERN STACKS V
Location: 48 Northern Stacks Dr., Fridley
Owner: Northern Stacks V LLC (a JV of Hyde Development & Mortenson Properties)
Developer: Hyde Development
General Contractor: M.A. Mortenson Company
Architect: Mohagen Hansen
Interior Designer: Mohagen Hansen
Size: 118,000 square feet
This building was the fifth constructed for a master planned business park being developed on a former federal and state superfund site. Because of the land's status, the development has proceeded after extensive work and collaboration with regulatory authorities from federal, state, and local governments. Mortenson Construction and Braun Intertec led the project team to complete the building's construction under tight timelines. It was leased by Heraeus Medical Components and Axalta Coating Systems. The industrial structure has a modern design, which features extensive glass on the front. Sustainable attributes include a white roof and extensive natural light.
---
Category: Light Industrial, Low Finish
HOLASEK BUSINESS PARK
Location: 8610 Galpin Blvd., Chanhassen
Owner: Eden Trace Corporation
Developer: Eden Trace Corporation
General Contractor: RJ Ryan
Architect: Edward Farr Architects
Interior Designer: N/A
Size: 378,000 square feet
The 50-acre site where this two-building development is located is the former home of Holasek Greenhouse. Before the project could be built, significant swamp deposits and other site obstacles needed to be tackled. What ultimately was constructed are two industrial buildings that sit back-to-back, which allow loading docks to be hidden from view. Truck and auto traffic are separated to enhance safety of the site. The contemporary building facade includes multicolored and multitextured precast panels, tall glass entries, clerestory windows, solar screens, and soft curves. Stormwater runoff is collected on the site and used to irrigate landscaped areas.
---
Category: Medical/Medical Office
TWIN CITIES ORTHOPEDICS WACONIA
Location: 880 Village Way, Waconia
Owner: Twin Cities Orthopedics
Developer: Excelsior Group
General Contractor: RJM Construction
Architect: Sperides Reiners Architects
Interior Designer: Sperides Reiners Architects
Size: 21,000 square feet
RJM Construction and Sperides Reiners Architects teamed up to design and build a state-of-the-art physical therapy and sports performance clinic. It offers physical and hand therapy and a sports performance program. The 18,000 square-foot facility includes a fitness studio, gym space with turf and basketball surfaces, a weight room area with rubber flooring, medical office space, a conference room with a movable glass wall, and an underwater treadmill. Precast walls were used in the athletic training area, where the building needed both durability and function. In that portion of the building, a curved barrel roof provides a distinctive architectural element.
---
Category: Mixed Use
NOLAN MAINS
Location: 3945 Market St., Edina
Owner: Market Street LLC
Developer: Buhl Investors and Saturday Properties
General Contractor: Frana Companies
Architect: Mohagen Hansen Architecture | Interiors
Interior Designer: Mohagen Hansen Architecture | Interiors
Size: 293,584 square feet
This luxury housing and retail development is located in the well-known 50th and France area of Edina. Nolan Mains consists of ground-level retail space with five levels of apartments above. Planners wanted to achieve a timeless design and incorporated features from surrounding architecture as well as quaint European villages. Amenity spaces include a lending library, sunroom, fitness area, dog run with wash area, fireplace lounge, rathskeller with poker table, kitchen with dining space, conservatory, an outdoor patio, and a rooftop deck. Several neighborhood meetings were held to address community concerns before the project proceeded.
---
Category: Multi-Family Apartments/Condos, 1–5 Stories
THE CHAMBERLAIN
Location: 6630 Richfield Pkwy., Richfield
Owner: Inland Development Partners/Kraus-Anderson Development
Developer: Inland Development Partners/Kraus-Anderson Development
General Contractor: Kraus-Anderson Construction
Architect: UrbanWorks Architecture
Interior Designer: UrbanWorks Architecture
Size: 345,500 square feet
Named after local World War I pilot Cyrus Chamberlain, the apartment complex is the first new multi-family project on Richfield's east side in almost 30 years. The Chamberlain Apartments consist of 283 new units spread across three buildings and 33 renovated units in three existing buildings that were constructed in 1964. The rehabilitation efforts included replacing bathroom and kitchen areas. The new apartment buildings pay homage to the Richfield rambler of years ago—showcasing lap siding and bold colors. In the overall development, 80 percent of units are at market rates and 20 percent are allocated for affordable housing.
---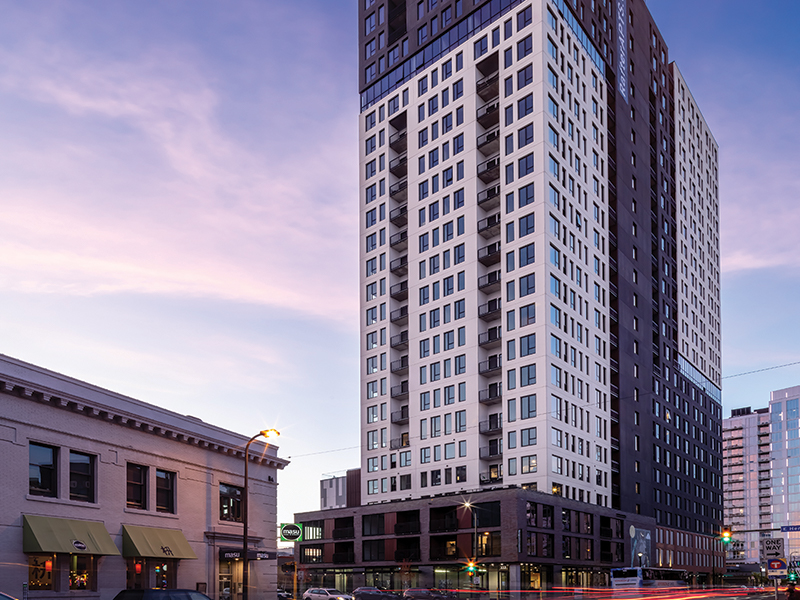 Category: Multi-Family Apartments/Condos, 6 + Stories
RAFTER
Location: 333 Hennepin Ave. E., Minneapolis
Owner: GA/MDI 333 Hennepin Associates LLC
Developer: Mortenson/The Excelsior Group
General Contractor: Mortenson
Architect: Cuningham Group
Interior Designer: Cuningham/Studio BV
Size: 471,063 square feet
This 26-story apartment complex was built to reflect the character of northeast Minneapolis. The tower's white concrete is a nod to the nearby grain elevators, and the apartment building's brick base is loyal to the scale and material of the surrounding streetscape. The facade's textured charcoal concrete evokes the images of modern ceramic arts. Throughout the Rafter, designers included hints of wood, exposed concrete, and metal. This $83 million project consists of 283 apartment units, six levels of heated parking, and a seventh-level amenity deck. In August 2019, construction was completed on the building, which includes a three-story tall mural.
---
Category: Office Multi-Tenant
TWO41 BUILDING
Location: 241 N. 5th Ave., Minneapolis
Owner: North Loop Partners LLC
Developer: Swervo Development Corporation
General Contractor: Mortenson Construction
Architect: Yellow Dog Studio
Interior Designer: Yellow Dog Studio
Size: 550,086 square feet
This 13-story structure is located on Fifth Avenue in the heart of the North Loop neighborhood of Minneapolis. It consists of 210,000 square feet of Class A office space that features a brick facade. It offers expansive views of Minneapolis, including industrial warehouse buildings. Swervo Development designed and constructed the building to house Calabrio, a growing technology business that defines itself as "the customer experience intelligence company." Calabrio moved into four floors of office space in the fall of 2019, but the business transitioned its employees to working from home in March because of Covid-19.
---
Category: Repositioned/Renovated, New Use
COMMISSION HOUSE APARTMENTS
Location: 282 6th St. E., St. Paul
Owner and Developer: Ackerberg Group, Northland Real Estate Group
General Contractor: Weis Builders, Ryan Peterson
Architect: Pope Architects, Gonzalo Villares, and Dan Pollastrini
Interior Designer: E. Christen Design
Size: 21,600 square feet
A warehouse built in 1889 has been converted into 9,500 square feet of retail space and 26 studio apartments in St. Paul's Lowertown district. Project planners embraced the historic nature of the building by restoring the original wood floors and preserving transom glass. The market-rate housing development includes a fitness area, bike storage, and lounge. It's located within walking distance of many restaurants and CHS Field. The units have interior brick walls and modern quartz countertops and stainless steel appliances.
---
Category: Senior Living
TALAMORE SENIOR LIVING
Location: 215 37th Ave. N., St. Cloud
Owner: Great Lakes Management
Developer: Ryan Companies US, Inc.
General Contractor: Ryan Companies US, Inc.
Architect: Ryan Companies A+E and UrbanWorks
Interior Designer: Ryan Companies A+E
Size: 168,500 square feet
Ryan Companies and Great Lakes Management joined together to develop this project to address a need for modern senior living units in the St. Cloud area. The result was a 168,000 square-foot senior living community, which consists of 64 independent living, 50 assisted living, and 24 memory care units. The project maximizes efficiency and functionality in the living unit spaces. Seniors are able to access many amenities, including dining rooms, a bistro, library, activity rooms, therapy area, salon, club room, multiple gathering and lounge spaces, exterior walking paths, a courtyard, and heated underground parking.
---
Category: Repositioned/Renovated, Tenant Improvement
WELLS FARGO ROCHESTER
Location: 21 1st St. SW, Rochester
Owner: Rochester Property Owner LLC (Ryan Companies and Harrison Street)
Developer: Tony Barranco, Ryan Companies US, Inc.
General Contractor: Ryan Companies US, Inc.
Architect: Ryan Companies US, Inc.
Interior Designer: Ryan Companies US, Inc.
Size: 101,215 square feet
Pre-renovation this Wells Fargo building didn't facilitate connections to other buildings. A significant transformation was undertaken that covered 101,215 square feet of the structure. An iconic glass addition to the lobby was among the major upgrades. Exterior glass was replaced to create a more transparent and open working environment. The south facade was altered and an expansive interior connecting stairway was used to offer clear visibility to the street and Peace Plaza. The retail bank and tenant office spaces also were updated.
---
Category: Senior Living
THE PILLARS OF PROSPECT PARK
Location: 22 Malcolm Ave., Minneapolis
Owner: Oppidan Investment Company and Harrison Street
Developer: Oppidan Investment Company
General Contractor: Weis Builders
Architect: Tushie Montgomery Architects
Interior Designer: Reilly Interiors, Tracy Constable, Sonus
Size: 340,800 square feet
In a neighborhood near the University of Minnesota campus, a senior living project was constructed that's 340,000 square feet in scale. The 10-story complex contains 283 housing units for independent living, assisted living, and memory care. It opened during the Covid-19 pandemic. The Pillars, located on 1.64 acres, was designed after communication with the Prospect Park Neighborhood Association. Project planners said their biggest challenge was crafting a design that met their goals and could work on a small site. A unique element of this development is a childcare center that serves 105 children ranging in age from infants to pre-kindergarten.
---
Category: Senior Living
WYNDRIS
Location: 929 NE 2nd St., Minneapolis
Owner: Catholic Eldercare
Developer: Catholic Eldercare
General Contractor: Frana Companies
Architect: Miller Hansen
Interior Designer: BDH
Size: 97,063 square feet
This project is targeted to baby boomers who want to downsize from their single-family homes and move into a 62 and older senior community. Developed by Catholic Eldercare, this senior housing is located near Catholic Eldercare's transitional care, assisted living, skilled nursing, and memory care facilities. As people age and the type of health care and support they need increases, they could readily move to one of the other facilities without having to leave their neighborhood. The senior living community's amenities include a café, craft room, dog run, patio, wellness room, and clubroom.
---
Category: Special Purpose
CAMBIA HILLS OF EAST BETHEL
Location: 900 189 Ave. NE, East Bethel
Owner: The Hills Youth and Family Services
Developer: Kraus-Anderson Development
General Contractor: Kraus-Anderson Construction
Architect: TKDA
Interior Designer: Details Commercial Group
Size: 62,640 square feet
The state sought proposals for psychiatric residential treatment facility operators, which prompted this development. It combines housing, education, and psychiatric treatment under one roof to transform mental health services for children ages 6 to 17. It has eight residential suites. The bedrooms have large, heated window nooks and views of the site's 27 acres of woods. The living rooms are large and sunny. The project features modern design elements, culturally diverse art, vaulted ceilings, and secure courtyards.
---
NAIOP Nominees for
2020 Excellence Awards
Sixteen NAIOP awards were given to outstanding projects this year. A virtual awards ceremony was held September 23. Twenty-one other projects were recognized as nominees. Here are the nominees by category:
Industrial, Build-to-Suit
Amazon Last Mile, Maple Grove
Renewal by Andersen Value Add Center, Cottage Grove
Medical/Medical Office
CityPlace Medical II, Woodbury
Woodbury Medical Building, Woodbury
Mixed Use
Lowa46, Minneapolis
MN46, Minneapolis
Multi-Family APARTMENTS/CONDOS, (6 + stories)
Irvine Exchange, St Paul
SECOND + SECOND, Minneapolis
The Fenley Luxury Apartments, Bloomington
The Maven on Broadway, Rochester
Repositioned/RENOVATED, New Use
3701 Wayzata Boulevard, Minneapolis
McGough Headquarters, St. Paul
Northern Stacks Boiler Room, Fridley
Repositioned/Renovated, Tenant Improvement
Chartwell, Minneapolis
Marsh & McLennan Agency, Golden Valley
Second Harvest Heartland Distribution Center, Brooklyn Park
TractorWorks, Minneapolis
University Enterprise Laboratories, St. Paul
Senior LIVING
Applewood Pointe of Maple Grove, Maple Grove
Special Purpose
RH Minneapolis, The Gallery in Edina, Edina
The Fillmore Theatre and Element by Westin at Target Field Station, Minneapolis
---
NAIOP President's Award
Murray Kornberg, executive vice president of commercial lending for Colliers Mortgage, is the winner of the 2020 NAIOP Minnesota President's Award. It is NAIOP's highest honor, and the winner is selected by chapter leaders from a field of candidates nominated by members.
During a career that has spanned more than three decades, Kornberg has been involved in closing more than $3 billion of commercial real estate loans.
In 2019, he led the Dougherty Funding LLC team that arranged financing for the Eleven condominium project in Minneapolis. "Having two of the industry's leading capital providers approve the largest loan ever for a ground up multi-family project in the state is a testament to the vitality of this project," Kornberg said in a September 2019 statement. Colliers International subsequently acquired Dougherty, which Kornberg joined in 2016.
"I've had the privilege of seeing Murray work, and his ability to structure and execute on complex deals is second to none," said Anders Pesavento, NAIOP Minnesota president and vice president of capital markets, Ryan Companies US, Inc. On the luxury condominium Eleven project, Ryan Companies is a co-developer and builder of the 41-story structure.
The NAIOP President's Award is given to people who have made outstanding contributions to the commercial real estate industry as well as NAIOP and the broader community.
Before launching his commercial real estate career, Kornberg earned a bachelor's degree in business administration from the University of Western Ontario and a master's degree in hotel administration from Cornell University. He was president of his own real estate development firm, a vice president of CSM Corporation, and a senior vice president with CBRE Capital Markets.
"Throughout his career, Murray has been a longtime contributor to our real estate community both in raising the awareness of the Twin Cities as a great market for investors and as a fantastic leader and volunteer with NAIOP," Pesavento said. Kornberg is a former president of NAIOP Minnesota, served several terms as a board member, and he chaired the organization's Education Committee and Political Action Committee.
"A frequent speaker and moderator at NAIOP programs, Murray has led countless spirited discussions and created many memorable moments," NAIOP said in a statement announcing the award. "A well-known advocate for the power of mentorship, Murray has assisted many young professionals in getting established in their career."