Will Women Win in Hybrid Workplaces?
The pandemic spawned a workplace shift that provides more flexibility. But women with C-suite aspirations will need to take greater ownership of their careers.
Sleep Number executive Melissa Barra embraced hybrid work long before the pandemic wreaked havoc on traditional office schedules.
Barra, who joined Sleep Number in 2013, has been traveling for the past four and a half years between Minneapolis and Atlanta, where her husband, Jose, is a senior vice president at Home Depot.
Being in a commuter marriage didn't hamper Barra's career. In 2020, Sleep Number CEO Shelly Ibach promoted Barra to executive vice president and chief sales and services officer.
"We are focused on creating a culture where everyone can bring their best self to work," Barra says. "We were at the very forefront of hybrid work way back in 2017 when [Sleep Number] moved from Plymouth to our downtown headquarters in Minneapolis."
Born in Honduras, Barra is one of the most prominent Latina executives in the U.S. and among the 4% of women of color who hold C-suite jobs in corporate America. The Women in the Workplace study, conducted by McKinsey & Co. and Lean In, showed in late 2021 that women occupy only 24% of C-suite positions. Some gender parity advocates are warning that women's career advancement could be slowed if they take on even more child care and household responsibilities because of the flexibility afforded by hybrid work.
Barra's sons are young adults. But she's still aware that even as women enter the corporate pipeline at levels virtually equal to men, they face multiple barriers to achieving equal job status at the top of corporations. Within Sleep Number, Barra wants to ensure that women and men both will benefit from hybrid work schedules.
"All groups of employees, on average, prefer some form of hybrid arrangement," according to Kweilin Ellingrud, a senior partner in the Minneapolis office of McKinsey & Co. and a national expert on women's career status. 
"Women prefer to spend more days working from home than men do, as do employees with children and more junior employees," Ellingrud says in a March McKinsey publication. "The challenge is that if some workplaces make the return to work more flexible, those with child care and elderly care responsibilities will likely come into the office less."
The Women in the Workplace report indicates a higher portion of working women are burned out than men are. "In the past year, 1 in 3 women has considered leaving the workforce or downshifting their careers," the report says. Burnout is particularly evident in what the report labels "double-duty caregivers," those caring for children and an elderly family member.
If women go into the office less than their male counterparts do, Ellingrud cautions that "being less visible and less top of mind for step-up opportunities and promotions" could put talented women "on a slower career trajectory."
Claudia Goldin, a Harvard University economist, says there are career promotion risks to women spending more time than men working remotely. However, in a recent Wall Street Journal article, Goldin says that working mothers in professional jobs can potentially benefit from schedule flexibility and technology. In particular, she notes, the pandemic has shown that virtual communication can replace business travel, which can free up more time for family life.
At Minnesota corporations, the shift to hybrid work gained altitude in the fall of 2021, after employees were vaccinated and took their summer vacations. Twin Cities Business conducted interviews with women executives at four public companies to learn how they are adapting to hybrid workplaces.
The women executives—all of whom have reached top management themselves—discussed what they are doing to leverage hybrid workplaces to help women climb the corporate ladder. They acknowledge that women may have to take more ownership of their career paths and be proactive in their relationships with mentors and sponsors to ensure they can achieve their goals.
At the four public corporations—General Mills, Hormel Foods, nVent, and Sleep Number—women make up one-third or more of the executive management teams.
"We have transitioned as a society to focus on what is important, which is our productivity, our impact, the outcomes of work, as opposed to where the work gets done."

—Melissa Barra, executive vice president and chief sales and services officer, Sleep Number
Creating your own path
While the hybrid environment may require women to be more intentional about their career moves, Barra says she's always been "very deliberate" about choosing companies that align with her values of "high integrity and high focus on consumers and on people." Sleep Number, she says, always has promoted a "culture of individuality and inclusion."
Those characteristics were evident in 2017, she says, when Sleep Number introduced an approach called "Work for Your Day." Employees gained "a significant amount of flexibility and the accompanying accountability to work when and where it made the most sense for their personal and professional productivity," Barra says.
When the pandemic hit the United States in March 2020, it meant that Barra, then a senior vice president, had to focus on reinventing the sales and services operations that had relied heavily on brick-and-mortar stores. 
But Sleep Number employees already had some experience with hybrid work, unlike most employees at public corporations. "Back in 2017, it was very much of an individual conversation between a team member and their leader," Barra says. "We didn't have all of the elements that we have today when it comes to tools, technology, and practices. We made a big evolution in 'Work for Your Day' coming out of the pandemic." Sleep Number has become more explicit about strategies to balance virtual and on-site work time, Barra says, and it recognizes that teams are in different stages of maximizing digital tools and schedule flexibility.
During her career, Barra has traveled two paths that most corporate women haven't taken. In addition to being in a long-term commuter marriage, Barra stepped out of the workforce for five years after the birth of her first child. 
Barra's sons are now 20 and 22. "Even now, 20 years later, as I talk to my mentees across the organization or different colleagues and women that are in different parts of their lives, I find that hybrid work has enabled them to make different choices," Barra says. "I might have made a different choice if I'd had the opportunity for more flexibility in my working hours."
When she was ready to reenter the workforce in 2005 after full-time parenting, a male manager hired her at Best Buy. "Instead of looking at it as a risk, he saw an opportunity," Barra says. "He saw a person with ambition, with potential, and with a different life experience that would be additive to his team."
In her business and home lives, Barra is quick to adapt to changing circumstances. She was supportive of her husband accepting a job in Atlanta with Home Depot. "The intention was that he was going to commute to Minneapolis while we still had our younger son at home," Barra says. "My younger son decided that he wanted to move to Atlanta because he's a competitive swimmer, so he wanted to swim for a particular school."
Barra is based in Minneapolis. However, in addition to traveling to Atlanta to see her husband, she also flies frequently to meet in person with her sales and services employees at Sleep Number stores around the country. She worked closely and rapidly with those employees during the early months of the pandemic. "We equipped them with iPads and different kinds of technology and systems, and they used their digital tools to do what we call now 'sell from anywhere,' " Barra says. The omnichannel approach has driven growth over the past two years, she adds, because Sleep Number customers can easily buy products in store, online, or by phone.
"The pandemic has shifted traditional thinking about how people work," Barra says. "This is the case for men and women. We have transitioned as a society to focus on what is important, which is our productivity, our impact, the outcomes of work, as opposed to where the work gets done." 
She stresses that Sleep Number takes a "whole-person approach" with its employees, which includes the employee benefits it provides. Among the offerings are paid parental leave, parenting education, child care services, and adoption and surrogacy financial assistance.
"A lot of the investments that we've made over the last couple of years have been in making sure that there is sufficient support, so that our team members can balance their personal and professional lives," Barra says.
"There is magic in coming together. What we had every team do is actually think about what are those moments that matter."

—Jacqueline Williams-Roll, chief human resources officer, General Mills
Office time that matters
General Mills reopened its Golden Valley headquarters Sept. 7, 2021, with a new approach to employee schedules called "Work With Heart." It's designed to give employees more flexibility so they can meet their personal needs, as well as carry out their work responsibilities.
"It's really focused on results. It's not about face time," says Jacqueline Williams-Roll, chief human resources officer. "It is really about how the work gets done, not where it gets done."
Williams-Roll, who joined General Mills in 1995, says the company asked every manager to talk with individual team members about the kind of flexibility that would work best for them. Then teams met to discuss when they thought it would make sense to work collectively—that is, everyone being in the same physical space at the same time.
"There is magic in coming together," she says. "What we had every team do is actually think about what are those moments that matter—when you need to come together to create or to collaborate or to connect or to celebrate—that really bond us and make our culture special."
General Mills didn't mandate that employees be in the office a certain number of days per week. About 10 percent of its workforce was approved for "fully remote" work, but Williams-Roll says those employees must come into the office four times a year to be with colleagues.
"We need to create a workplace that allows people to live their lives," she says. What happens if talented young women choose to work remotely more than their male peers? Could women hurt their career progression if their office time is too limited? "That's a very legitimate concern," Williams-Roll says.
But she maintains that women—with or without children—can take steps in a hybrid environment to put themselves in a strong position to move through the corporate pipeline.
First, she says, she would ask an ambitious young female employee to define her goals and aspirations and the reasons for them. If the woman wants to secure a particular job, she says, she'd help her identify the kind of work experiences she would need.
She says she'd also tell the young woman, "Here are the individuals who I think are important for you to get to know and for them to get to know you. They have influence in the organization and/or they have the right expertise or the right experiences to help you do what you want to do."
For high-potential women, she says, it's paramount that they can showcase their talents. "You need to be very thoughtful about getting yourself in those positions to demonstrate those experiences," she says.
As young women are building corporate careers, she says, they need someone who has their back. They also need one or two people who can provide honest feedback, so they can learn what's working, what's not working, and what changes need to be made, Williams-Roll says.
"I don't think that you have to be in the office to do all of those things," she says. "I really don't. But for some of them you do."
She recommends seeking advice from those who've already succeeded in the corporate world. "What a mentor and a sponsor will do is to help you delineate where it's important for you to be in the office and where it doesn't matter," Williams-Roll says. "Sometimes it will matter."
"Even if I'm here [in the office] on a Friday, I know they have that ability to work from home."

—Jacinth Smiley, executive vice president and chief financial officer, Hormel Foods
Pandemic recruiting trip
Sometimes it matters if a business executive flies across the country for an in-person meeting. 
Jacinth Smiley, chief financial officer for Hormel Foods, was on the receiving end of a pivotal meeting a little over a year ago.
A native of Jamaica, Smiley had built a successful career in multiple finance roles and was working as a chief accounting officer in Texas. "I was contacted by a recruiter," Smiley says. "I was not looking at all for a role."
The recruiter reached out on behalf of Hormel Foods, and Smiley was intrigued by the job opening because she liked the company's values.
"The second thing that happened is the fact that the CEO of the company came to Houston, where I was," Smiley says. "He came there to encourage me to be interested in interviewing with the company."
That personal overture captured her attention. She recalls Hormel CEO Jim Snee saying, "I am going to sit down with you and look you in the eye, because there is going to need to be a level of trust. And I wanted to make sure that I did that."
Smiley learned from the recruiter that the Houston trip was Snee's idea. "It was something he wanted to do," Smiley says. "The fact that the CEO wanted to do that with me, a person of color, in my mind spoke volumes."
Smiley moved to Minnesota to become Hormel's group vice president of corporate strategy in April 2021. She was promoted to executive vice president and CFO later in the year.
She notes that Hormel Foods doesn't simply talk about the importance of diversity, but it backs up its rhetoric with action. "The leadership is clear about being intentional about filling [open positions] with underrepresented minorities," Smiley says. "We are unapologetic about wanting to do that, because that is the only way you are really going to change the face of the leadership and the face of the company."
Smiley and Snee regularly work in the company's headquarters in Austin, Minnesota, and they illustrate that it's all right to be in the office daily after corporate America has jumped on a hybrid bandwagon.
'Work From Anywhere Fridays'
Hormel rolled out a program last fall called "Ways of Working" when it moved to a hybrid work environment. That plan included "Work From Anywhere Fridays," giving people the opportunity to travel on a Thursday night for a long weekend.
"If you need additional flexibility, you work it out with your manager," says Janet Hogan, Hormel's senior vice president of human resources. "Flexibility needs are personal. We are not all the same, so we wanted people to get the flexibility they need while at the same time being able to progress in their career."
Hogan says some Hormel employees took advantage of flexible schedules before the pandemic. But as company leaders were making plans to bring people back into the office last fall, she says they informed the 1,500 or so headquarters employees that flexibility was open to everybody.
Hormel didn't set any uniform rules on when employees were expected to be in the office. "We wanted to make sure they understood that they could still continue to have flexibility if their children were sent home from school and they needed to be home with them while [the children] learned remotely," Hogan says.
"There are positions that do require people to be in the office more than three or four days a week," she says. "There are other positions where people can work from home four days a week. We allow the manager to make that decision."
People with the same job descriptions may make different choices about where they want to do their work. "I work best when I'm here in the office," Smiley says. "So I haven't used the flex Fridays as much as others may have used it."
But she doesn't expect her work team to follow her lead on Fridays. "Even if I'm here [in the office] on a Friday, I know they have that ability to work from home," Smiley says. "I don't have in-person meetings with them because I don't want them to feel the pressure that I am here, so they ought to be here."
Snee, Hormel's president, CEO, and chairman, "never went remote," according to Wendy Watkins, senior vice president and chief communications officer. She adds that some other members of the senior management team didn't shift to remote work in their homes either, because it was simpler to work in their offices. Hormel has its own campus, leaders could easily be socially distanced, and most of them live within 10 minutes of the office.
Snee had another reason to keep working at Hormel's headquarters, which is across the street from the company's flagship plant. "He wanted to make sure that as our production professionals went into the plant each day, they at least saw his car in the parking lot," Watkins says.
"Mentorship meetings can be done remotely. At nVent, we actually turn the camera on. It's not just a phone call."

—Beth Wozniak, CEO, nVent
Blending work and family
In a St. Louis Park office complex, senior executives of nVent, a manufacturer that provides electrical solutions, returned to their offices in the summer of 2021. They were followed by managers a few weeks later, and other professional staff joined them in October.
"What we started communicating is we think, on average, that people will be in the office three days a week," says Beth Wozniak, who became CEO of nVent in 2018 after it was spun off by Pentair.
Immediately, top executives got questions about which days of the week employees should come into the office. They responded that their teams should decide what worked best for them. 
The company retained designated workspaces for its office employees and didn't track when employees were in the office. After employees reunited with their co-workers, Wozniak says, "people quickly saw that power of collaboration that they were missing."
For her part, Wozniak typically works in her office Monday through Thursday and works from home on Friday. "I'm starting to travel again, so I'll be out of the office more," she says.
While all employees can benefit from schedule flexibility, Wozniak says it's especially beneficial for work teams that include young mothers.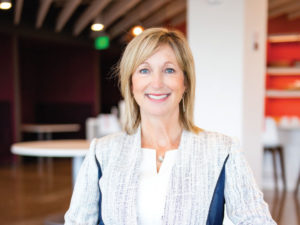 That's the case with a work team led by Lynnette Heath, executive vice president and chief human resources officer, who has four daughters.
In previous years, some women employees who were primary caregivers worried about the need to handle a family matter during a conventional workday, Heath says. Now, she notes, it's broadly acceptable for a woman to say to her employer: "I need to pivot and focus at home."
Whether it's young children or aging parents, in a hybrid environment a woman can tend to personal and family needs and still complete her work assignments. "It's not always going to be in the traditional [work] hours," she says.
"As long as the work is getting done, they know it's OK," Heath says. "I may pop in for a meeting for a couple of hours, but then I need to be home, and then I'm going to complete the project or task in the evening."
The pandemic gave women—and men—an opportunity to contemplate what matters to them in their lives. Companies will lose out on employing talented women if they don't acknowledge that the pandemic has shifted expectations about workplace flexibility and hybrid schedules, she says.
Many women are thinking: "Yes, I want my career. Yes, I want to move up. But oh, by the way, my family life matters to me," Heath says. "So how do we make that work? Let's have conversations around what is acceptable. What are the expectations? What do I need to do?"
Promotions in a virtual world
Wozniak is a rarity in the American workplace—a woman CEO of a publicly traded corporation.     
A native of southern Ontario, Wozniak earned a degree in engineering physics and built a leadership portfolio at Honeywell that spanned 25 years. She was named nVent's CEO less than three years after she was hired by Pentair in 2015 for a key executive role.
Wozniak describes how she succeeded, how she's helping other women move up the career ladder, and how the hybrid environment alters some career strategies.
"When I think about my career," Wozniak says, "I was always someone who wanted to take on new challenges. And I knew that in taking on new challenges that I would learn and I would grow."
A former competitive swimmer, she confesses she's always been a very goal-oriented person. "I knew that driving results or performance did matter. It always starts there for anyone," she says. 
After talented women start to prove themselves in the workplace, she says, they can position themselves to learn from great leaders and to be sponsored by them to propel their career advancement.
"If I think about where we are today in a hybrid work environment, I think those same things are very true," Wozniak says. "We have to look at performance and the quality of work."  
However, she adds, "I think it is up to individuals to ensure they are connecting [with people] and learning." Wozniak says it would be a mistake for a high-potential woman to simply do good work remotely and fail to place a premium on communicating and interacting with her team colleagues and others in the company.
"One of our values here at nVent is respect and teamwork," she says, emphasizing that "we want to grow together and learn from one another."
Wozniak has mentored and sponsored many women during her career, and she thinks connecting with them can be done effectively in person or virtually.
"I've mentored different women, and I have retained those relationships," Wozniak says. "So often that is just a phone call or a Teams meeting. Whether I see them in a meeting or at a work event, those relationships really do continue."
At nVent, she says, she'll follow up with her mentees to see how a new role is working for them, compliment them on a presentation, or do an overall check-in. When jobs come open, Wozniak says, she often chooses to sponsor, or advocate for, some of her mentees to make sure they are considered for career development opportunities.
"Mentorship meetings can be done remotely," Wozniak says. "In our environment at nVent, we actually turn the camera on. It's not just a phone call, but you can see someone, right? Because we are working in this hybrid way, you are seeing someone in their home environment, where you are seeing their dog run in. We can actually get to know one another a little bit better than we would have in an office environment."
Liz Fedor is the senior editor of Twin Cities Business. She has been writing about women in corporate leadership for several years.