Toro, Former CEO Grant $3 Million to St. Thomas Leadership Center
The gifts will endow programs that advance the business ethics of the late CEO Ken Melrose.
When Ken Melrose spoke to business students at the University of St. Thomas, the retired CEO of Toro loved to make his points through storytelling.
Melrose, who served as Toro's top executive for more than two decades, died in May. His commitment to business ethics will live on at St. Thomas through the Melrose and The Toro Company Center for Principled Leadership.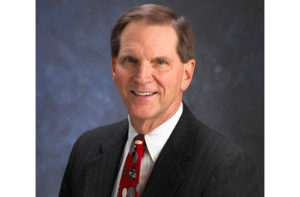 "He was a wonderful storyteller," said Christopher Michaelson, a St. Thomas professor of principled leadership and the center's academic director. "One of the reasons that our new mission connects learning in the liberal arts and humanities to leadership practice is that people learn from stories in more impactful ways than they learn from mere facts and figures."
St. Thomas announced Friday the center will create a $3 million endowment, which will be funded through a $2 million gift from Toro and a $1 million gift from The Hoffman Family Foundation. Mike Hoffman succeeded Melrose as CEO, and the two men worked closely together during their long tenures with Toro.
Michaelson, a Minnesota native, was building a career on the East Coast, but in 2008 returned to Minnesota to join the St. Thomas faculty. "Ken Melrose was the very first CEO that I met at St. Thomas, and I invited him many times to speak with my students," he said, adding that the veteran CEO would meticulously prepare to address classes.
"Even though he had retired from Toro, he continued to refer to the company as 'we,' and he would update us on its new products and services," Michaelson said. When Melrose became CEO of Toro in 1983, the phrase "sustainable development" was not commonly used, but Michaelson said the business world's effect on the natural environment was a longstanding concern of Melrose and he discussed it with students.
Attorney Nicole Zwieg Daly will serve as executive director of the leadership center that bears Melrose's name. She held a similar position in the predecessor organization that was called the Center for Ethics in Practice.
Located in the Opus College of Business, the center is expected to advance principled leadership through research, teaching, and practice activities. Stefanie Lenway, dean of the Opus College, said Melrose was known and respected for his "servant leadership," which emphasized the needs of multiple stakeholders—including employees, customers and communities. The Melrose and The Toro Company Center for Principled Leadership will showcase the "efficacy of profitable business models based on purpose-driven strategies and values-based leadership," Lenway said.
In addition to offering leadership development opportunities, the center will bestow an annual award on someone who exemplifies the principled leadership of Melrose. The center staff intend to host seminars and other programs that help business professionals learn more about business ethics.
"We are exploring how the center can be a space to explore the role of business in society to inform and advance the common good," Michaelson said. Topics that he cited include the alignment of community interests with corporate resources and an examination of literary fiction that addresses diversity, equity, and inclusion.
"My own particular research focuses on meaningful work, which refers both to how people find—or don't find—personal fulfillment at work and also how they can make a valuable social contribution through work," Michaelson said. "During the present pandemic, our world continues to change politically, economically and socially, such as how we prioritize essential work and how capitalism can advance or undermine racial and social justice."
As many organizations are holding events online, St. Thomas wants to ensure that the center's events can attract and hold an audience. "We are thinking creatively not only about how to host virtual events, but also about how we can use creative and unconventional media to drive deeper dialogue about the role of business in society," he said. "For example, we are talking to arts organizations about events that examine how business is represented in literature, film, television, drama and other arts."
In 2016, St. Thomas President Julie Sullivan introduced the brand concept "All for the Common Good," which summarizes the university's mission statement. Within society, there is debate over how that commitment should be realized, Michaelson said, and the center can be a home for some of that discussion. He asks: "Should the mission of business advance the common good or only the good of a select few? When you look back with the benefit of hindsight, how might your answer to that question influence your appraisal of the meaningfulness of your life's work?"
Michaelson said he wants the principled leadership center he co-leads to "be a place where we discuss these professional and personal philosophical questions and all of their practical implications."