2022 People of the Year: The Pohlads
Steadfast while others were absent, Bill, Bob, and Jim Pohlad are TCB's People of the Year.
Back before the pandemic, in the halcyon days when downtown Minneapolis vaulted from win to win, one of its nagging troubles was a lack of a true luxury hotel. "We had certain celebrities and musicians who would not overnight here," says Mayor Jacob Frey. "They'd fly up from Chicago for the performance and fly back," rendering the city a blank slate in the eyes of the global cultural elite.
Those were heady times, when Janet Jackson's or Mick Jagger's disinclination to bed down at the Ivy or Marquette was something to hang our heads about.
Today, downtown Minneapolis has that hotel, the new Four Seasons at RBC Gateway. It's the ironic coda to three years of misery, when decades of investment and passion drained out of downtown in a matter of weeks. Prince could return from the dead, but it would not heal the city. Downtown needs something more, something practical yet also something existential.
"We need positivity and belief in the city," says Frey. "Remembering and talking about the things you loved about coming downtown."
Into that breach step unlikely saviors. Wait. Stop. They'd hate that word. "Unlikely champions," perhaps. People willing to lead when the likes of Target and even Hennepin County walked away.
"Commitment to a city is determined when things are tough," Frey says. "Every time there's been an opportunity, they chose to believe in the city—Upper Harbor Terminal, RBC. The Pohlads repeatedly found reasons to stay, double down, and invest philanthropically."
To Bill, Bob, and Jim Pohlad, it's commitment born of gratitude. "We're part of the city; it's been our home. We want it to continue to be our home," says Bob Pohlad. "[We] have to invest our time and money to get back to where we thought we were."
"We're part of the city; it's been our home. We want it to continue to be our home."

—Bob Pohlad
Major players
The Pohlad Cos. began in the 1950s as Carl Pohlad (1915-2009) emerged from a hardscrabble Depression-era upbringing to build a banking and financial empire. It included Marquette Banks, sold to Wells Fargo in 2001. The family also built, over 50 years, the second-largest bottling franchise in the world before selling it to PepsiCo in 2010.
The most visible holdings in the Pohlad Companies today are the Minnesota Twins, which Carl Pohlad purchased in 1984 from the Griffith family (who had owned the franchise since 1912), and Bill Pohlad's film production company River Road Entertainment, which burst on the scene in 2005 with Ang Lee's Brokeback Mountain and has nearly 20 major studio releases under its belt, including Dreaming Wild starring Beau Bridges, to be released in 2023.
Pohlad Cos. today is different from the banking and financial services company that the brothers grew up around. Its holdings include the Pohlad Automotive Group, nine (mostly) luxury car dealerships (mostly) based in the west metro; Northmarq, a financial services firm for the commercial real estate industry; United Properties, a commercial real estate developer with holdings here, Denver, and Austin, Texas; and PAR Systems, a manufacturer of advanced engineering based in Shoreview. All told, the organization employs 3,700 people.
The Twins and United Properties report to Jim Pohlad, 69, while the remaining businesses report to Bob, 68. Bill, 67, is the filmmaker and president of the Pohlad Family Foundation, which invests millions annually in the Twin Cities.
There are seven Pohlad grandchildren, four of whom have full-time roles in the family businesses.
The brothers all live in the city and work from the family offices at the new RBC Plaza. It's an airy suite of contemporary art and exquisite modern furniture at the top of Nicollet Mall, just a few floors off the ground.
"When I met them, what impressed me was how much the city meant to them," says Derek Falvey, president of baseball operations for the Twins, who was hired by the Pohlads in late 2016 after spending most of his career working for the Cleveland Guardians, another family-owned enterprise. "They see the Twins as a public trust. They are low-ego; it's not about them. They don't want credit."
The Pohlads are known as hands-off owners in all their businesses, setting goals and approving strategic foci but deferring day-to-day decisions to key executives in the business units, who are typically the face of their companies and respected in the community, such as Twins president Dave St. Peter.
Delegating does not translate to disinterest, however. Falvey says he meets with Jim Pohlad weekly and talks to him after most home games. "Jim is a fan at heart. We talk baseball in such a respectful way, there's never a sense you're under a microscope," Falvey says. "He trusts and respects the people he employs. During Covid there were a lot of furloughs in [Major League Baseball], and Dave and Jim talked about it and said, 'We're not furloughing people.' People are their focus."
And though Target Field and the Twins are anchors of downtown, it is not really a growth business; a longer season (playoffs notwithstanding) or a bigger footprint are not in the offing. The Pohlad entities with the potential to add vitality to the city of Minneapolis are United Properties and the Pohlad Foundation.
"United is not a typical downtown-core developer. …We've encouraged that. We love downtown."

—Jim Pohlad
Moving downtown
United Properties came into the family's holdings in 1998. At the time of its purchase, it was primarily a developer and manager of suburban offices. The company hired Bill Katter, its recently departed co-president, in 2004, and over time its emphasis shifted. United moved downtown in 2015 and reoriented around urban placemaking.
"United is not a typical downtown-core developer," explains Jim Pohlad. "We've encouraged that. We love downtown."
The idea of placemaking, in layperson's parlance, is thinking of development as more than a set of commercial transactions related to land value, construction cost, and sales or leasing potential.
"I think the family saw how Target Field changed downtown," says Katter. "Suddenly the question became, 'How can we use real estate to make a place better?' "
United's current portfolio reflects that outlook; the company most often invests in derelict or surplus buildings, surface parking lots, or otherwise troubled locations, like the square block at the top of Nicollet Mall that had been vacant for decades until RBC Gateway.
"[RBC Plaza] began as an idea before work-from-home," explains Bob Pohlad. "Our commitment is more important now. It's anyone's guess how far back the pendulum will swing. Downtown is not going to go away. It may change in form, be reimagined."
An open question is the resilience of the downtown/North Loop office market, where United is heavily invested. "[Minneapolis is] not going to need as much office space, that's clear," says Katter. "The city is going to find its way to a new set of priorities and a new norm. How do we make places people want to return to? The Pohlads want to help create that future."
United has even been in talks with the city about vacating the northernmost block of Nicollet Mall, home to RBC Plaza and Cancer Survivors Park across the street, with the goal of funding a grand public space, à la Chicago's Millennium Park. United declined comment, but Frey says the project "has legs," but requires more study to determine if the location can generate sufficient density of activity.
Katter believes there is other similar opportunity downtown but would like to see the city take a more proactive role in shepherding it.
"The city needs a forward-looking agency that views real estate as a catalyst for change," Katter says, citing as an example for redevelopment the blighted block immediately north of the Warehouse District LRT station, an area he sees as an incubator for crime and disorder. Another is the enormous historic Minneapolis Post Office on the riverfront, long rumored to be on the Postal Service's list for replacement. "The post office is an opportunity to recruit a major employer or the University [of Minnesota] to downtown," he notes, indicating United's willingness to serve as a catalyst on such projects.
Katter left United four days after our interview, but his priorities were the Pohlad family's priorities: that downtown revitalization is heavily dependent on mitigating the emptiness created by work-from-home and people's reluctance to spend time downtown because of a recent rise in crime and chaos.
"We are increasingly involved in the safety issue downtown," says Bob Pohlad. "We've talked to other business leaders. It's fair to describe them as concerned, but confident." The Pohlads are at the table with other downtown stakeholders as the city searches for solutions.
"Two very promising changes," says Bob Pohlad, "are empowering the mayor—we have confidence in him—and putting a structure in place to lead public safety. We're impressed with [new public safety director] Cedric Alexander. He's a no-nonsense guy. He didn't need this job."
Alexander has asked businesses to partner with the city, so "we've put cameras in place to improve street surveillance to feed into central command," Bob Pohlad notes. "We have to stop the bleeding in the [police] department, crime has to come down, guns need to be taken off the street. It falls to police to enforce [in] the right way."
That's a big caveat, and the family has more to offer than simply encouraging the cops to heed a higher calling.
"It started with my mom and dad, their desire to give back. … They were very private, giving to people instead of organizations."

—Bill Pohlad
Building from the foundation
As engaged as the Pohlads may be with downtown, the thing that really gets them talking is giving away their money. The Pohlad Family Foundation has distributed over $200 million in the state over the last three decades and is laser-focused on greater impact.
"It started with my mom and dad, their desire to give back," says Bill Pohlad. "They were very private, giving to people instead of organizations." (They did, however, publicly support the Boys and Girls Clubs.)
After years of involvement in a variety of causes, the family rethought the foundation's work. In 2017, it redirected efforts to focus entirely on family and youth homelessness in the Twin Cities. Since then, under executive director Susan Bass Roberts and her staff of seven, it has committed $50 million to housing stability. It's the largest non-government funder on homelessness in the state
The family wanted to help people most in need, to "lift people to a better station in life," Roberts explains. "It came down to housing."
"Focus creates impact," she adds. "The family wants to help people directly, like their parents did. We call it 'homelessness interruption.' " She is less interested in think-tank type efforts than working with Hennepin County, for example, on the effectiveness of its systems and processes.
In 2020, George Floyd's murder and subsequent civil unrest galvanized the foundation to a higher level of action, and it committed $25 million to advance racial justice in the Twin Cities. Initial grants were directed toward community rebuilding and recovery efforts, but the bulk of the funds are dedicated to advancing Black homeownership in the metro area, a natural outgrowth of the foundation's work to help the unhoused, who are disproportionately Black and Native American.
"George Floyd was a shocking event," says Bob Pohlad. "A problem that's been around for hundreds of years. There's a right thing to do, and that's to focus on it."
"The initial context was we wanted to do something," adds Bill Pohlad.
Roberts, who has spent her career at the nexus of corporate/family wealth and philanthropy, had ideas. "Philanthropy has always been top-down. But people know best what they need," she says, echoing a new mantra in giving that guides current Pohlad philanthropy. "We wanted to discover the intersection between people's needs and the family's [giving] priorities." The foundation talked to 100 community leaders, says Roberts. "Listening supercharged our ideas," Bill Pohlad adds.
Next-Gen philanthropy
There was a time when the Pohlad name was not associated with community building. Carl Pohlad was a private man who rose out of poverty to become a hard-nosed financier with a reputation for self-interest. Stories of that were legion in the Twin Cities in the 1980s and '90s, which fed endless complaints about the Minnesota Twins' salary structure.
But it's been at least a quarter-century since the patriarch had a hand on the tiller. Since then, the values of his children have come to the fore. "The family I know wants to pay good wages, help people, and are thinking about the big picture. They care about Minneapolis," says Roberts. "They are humble; they line up for their own coffee."
Roberts' résumé includes Fortune 500 corporations and wealthy sports families for whom she helped guide philanthropy. She is proud of her past work but says the values and motivations of the Pohlads are fundamentally different. "Jim Pohlad has the biggest heart of any person I've ever known," she adds.
Looking forward, Roberts says part of her mandate is to make sure this isn't a single-generation effort. "We want to help our third generation learn philanthropy," she says, "to help us make a bigger impact and inspire other philanthropic partners."
Cities are dynamic. Problems you could never imagine make shredder fodder out of long-term plans. But when this family looks a decade out, they see something.
"What does it look like?" asks Bob Pohlad. "It looks like the city you thought you lived in."
[Editor's note: After this issue of TCB went to press, The Pohlad Companies announced leadership changes designed to elevate the next generation of Pohlads to more prominent leadership roles at the Minnesota Twins and United Properties.]
---
United Properties' Downtown Portfolio
1990s: RSM Plaza, 8th and Nicollet: United's first downtown acquisition—a building from 1969—repositioned an aging office tower into a contemporary showpiece. 
2009: Target Field
2010: Ford Center, North Loop: United's first major conversion took a 1912 warehouse/manufacturing building across from Target Field and converted it into modern office space.
2010: Loose Wiles Building, North Loop: Redevelopment of a vacant turn-of-the-20th-century office building on Washington Avenue.
2013: 505 Nicollet Mall: Redeveloped the shuttered Neiman Marcus department store into Centerpoint Energy's Minnesota headquarters.
2014: Be the Match HQ, North Loop: Offices for the nonprofit organization, located across from Ford Center.
2016: Target Field Station: Includes Element Hotel, Fillmore music venue, and Caribou Coffee.
2016: 651 Nicollet Mall: Redeveloped former Saks Fifth Avenue into retail and office space, plus new Douglas Dayton YMCA.
2017: The Nordic/Sable, North Loop: Mixed-use project across from Loose Wiles, including a half-acre public plaza, some of North Loop's only public space.
2018: The Kickernick, Warehouse District: Renovation of an historic building in a troubled section of downtown.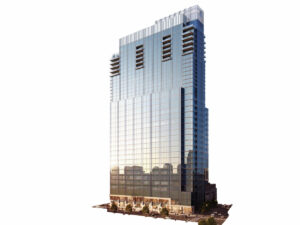 2022: RBC Gateway, 250 Nicollet Mall: A $450 million development, the city's largest- mixed-use project, containing office space, Four Seasons Hotel, and condos. Generated $10.4 million in a land sale that went to the Minneapolis Affordable Housing Initiative.
Mid-2020s: Upper Harbor Terminal, North Minneapolis riverfront: 500 units of affordable housing, outdoor amphitheater, and 150,000 square feet of commercial space will be the hallmarks of the $175 million project when completed mid-decade.
---
Foundational Priorities
The Pohlad Family Foundation exists "to improve the quality of life and opportunities for those most in need in the Twin Cities," according to a mission statement. It has dedicated $218 million over nearly 30 years in pursuit of this goal. Under executive director Susan Bass Roberts, at its helm since 2016, its agenda focuses on two primary areas:
Housing stability: $50 million spent on long-term housing stability through "building a network of BIPOC-led organizations to drive policy and practice changes."
Racial justice: A $25 million commitment made in 2020 to support recovery in communities hit by social unrest, policing reform, and Black homeownership via a program under development at the foundation.
---

Gateway Park, fantasy or future?
This concept rendering evokes a United Properties proposal for a privately funded park/public square at the top of Nicollet Mall between RBC Gateway and the ex-Federal Reserve Bank—under review by downtown stakeholders for several years. Much work remains to be done, but Mayor Jacob Frey says he would like to see some iteration of it move forward.
Adam Platt is TCB's executive editor.