Minny & Paul Expands Corporate Gift Offerings
The startup's Minnesota-inspired gift boxes are gaining traction with big corporations
With the holiday season quickly approaching, Laura Roos is hard at work getting her Minneapolis gifting studio ready for the busy weeks ahead. To make this season bigger and better than the last, she's expanding Minny & Paul's corporate gift offerings with the launch of a corporate gifting catalog. 
While Minny & Paul is known for its pop-up markets and cutesy, Instagram-worthy gift boxes, the company's polished corporate gift offerings have become increasingly popular among corporations. From 2016 to 2017, corporate gift orders increased 50 percent, according to Roos.
The catalog went live on their website Tuesday morning and features seven themed gift sets. Like all of Minny & Paul's gift boxes, they are curated with local products made by Minnesota makers. The Coffee Addict crate, for example, includes a coffee-flavored nut and seed energy bar from Chanhassen-based Ommie, while the Meat and Cheese box features an exclusive nut blend from Minneapolis-based Isadore Nut Co.
The gift sets are available in multiples sizes and range from $38 to $184. Companies can also opt to add their logo to specific products or have it engraved or printed on the box, bin or crate that it comes in.
"More companies are looking for customized gift options to show their appreciation and add a personal touch," Roos says. "They also like to show off their Minnesota roots."
In addition to corporate gifts, Minny & Paul offers 18 curated gift boxes and bins (called binnys) for consumers. The company launched its Baby Bird box a couple of weeks ago for those looking for a special baby shower gift. Some of Minny & Paul's most popular gifts are its special occasions boxes, which the company releases for a limited-time around holidays such as Mother's and Father's Day.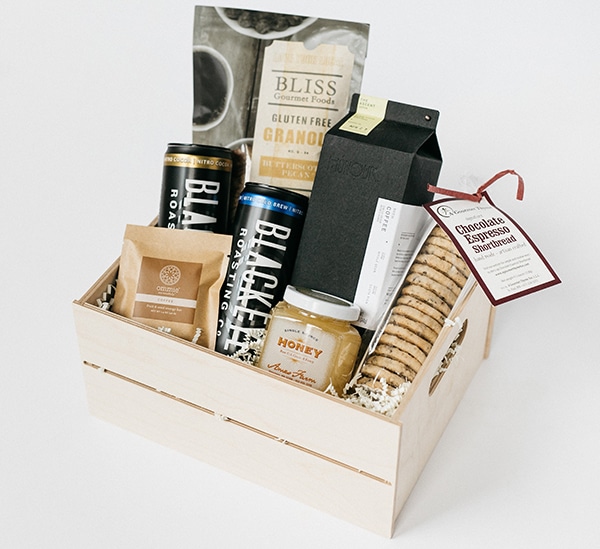 Minny & Paul's Coffee Addict crate. (Photo courtesy of Minny & Paul)
 
While Minny & Paul typically sees a spike in consumer sales around those holidays, the biggest growth has been on the corporate side, Roos says. "Our gifts have a lasting impression. We handwrite all of your personalized messages."
Roos founded Minny & Paul in August 2016. Since then, she has built partnerships with more than 40 makers and has fulfilled thousands of corporate orders for big-name companies such as the Minnesota Vikings, TedxMinneapolis, CBRE, and Squarespace. Most of Minny & Paul's corporate clients are either based or have a strong presence in Minnesota, although Roos has worked with clients outside Minnesota to curate boxes filled with products made in their home state.
"Our mission is to celebrate and support local artisans," Roos says, "and that can easily be translated to other cities."