Mall of America Makes Dreams Come True for Small Retailers
Community Commons opens today, offering free rent and big opportunity to minority owned businesses hard hit in 2020.
The day before opening Fabulous Diva Boutique, Martena Jones paced from rack to rack, straightening dresses and pinching herself.
"This is my dream," she said. "This is my chance."
Jones' shop is one of 17 independent retailers opening Thursday at Mall of America, part of Community Commons, a rent-free space dedicated to businesses struggling from the pandemic or displaced due to destruction that resulted from civil unrest over the summer. At least, that was the starting point for Community Commons, but as applications began to come in, mall organizers realized they had tapped into broader need and interest from minority owned businesses. Some come from Midtown Global Market on Lake Street in Minneapolis, which was at the center of the worst damage last spring. Others, from neighborhoods in St. Paul and Minneapolis, have watched their traffic plunge due to Covid-19. Still others, like Jones, seized on the unexpected opportunity to turn a lousy year into a launchpad for something bigger than they ever thought possible.
Jones established Fabulous Diva Boutique online in 2015 specializing in plus size women's apparel. She spent her own savings on inventory. She organically built a social media following more than 6,000 strong on Facebook and Instagram combined. Being listed as a Black-owned business helped, she says.
She sold enough to keep the site going as a side hustle while working full-time at a bank. In 2018, she set up shop in an office building in Brooklyn Center, but traffic was, she says with a shrug, not exactly MOA on its slowest day. So she returned to e-commerce. Even as web traffic dropped when Covid-19 hit, Jones kept going—promoting flash sales for her followers, sharing photos of new sunglasses and jean jackets and interspersing product shots with inspirational quotes.
"I love God, I love church, I love fashion," Jones says.
She learned about the Community Commons opportunity through the Northside Economic Opportunity Network, one of several organizations MOA's Jill Renslow, executive vice president of business and marketing, contacted with the proposal. The mall had space. Renslow wanted to put it to good use.
Community Commons, located on the second level, south side, is bright and inviting with modern brass light fixtures and blue patterned wallpaper. There's a long table down the center with Herbal Alchemy salts and serums neatly arranged on bamboo. A wall of Twiggy Fresh tooth brushes is decorated with leafy greens. Each business has its own area with the brand name prominently featured.
Minneapolis creative agency Knock Inc. donated design services to update the space, a former Riley Rose store. Juxtaposition Arts, a teen-staffed design center in North Minneapolis, provided art.
Community Commons looks like many MOA pop ups that came before it in recent years, starting with holiday markets featuring local makers to Fourpost, an incubator for digital-first brands from all over the country that closed in January when its founder, Mark Ghermezian, a member of the family that owns MOA, became co-CEO of their newest megamall, American Dream in New Jersey. The mall management team knows projects with multiple brands require a lot of coordination and communication. That staffing each booth can be taxing on small brands, but centralized checkouts run the risk of snags and take away from the independent charm of meeting the owner behind each business.  Even including well-established brands with VC money behind them doesn't guarantee a successful market, as the mall has learned from a few short-lived pop up experiments.
But this one is different. At Community Commons, MOA is embracing the scrappiness. It came together quickly, and with a heartfelt mission. If something doesn't work, they'll pivot. It's what we all do in 2020. The current plan is to keep it open through spring of 2021. If one of the featured brands has to drop out, MOA has a waiting list of others that would love to get in.
MOA is not providing staff for Community Commons, but the mall management team encouraged the participating businesses to team up and support each other—both to make the time commitment more manageable and to limit occupancy due to Covid-19. Jones' mother Sonya Mills was there with her at the store the day before opening. She has a full-time job of her own, but says she'll do whatever is needed to support her daughter's retail dream.
Skeptics may say Mall of America is just looking for positive pr at a time when most headlines are about delinquent mortgage payments, store closures, and thin crowds. And who could blame them? Lively storefronts are a heck of a lot more inviting than empty storefronts. Even if there's no money coming in, keeping the lights on conveys hope. Community Commons is a savvy gesture that comes at a time when people are anxious lift up the disadvantaged and desperate to find some good in the world.
But also, it is good.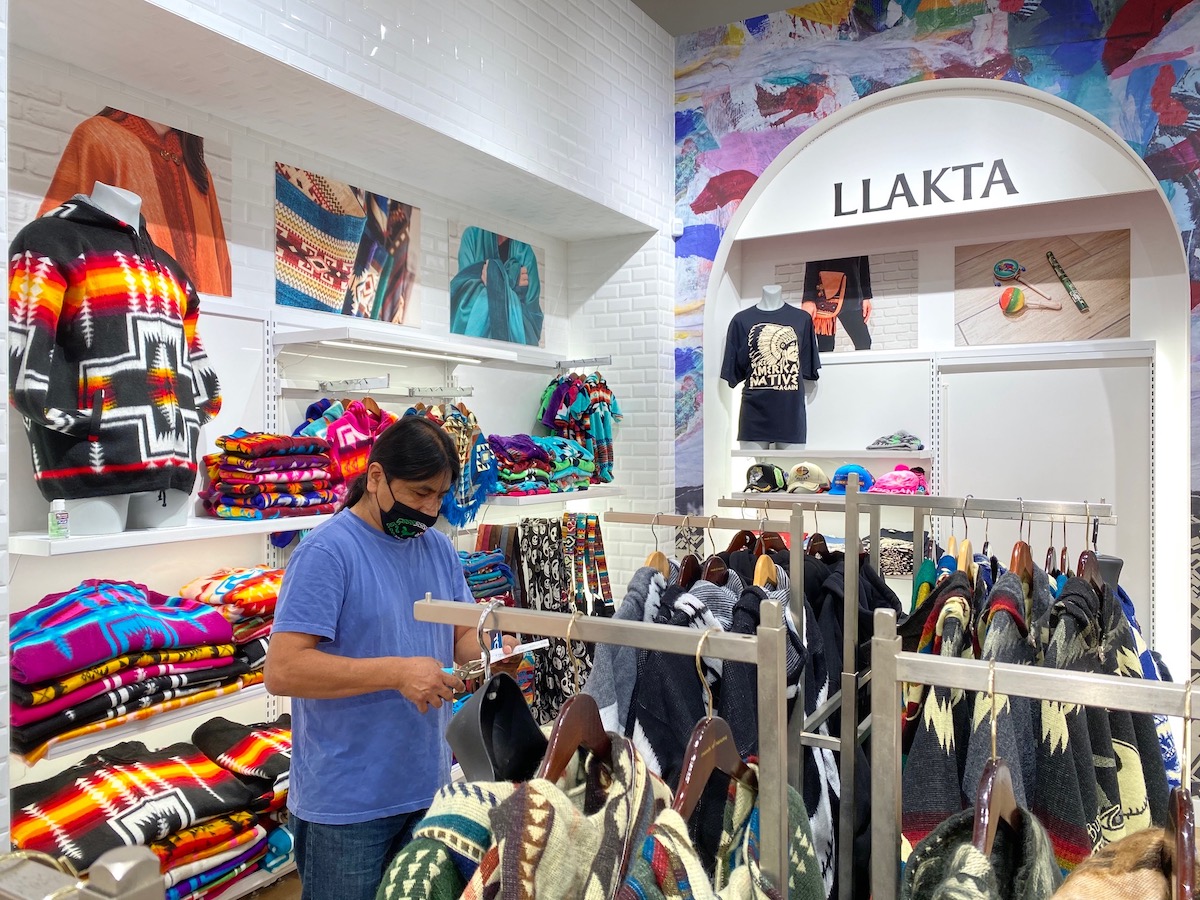 So good, that as Roberto Cordova priced Peruvian ponchos on Wednesday, he said, "I never imagined this could be." Cordova and his wife Hilda Teran spent years working their way up to opening a shop at Midtown Global Market. Before that he worked any number of jobs to make ends meet: janitor, dish washer, hotel clerk. An immigrant from Ecuador, Cordova wanted to import and sell the South American and Native American goods he grew up admiring. It started with a table of shirts and accessories at Mercado Centrale in Minneapolis. Five years ago, he and Teran opened Llakta at Midtown Global Market. Business was fairly steady until the unrest following George Floyd's killing.
"We had zero sales for five months," Cordova said. He and his wife tried selling the vegetables from their garden to get by. They didn't apply for any government financial assistance.
When Cordova received an email about Community Commons, he jumped. Once on a whim, he had looked into leasing space at MOA, but couldn't afford even a kiosk. "I always had the mission to get bigger," he said. So with the offer of a corner spot at Community Commons and zero rent, he headed to that mecca of possibility in the suburbs, the Mall of America, with his best goods: brightly colored hoodies, woven ponchos and blankets, satchels, t-shirts and hats.
"I am here now," Cordova said while pricing shirts in advance of Community Commons opening day. "I'd like to stay here."
You could tell from the crinkles at the corners of his eyes that he was smiling under his face mask.