2021 Entrepreneur of the Year Winners
Brian NeSmith
Co-Founder and CEO Arctic Wolf • Eden Prairie 
EY elevator pitch: Arctic Wolf offers comprehensive cybersecurity operations tailored to each enterprise. It focuses on identifying and filling the gaps in companies' IT infrastructure that can allow cyberthieves access. It then continuously monitors the company's IT security system—firewalls, identity authentication software, and so on—to make sure all the virtual doors are locked and all the windows stay shut. 
Revenue: Not available  
Employees: 900 
Business: Cybersecurity operations and management for small and midsize enterprises
Interview with NeSmith: What opportunity did you see when you co-founded Arctic Wolf in 2012? 
It wasn't that there weren't companies doing cyber; it's that people were failing at it all the time. You can buy a set of products, hire a big group of people, and then set up cybersecurity capabilities. But as you can tell from the press, it's clear that people are constantly failing at it. Our goal was to build a company to perform continuous monitoring. It's easy to say [but] incredibly difficult to do day in and day out, because the threats never go away.
Your fast-growing company recently landed $150 million in new funding. What sets it apart from other companies in the cybersecurity space? 
What makes us unique is a focus on the outcome. Almost every other company focuses on a product, feature, people, or process. Our focus on day one has been on the outcome. We decided that, to deliver that outcome, we would have to build our own technology stack and use our own people. And we would need to integrate them into a wide variety of organizations in the form that they would want us to. 
How do you work with customers? 
When we engage with an organization, first and foremost, we're going to understand what they're good at doing and what they're not good at doing. Then we augment and wrap around them [services] to allow them to have complete capability. We're not going to become your full security operations capability. We'll build around what you have.
This summer, you announced that Arctic Wolf is entering several overseas markets. 
We've been growing by expanding upmarket and adding new product capabilities. The next growth dimension we've just started to add is opening up new geographies. What's challenging about that is the way we go to market and the way we serve customers is through a very intimate experience. We have what we call "concierge security teams," two- or three-person security teams that leverage the technology platform for that set of customers. We are building a security operations center in Germany. It's a global platform, but it's presented to the customer as a very local capability.
---
Janet Johanson
Founder and CEO BevSource • The Lab Little Canada
EY elevator pitch: BevSource is a matchmaker that connects people with new ideas for beverages to companies that can produce them. The company also handles contracts, production run management, quality control, order filling, and other services for the beverage entrepreneurs, except sales and marketing. On average, BevSource manages production of 10 million cases of product per year.
Revenue: $80 to $100 million 
Employees: 85 
Business: Connects beverage companies with beverage producers and helps beverage companies prototype new products
Interview with Johanson: What did you envision 19 years ago when you got started? 
I worked at Minnesota Brewing in St. Paul, which also co-packed for other beverages. When it went bankrupt, clients called me and asked, "Would you help me find a new place?" I said, "Would you pay me?" And they said yes. 
How do you connect them to a production facility? 
It depends on what you're making, how much you want to make, and what location you want to make it in. Do you want to make a coffee? Do you want to make a beer? Do you want it to be organic or kosher? We take all those pieces and find you the best home. 
There are so many beverage entrepreneurs. 
Fifty years ago, you wouldn't have seen as many. There wasn't a new-age beverage section at Target, for instance. Now people are looking for what's new and next, what's healthy, what's different. We make really challenging products—people who want to put probiotics into a beverage, products like that. 
What other services do you provide?
These entrepreneurs have great ideas, but paperwork is often their worst nightmare. We love doing the paperwork and setting up supply chains. We also make sure their products are made right. Saying yes is how we got to where we're at. We started out just being the matchmaker—then customers said, "Can you help us get labels registered?" And we said, "Yeah, I guess we can do that." Or "Can you handle the orders from the distributor?" "Sure, OK." 
Why did you launch The Lab in 2019?
We wanted a place to try out ingredients, recipes, and processes for our customers. We do all that for both big and small companies. Many local craft brewers drop off samples to make sure that their quality is good. New breweries can make sure their recipes work before they open. We thought that since we make cool new stuff, we should let people taste it and give feedback.
---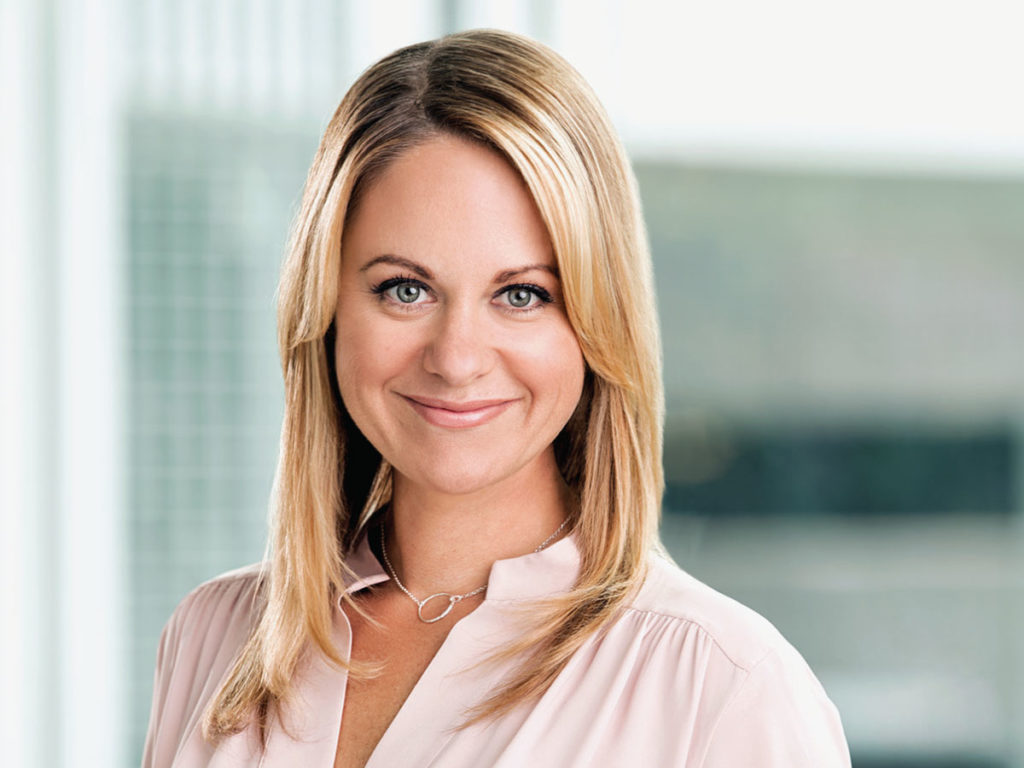 Jamie Candee
CEO Edmentum • Bloomington 
EY elevator pitch: We're all familiar with the traditional public school teaching approach: You come to class, the teacher talks at you, you leave with homework, and you come back the next day. But millions of children can't or don't want to learn that way, at least not solely. Edmentum's products give schools the flexibility to offer both in-person and virtual learning so that all students can thrive. 
Revenue: Not available    
Employees: More than 1,200  
Business: Digital-based educational materials and tools primarily for K-12 public schools
Interview with Candee: What makes Edmentum entrepreneurial? 
When I think of the word entrepreneurial, I think about recognizing a problem, then figuring out a different way to solve it. One of the biggest problems school districts have is offering only one model for learning. Our virtual instructional services have more than 250 virtual teachers who are state-certified. We offer all the curriculum, the teaching and administrative services, and we teach you how to run your own virtual school. 
What's an example of an Edmentum innovation? 
We took a product to market three years ago called Exact Path. It gives K-12 learners quick assessments and pinpoints where their learning gaps are. A challenge if you're a teacher with 30 second-graders in your classroom is trying to figure out where all your kids are at; they're learning at all different levels. We use machine-learning adaptive technology to pinpoint where kids are at in math, reading, and English language arts. Then we give teachers reporting data and we personalize instruction. This allows teachers to help each learner stay on track within his or her grade level.
You left Edmentum in 2013 as chief revenue officer, then returned in 2017 as CEO. Why come back?
I was running another company as CEO in Minnesota called Questar Assessment. After we sold Questar, the board of directors at Edmentum called and asked me whether I'd be willing to come back as CEO. I've always had an affinity for what we do here at Edmentum. I started my career as a teacher, and I've seen how great tools like Edmentum's create equitable learning opportunities for kids.
Many teachers worry that tech will replace them. 
We don't believe that. We believe that education technology should be an amplifier of great teaching and give teachers the ability to reach all their students. 
What's next for Edmentum?
We've entered into a definitive agreement to acquire Apex Learning, based in Seattle, that is a secondary-level online courses provider. Apex has made substantial investments into honors and advanced placement coursework as well as career and technical education pathways.
---
Tony Miller
Founder and CEO Bind Benefits Inc. • Minneapolis 
EY elevator pitch:  Bind Benefits administers health plans for companies that self-fund insurance coverage. More recently, it has expanded into offering its own health plan for employers with 50 or more employees.
 Revenue: Not available 
Employees: More than 300 
Business: Health plan administration
Tony Miller is no stranger to health care startups. Bind is the third new company Miller has piloted in recent years.
Miller was the co-founder and CEO of Definity Health, which focused on consumer-driven health benefit programs. The company sold to UnitedHealth Group Inc. in 2004 for $300 million. 
In 2006, Miller founded Carol Corp. The company started by offering a web portal for consumers to compare health care prices, then pivoted to become a health care consulting firm. UnitedHealth subsidiary Optum acquired Carol Corp. in 2011.
Miller also founded Lemhi Ventures in 2006, which has the stated goal of using the "leverage of venture capital as the engine of change in health care services." Miller is the managing partner of the investment firm, which is an original investor in Bind. 
Bind started with the concept of "on demand" health coverage. It administered health coverage for companies with self-funded insurance. Bind touted plans that allowed covered employees to opt in for some specific coverage only when it was needed. Bind itself was not a health insurer. 
That changed in the fall of 2020, when it expanded into the fully insured health plan market, offering its own plan to companies with 50 or more employees. After starting in Florida, Bind is now offering its plan in five states. 
But the model remains fundamentally the same. Miller's pitch calls for eliminating deductibles, cost uncertainty, and coverage barriers in health insurance for patients. 
Miller offered his take on the state of the health care business in a recent commentary: "Traditional health plans herd employees down a set path that is designed around a group. The data and technology needed to deliver a personalized and flexible health plan experience that truly works better for everyone already exists." 
Investors have been bullish on Bind. By mid-2021, the company had raised nearly $300 million in financing, including a $105 million round that closed in October 2020. UnitedHealth Group is one of its investors. Given his track record, it's tough to bet against Miller.
---
Todd Wilkinson
President and CEO Entrust Corp. • Shakopee
EY elevator pitch: Entrust offers a comprehensive portfolio of solutions focusing on protecting identities, payments, and data. Its products are designed to allow people to cross international borders securely, make payments and other transactions, and move data online. Some companies are strong in digital technology; others focus on physical products, such as identification cards. Entrust offers both capabilities.  
Revenue: $800 million 
Employees: 2,600 
Business: Products and services for secure credential issuance, digital identity, and cybersecurity 
Interview with WILKINson: You joined Datacard, Entrust's predecessor, in 2005 as CFO after executive positions at USG and GE. What was the appeal of a smaller company?
It had strong technologies, great market position, and a global footprint, which was really important to me. And the things that I believed the company needed to be even more successful at were areas [where] I had skills to contribute, particularly the knowledge of how to assemble a strong team.   
Entrust has been around for 52 years. How is it entrepreneurial? 
The term applies to us in the mode of thinking that's required to reinvent yourself and move toward customer needs. In 2008, when I became CEO, we started to pivot to more of a recurring revenue model. We invested heavily in innovation; more recently, we've invested in acquisitions to also accelerate growth. We pivoted toward areas like digital identity just as our customers were beginning their own digital transformation.
Transitioning to a software-as-a-service model was another pivot for the company, both technologically and from a core-capability perspective. Today, we have a series of cloud-enabled products, which are delivering a significant amount of our revenue. We look at all our solutions comprehensively. That allows us to build solutions that a point product can't handle, or a smaller company can't bring to market. Looking at the ways that we're innovating, I would argue that that is entrepreneurial.
What company plans can you share? 
We're targeting $1 billion in revenue in the near term. There is a significant amount of room for us to grow, both organically and by acquisitions. We're continuing to extend our solution reach. We acquired a company called HyTrust in January that is more focused on cloud and software container security management—security technologies for where the world is going. And in April, we acquired WorldReach Software, a digital ID verification company that simplifies the experience for end users applying for and using secure digital identities. There is a significant amount of near-adjacency opportunities for us to extend into.
---
Nicole Lorenzen Atchison
CEO Puris Holdings • Minneapolis
Tyler Lorenzen
CEO Puris Proteins • Minneapolis
EY elevator pitch: Puris was plant-based when plant-based wasn't yet cool. Jerry Lorenzen founded the company in 1985 to help create more sustainable food from plants. His children, Nicole Atchison and Tyler Lorenzen, are now running the show. The company's calling card is its Puris pea protein products. Ag giant Cargill invested at least $100 million in Puris in 2018 and 2019. And Fast Company listed Puris as its No. 1 Most Innovative Food Company. Atchison says the company has grown rapidly year-over-year. 
Revenue: Not available 
Employees: 315 
Business: Manufactures non-GMO plant-based ingredients
Interview with Atchison and Lorenzen: What drove the pivot of the business? 
Lorenzen: The belief was always about plant-based nutrition and this idea where plant-based proteins would be at the center of the plate and people would think plants first in terms of where they get their protein sources, as the world grows into the population it will be in 2050. That was always the purpose. The concept was we have to do that in a sustainable fashion, from seed all the way to food, and we just happened to pivot to peas because they are the most sustainable, regenerative solution. 
How crucial is Cargill's backing? 
Lorenzen: Huge. Cargill's belief in what we're doing and where we're taking this business certainly [existed] before it was in the news on a daily basis. ESG [environmental, social, and governance criteria], sustainability, plant-based food was not a topic of discussion as often as it is today. Cargill supported us before that happened, which really put us in the driver's seat. 
Where does Puris fit in the plant-based industry? 
Atchison: Partnership is such a key piece of our business model and our growth plan. Between Cargill and our customer partners, how we partner throughout the industry is, I think, how we're looking at the growth of it, too. The more people involved, the more ability we have to really have an impact in the industry. We are open to help people join the plant-based industry. That's what we actively do every day, is work and partner with people on innovation or supply chain considerations—the whole gamut. 
What's next for the company? 
Atchison: The future is really exciting for Puris. We've spent the last 30 years putting the pieces in place to create the foundation of what we're starting to see play out in the plant-based food movement today. Puris Proteins, Tyler's company, has our Dawson [Minnesota] facility opening up, which is a big step for both Puris but also the industry here in North America—specifically by de-bottlenecking one of the biggest constraints in the plant-based industry, which is ingredient supply.
---
Charlie Youakim 
Co-Founder and CEO Sezzle Inc. • Minneapolis 
EY elevator pitch: Charlie Youakim's Sezzle startup is sizzling. The company is among many offering a "buy now, pay later" platform for customers. Users can buy products from retailers that use Sezzle, and consumers can make four interest-free payments. Sezzle's revenue comes from fees charged to retailers. One of the biggest clients, Minneapolis-based Target Corp., inked a three-year deal with Sezzle this summer. The company is already public in Australia and has floated plans for a U.S. IPO. 
Revenue: $59 million  
Employees: More than 300 
Business: An alternative payment platform for online shoppers
Interview with YoUaKim: What did you learn from running your first startup, Passport? 
I learned a lot the hard way. We didn't have mentors. We had to learn it all the first time, which makes it harder. I think when you learn it yourself, you don't screw up twice. I learned that your destiny is really in your control. Despite the fact that you may have really powerful competitors and you seem like you might be outgunned, if you just focus on "keep marching ahead," adding value for your key stakeholders, and you just keep on doing it, you can find success. Don't worry too much about your competitors; worry more about yourself. 
What mistakes did you make?
We used to talk to the wrong funding companies. We would talk to people who would want to write checks for pre-IPO. We'd waste a ton of time talking to venture capital groups and private equity groups that really wanted nothing to do with us at earlier stages.  
How important was the deal with Target? 
I think time will tell, but I think it's a key deal for us in terms of clout and impact—basically making a statement that we are here to play as a company. We are a $1 billion market cap [company], and all of our key competitors are $20 billion, $30 billion, and $40 billion in market cap. They're much, much larger than us. I think a lot of people could discount us because of that. But now people know we're on the map. 
What sets Sezzle apart from big companies in this sector? 
We follow a stakeholder approach to business. Our mission is to financially empower the next generation, and we follow through with it. We're the only company that has a credit-building aspect. When you utilize our payment product, we can help you build your credit score up, which is really important for young consumers, and it fits our mission. We're also a Certified B Corp., which really speaks to our differentiation and our approach.