Employers Seek New Hires with Real-World Skills
Employers want workers with strong skills in written and oral communication, teamwork and ethical decision-making, as well as the ability to think critically.
The proliferation of these short-term programs—many by nontraditional education companies—has shaken the ivory tower and forced colleges and universities to rethink their post-baccalaureate offerings. So has pressure from employers to keep supplemental education costs down.
Some Minnesota colleges and universities are changing their MBA programs or adding courses that yield certificates or badges, some of which students can "stack" as credits toward a degree. Others are seeing higher enrollment in existing post-baccalaureate courses and they report increased numbers in their traditional MBA programs.
Concordia University in St. Paul now has three components to its MBA—the standard marketing, business law and economics courses; complex problem solving, critical thinking, emotional intelligence, judgment and decision-making skills; and systemic thinking and analysis to enable students to understand and adapt to deep patterns in business.
The university added a mentoring program in 2013 to help MBA students develop a customized professional skill each semester. Increasing numbers of men and women are looking at graduate-level business education to provide them with new career trajectories, including entry into other business areas, Lien says. He estimates that 70 percent of the program's 300 students enrolled so they can change their jobs or careers. Twenty-nine of the last 31 graduates were promoted or found new positions, he notes.
"Our belief is that the world of commerce is simply moving too fast for structure. Students are creating positions for themselves inside organizations by being able to spot issues [and] problems before the organization ever does," Lien says. "That prepares them to live in a world that's in constant change. They can't wait for the HR department, because it'll never move fast enough."
Online MBAs
Bemidji State University has restructured its four-year-old online MBA program to meet student needs and is seeing increased enrollment as a result, according to George McConnell, director of graduate programs.
Courses now run as eight-week intensives rather than for a full semester. Students may take two to four such courses at a time, and can earn an MBA in as little as one year for about $18,000—the same in-state tuition for all students. Bemidji State also gives students up to seven years to complete their MBA, up from the more typical five years that other universities require.
Students have hailed from the Upper Midwest, Alabama, Iowa and Utah, and from employers as diverse as Hormel, DigiKey Electronics, Target and 3M. Enrollment has grown from 14 students in the program's first year to 79 students currently, with applications coming in daily and interest from other countries, McConnell says.
Saint Mary's University began offering an online MBA with an optional emphasis on social media management and marketing in May 2016. The university also has a social media certification course that prepares students for the social media strategist certificate that's awarded by the National Institute for Social Media. It provides three credits toward an MBA.
Enrollment in the online MBA program is growing, with most students coming from education, business and health care. About a quarter of the 150 students are pursuing the social media emphasis, according to Holly Tapper, MBA program director at Saint Mary's.
The fastest growth is coming in the online programs, says university spokeswoman Deborah Nahrgang. The university will move its master's in educational leadership to online only this year, she adds. The fastest growth is coming in the online programs, says university spokeswoman Deborah Nahrgang. The university will move its master's in educational leadership to online only this year, she adds.
Popular post-baccalaureate programs at Saint Mary's, which has campuses in Winona, Minneapolis and Rochester, include master's degrees in educational leadership, special education, health and human services administration, organizational leadership and information technology management.
Demand for project managers
At the University of Minnesota's College of Continuing and Professional Studies, the most requested certificate programs are in project management, business analysis and human resources, according to Ashley Alexander, program director for professional development. Employers who want workplace training frequently request project management or some sort of leadership development program. The college also can customize its programs or develop new programs to meet employers' needs, Alexander says.
Most courses are taught in a classroom, although the college offers an online business analysis certificate. Students needn't be University of Minnesota graduates or even hold baccalaureate degrees, although most have a bachelor's and some have completed some postgraduate work. Many students come from mid-size employers in a wide range of industries, Alexander says.
"Typically, they don't have the kinds of courses that we offer already built into their organizations," she says. "We focus on providing easy, tangible, real-world skills that can be applied on the job. This is one of the ways that we try to differentiate. It's competency-based education that we provide, really catering to those who want to either enhance their skills for their current job or transition into a new career."
Hamline University recently hired Brian Bethune as the new continuing studies director to develop certificate and badge-yielding programs. Hamline already has post-baccalaureate programs in education, paralegal studies and forensics. It's considering which other subjects to add and how to offer these courses with the quality that employers expect from the university, according to Bethune.
Traditional educational institutions face stiff competition from companies that offer specialized training in high-demand careers. For example, employer demand for coders has led to an explosion of coding boot camps, which have tripled to more than 90 since 2013, according to a New York Times article. Among the leaders are Code Avengers, which offers online courses and in-person boot camps; online software, creative and business skills provider lynda.com; and SitePoint.com, which teaches website design and development.
These programs have yielded nearly 23,000 graduates and have inspired some more-traditional for-profit colleges to join the fray. Minneapolis-based for-profit Capella University bought Hackbright Academy, a non-degree software engineering school for women, in 2016.
"They're meeting a need in an industry where people need coders," Bethune says. "Typically if you wanted coders, you had to go through a bachelor's degree. We have a lot of academic courses and a lot of knowledge that folks in the industry want but they may not want to finish a bachelor's degree or a master's degree."
Because certificates and digital badges don't carry the weight of a degree, employers have had difficulty discerning how much students actually learned in those programs, Bethune adds. That's beginning to change, as certain companies, such as Credly and Acclaim, have begun to offer verification. Acclaim partners with badge- and certificate-granting organizations to show employers what specific certificate and badge programs entail.
Colleges and universities that offer health care degrees and continuing education courses are feeling particular pressure from employers to augment their programs. Health care is changing rapidly, and traditional continuing education classes required to maintain a professional license don't necessarily ensure competency, says Penelope Moyers, associate provost and dean of the Henrietta Schmoll School of Health at St. Catherine University in St. Paul.
"I think employers are looking for better ways to enhance competence because of technology, and they find that sending them out for continuing ed is expensive and doesn't produce the results," Moyers says. "What I'm seeing more of is [that] employers want shorter training methods that are in-depth on a particular thing. That's where a lot of these certificates are."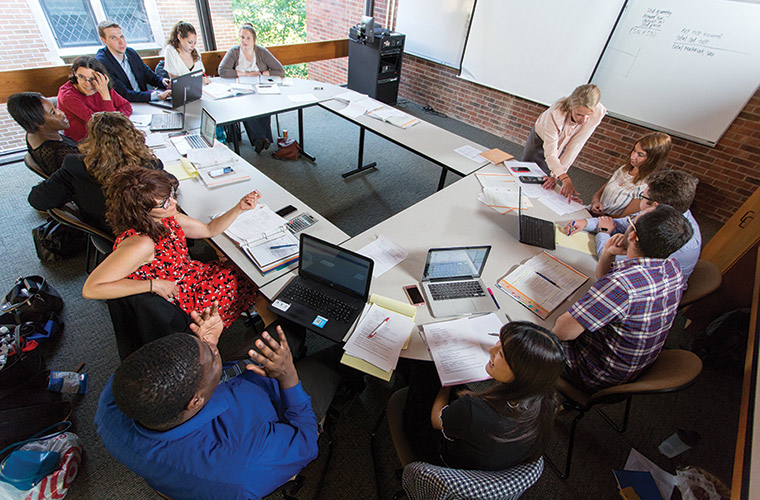 Hamline University is developing additional certificate and badge-yielding programs.
Tailoring the training
Some employers are partnering with universities to custom-train groups of workers. St. Catherine, for instance, partnered with a healthcare organization to co-train nurses to work in the operating room. The school's advisory group, made up of major health systems, recently met to discuss more such cost-sharing training relationships. One area they considered was sharing patient simulation resources.
"A lot of universities and companies are talking about this because education is so expensive in an industry where things change dramatically overnight," Moyers says. "I think everybody realizes that they have to focus their education differently instead of trying to train everybody on everything."
Employers urged the University of Minnesota's College of Nursing to create programs in nursing informatics, according to Thomas Clancy, associate dean for practice, partnerships and professional development. Originally designed for nurses to manage electronic health records, nursing informatics programs now train nurses to design and manage information technology systems as they relate to nursing practice. That includes telehealth, e-health and sensor technology that monitors patient conditions outside the hospital.
Project management and business analysis certificates are in big demand at the University of Minnesota.
"They're a nurse first, but they can speak the language of the IT technician," Clancy says of nurse informaticists. "They can translate what the clinical nurses want in technology. They really work as a bridge."
The college offers a doctorate of nursing practice with an informatics specialty, a three-year blended online/on-campus program that U.S. News & World Report ranked second in the nation in 2016. Nationwide, about 70,000 nursing informatics jobs will become available in the next five years, Clancy notes. Among those positions is chief nursing informatics officer, responsible for strategic planning and operations and nursing-related information among several hospitals.
Students who want to learn informatics without pursuing a doctorate may enroll in the college's Leadership in Health Information Technology for Health Professionals certificate program. The college also partners with an association to offer a nursing "10×10" certificate that examines the implications of informatics for practice, including nursing, public health and health care in general.
No matter what knowledge workers acquire through a degree, certificate or badge program, employers still want them to have the skills typically associated with a bachelor's degree. Those include strong written and oral communication, teamwork, ethical decision-making, critical thinking, and the ability to apply knowledge in real-world settings.
That's according to a 2015 survey by the American Association of Colleges & Universities, in which employers overwhelmingly endorsed broad learning and cross-cutting skills as the best preparation for long-term career success.
Traditional higher education will likely continue to evolve to meet those needs and the newer ones that technology demands as it evolves as well.
"Where is it going to go? I'm not quite sure," says Bethune of Hamline University. "I tend to err on the side of as many skills as we can certify and validate; it's better for our graduates. And if you want to go into project management as a career, then, by gosh, you had better have the certification."
Nancy Crotti is a St. Paul-based writer and editor.