Diversity Efforts, Work-Life Balance Top Priority List for Women Execs in MN
Best Buy CEO Corie Barry and leaders at Allete, Ecolab and Cargill discuss career advancement for women and minorities and new recruitment challenges at TCB Talks: Women in Leadership 2020.
Juggling remote work and household responsibilities is causing some professional women to rethink career advancement or fear they will miss out on opportunities to get ahead. Even so, diversity, equity, and inclusion ranked higher than work-life balance as the number one issue organizations should prioritize right now, according to a new workplace survey from Twin Cities Business and Greater MSP Partnership.
Results of the survey conducted in late September of more than 300 Minnesota professionals were shared Monday at TCB Talks: Women in Leadership (watch the entire webinar here). This year's virtual event featured a conversation with Best Buy CEO Corie Barry, Allete president and CEO Bethany Owen, Cargill president of business services Kim Skanson, and Ecolab senior vice president of global marketing and communications Gail Peterson. Flexibility, employee well-being, and stepped-up diversity and inclusion efforts were key themes during the panel discussion.
The TCB x Greater MSP survey found that the No. 1 action c-suite executives have taken in recent months to improve diversity, equity, and inclusion efforts is facilitating conversations around race and racial equity. Panelists on Monday spoke more directly about recruiting and retaining a diverse talent pool.
"We have to think differently about pipelines," Barry said. Best Buy recently announced that at least 30 percent of the 1,000 tech employees it plans to hire in the next two years will be people of color or women. "We need to think geographically differently about where talent is, and what education is really necessary before someone comes in versus what we could teach. We're not getting store associates into the pipeline of being corporate leaders."
Owen echoed the need to understand barriers, so they can be eliminated. "Are there experience equivalents to a degree? I'm a huge advocate of getting rid of barriers."
Peterson, a founding member of the Black Leaders Forum, said companies need to overcorrect for their biases. "It's not true that talent isn't there. Talent just isn't in the pond you're fishing in. Speed is not diversity's friend. Speed means going to the same ponds we normally go to."
At Cargill, Skanson said leaders are completing unconscious bias training and prioritizing vendors that also employ a diverse staff. "But to me, it's more than hitting a number. How do you build a culture of inclusion?"
Creating an inclusive environment is something Barry said she worries is even more challenging in a remote setting. "The flexibility side has been amazing, but I do think we're still trying to figure out how you do this in a way that provides grace for each individual team member."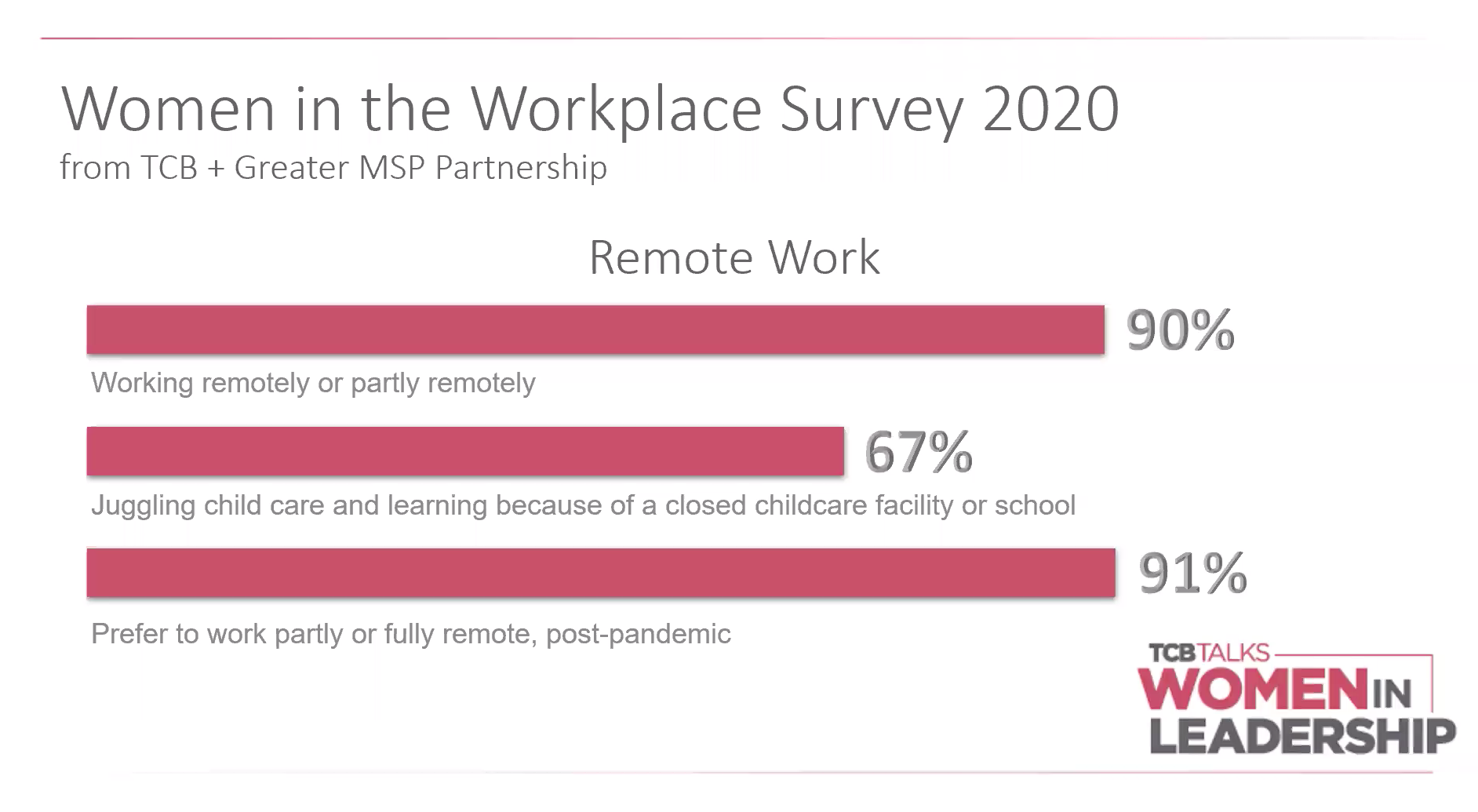 Women surveyed by TCB and Greater MSP overwhelmingly favored workplace flexibility: 91 percent said they would prefer to continue working remotely or partly remotely even post pandemic. "Now there's the expectation that we don't have to physically be close," Skanson said. "It's part of the new normal we have to get used to—flexibility and choice will be required."
The shift to remote work could pose long-term implications for local employers: a third of women surveyed said they would consider moving now that they don't have to live in Minnesota to do their jobs, or consider taking jobs at organizations located outside of the Twin Cities.
Two-thirds of the women surveyed by TCB x Greater MSP reported negative effects of working remotely on their ability to grow their professional network. A fourth of women with children surveyed reported concern that they will be held back in their careers as a result of increased family obligations due to Covid-19. That finding echoes McKinsey's Women in the Workplace 2020 survey which found that one in four women are contemplating downshifting their careers or leaving the workplace completely.
"I am concerned we will lose more women from the workplace," Barry said, citing the McKinsey study.
"Women can prioritize and juggle—we're born into doing that," Peterson said. "I don't think it's going to be about falling behind from a performance standpoint; I'm concerned about well-being."
Added Barry, "We have to invest in relationships in a way that will allow people to open up….I always had in my head that my personal mentors had to be more accomplished than me, people who had all these life experiences. Now I think that my mentors need to be people with different life experiences than me. I need to make time to sit down with employees at all levels of the organization."
The full TCB Talks Women in Leadership webinar will be available for online viewing later this week.