Why Engaging Employees is Better For Business
Companies are offering more money, better benefits, flexible schedules, attractive workspaces, and more challenging work to motivate and keep workers.
With the economy expanding and baby boomers retiring, employers are trying to keep their workers happy. They don't want them to leave, and they also recognize they need them to ensure their companies' success.
Right now, it's equally important to attract new hires who are a good fit. They may have lots of other opportunities and can afford to pick and choose.
Take Nicole Nelson. The 25-year-old recent University of Minnesota-Duluth graduate majored in health care management. She wanted to work in her field and needed her own health care coverage before turning 26.
Nelson, of Blaine, looked for the right job for six months before new-graduate employment recruiter Katapult Network of Edina connected her with a temporary position writing contracts at LifeTrac, an organ transplant support company in Minnetonka. Working alongside longtime LifeTrac employees and learning how the company treats its workers helped Nelson realize the company would be a good fit. When LifeTrac offered her a contract manager administrator position, she accepted.
"I really wanted to hold off for something that meant something to me," she says. "I really wanted to wait for something that was going to make sense for my career, and I'm really glad I did."
Career with meaning
LifeTrac offered Nelson the right job and had the right culture for her. It's not always so easy. Some companies have learned the hard way that they need to change their culture or risk losing staff. Others may find this out soon. Recent surveys conducted by Accountemps indicated that 29 percent of workers nationally plan to look for a new job in 2018. In Minneapolis, that figure is 22 percent.
"If you're an employer, you realize that 'a quarter of my workforce will be looking for a new job. What am I going to do to retain them?' " says Angela Lurie, senior regional vice president of Robert Half, which owns Accountemps.
The answer lies in employee engagement, a concept that's been around for about 20 years and attracted more attention as Silicon Valley companies began offering workers informal workspaces and unlimited snacks.
In the Twin Cities, small- to medium-sized companies must compete not only with each other for top talent, but also with some of the nation's Fortune 500 companies.
"There's a war for talent here locally," Lurie says. "It's essentially a candidate's market. Recruiting and retention of employees has to be top of mind for every employer out there."
Robert Half defines employee engagement as discretionary on both ends: When employees have a choice, how hard will they work? How high will their productivity be? Will they act in their employer's best interests? If the employer wants to increase employee engagement, how much should it spend, and on what and whom?
It's important to recognize where each employee falls on the engagement continuum. Employees can be categorized into three groups: engaged, not engaged and disengaged. Not-engaged employees are essentially unbiased and see their jobs as sources of income only. Disengaged workers are typically unhappy at work, negative about their job and employer, and often seek to undermine what their engaged co-workers accomplish.
While engaged employees outnumber not-engaged and disengaged employees, the disengaged cost their companies money in terms of lower productivity, absenteeism, and turnover, which then raises recruiting costs.
"I think every organization needs to probably look internally and determine a kind of benchmark—where is their level of employee engagement?" Lurie says.
A Robert Half survey, which included 2,815 workers in 28 U.S. cities, revealed that workers across the country say they are engaged an average of 74 percent of the time. Minneapolis workers reported 77 percent workplace engagement.
Engaging Employees
Workers are disengaged from their jobs 26 percent of the time, according to a national survey of more than 2,800 employees working in 28 major cities.  An independent firm conducted a survey for Accountemps, which released results in May. Participants were asked what would make them more engaged at work. 
Boosting engagement
Nationally, the top response to a question of what would help workers to be more engaged at work was about getting more perks, such as free food or access to an on-site gym. In Minneapolis, the most common answer was more challenging work.
Companies that pursue the traditional route to employee engagement tend to increase pay, improve benefits, and create additional opportunities for advancement. Less traditional routes include investing in new technology and refreshing the workspace.
Less costly efforts include better communications by senior management and a strong relationship with a direct manager—basically, showing workers that their bosses care and have realistic expectations.
"Our research shows that when employers show attention to work-life balance and to commute times, employee engagement levels tend to increase," Lurie says.
Figuring out what's not working can be the first step in fixing an employee engagement problem. That usually means a close look at company culture. Minneapolis-based RedBrick Health has a service called Culture Check to help with that process.
"To create a great employee experience, you have to stand in the shoes of your employees—understand what it feels like to be in this culture," says Eric Zimmerman, chief marketing officer for RedBrick, a corporate well-being, engagement, and benefits-simplification company.
Working at RedBrick can be intense. Its 400-plus employees often are divided into three teams: the account and health strategy team, which works directly with employers to design and implement their wellness engagement strategies; the technology and operations team, which operates a platform from which employers can create benefits websites and apps; and the support team, which provides one-on-one, live health coaching and benefits navigation.
"We realize this is a marathon, not a sprint, and we need to take care of our own people," Zimmerman says.
RedBrick focuses on stress relief and mindfulness, offering rooftop yoga classes, a meditation room, and meetings that open with breathing exercises. Its office layout encourages collaboration and informal meetings.
"We have a lot of activities. We practice what we preach and we offer a lot of choices in how to invest in your own well-being," Zimmerman says. "The common theme in all of these is this is a place where I can work with great people and we can do good and we can do well."
RedBrick's chief obstacle to attracting tech talent is those Fortune 500 companies. RedBrick's smaller size and health-based mission offer an alternative.
Collaborative culture
"I've seen some data that say if you ask leadership what's most important, they talk about growth and innovation. You talk to the up-and-coming millennials in the workforce and they're talking about something different entirely. They're looking for purpose and collaboration," Zimmerman says. "If I'm in the leadership and talking about growth and innovation, I'm really missing what's in the hearts and minds of my employees."
"People think engagement is Ping-Pong and parties. That's such an unsophisticated view of most companies' not just most valuable asset, but their most expensive asset," adds Scott Burns, co-founder and CEO of Structural, a St. Paul-based employee engagement startup.
Structural's platform allows employees to share information about their strengths and interests with everyone in their company, adding personal information if they want. The idea is to quickly make connections and form teams for projects and problem-solving, playing to workers' strengths and making work challenging and meaningful. Everyone in the organization gets to know what individual workers are capable of, unleashing those workers' potential, Burns says.
"Engagement is not 'liking your job.' Engagement is loving your work, feeling you're contributing, feeling like you're something larger than a paycheck," he says. "It's doing something you're good at to advance a larger goal."
St. Paul-based Sunrise Banks was an early adopter of Structural's platform. Sunrise already had a strong internal and community-minded culture, but new employees were hard to come by, according to bank president Nichol Beckstrand.
"It's been a pretty cool engagement tool," she says. "It's fun to see something like that take off."
First, however, the bank had to get new employees in the door. Colleges don't offer degrees or certificates in banking, and the pool of large-bank employees that Sunrise used to draw from has dried up, Beckstrand says.
"Banking in general isn't really a sexy industry to work in right now," she adds. "It's gotten some fairly bad publicity in the past. Our workforce is aging. Our business model is changing."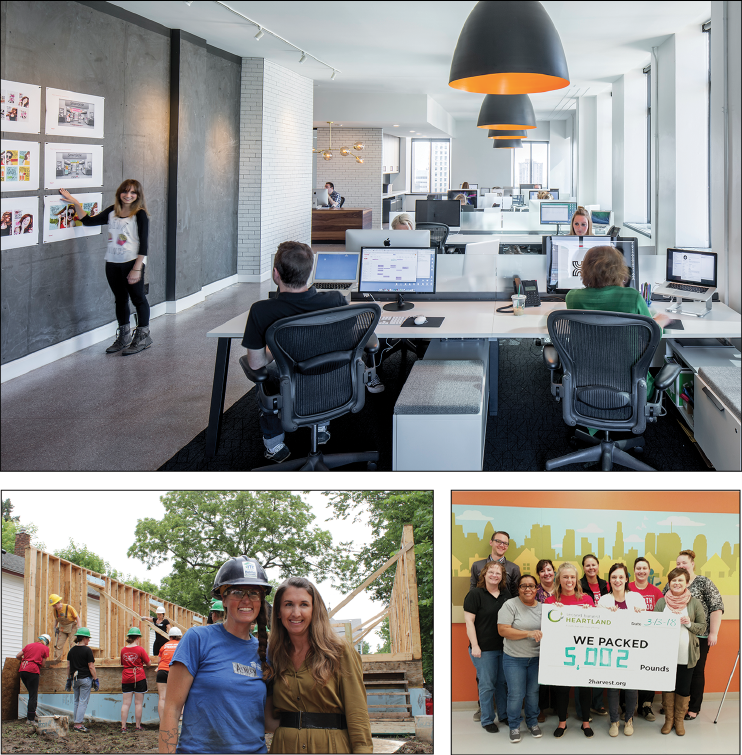 Fame, top photo, a Minneapolis-based agency, features open workspaces. Sunrise Banks, two bottom photos, places a high value on employee involvement in the communities where it does business.
Sunrise began to emphasize its values to employees. Those include making personal connections within and outside the bank, admitting and fixing mistakes, transparency, integrity, camaraderie, and capability. Employees discuss their adherence to these values during performance reviews and can be financially rewarded for it.
"We hire and fire and promote on the values. We talk about the values every day," Beckstrand says. "It really, truly does define how we work internally and externally."
Candidates who fail a values screening do not move forward to a job interview. Beckstrand believes this values-driven culture gives Sunrise a competitive edge.
"If they fit in with us culturally, they're going to give a little more," she says. "They may think twice before leaving for a dollar more an hour. They are going to look forward to coming in every day."
Sunrise consults with employees on how they can grow their careers in-house. The bank also has a full-time culture coordinator who spends two days with each new employee, plans and executes an annual employee awards ceremony, makes sure personal milestones are celebrated, and leads internal fundraising competitions. Sunrise also supports employees who are coping with illness and loss, and it gives each of its 230 employees 40 hours of paid time off per year to volunteer in the community.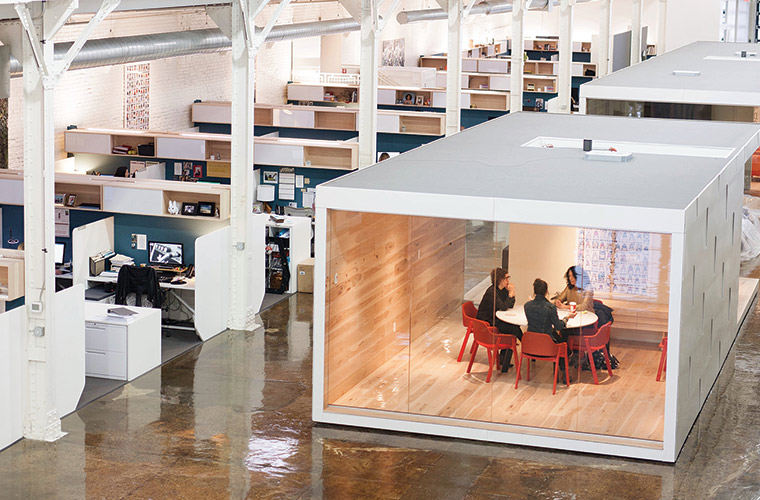 Blu Dot, which sells modern furniture, is based in Minneapolis. This meeting space offers privacy in a creative setting.
It's not always easy to make work challenging and meaningful, especially in an organization with little opportunity for promotions. Minnesota Sports & Entertainment (MSE) brought in Monica Laurent as director of human resources and organizational development six years ago to turn around a feeling of frustration among its 300 full-time employees. MSE owns the Minnesota Wild and Saint Paul Arena Co., which operates Xcel Energy Center, Saint Paul RiverCentre, and Roy Wilkins Auditorium. It also operates Herbie's on the Park restaurant and 317 on Rice Park Event Center.
MSE demands a lot of its employees, including the flexibility to work many nights and weekends. Exit interviews revealed that employees wanted more recognition, more meaningful work, and the ability to develop their careers within the organization. MSE wasn't going to open up a new office or start a new business line, but something had to change.
A survey revealed that employees wanted to share their thoughts with management. The company started working on engagement in-house, ultimately contracting two years ago with the Marcus Buckingham Co. for its strengths-based employee engagement program called StandOut.
MSE began holding regular management leadership workshops and offering weekly online employee check-ins about near-term work. Managers meet with employees to discuss work projects, focusing on employees' strengths and skills. More than 83 percent of employees use the check-in system, and more than 90 percent participate in thrice-yearly "engagement pulses."
As a sports organization, employee workload changes seasonally. March is the busiest month, with boys' and girls' state hockey and boys' state wrestling tournaments, in addition to the usual Wild games and concerts. MSE started "March Madness," offering employees complimentary shoe shines, chair massages, acupuncture, and a spa day.
Since starting StandOut, employee engagement has soared by 92 percent. Full-time employee turnover is now 4.5 percent, compared to general industry and professional sports teams, which both track around 9 to 10 percent.
"We took kind of a leap of faith," Laurent says. "We're still working on this, but you can tell with the numbers we are posting regarding engagement, we're moving the needle in the right direction."
Nancy Crotti is a St. Paul-based writer and editor.