What's the Purpose of Podcasting for Business?
Every company and thought leader seems to be podcasting these days--but it isn't about making money. Here's why they're doing it and how to succeed if you pick up the mic.
From technology to dentistry, failure to success, there's a podcast on just about everything these days—750,000 are now available, according to industry tracking service Podcast Insights. And many are produced by business leaders.
 But these leaders aren't looking for monetary ROI. They're starting podcasts as passion projects. In an age where passion for the job is becoming as important as the paycheck, many businesspeople are turning to podcasts as ways to engage in conversations, build communities, and enrich both their own lives and the lives of others. Along the way, they're also building their brand—54 percent of podcast consumers are more likely to consider brands they hear about on podcasts, according to Edison Research—but that's just a happy bonus, many independent Twin Cities podcasters say.
Entrepreneur Laura Roos launched a private yoga business in 2014. By 2016, she had to close it. The experience affected her greatly, even as she went on to launch Minneapolis–based gifting business Minny & Paul, which continues to grow. In October, she launched a podcast called So Fail, So Good with the goal of letting female entrepreneurs know that failing is normal and OK. "I want to change the way we talk about failure, because it's completely informed my path to success," she says. Roos' podcast is not meant to promote her business. "If it does … that's wonderful, but it's really separate."
Similarly, art director and fashion stylist Christina Fortier was questioning her purpose as the new creative director of Minneapolis–based marketing and advertising agency BI Worldwide. "I started really thinking, 'What am I here for? What is my purpose in this creative space?'" she says. "I was like, 'I need it to have meaning. I need to make sure that I'm checking off the boxes of things that really are … feeding my soul and community." A self-proclaimed "blunt woman"—a trait, she says, that's been equal parts beneficial and challenging in her career surrounded by men—Fortier decided to take her passions to the mic. She started her podcast Blunt Cuts to support other women dealing with similar challenges.
And because these podcasts are labors of love, the podcasters are measuring success not through numbers or sponsorship dollars, but through perceived impact and relationships gained. For Fortier, it's not about how many people know of her; it's about what they know of her. "More people know authentically about me and the meaning behind what I do," Fortier says. "They know I care … about diversity in body type and sustainability in fashion."
Megan Tamte, co-founder and co-CEO of Edina–based retail chain Evereve, recently started her podcast In the Dressing Room to grow relationships within the company, which now operates 90 stores nationwide. "When we were smaller, I just loved the relationships. I loved the conversations with the people in our company," Tamte says. "As we've grown, I've been trying to figure out how to stay connected." The answer she's found is the podcast—more personal than a mass email.
Dentist Bryan Laskin, CEO of dental tech company Operability, started his podcast The Operatory Podcast for the sake of business—but not his own. While at a tech conference, he heard about Ian Levitt opening a local podcast studio and jumped in—more in support of Levitt's new business, he says,  than anything else."I'm a gigantic sucker for anyone starting a business," he adds. Regardless, Laskin says the podcast is "one of the best things I've done for my career." He uses it to discuss his passions for dental technology and patient experience, which have ultimately led him to meet people who have become instrumental in his path to success. Last December, only months after beginning the podcast, he merged his practices with Dental Care Alliance, the fourth largest group of dental practices in the country, and became their senior vice president of innovation. "Frankly, it was in large part because of the podcast," Laskin says; before he ever met with the Dental Care Alliance team, they already knew his philosophies and that he'd be a good fit.
The low barrier to entry makes podcasting an appealing experiment. It costs only about $100 per fully-produced episode from Studio Americana. Or, "there are still free platforms available to do this work," says Twila Dang, founder and CEO of digital media company Matriarch Digital Media. "It's pretty remarkable in the day and age where everything requires that you pay for a service."
But producing a podcast requires a huge investment in time, these hosts agree. "I came in thinking it would be a few hours a week, but I've gotten so invested … that it's become a real distraction—a wonderful distraction, but a distraction nonetheless," Roos says. Plus, podcasting takes hours of planning, Fortier notes. So before you run off and record a podcast of your own, these self-made hosts advise making sure you're ready to commit to the work.
The Experts

Twila Dang,
Matriarch Digital Media
Founder and CEO of Matriarch Digital Media, a Minneapolis–based media company and podcast network for on-demand entertainment that respects, encourages, understands, and uplifts women.

Ian Levitt,
Studio Americana
Founder and CEO of Minneapolis–based Studio Americana, a full-service audio production studio specializing in podcasts and audiobooks.

Christina Fortier & Michaela Rae,
Blunt Cuts podcast
Fortier is the creative director of Minneapolis–based marketing and advertising agency BI Worldwide and a freelance fashion stylist. Rae is a freelance creative director and photographer. Created by Fortier, their podcast Blunt Cuts is a female-focused podcast about curiosity, creativity, and self-empowerment.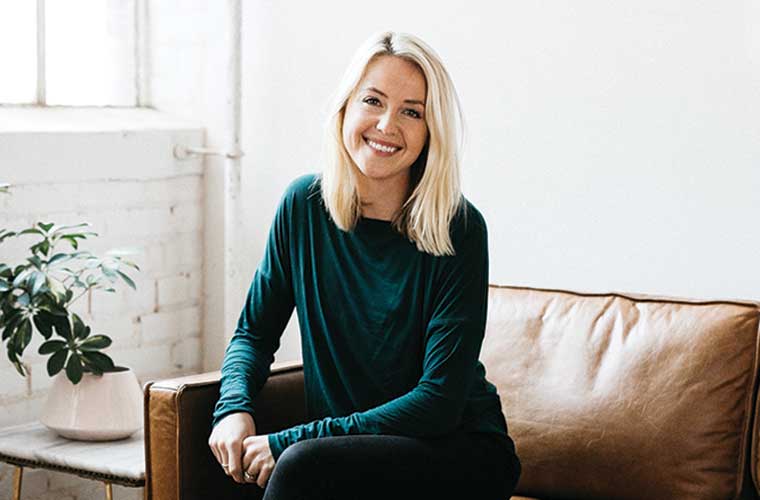 Laura Roos,
So Fail, So Good podcast
Founder of Minneapolis–based curated gift supplier Minny & Paul; creator and host of So Fail, So Good, a podcast about failure.

Megan Tamte,
In the Dressing Room podcast
Co-founder and co-CEO of Edina–based fashion company Evereve; creator and host of In the Dressing Room, a podcast that goes behind the scenes of Evereve to talk about business, leadership, fashion, and more.

Dr. Bryan Laskin,
The Operatory Podcast
Wayzata–based dentist, CEO of dental tech company Operability, and senior vice president of innovation for Dental Care Alliance; creator and host of The Operatory Podcast about dentistry and the patient experience.
How to build and leverage a podcast
You have an understanding of podcasting and the commitment it takes, and you want to move forward. Here's what to know and do next:
Find your purpose. "This is a medium that allows for storytelling and sharing yourself and creating deep meaning," Twila Dang, founder and CEO of podcast and digital media company Matriarch Digital Media, says. Ask yourself: What's your personal or business purpose beyond making money?
Find your audience. Figuring out your audience is key, says Ian Levitt, owner of Studio Americana, an audio production studio in Minneapolis. "It's tough to be successful if you don't have a specific audience, because you never know who you're talking to," he says. "If you know, you can dig into that audience and start to understand more about them. Then, both your content and advertising can start driving toward that specific audience."
While In the Dressing Room is available to anyone who wants to listen, Evereve's Megan Tamte says her target audience is actually her geographically dispersed team. Levitt explains, "Podcasting can create an intimate experience because it's an actual person talking to another actual person."
Test the waters. Unsure of your idea? Test it, Laura Roos of Minneapolis–based gifting business Minny & Paul and host of So Fail, So Good podcast says. "Start talking about and sharing your ideas. Immediately you can find out, 'Is this a topic people are interested in?' "
Plan ahead. "Organization is key," Matriarch's Dang says. She recommends recording multiple episodes in a single sitting to create a bank of episodes to use when "life happens and your kid gets sick or there's a snowstorm." That's exactly what art director, fashion stylist, and host of Blunt Cuts podcast Christina Fortier does—one Sunday afternoon each month, she records four episodes.
Start small. Start with an outline for six episodes, Levitt says. "And think of it as though the sixth episode is the last episode. It may be that when you're all said and done, you say, 'I like this. Let's keep going' "—but if not, you can end it. "I think it reduces a lot of that anxiety people get about thinking they have to do [a podcast] indefinitely," he adds.
Know your weaknesses—build a network. "Know what you're capable of," says Michaela Rae, freelance creative director and director and producer of Blunt Cuts. "If you're not a technical person, know there are places where you can go where they will do all that for you." Or reach out to acquaintances who have strengths you don't. "I went in[to podcasting] with the expectation that everybody would say, 'Nope, I can't help you,' " Dang says. "But that did not happen. At every turn, when I've asked for help, I've not only received it, but I've received it in spades. If you need help, be smart enough to ask for it up front or go to training or go to someone like me who's a consultant who can walk you through." Join a podcasting network group or reach out to a friend, she says.
Establish your role. "It's important to center yourself in the narrative you're telling," Dang says. "A lot of businesses like the idea of interviewing other experts, [but] when you do that, you essentially set up this beautiful dinner party and have everyone meet you at the front door; then you open the door and usher everyone into someone else's house … so they don't get to know you, they don't get to trust you. They get to trust the expert or well-known person in that space. That person has a lot of platforms; this is your platform." When you do it right, you can become a thought leader in your field, she adds.
Maximize your content. "Audio made once should be maximized," Dang says. "Find ways to use it again and again." Clip together a reel package. Put the best quotes on social media and your website. Write a related blog post. Provide transcripts online. Create videos, "especially if you're a business," Dang adds. "If you're giving out tips and expertise, [make it so that people] can read it, listen in their car, maybe share the audio with someone. Now you're widening the footprint of this material you've made, of this message you're crafting."