Top 12 In Technology
Minnesota's small and large companies are creating cutting-edge products and processes by leveraging technological innovations.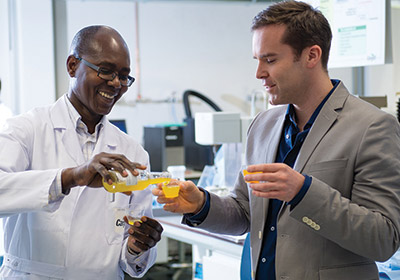 Technological advancements are changing the way business is conducted in Minnesota and the way Minnesota-based businesses serve their global customers. Twin Cities Business identified a dozen people and companies responsible for recent technological breakthroughs. In addition to serial entrepreneurs, the mini-profiles that follow highlight the innovations at software companies and Fortune 500 corporations.
1. Cargill: 'Big Food' on a Health Kick
The latest high technology and medical technology get lots of attention from consumers and the news media. But food production has an extensive history of technological innovation. The world-wide need for an abundant food supply is growing. According to the U.N. Food and Agriculture Organization, an ever-urbanizing world population, particularly in the developing world, will increase food demand, resulting in a 60 percent boost in agricultural production by 2050.
Meanwhile, here in the United States, sales of packaged food have been in decline. Last May, Fortune magazine reported that "Big Food" companies lost $4 billion in market share in 2014. More Americans are demanding food that they perceive to be healthier and less processed.
These are some of the drivers pushing Cargill, one of the biggest food companies in the world, into new directions. Its innovation centers have been introducing many new ideas designed to help food companies produce healthier products with appealing texture. They also are focused on producing products that budget-conscious consumers can afford. Some of the products that Cargill recently has developed:
A high-protein drink featuring hydrolyzed wheat protein
A 50 percent calorie-reduced juice drink for children
Chocolate milk with sustainably sourced dark cocoa powder
No-sugar-added chocolate praline with a fat-reduced creamy center
Granitas (semi-frozen desserts) and pasta sauces featuring lower calorie counts and full pulpiness that incorporates a new modified starch.
Cargill also has launched Cocoa Promise, which provides cocoa-farmer cooperatives with financing to help them build more sustainable businesses.
2. Ecolab: Ensuring Food Safety
Food and beverage processors have a constant need to keep their facilities as clean as possible. At the same time, those plants need to use water and energy with maximum efficiency. That's one of the combined jobs St. Paul-based Ecolab has been doing for these companies for years. And yes, that job can now be done with the help of digital technology.
Case in point is Ecolab's new 3D Trasar Clean-in-Place (CIP) system, which incorporates real-time monitoring and sensor systems, along with 24/7 data gathering, analysis and management to detect problems in a production facility. The system is designed to sort through all the digital information being gathered to detect irregularities. If there's a problem that requires fast action, such as corrosion or contamination, the system can alert the facility and deliver the proper chemical response to protect food safety. The 3D Trasar system also helps production facilities manage energy and water usage.
Last year, Ecolab's 3D Trasar CIP system was named Product of the Year by Environmental Leader magazine.
3. Exosite: Into the Internet of Things
For the past few years, technology experts have tagged the Internet of Things (IoT) as one of the next big things in the digital space. And Minnesota could play a role in making IoT a big deal.
IoT refers to sensor and chip technology that connects machines and devices to the Internet via the cloud. The idea is to use the technology to remotely monitor and control these machines and devices via your smartphone, laptop or tablet. If you're a homeowner, you could check in to make sure your home security system is working or that your children have gotten home, or get that roast in the oven started. If you run a business, you can monitor and adjust your HVAC system's energy usage or detect problems in your automated production line. Physicians can check in on elderly rural patients without requiring an office visit.
Those are just examples; some forms of IoT are already in place. But numerous big companies, such as Cisco and Texas Instruments, contend that it could be huge, reaching into nearly every appliance or machine.
If IoT does become something more than a cool idea, Exosite will be well connected. The company's data management software already is in use in Texas Instruments' IoT-enabling Connected LaunchPad device, and it's offering businesses the systems that allow devices and cloud-based software such as Salesforce to better interconnect and communicate. Other Minnesota companies are offering similar capabilities, but Exosite is the furthest along. It's also going global: It has a second headquarters in Taiwan, and other offices in the United States and worldwide.
4. Honeywell: Lyric Innovation
In the 1950s, back when it was still headquartered in the Twin Cities, Honeywell created one of America's most classic and durable product designs—the round thermostat. While Honeywell hasn't had its HQ in Minnesota for years, its Twin Cities thermostat operations are still generating notable designs. And yes, they're based on a round thermostat—but a highly connected one.
Honeywell's innovation hub is its Lyric Round thermostat, which allows homeowners to remotely manage (via Wi-Fi) household energy use. The thermostat is compatible with Apple HomeKit and can be integrated into smart home ecosystems. The Lyric ecosystem also allows people to remotely lock and unlock doors. In addition, the Lyric also incorporates home security capabilities, including indoor/outdoor cameras, along with sensors that detect broken windows, smoke and water leaks.
The Lyric thermostat monitors both temperature and humidity.
5. JAMF Software: Skyrocketing Growth
Dean Hager (left) is the CEO of JAMF. Zach Halmstad (middle) is a partner who leads product strategy, and Chip Pearson (right) is a partner who leads strategic relationships.
Minneapolis-based JAMF is a prominent software success story. Within the past year, it's added more than 160 employees, pushing its workforce over 500. Billings jumped 35 percent in 2015, boosting revenue to about $80 million. JAMF has offices in eight global locations, including Hong Kong, Amsterdam and Sydney. It recently opened a new technology center in Poland. In short, the company, born at the University of Wisconsin-Eau Claire in 2002, has come a long way. And it's positioned to go even further.
First off, how did it get here? In a word: Apple. JAMF's flagship product is called Casper Suite, and it helps enterprises and universities manage all their Apple devices (Macs, iPhones, iPads), keeping them updated and secure.
Though JAMF started with smaller businesses, it now works with Fortune 100s as well. JAMF still has plenty of those smaller clients, and hopes to pick up more. One of its newer products is Bushel, a cloud-based Apple device management platform for small and midsize firms.
Expect more big things from JAMF in the coming year. The company scored a particularly big win last summer when it inked a partnership with IBM to help large enterprises incorporate Macs in their IT infrastructures. JAMF's moving this spring to larger headquarters at 100 Washington Ave. in Minneapolis.
6. Scott Litman and Dan Mallin: What's the Next Magnet?
Dan Mallin (left) and Scott Litman (center) started Magnet 360 in 2008. CEO Matt Meents (right) says the company will remain in Minnesota.
In January, St. Louis Park-based technology consultancy Magnet 360 proved to have a powerful pull on Mindtree, a multinational IT and outsourcing company in India, when Mindtree acquired Magnet for $50 million. That marks another milestone in the remarkable careers of Scott Litman and Dan Mallin, Magnet 360's co-founders, two of Minnesota's notable serial tech entrepreneurs.
Litman and Mallin started Magnet 360 in 2008 as a network of marketing agencies. Within a few years, they saw a more promising opportunity and reconfigured the company as a specialist in marketing technology, focusing on the Salesforce cloud platform. It's been booming since.
Magnet 360 CEO Matt Meents says that the company will remain in Minnesota, but will now be able to offer its Fortune 2000 clients a global approach to marketing technology. It will also provide a variety of new digital services beyond Salesforce. As Magnet 360 incorporates these offerings into its practice, Meents sees new hires for Magnet 360, both in Minnesota and in its other offices.
For Litman and Mallin, the acquisition makes it official: Magnet 360 is the fourth successful startup they have launched. Their careers have been synonymous with entrepreneurship: The duo launched the prestigious Minnesota Cup competition for state startups in 2005, and thousands of entrepreneurs have taken part in the competition.
7. Medtronic: The World's Smallest Pacemaker
Even with all of its medical-device breakthroughs, Medtronic will always be associated with the pacemaker—the invention that launched the company. And while Medtronic has broadened its product line to cover much of the human body, one of its newest innovations hearkens back to its roots—the heart of the company, if you will.
Medtronic's Micra transcatheter pacing system is reportedly the world's smallest heart pacemaker—less than one-tenth the size of a traditional pacemaker. This means that the device can combine the latest pacing technology while being "cosmetically invisible," according to the company. What's more, its small size allows it to be implanted directly into the heart using minimally invasive catheter techniques. That can help surgeons meet the dual goals of efficient implantation and quicker patient recovery times.
The Micra hasn't yet been approved in the United States, but that's probably a matter of time. Recent clinical trials have demonstrated stable pacing, and very low complication rates among patients who have had the device implanted.
8. Pentair: Safe Water Solutions
In the land of 10,000-plus lakes, it's easy to take water for granted. But in many parts of the world, it's a precious commodity. Getting enough clean water to people in the developing world is a goal of many rural communities and developed-world nonprofit organizations. Unfortunately, only about 30 to 50 percent of these worthy projects are currently functional. Simply building a water system isn't enough. It needs to be maintained and sustained.
Ten years ago, Golden Valley-based water technology company Pentair launched Project Safewater in Honduras, with hopes of developing a sustainable model for these water projects. Working with nonprofit organization Water Missions International, Pentair installed water treatment systems and latrines for 300,000 people in the rural region of Colon.
But there was more than technology involved here. Project Safewater created a business model in which the community owns the systems and charges users a small fee. At the same time, Project Safewater instituted education programs to raise resident awareness of the value of clean, safe water. An initial health impact study demonstrated a reduction in illness resulting from waterborne diseases by 80 percent.
Based on the results of this approach, Pentair has funded similar programs in other parts of Latin America, as well as in Asia and Africa.
9. Don Smithmier: Serial Entrepreneur
Don Smithmier is no technology slouch.
The energetic 45-year-old started his career at Capella University while it was still a startup, and he watched the company grow into the online education powerhouse it is today.
After leaving the company, he launched GoKart Labs, which he calls a "startup incubator." The creative agency, located in Minneapolis' North Loop neighborhood, has helped kickstart companies such as Rumble (a sound and voiceover service for big-name commercial brands), Sophia (an online education platform that Smithmier sold to Capella in 2012), and Rick Kupchella's BringMeTheNews (now owned by Pohlad Companies' Go Media).
Smithmier's latest project just might be his most ambitious: He launched the Big Know out of GoKart Labs in October 2015 with the goal of transforming education and B2C marketing through technology. The platform provides a space for companies to showcase their knowledge on a range of topics, through content that's friendly and informative to consumers. Big names in health and wellness, including UnitedHealthcare and AARP, already have signed on.
The platform fits into his larger efforts to provide a win-win situation for everyone. "We find ways to disrupt the market for brands, but also do good for consumers," he says.
The disruption seems to be working. The Big Know just raised $3 million in Series A funding from a local investment firm, and more than 40,000 people have signed up for a course.
10. Phil Soran: The Next Big Deal
Phil Soran (middle) is executive chairman of Vidku. He is joined by CEO Jim Leslie (left) and Charlie Miller (right), chief design officer.
Here in the Midwest, some people assume that buzzy new digital communication platforms are developed on either coast. But Phil Soran, one of Minnesota's most successful tech entrepreneurs, found one that's born and raised here in Minnesota. He and fellow entrepreneur Jim Leslie have raised $17 million in seed funding for Vidku, an online video-communication technology developed at the University of Minnesota.
Vidku is based on a software platform called Flipgrid. University of Minnesota professor Charlie Miller created it for his own use, and soon found other professors who wanted to use it. The technology has since spread to businesses and government as a way to provide distance learning and useful video "conversations" and messaging between students, employees, clients and others. Flipgrid's short videos can be viewed on any device, and can include several people at once, in up to four groups. But you can limit the people who see what you've posted.
If Vidku takes off, it won't be a surprise. Soran was a founder of Xiotech, a data storage company, which Seagate acquired in 2000. He then cofounded another data-storage company, Compellent, which went public before being purchased by Dell in 2011.
11. 3M: Foiling Visual Hackers
Corporations, government agencies and nonprofit organizations take pains to protect their digital data and guard against cybersecurity attacks. However, many individuals and their employers are vulnerable to so-called visual hacking. When someone is using a laptop, phone or tablet in a workplace or a public setting, it's easy for people to read their screens.
In response to this reality, Maplewood-based 3M Co. has developed privacy filters. The thin filter that is applied to the screen allows the user to clearly see what's on a device. But anybody who is trying to read confidential information from an angle will merely see a black screen.
3M is deploying its proprietary micro-louver technology to stop visual hackers and allow people to safely use their devices, regardless of where they are.
3M's privacy filters were on display in January at the Consumer Electronics Show in Las Vegas.
12. University of Minnesota: Virtual Prototyping
The University of Minnesota's Interactive Visualization Lab has been working with medical device companies.
Under traditional procedures, humans and animal species have been subjected to the trial and error of medical device testing. However, on the second floor of the University of Minnesota's Keller Hall, in a room about the size of a two-car garage, professorial minds are reimagining how companies like Medtronic and Boston Scientific could greatly reduce the need for testing on people and creatures.
With financial backing from the National Science Foundation and the National Institutes of Health, university engineers, designers and medical professionals have collaborated to create simulation software. According to Dan Keefe, who leads the U's Interactive Visualization Lab, the results of this research could potentially facilitate a month's worth of real-life medical device testing in a matter of minutes. This work requires a supercomputer and a lot of special setup to adapt to new design problems.
"We call it exploratory visualization," says Keefe. To prove the capabilities of the software, University of Minnesota researchers digitally blueprinted a vacuum-assisted breast biopsy (VABB) device, which doctors use to test for breast cancer. Although the group has not sold the product, Keefe sees its creation akin to a proof of concept. This prototyping work is being done in conjunction with Dr. Art Erdman, who directs the U's Medical Devices Center.
"The technology exists in the sense that we can do these simulations," Keefe says. "But now we are faced with how to put this together into a workflow that people can use. And that's one of the most interesting open questions."
Gene Rebeck is TCB's northern Minnesota correspondent, Andre Eggert is TCB's online & e-newsletter editor and Sam Schaust is an online & e-newsletter writer for TCB.