Mortenson Taps Robots to Fast-Track Solar Installs
The Minneapolis-based company teamed up with Italian equipment maker Orteco to develop an automated solar pile distribution machine.
Minneapolis-based construction giant Mortenson says it's turning to automation to address growing demand for solar power.
On Monday, the company announced that it has partnered with Italian equipment maker Orteco to develop a new technology to help build solar energy infrastructure. The technology relies on GPS to put solar piles in place for installation. Piles are long steel rods that provide the foundation for solar panels. "They're basically the foundations that support the trackers that will move the panels toward the sun throughout the day," said Eric Grenz, VP and general manager of Mortenson's solar business in a Monday phone interview.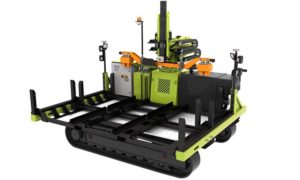 Historically, Grenz said, it's been a "very laborious process" to position and install piles. He estimates that the new technology will free up as much as 80% of the workforce typically used to survey and mark pile distribution points.
Mortenson is using a separate automated technology to drive the piles into the ground. Together, the two pieces of tech are designed to "reduce cost and risk of injury," the company said in a Monday news release.
What's more, the new pile distribution machine will provide "a lot more certainty" for Mortenson's solar clients, Grenz said. "Schedule is very important because there is a significant amount damages when these jobs are late," he said.
Grenz said that changing workforce dynamics are forcing Mortenson to take creative approaches to labor shortages. Citing data from the U.S. Bureau of Labor Statistics, he points out that about 40 percent of the current construction workforce is slated to retire by 2030.
Mortenson has worked with Orteco on prior solar initiatives. The two have been "long-term partners," Grenz said.
The new pile distribution system is already in use at a project in Texas, and Grenz said it will soon find its way into solar projects in Minnesota and around the country. "The solar industry is rapidly maturing and is set to experience a rapid influx," he said.
Mortenson's own balance sheets may bear that out: In 2022, the company had about $7 billion in sales; about 40 percent of that came from renewable energy projects, which includes solar work. "I expect renewables to become more than half of sales in the years ahead," Grenz added.