Kris Lindahl Is Opening a Marketing Agency—Guaranteed
The face of Twin Cities real estate is ready to wrap his arms around your brand.
Kris Lindahl is ready to wrap his endlessly outstretched arms around something other than buses and billboards. The Twin Cities' most visible real estate agent, known for his flashy advertising techniques, is launching a marketing agency.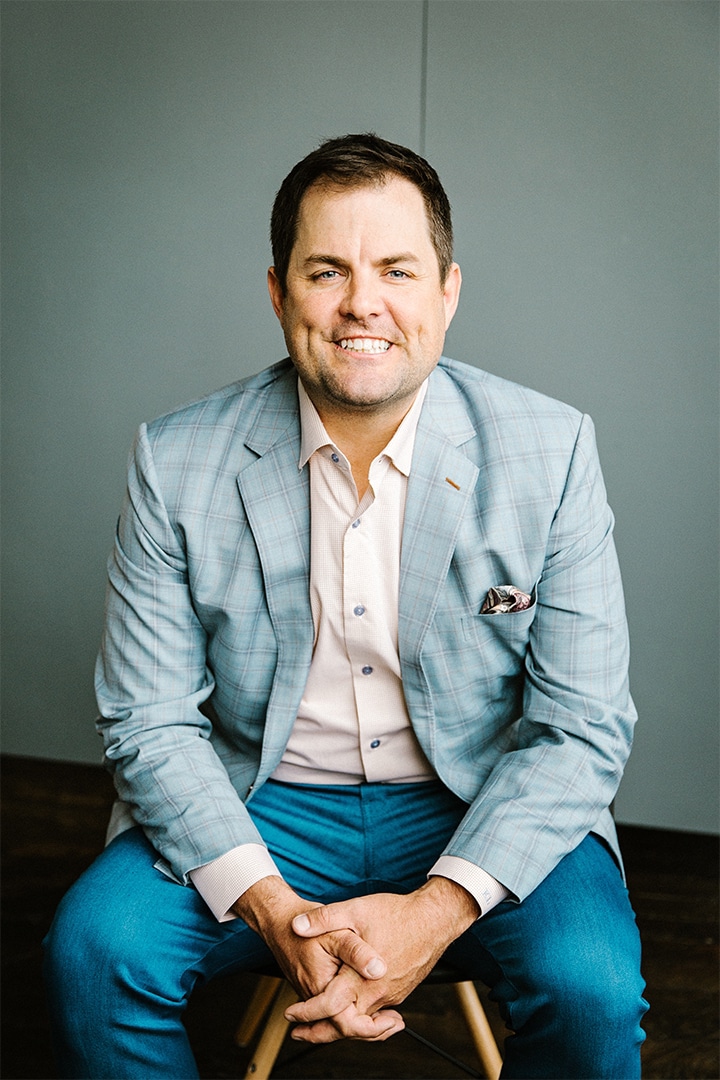 "There are over 30,000 real estate agents in our market, and the fact that we've stood out and have top-of-mind awareness is a big deal," Lindahl said. "We have the formula and the blueprint that we're now going to start offering to other companies in an exclusive manner around the country." 
Lindahl is partnering with his high school friend Steve Solberg, who brings more than 15 years of experience in marketing and media roles at agencies and affiliates of NBC and TEGNA, to launch The Marketing Team, a marketing agency "run by people with real-world business and media experience," the agency's website says. 
"A lot of times in business, you have people who are either coaching or consulting who haven't done it themselves," Solberg said. "And so having the player's perspective of what it's like to be on the field day in and day out—what it's like to be in the trenches—is a different vision to provide to other business leaders and business owners that I haven't seen in the agency space before.
Lindahl said that people have been approaching him for years asking for advice and expertise in how to build a brand and scale it quickly. In the last year alone, Lindahl said his real estate agency, Kris Lindahl Real Estate, has surpassed $1 billion in sales and grown from a team of 60 to 400. 
Always in promotional mode, Lindahl said requests for The Marketing Team's services are pouring into the agency's new website. The waitlist is "already hundreds of names long," he said.
Not everyone's convinced. "Kris got up to bat in the majors, hit one home run, and then decided to open an agency to teach people how to hit home runs," said Aaron Keller, co-founder and chief marketing officer of Minneapolis marketing agency Capsule. A TCB columnist, Keller has interviewed Lindahl about his marketing strategy before. "He had one successful campaign built around his brand. This alone does not make an organization worth taking advice from on how to build a sustainable campaign for a personal, product, or corporate brand."
In the coming weeks, Lindahl and Solberg plan to review and vet their waitlist to find the clients to whom they think their agency can deliver the most value. "This is a very boutique, exclusive thing," Lindahl said. "The interview process for clients is going to be extensive. I truly believe that we can help any business in any industry at this point based on what we've learned over the years, but we only want to partner with long-term clients, so we want to make sure we get it right from the start." 
The duo say that The Marketing Team will offer a wide variety of marketing and consulting services, from the traditional to the more innovative. They'll also bring on other experts from more niche areas. "We are already attracting some really high-level people," Lindahl said.
Although the two are partners, Solberg, who's based in San Diego, California, will run The Marketing Team full time while Lindahl continues to focus on real estate. 
Keep your eyes peeled: Lindahl said that The Marketing Team is planning to open "several" offices in 2021, in the Twin Cities and beyond. "We're evaluating locations in the upcoming weeks as we bring on more employees," he said. "We will open offices as we see a need."