Thomas Service Co.
Specialization helped this fourth-generation appliance company become more competitive.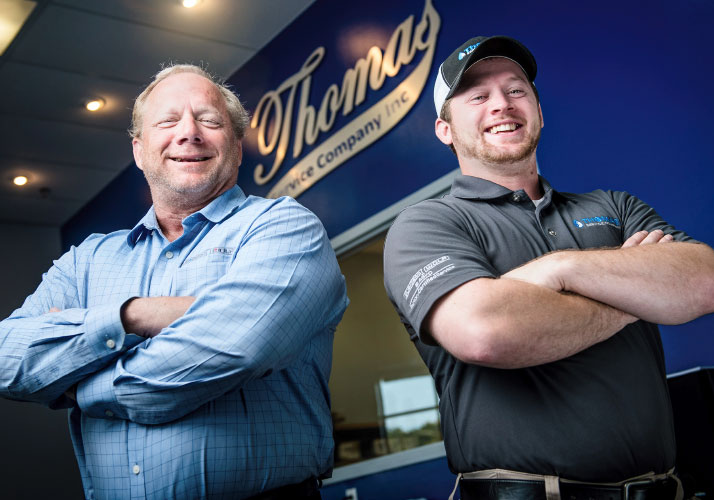 A lot of people say they learned their profession from the ground up. Mark Thomas, owner of Thomas Service Co., can say it and mean it literally.
His first job, when he was 12, was picking up bolts from the parking lot of his grandfather's appliance store in West St. Paul. His salary: a dollar a bolt.
"The delivery guys would unpack the appliances from wood pallets, and there were four bolts to take out," he says. "My job on Saturday was to come and pick up the bolts so they wouldn't run over them and get flat tires. I'd go around the parking lot and pick up bolts and screws."
When the young Mark wasn't scouring the parking lot for bolts, he was keeping show room appliances clean. His grandfather, Mike Thomas, started the business in 1947, initially selling radios and TVs. "My dad would say, 'I need you to come in on Saturday and dust the TVs,'" Mark says.
By the time Mark had a driver's license, he came in every day after school and installed smaller appliances. "The big delivery crew did all the big stuff," Mark says. "My cousin and I would come in after school with a pickup truck and we'd collect the TVs and air conditioners and microwaves and run around for two or three hours, delivering and installing them."
After high school, he graduated to the "big delivery truck," installing over-the-range microwaves, dishwashers, cooktops, and wall ovens. He didn't go to college; he learned how to run a business by watching the two people who came before him.
"Some people have a baseball gene; I have a mechanical gene. I can fix anything, and if I can't, I'll find somebody who can."
In 1978, Mark's father, Jim, split off from Mike Thomas' original business and began repairing appliances and selling used ones—the branch that became Thomas Service Co. Today, it continues to thrive with Mark at the helm.
The next generation of the Thomas family, Mark's son Kyle, is now the service manager. Another son, Jordan, is the company's accounting manager and, with his father and brother, serves on the board of directors.
Jim Thomas, 81, still comes in to work every day. "He comes in and hangs out, cuts up all our cardboard, that kind of thing," Mark says. "Yesterday he fixed the coffee maker. We had a guy who dropped off a Wolf range top, and he fixed it right up."
Mark realized about 20 years ago that the business needed to change with the times. "All the appliance companies—Maytag, Amana, Whirlpool—were changing to factory service; they had their own service companies," he says. "In this business the only way to make money is to complete the call. We couldn't service 40 brands anymore; we had to start narrowing our focus."
Sub-Zero, a manufacturer of high-end refrigerators, approached Thomas Service around that time and asked if the company would be its authorized service dealer for the east side of the Twin Cities. "We said, 'Sure,' " Mark says. "It was a lot of work, and we slowly started whittling down our other brands even more."
In 2000, Mark made a major business decision: Thomas Service Co. would service only Sub-Zero, Wolf, and ASKO refrigerators. At about the same time, the company that was providing Sub-Zero service in the western suburbs was finding it difficult to keep up with the work, and Sub-Zero asked Thomas Service to handle the entire metropolitan area. Three years later, Sub-Zero launched its Premier Service Partner program, and Thomas Service Co. had to essentially audition against three other Twin Cities companies to do Sub-Zero warranty work, presenting business plans and doing interviews.
Mark Thomas (first from right) and his father, Jim Thomas (second from left).
Sub-Zero chose Thomas Service.
"Our business doubled," Mark says. "My dad was still nervous about having all our eggs in one basket, but I said no, this is the ticket, this is like a dream. It was a big deal."
Thomas Service Co. is now one of only 25 Sub-Zero Premier Service Partners in the U.S. Mark has hired five more technicians and is looking for another; the company covers Sub-Zero work in the Twin Cities, Rochester, and St. Cloud, as well as into Eau Claire and La Crosse, Wisconsin, making 5,000 service calls a year.
The average cost of a Sub-Zero refrigerator is $8,000 to $10,000. "It's a lifetime refrigerator," Mark says. "Other refrigerators last 10 years; Sub-Zero will last you 40."
Steve Loewy, a business consultant for Thomas Service Co., praises Mark's business acumen and his willingness, at 59, to adopt new business practices.
"He is into providing service for his clients, and service comes first," Loewy says. "He's recently learned to manage with data. He looks at weekly metrics, key performance indicators within the business, and keeps an eye on these five or six items that tell him if he's performing service and quality the way he wants to, if he's seeing enough people, if there are fewer mistakes made, that kind of thing.
"He also tries to share his knowledge with other people in the industry. When he goes to service conventions, he tries to teach other dealers how to make money, to make a profit. He goes out of his way to help his contemporaries."
But pleasing your own family members can be tricky. Thomas quotes a friend who runs a family business in Cincinnati. "If you hire a family member, you have to tell them this: 'I might have to fire you, so don't be mad at me.'
"The hardest thing about running a family business is making everyone happy, and it's very difficult because everyone has different views and ideas. This is what I'm trying to teach Kyle, because he's very hardheaded."
Thomas says his strategy is to gather ideas from everyone involved and listen to everyone, "then come up with a plan that is somewhere in the middle."
"I always say I'm like a psychologist, a therapist, a dad, and a business owner," he says. "You have to be a many-hats man."
Thomas Service Co.'s former building on Robert Street. .