Pandemic Pivot: Minnesota Ice
Location: St. Paul |  Employees: 30 |  Specialties: Ice sculptures, experiences, and artisan ice cube production
Super Bowl LII put Minnesota Ice on the national stage. The local startup created most of the ice sculptures that were displayed on Nicollet Mall and repeatedly flashed on network TV. At the same time, Minnesota Ice was developing artisan ice cubes and custom cubes, now shipped nationwide to bars, sporting events, and more. It also expanded into a 20,000-square-foot facility. Minnesota Ice now calls itself the largest producer of sculpture-grade block ice and artisan cocktail ice in the country, manufacturing and delivering up to 50 tons of ice per day.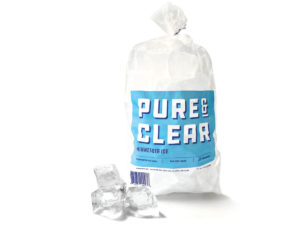 But few places needed cocktail cubes, or ice sculptures for that matter, during a pandemic. The company's steady climb was temporarily stalled in the early days of Covid, even as expenses continued to pile up. "You can't just turn off a freezer," says co-founder and CEO Robbie Harrell. He knew he had to find a way to keep things going, so he asked his head of production, "What else are you good at doing?" The answer, of all things, was landscaping. Harrell and his team switched gears and were able to partially cover the company's expenses by laying sod and planting trees. They also bought a used machine with an X-Acto blade and proceeded to make 300,000 single-use face masks. And they dispatched their refrigerated truck fleet to help restaurants deliver meals locally. In other words, they did what they had to do while their core business remained on ice. 
Eventually, the company consolidated resources, moving out of a Shakopee facility and operating under one roof in St. Paul. Minnesota Ice resumed making cocktail cubes by mid-November 2020, stepping up partnerships with bars and restaurants in Wisconsin, where restrictions were looser than in Minnesota. The company added gas station ice sales, then quickly added more retail accounts like Top Ten Liquors, Total Wine, Kowalski's, and Lunds & Byerlys.  
Last winter, Minnesota Ice partnered with GetKnits Events on a new family-oriented, outdoor interactive experience called Ice Sculpture Exploration. The company recently supplied ice for the Stillwater Zephyr Theatre's Ice Palace Maze. More frozen experiences like it are in the works for 2022.