Fifth District DFL Candidates Agree on Almost Every Policy Issue. So How Should Residents Vote?
No race to the left is playing out among the primary field: the leading candidates are all already there.
The last time Minnesota's 5th Congressional District had a contested Democratic primary, U.S. House hopefuls spent their time slamming President George W. Bush, his administration's War in Iraq, and its plans to privatize Social Security.
That primary was in 2006. This year's DFL primary in the 5th — set off by Rep. Keith Ellison's decision to run for attorney general of Minnesota — is also likely to be defined by intense Democratic opposition to a Republican president, this time Donald Trump.
Five Democrats are vying to earn the party's nomination in this district, which includes the entire city of Minneapolis and the suburban communities bordering it. The 5th is Minnesota's blue stronghold — it prefers DFL candidates by an average of 26 points — so whoever wins the primary on August 14 is virtually guaranteed to be the district's next member of Congress.
But no race to the left is playing out among the primary field: the leading candidates are all already there. Among the three front-runners in the race — state Rep. Ilhan Omar, former House Speaker Margaret Anderson Kelliher, and state Sen. Patricia Torres Ray — there's little difference when it comes to Democrats' most important issues of the moment.
All are in agreement, for example, that President Trump should be impeached. They are all also in favor of single-payer health care, fighting Trump's immigration policy tooth and nail, and free public college tuition.
Unlike DFL primaries in other races, like in the 8th District, the CD5 candidates' differences on key issues do not figure to be a significant feature of the contest. Instead, the primary has become more of a referendum on the kind of politician Democrats here want to send to Washington in the era of Trump — and the leading candidates are all offering voters a distinct package.
 
The field
While some congressional candidates in other Minnesota districts have been running since early last year, thanks to the last-minute circumstances of this race, CD5's five candidates will have had a little under two months, start to finish, to make their case to voters for the all-important primary.
After a scramble to meet the June 5 filing deadline, the primary field crystallized to a group of five: Omar, Anderson Kelliher, Torres Ray, businessman and activist Jamal Abdulahi, and Frank Drake, who challenged Ellison in 2016 as a Republican.
Omar, the 36-year old freshman state lawmaker who gained national recognition for becoming the first Somali-American woman elected to a legislature, quickly emerged as a front-runner. That status was solidified on June 17, when the district DFL committee convened a hastily arranged — and widely criticized — endorsing convention for the race. That convention, which several candidates did not attend, endorsed Omar on the second ballot.
Omar, who represents House District 60B in central Minneapolis, is a favorite of the progressive wing of the DFL. Her convention speech was full of red meat for activists, like her forceful call to abolish the federal Immigration and Customs Enforcement agency. But much of her appeal has to do with politics, not policy: while Omar touts several achievements in the legislature, she also talks often about how her 2016 campaign increased voter turnout by 37 percent in District 60B.

State Rep. Ilhan Omar, who represents House District 60B in central Minneapolis, is a favorite of the progressive wing of the DFL. (Photo by Craig Lassig)
Omar told MinnPost that a central theme of this primary is the importance of maintaining a strong get-out-the-vote operation in this deep-blue district. Ellison made a point of turning CD5 into an engine of DFL votes during his 12 years in Congress: the district was at the bottom of the state in voter turnout when he took over. Now, it's consistently at the top — a fact Ellison is often quick to connect with the failure of Republicans to win a statewide election since 2006.
"People want to know, is their next representative going to carry on the legacy that every vote matters, and every vote counts?" Omar asked, invoking Ellison's campaign slogan. "It is a district that is very much interested in making sure our progressive values are represented, and they know the only way they'll continue to be represented is if we have people who are not going to just think about getting themselves to Washington, but think about getting other progressives to Washington."
While Omar touts her electoral success and inspiring story, Anderson Kelliher, the 50-year old former Minnesota House Speaker, is pointing to her lengthy record as an elected official, framing it as proof she's a battle-tested progressive equipped to stand up to Trump while doing legislative work on behalf of CD5 constituents.
In her tenure as Speaker, which ran from 2007 to 2011, Anderson Kelliher frequently did battle with then-Gov. Tim Pawlenty, a Republican pushing a tax and budget-cutting agenda. In ads, mailers, and stump speeches, she has invoked that history early and often. One mailer from her campaign says that "right-wing Republicans" were working to block a progressive transportation plan. "Then they ran into Margaret Anderson Kelliher," the mailer proclaims.

On the trail, Margaret Anderson Kelliher is playing up her experience as a policymaker. (Photo by Peter Callaghan)
 
"I'm having a really good conversation with people," Anderson Kelliher told MinnPost. "They respond really well when they hear my background of standing up to Tim Pawlenty… they see that as a way to go to Washington and stand up on their behalf versus Donald Trump."
Anderson Kelliher is more comfortable explaining education policy than she is firing up a crowd. On the trail, she's playing up her experience as a policymaker. "People seem to really want someone who's experienced, who's able to go to Washington, D.C., and hit the ground running on their behalf," she says.
Torres Ray, who represents parts of southern Minneapolis and Richfield in the state Senate, is offering voters a bit of everything. As a 12-year veteran of the legislature, she has a long record of policymaking to draw on as she makes the case she has the experience needed to succeed in Congress. At the same time, she's also casting herself as a veteran organizer and coalition-builder capable of mobilizing CD5 voters to boost the fortunes of progressives up and down the ticket.
Earlier in the race, Torres Ray told MinnPost that a supporter described her as a combination of longtime former Rep. Martin Olav Sabo, known for his prolific work in policy areas like transit, and the outgoing Ellison, known for his organizing acumen.
In an interview with MinnPost, Torres Ray said her public record speaks for itself. "That's been a very powerful tool for me and a very important message for me, that people need to look at who I am and what I've done and they can make their own conclusion about what I'm going to do in the future."

State Sen. Patricia Torres Ray has a long record of policymaking to draw on as she makes the case she has the experience needed to succeed in Congress. (Photo by Craig Lassig)
 
The 54-year old, who came to Minnesota as an immigrant from Colombia and worked her way to the legislature, said the race is about more than who's best to stand up to Trump. "Voting is the easiest thing you do when you get to Washington," she said. "Everyone is picking a fight with Trump. What comes after that is what people want to know in this district. What are you going to do for immigration reform? How are you positioned to do it?"
"It's the practicality of what we bring that is unique," she said.
 
No stone unturned
So far, it's Omar, Anderson Kelliher, and Torres Ray who have gotten the lion's share of key endorsements and fundraising support, putting each of them in a position to compete in the primary. Abdulahi and Drake, meanwhile, are considered longshot candidates by observers of the race.
All three front-runners talk a lot about coalition-building, and each argues they've built the broadest and most diverse coalition — based on everything from age to geography and racial background — that will carry them to victory on August 14.
With the party's endorsement, and the endorsements of Gov. Mark Dayton and Minneapolis Mayor Jacob Frey, Omar has the imprimatur of the DFL party, as well as access to its considerable communications and organizing resources. She has also been endorsed by several national progressive grassroots organizations, such as Democracy for America and MoveOn.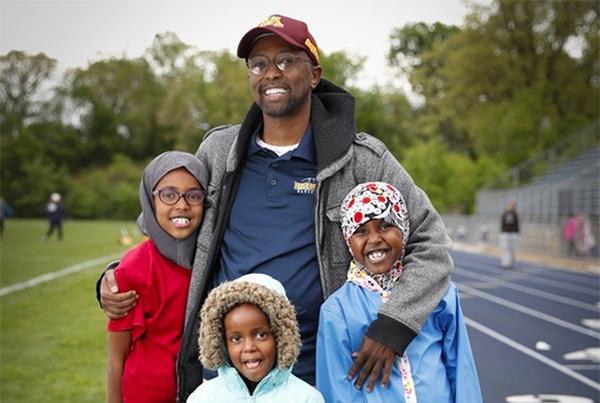 Jamal Abdulahi is considered a longshot in the race. (Photo from Jamal Abdulahi for Congress)
 
Those factors, some observers say, give Omar a distinct advantage. Beyond that, the rookie legislator, who pulled off a surprising primary upset of veteran state Rep. Phyllis Kahn in 2016, is known as a relentless organizer and employs aides who subscribe to an old-school philosophy of grassroots politicking. She boasted that her campaign is working hundreds of volunteers who have contacted nearly 100,000 voters through calls, door-knocking, and other means.
"We are running a campaign that really doesn't believe in there being a particular base for us," Omar said. "We believe that the whole district really needs to be represented, and we need to reach out to the whole district… It's like, all hands on deck, not leaving any stone unturned."
Candidates in the CD5 race, however, are careful to point out their efforts to work the entire district, which isn't just the city of Minneapolis: many voters here live in inner-ring suburbs like St. Louis Park and Edina.
With Omar locking up support from much of the Minneapolis city DFL establishment, Anderson Kelliher and Torres Ray are making strong plays for the suburbs. The former House speaker, who lives in Minneapolis herself, has notched endorsements from the mayors of five suburban cities, including Richfield, Edina, and Golden Valley. She has been endorsed by nine current members of the legislature, most of whom represent more suburban areas.
In interviews, Anderson Kelliher has made a point of noting her hopes of representing the entire district. "The ability to really build the broadest coalition, including the suburbs and the city, seems really important to people," she says.
Torres Ray, meanwhile, is a known quantity to many DFL voters in the residential, southern end of CD5, owing to her service in the legislature. ECM Publishers, which puts out newspapers in many of the district's smaller, suburban cities, endorsed Torres Ray for the primary. The editorial said she is "the only candidate who has some experience in representing a suburban community. Our suburbs… need a Congressional representative who will devote herself to understanding community issues, some of which are quite different from Minneapolis' needs."

Frank Drake challenged Ellison in 2016 as a Republican. (Photo by Craig Lassig)
 
With less than two weeks to go until primary day, and with CD5 residents participating in early voting, the candidates are sprinting to the finish. Omar and Anderson Kelliher both have raised the kind of money to bankroll robust media campaigns through August 14: as of the end of July, Omar's campaign had raised $246,000 and had $111,000 on hand.
Anderson Kelliher, meanwhile, had raised $350,000 by the end of July, and had $250,000 on hand. Her campaign released its first TV ad on Wednesday, and she is expected to roll out more in the coming days. At the end of July, Torres Ray had raised close to $65,000, and has $45,000 on hand.  
This story is brought to you by MinnPost.
The opportunity afforded to whoever wins this primary is not lost on the DFL hopefuls: Ellison held this seat for 12 years, and it elevated him to national prominence. Before him, Sabo held the seat for nearly 30 years, and rose to chair the powerful House Budget Committee during his time in the Capitol.
"For most people, Keith was like their second, and for a lot of people, Keith is like the only congress-member they have ever known," Omar says. "They're excited about what it means for them to choose their next congressperson, who might be there for a long time."