Can Retail be Restored?
Though it has lost a lot of stores, downtown Minneapolis may have what it needs—except for a retail advocate.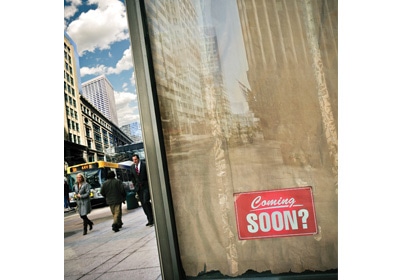 Many longtime Twin Cities residents still wax nostalgic about the days of Dayton's and Donaldson's and Jackson Graves, when downtown Minneapolis was the shopping destination for the Upper Midwest. "People came to shop here one, two, and three times a year," says Jim McComb, a veteran retail consultant based in Minneapolis (and not a nostalgist). "That group of people represented 40 percent of the sales in downtown Minneapolis."
Those halcyon days ended in the 1990s. In 1992, the Mall of America opened in Bloomington with 2.4 million square feet of retail space, more than what's now available in the downtown core. And since the megamall opened, the Twin Cities metro has developed an additional 5 million square feet of retail space. Numerous suburban centers, including the Galleria in Edina and St. Louis Park's Shops at West End, have become top retail destinations in the metro area in the past decade.
During that time, downtown Minneapolis has lost many national-name retailers, most recently in 2007, when Borders, Crate & Barrel, Polo Ralph Lauren, and Williams-Sonoma announced that they were closing their stores in Minneapolis's central business district.
Yet amidst such a gloomy scene, smaller retail operations are sprouting up. The tallest shoot is Druskin, whose flagship Len Druskin store, which offers men's and women's clothing, has been located in Edina for three decades. Druskin opened his first urban store, catering to men, in Gaviidae Common in 2007. Since opening Len Druskin Man, he has added a women's store, a men's and women's fast-fashion shop, and an outlet that opened in March. All downtown.
"We found we had a large customer base for our men's area from that part of the city as well as a lot of customers that work downtown," Druskin says. "We felt it was important to offer those customers the ability to shop on their way to or from work—or if they lived downtown, not necessarily always have to drive to the suburbs."
Other locally owned stores that have opened in recent years include baby boutique Pacifier in Gaviidae Common, menswear store Elsworth in LaSalle Plaza, and hip clothier Bahu Boutique on 10th Street between Nicollet and Marquette.
A retail renaissance in the making? Perhaps, depending on how well the city recovers from the recent recession. Certainly, downtown Minneapolis will never regain the local retail throne. But downtowns have changed, and as they have, so have the opportunities for retailers. Downtown Minneapolis has experienced significant growth in its residential population; and though the central business district lost about 15,000 employees during the recession, there are signs that the worker base is growing again. Downtown's sports, arts, entertainment, and dining venues have improved and multiplied. That makes the central city a fertile landscape for retailers interested in the opportunity.
That's not to say there isn't room for improvement—or more stores.
"Above Average"
There's no doubt that a city center needs to have a solid base of retail and dining offerings. "It's important to businesses, in attracting talented, creative people, to have a 'with-it' community," McComb says, "and that's the dining and retail scene."
That sentiment might be truer than ever right now, as downtown is attracting a younger office population. "Who wants to work downtown? Younger people," says Russ Nelson, president of corporate real estate consulting firm Nelson Tietz & Hoye. "We have companies coming in from the suburbs, relocating their headquarters downtown—small and large. Why? Because the population wants a 24/7 environment."
And there are places for those office workers to shop. Despite all the departures of the past decade, several national chains remain, including Gap, Saks, Banana Republic, and Macy's. Luxury department store Neiman Marcus still operates a downtown outpost (whose lease is up in 2013), and anecdotal evidence suggests that hometown-headquartered Target's Nicollet Mall store, which opened in 2001, is doing a strong business. (Target won't comment on the store's performance.)
"Downtown Minneapolis was hurt by the Mall of America, no question," McComb says. Still, he describes its retail situation as "above average," adding that "most of the prime retail space is occupied."
One retail category that appears to be flourishing downtown is menswear, despite a couple of recessionary years. Druskin and Elsworth are two fashion-forward locals that have arisen; the estimable Hubert White, in business in Minneapolis since 1939, has never left, though it did move from Marquette Avenue to the IDS Center. Brooks Brothers, which decamped downtown for the Mall of America, came back in 2007. Allen Edmonds has opened up at City Center and Jos. A. Bank has a store in Gaviidae. Downtown also is home to custom men's clothiers Carlos Chavéz and Marty Mathis.
Chuck Simpkins, a sales consultant at Hubert White, notes that while there are many top menswear stores in the suburbs (including Hammer Made and Twill in the Galleria), "the majority of guys who are wearing suits work downtown." For most men, "shopping is not quite such an adventure" as it is for women. "Men like to shop, but they want to do it quickly and conveniently," Simpkins adds. Downtown stores allow them to do just that.
A much younger downtown retailer (in more ways than one) is Pacifier, which opened its second store in Gaviidae Common in April 2008. "We believed the market for baby and children's items was underserved," Pacifier cofounder Wing Witthuhn says. "We're there to help people looking for a unique baby gift. Since we offer free gift wrapping and we ship anywhere in the USA, we're a one-shop stop."
Witthuhn describes the traffic at the Gaviidae store as "fairly steady and [it] has actually picked up this spring." She adds that Pacifier hopes to relocate to City Center's skyway level, one of the highest foot-traffic corridors in the downtown skyway system. "If that happens, we expect even better traffic and sales," she says.
Retailers like Pacifier and Len Druskin Man are often are called "incubator stores." Such stores are typically locally owned, start-up ventures that seek to provide distinctive wares and a unique store "experience." Since they have more control over their merchandise than nationally owned chain stores, they can respond more quickly and easily to customer trends or requests.
According to a 2007 commercial market analysis of downtown commissioned by the City of Minneapolis, incubators are the kind of stores the central business district needs. The study, conducted by Maryland-headquartered development consultancy ZHA (now W-ZHA), noted that in "cultivating a role as a retail destination, downtown Minneapolis . . . must attract unique retailers."
McComb also sees the big opportunity for downtown in incubator stores. "Downtown is a great opportunity for an incubator business because of its demographics," he says. "It's high income, and the office workers are heavily concentrated around the retail district."
That was the kind of market Kevin Quinn saw when he opened his fashion accessories store, StyledLife, in Gaviidae Common in 2006. The store was successful enough that he opened a second, larger StyledLife in the Galleria in September 2008. When the recession hit, Quinn found he couldn't keep both open. With stronger sales volume in Edina, he closed the downtown original in the spring of 2009.
Still, Quinn says, "I believe in downtown. With the right leadership, [downtown Minneapolis retail] could be as strong as [that of] other cities of its size."
So why is downtown doing so little to attract retailers like Quinn—or any retailers, for that matter?
Who's in Charge?
The ZHA study found that downtown office workers accounted for 60 to 80 percent of retail sales downtown. These numbers contrasted with a 1996 Minneapolis Downtown Council report, which found that downtown employees accounted for 40 percent of sales on weekdays. The ZHA study also concluded that downtown Minneapolis has enough downtown office workers and residents to support more retail than it has.
But ZHA also pointed to something of a geographical disconnect between shops and shoppers. Nearly two-thirds of the retail space in downtown sits on a three-block stretch of Nicollet Mall. But most of the new residential development has occurred many blocks to the north, with Washington Avenue as its main axis.
"We have an extraordinary population base—top 10, in terms of a central business district," notes Downtown Council CEO and president Sam Grabarski. "But it is diffuse, and some of those people are a half a mile away from retail. So if they have to get to retail by using a car, it's just as easy to use that car to go anywhere to shop."
For decades, the organization that Grabarski now heads focused primarily on downtown retail. But over the course of the past 10 years, it has shifted its efforts to marketing and economic development generally. It organizes 150 events each year, including the Holidazzle parade and the Peavey Plaza summer concert series.
"We're trying to grow the office base, we're trying to grow the residential base, we're trying to add new attractions to downtown, we're trying to build a new Vikings facility in downtown, we're trying to renovate Target Center," Grabarski says. "These are all things that add to the vitality that in turn should support retail—if not directly, then indirectly."
Minneapolis Mayor R. T. Rybak was once the Downtown Council's development director, recruiting office and retail tenants to Minneapolis. "The city has a strong partnership with the Downtown Council, but frankly, the job I left in 1989 has never been filled, and that's a problem," Rybak says. "My job at that time was to go out and aggressively call on new retailers and bring them into the market. And that was traditionally supported by the different buildings putting in together to support a salary for someone who did what I used to do."
After the ZHA study was published, the Downtown Council did hire a recruiter specifically to attract new retail tenants to the central business district. According to Grabarski, that person identified 300 prospects. "A couple of important [stores] indicated an interest in joining this market over the next couple of years," Grabarski said this spring. The recruiter was let go in the fall of 1998 and the job has gone unfilled; the Downtown Council doesn't plan to fill it anytime soon.
"What we lack is a coordinated message; a better, targeted approach to the people who work and live here; and a more coordinated approach to calling on new and emerging tenants," Rybak says.
This contrasts with what many other cities have been doing in the past few years. St. Louis, Milwaukee, and Portland, Oregon, have all put together plans to attract retail, efforts that include the involvement of city government. All assume that retail is an essential component of downtown vitality, and that this vigor is necessary to maintain and build a strong economic base for the city and its metropolitan area.
That's undoubtedly true. But while downtown Minneapolis is often less than lively on weekend mornings, it hasn't been turning out the lights.
Reinventing Downtown 
In February, the Downtown Council held its annual meeting. While acknowledging that the central business district lost thousands of workers during the recession, the council also pointed to some measurable postrecessionary vigor.
According to the council report, the CBD added nearly 1,500 workers in 2010, including more than 1,000 new hires at Target (downtown's biggest employer, with 10,848 people). Accounting firm Eide Bailly has announced plans to move to the U.S. Bancorp headquarters building from its longtime offices in Bloomington, following on the heels of a move to Butler Square by fast-growing health informatics firm Ability Network (formerly VisionShare). All told, the downtown office market absorbed more than 394,000 square feet last year.
There have been other signs of a spring awakening in downtown commercial real estate this year. The Pohlad family's real estate companies are pouring millions into the Ford Centre building near Target Field (itself a huge development success in 2010); it's also contemplating a new office tower at the corner at 10th and Nicollet, where a small, long-vacant building now stands. Lunds is revisiting the idea of opening a supermarket on property it owns in the south end of the CBD, and there's talk of a residential-retail development at the vacant Jaguar dealership site at Washington and Hennepin.
On the retail side, at least one group of downtown stores has taken promotional matters into its own hands. In 2009, several retailers founded the Ninth Street Experience, which sponsors occasional promotional events to lure people into the upper-scale stores, restaurants, and hotels along Ninth. The group has organized a couple of events, with "Taste of Ninth Street" planned for this summer.
Jeannie Joas, president of J. B. Hudson Jewelers and one of the organizers of the Ninth Street Experience, terms Ninth "a pretty cool story," and says that Hudson's move from the Macy's building to a higher-profile location in 2008 has been a success. Hudson's neighbor, Haskell's Liquors, has been in its Ninth Street store since 1988. Beau Farrell, whose family owns and operates the Haskell's chain, hopes that the coalition will make Ninth "a new destination experience" downtown.
A point worth noting: Hudson, Haskell's, and most of the other Ninth Street Experience consortium are locally based. Meanwhile, it doesn't appear as though national chains will be returning en masse anytime soon. McComb says that they're retooling their strategies in the wake of the recession, and have been shying away from downtowns across the country, not just in Minneapolis. He believes that "there's a growing perception among national chains" that there are only three central cities with strong retail: New York, Chicago (mostly on and near North Michigan Avenue), and San Francisco.
The strategies in other cities suggest that newer local retailers will need a larger residential base to draw from. Other cities are encouraging condos and apartment development in their downtown cores—something Minneapolis will need to do as well, assuming the residential market improves.
Programs designed to encourage downtown shopping are in a state of flux. The Downtown Council is reevaluating Do the Town, its parking validation program. More and more downtown ramps are using technology requiring credit cards, making validation difficult. On the other hand, Brookfield Properties, which owns and operates City Center and Gaviidae Common, offers free metro delivery for purchases over $100 made at the stores inside those downtown malls. During the Valentine's Day period, Brookfield offered free delivery on purchases of any amount. The number of deliveries made during that promotion tripled.
Brookfield seems to have adjusted to retail's new normal. In 2006, during an $18 million renovation, it converted City Center's third floor to office space, which now is 100 percent occupied. Gaviidae Common, predominantly retail, currently boasts a 6 percent retail vacancy rate. With Saks and Neiman Marcus as anchors, Gaviidae's tenants also include menswear chain Jos. A. Bank, plus womenswear stalwarts Ann Taylor and Talbots.
Now, "downtown's beginning to reinvent itself to some degree as incubator stores," says David Sternberg, senior vice president at Brookfield. "That's what happened with Druskin."
For his part, Michael Druskin says, "We'd love to see more retail downtown. It is a slightly different market [than the suburbs], and I think for national companies it's probably a little harder to adapt. But you can be successful there. You just have to really work to make sure you're catering to the customer that's there."
Studying Portland
Retail consultants point to Portland, Oregon, as an example of a city that has been active in maintaining its downtown retail core. Where Portland excels, they say, is in continually refreshing its retail assortment and aesthetically revitalizing its downtown shopping district.
Its most recent moves began in 2008, when a task force appointed by Portland's mayor devised a strategy for creating a "signature" downtown retail district. The resulting "Downtown Portland Retail Strategy Implementation Approach," published in 2009, suggested identifying a geographical retail core, marketing it as such, and coordinating management of that area between the private and public sectors. It also suggested providing tax incentives for retailers.
In addition, the report notes that "Portland's success at attracting new high-end condos and apartments within the central city helps drive additional demand for infill retail properties." And it cites a 2008 Portland Business Alliance survey, which found that "proximity to businesses, including retail and restaurant amenities, is among the top five reasons firms locate or remain in the downtown area."
"Portland has done a lot of what I'd call 'social engineering' to create their vibrant downtown," says Todd Klingel, the Minneapolis Regional Chamber of Commerce's president and CEO. The chamber is organizing a trip this October to study Portland's downtown retail approach. "One of the things we want to look at is the ecosystem that they create there and how well it works," Klingel says.
The Stores
Nicollet Mall is the heart of downtown's retail. These are most of the top retailers on the mall; restaurants aren't included. *Denotes locally based retailer
Gaviidae Common, Nieman Marcus wing
Nieman Marcus
LD Len Druskin (Druskin women's store)*
JV and Company*
Ann Taylor
Talbots
Gaviidae Common, Saks wing
Saks Outlet
Len Druskin Man*
Pacifier (baby and toddler items)*
Jos. A. Bank Clothiers
Soleil Brule (Moroccan gifts and housewares)*
R. F. Moeller Jeweler*
Presence (gifts, jewelry, accessories)*
Aveda Lifestyle Store
IDS Center
Hubert White
Gap / Gap Kids
Banana Republic
Love From Minnesota (Minnesota-themed gifts)*
Godiva Chocolatier
City Center
Len (Druskin Outlet store)*
Brooks Brothers
Marshall's
Allen Edmonds
Others
Macy's
Elsworth (in LaSalle Plaza, menswear)*
Barnes & Noble
Men's Wearhouse
J. B Hudson Jewelers*
James & Mary Laurie Booksellers*
Target*
Bahu Boutique (fashion-forward clothing)*
What Could Make the Lights Brighter?
More than 1,000 randomly selected Twin Cities Business readers who work in downtown Minneapolis were surveyed about their shopping habits. Nearly 20% responded. Here's what they said:
How often do you shop for clothes in downtown Minneapolis during the work week?
• At least once every few days: 23%
(66% go out to eat downtown this often)
• Less than once a month: 35%
How often do you shop for clothes in downtown Minneapolis on weekends?
• At least twice a month: 11%
(28% go out to eat downtown this often)
• Less than once a month: 77%
What would you like to see more of?
• Clothing and fashion items: 65%
• Technology/gadgets: 43%
What would lead you to shop downtown more often?
• Free parking: 66%
• A greater concentration of stores I like: 64%
What stores would you like to see downtown?
• Nordstrom
• Best Buy
• Crate & Barrel