What It Means to Be a CFO in Today's Economy
Four chief financial officers share how they drive growth and stay focused in their ever-evolving role.
From mergers and acquisitions to trade policy and leveraging data analytics, the chief financial officer is responsible for navigating unexpected challenges, while also driving growth initiatives and remaining focused on an organization's long-term strategy and goals. It is no longer sufficient to merely produce a healthy balance sheet.
 
To understand how the CFO role continues to evolve and learn how these key executives are driving their organizations forward, Twin Cities Business hosted its annual CFO Forum on June 5 at the Metropolitan Ballroom. The forum was moderated by trending editor Liz Fedor and sponsored by CBIZ MHM and BMO Harris Bank.
 
Joining TCB as panelists were Barry Gisser, CFO of St. Paul-based Science Museum of Minnesota; Lois Martin, CFO of Golden Valley-based Mortenson Cos., a construction and real estate development company; Jeff Pellegrom, executive vice president and CFO of the St. Paul-based Minnesota Wild; and Andy LaFrence, senior vice president and CFO of Eagan-based Biothera Pharmaceuticals and former CFO of Eden Prairie-based SurModics. LaFrence left SurModics in May to become CFO of Biothera.
 
From corporate governance to creating experiences, here are some highlights from the lively discussion.
 
The Evolving Role of CFOs
Lois Martin: The biggest change in the last five to 10 years is the communication demands and expectations of the entire finance and accounting group. You have to know how to tell more stories and put things into layman's language, so people understand it from the top on down; everything from monthly business results to the new revenue recognition standard.
 
Jeff Pellegrom: Businesses are so integrated and fast moving you have to be a true partner with the different business units and allow them to grow, you have to evaluate risk extremely quickly, and set boundaries and let them run. It's a balance now that isn't easy to define.
 
Corporate Governance
Pellegrom: As a finance person you have to understand that business results elicit an emotion from executives and board members and you need to be able to anticipate that emotion and be prepared to work them through it.
 
Barry Gisser: Boards are looking for three things: simplicity, accountability, and transparency. With regards to management teams, the individuals who you have to win over end up being your biggest allies. 

Science Museum of Minnesota CFO Barry Gisser (left) and Biothera senior vice president and CFO Andy LaFrence. (Photo by Adam Bettcher)
 
M&A Climate
Andy LaFrence: In the medical device space there have been a bunch of consolidations on the top end. Right now, the environment, post tax reform, is frothy. It is tough to get a deal done because there is always someone else who has synergies and can pay a couple more multiples.
 
Martin: The multiples are at all-time highs. Part of what you are buying in most of these businesses is the team. It's part of what we look at, we aren't just looking to buy the hard asset.
 
Coordinating Large Projects
Martin: The financial discipline and responsibility of our project leaders and superintendents is tremendous. They know their P&L, business, and cash flow better than anyone else. Having that understanding at the frontline of how cash works and whether you are positive or negative on your project is key.
 
There is great transparency at Mortenson of what's needed to keep everybody successful in a big or small project. It's not going to do any of us any good if we can't pay our subcontractors on time to keep them afloat and investing in their businesses and vice versa.

Mortenson Companies CFO Lois Martin (Photo by Adam Bettcher)
 
Selling an Experience
Gisser: There is a significant amount of competition for an entertainment dollar. To be successful, I need to convince somebody to engage with us and make a connection with them on why I'm relevant, and sometimes that doesn't require an individual to drive to downtown St. Paul. For example, we are having a launch party with Black Stack Brewing to launch Thunder Lizard IPA. It's creating some fun around the brand, but more importantly, it's meeting potential museum stakeholders where they are. In this case, it's in a tap room.
 
It's not only important to engage with your current stakeholders and turn them from trier to frequent buyer, to loyal supporter, but also to find people who don't engage with your organization and figure out ways to engage with them.
 
Recruitment and Retention
Pellegrom: Our lowest paid employees are the ones in front of the customer and they have to be able to deliver that 'wow' factor, so we have doubled down on training and systems that help us manage employees. For example, Standout allows managers and direct reports to check-in with employees and measure employee engagement. For some positions, we tier our employees to provide opportunities for them to advance.
 
Gisser: We also have many frontline employees who are the face of the museum, so having performance management systems in place that reward and incent the type of behaviors that we are trying to execute on to deliver our mission is important.
 
LaFrence: At SurModics, we went from 140 to 340 employees in three years, so we have had to manage that growth. The company recently launched the Five Cs cultural value program, built a new world-class R&D facility to help attract talent, and bought a company in Ireland to diversify its workforce.
 
Martin: We are heavily involved at the high school and college level building awareness about our industry, the job opportunities, and what the compensation and career paths could be.
 
But there is still going to be a labor shortage and that's where innovation and technology comes in. Mortenson is on the front end of innovation, so whether it's automation, robotics, or offsite construction of material, that is where we are focused.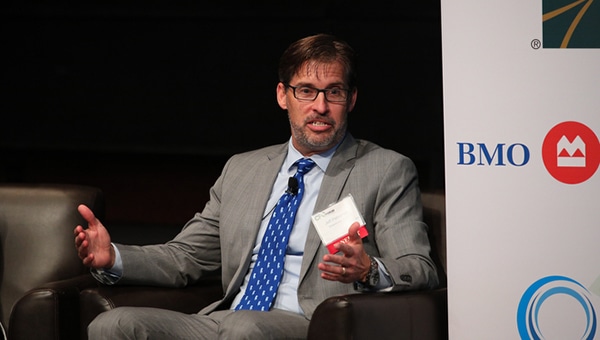 Minnesota Wild executive vice president and CFO Jeff Pellegrom (Photo by Adam Bettcher)
 
Economic Outlook
Gisser: It is a challenging time for cultural institutions and museums in general, but I don't necessarily see ourselves as just a museum. I see us as an attraction, an experience, an educational partner and those are much more robust markets.
 
Looking at our growth rate over the last year and what we are going to do next year, we are going to grow on a double-digit basis. One year doesn't make it a trend, so finding other ways to define our offering and engage with consumers is key.
 
LaFrence: The medical device field is becoming more commoditized with entrants coming from other countries. The real value proposition is finding new niches where you can create a lot of value. However, the value curve has gotten much shorter—there is less time before a competitor enters the market.
 
For pharma, it costs a billion dollars to get a drug on the market. At Biothera, we already spent $200 million and we are probably four years away from getting a drug on the market. If you think about that proposition, you are going to stifle innovation if you are not supporting long-term development. With 900 clinical studies going on in the immuno-oncology space right now, there is a lot of tailwind in the biotech industry.
 
Martin: We think that 2019 will be strong, but after that we expect some softening.