Unique Venues for Business Events
TCB showcases new and classic venues in the Twin Cities area that offer great settings for businesses, from small startups to Fortune 500 corporations.
Change is a constant at Twin Cities–area businesses. For companies that want to bring their employees or customers to an off-site venue, they'll notice major changes in the hospitality sector. New venues are coming on the market, while others are recently renovated. And venues with distinctive architecture are updating their services and menus.
Twin Cities Business has identified a variety of unique spaces that can provide a memorable setting for business meetings, industry conferences, and corporate receptions and celebrations. Allianz Field, the new pro soccer stadium in St. Paul, offers a sports backdrop for gatherings. The new InterContinental MSP Airport Hotel is convenient for business travelers and it provides great views of the two downtowns. TCB's collection of venues also includes arts and cultural institutions, including the Bell Museum, Guthrie Theater, and Walker Art Center.
Allianz Field
4 to 768 guests
400 Snelling Ave. N., St. Paul
763-476-2237 • mnufc.com
ST. PAUL — Looking to kick your next business event into high gear? The new kid on the block is Allianz Field. The recently opened soccer stadium welcomes guests with event spaces of all sizes and for all purposes, from four-person loge boxes to an 11,800-square-foot Stadium Club with room for more than 750. The Stadium Club is a bright, open space, with food and soft drinks available. Next-biggest is the Field Club, with space for more than 420 guests in its 4,600 square feet. Just steps away from the field tunnel, it features food, beer, and wine. If an event is held during game time, guests can see the pregame player walk-out and postgame interviews. Allianz Field also has a number of private and party suites, as well as a rooftop deck, the Upper 90 Club, and the Brew Hall.
---
American Swedish Institute
20 to 1,000 guests
2600 Park Ave., Minneapolis
612-871-4907 • asimn.org
MINNEAPOLIS — Whether you're looking for a historic or contemporary setting for your event, the American Swedish Institute can oblige. The early 20th century Turnblad Mansion offers the Grand Hall, Salon, and newly renovated Stuga room for smaller events, or Paulson Hall for larger groups up to 100 guests, with the option of opening the entire mansion for viewing. The veranda and front lawn also may be used in conjunction with rentals. The mansion's ornate mahogany woodwork, 11 decorative tile stoves imported from Sweden, and 33 rooms provide a unique backdrop for a variety of events. The venue also includes the institute's contemporary Nelson Cultural Center, which opened in 2012 and can accommodate 30 to 400 guests in its meeting rooms and other spaces. The studio classroom offers a hands-on space for workshops or demonstrations. The 200- to 500-capacity courtyard provides an outdoor alternative in the warmer months.
---
Aria
50 to 1,000 guests
105 N. First St., Minneapolis
612-342-2742 • ariampls.com
MINNEAPOLIS — Take your event up a notch with this renovated gothic-industrial ballroom space in the North Loop. Patinaed brick walls rise to 30-foot ceilings, and smaller balcony nooks outline the perimeter; the space can accommodate up to 450 for a seated dinner or 1,000 for a reception. The decor and function can be tailored to meet the tastes and needs of a given business event, with offerings like string lights, crystal chandeliers, mobile bars, curated design elements, floor-to-ceiling curtains, lounge furniture, and tables and chairs. It can also work as a performance space. A staff of bartenders is available with the rental, as well as suited security personnel. Businesses booking an event at Aria may choose from eight caterers for food service.
---
Bell Museum
10 to 600 guests
2088 Larpenteur Ave. W., St. Paul
612-626-3528 • bellmuseum.umn.edu
ST. PAUL — What's on the edge of the University of Minnesota's campus, home to a woolly mammoth, and available for your next event? That would be the Bell Museum, opened in its brand-new space last year, with a variety of event options. Rentable spaces include the Think Tank, a 10-person conference room; the Nucleus, accommodating 60–80 guests; the Ruth and John Huss Observation Deck equipped with telescopes; the Whitney and Elizabeth MacMillan Planetarium with seating for 120; and Horizon Hall with space for 150 seated guests. Or rent out the entire building and invite up to 600 guests for a standing reception. All rental prices cover six hours, setup, built-in AV equipment, and dedicated event staff. Add-ons include additional spaces, guided museum tours, stargazing, a host of hands-on activities, and more. The museum also is fully accessible and includes parking, Wi-Fi, and a list of catering partners.
---
Can Can Wonderland
10 to 1,000 guests
755 Prior Ave. N., Suite No. 004, St. Paul
651-925-2261 • cancanwonderland.com
ST. PAUL — If you're looking to add a little color to your next event, head over to Can Can Wonderland. A whimsical playground for all ages, Can Can Wonderland features 18-hole indoor mini golf, arcade games, Ping-Pong, murals, and entertainment of all kinds. Once home to the American Can Co.—yes, the maker of prized Spam cans—which began in 1889, it's now the first arts-based public benefit corporation in Minnesota. You can rent the entire space for up to 1,000 guests, or private rooms or tables for 10 or more. Entertainment, food, drinks, A/V equipment, and more are available. Plus, who else can claim there was a fuzzy pink mastodon at their work event?
---
Canopy by Hilton Minneapolis Mill District
12 to 200 guests
708 Third St. S., Minneapolis
612-332-0696 • canopy3.hilton.com
MINNEAPOLIS — Located between U.S. Bank Stadium and the Mississippi River, Canopy by Hilton Minneapolis Mill District has 183 guest rooms and 5,900 square feet of event space. There are seven rooms available for rental, some for as few as 12 guests, others that hold as many as 200. Opened this year, Canopy offers a modern and open space with design features like floor-to-ceiling glass dividers, exposed wood beams and brick walls, and linenless tables for a more sustainable approach to events. Available add-ons include catering and organized break activities.
---
Fueled Collective
133 to 450 guests
400 S. Fourth St., No. 401, Minneapolis
612-545-5745 • fueledcollectivemn.com
MINNEAPOLIS — Fueled Collective is an incubator and co-working space by day, but it moonlights as an event space on evenings and weekends. While the organization has four locations across the Twin Cities, its crown jewel is the Historic Trading Floor at its downtown Minneapolis location, the iconic Minneapolis Grain Exchange's original trading floor. With its grand arched windows, art deco columns, coffered ceiling, swanky furniture, and original wood floors, the nearly 120-year-old space can now host 133 for dining, 325 for a cocktail reception, or 450 seated guests. So if you've ever fancied feeling like a flour tycoon, your next business event could be your chance.
---
Grand View Lodge, Nisswa
Up to 650 guests
23521 Nokomis Ave., Nisswa
866-801-2951 • grandviewlodge.com
NISSWA — To take your event out of the hustle and bustle of the Twin Cities, head to Grand View Lodge on Gull Lake. Choose from options like the historic Main Lodge, with indoor and terrace spaces; the neighboring Norway Center; or the state-of-the-art, 25,000-square-foot Gull Lake Center. The two largest single rooms are the Norway Ballroom, which holds up to 400 guests, and the Grand Ballroom, for up to 650 guests. The North, a 60-room boutique hotel and conference center, is scheduled to open in July. The resort also offers a number of preferred vendors, as well as popular team-building activities such as scavenger hunts, races, bike builds, and sports.
---
Guthrie Theater
Up to 2,000 guests
818 S. Second St., Minneapolis
612-225-6488
MINNEAPOLIS — While known mainly for its renowned theatrical productions, Guthrie Theater's modern building in the historic Riverfront District can also serve as a stage for a memorable business event. Built to facilitate simultaneous large events, the Guthrie has three main stages available for conferences with up to 2,000 total attendees. It also has a variety of spaces available for breakout sessions and meetings. Food services, event production, lighting, AV equipment, and corporate training sessions by Guthrie teaching artists are available. The cantilevered Amber Box on the ninth floor, with floor-to-ceiling views of the Mississippi River, Stone Arch Bridge, and downtown Minneapolis, can host receptions for up to 500 guests or a seated meal for up to 250.
---
The Holden Room
250 to 450 guests
145 Holden St. N., Minneapolis
612-586-6411 • parallelmn.com
MINNEAPOLIS — White walls and natural light are all the rage these days, and The Holden Room at Parallel in downtown Minneapolis delivers. The nearly 4,150-square-foot warehouse-turned-venue can be transformed into a space to meet nearly every event need. A refurbished industrial space dating back to 1955, the building was designed by the architectural firm that designed the iconic Foshay Tower. It previously served as home to both the Ford McNutt Co. and Brin Northwestern Glass, both glass and mirror manufacturers. The Holden Room maintains ties to its past with its original polished-concrete floors, exposed steel beams, industrial track lighting, and a huge glass garage door that lets in tons of light. The venue also comes with a catering work space and can accommodate 250 seated guests or up to 450 standing guests.
---
InterContinental MSP Airport Hotel
12 to 1,500 guests
5005 Glumack Dr., Minneapolis
612-725-0500 • intercontinentalmsp.com
MINNEAPOLIS — Looking to take your next event to new heights? The brand-new airport-connected InterContinental MSP Airport Hotel offers 30,000 square feet of meeting and event space, designed to accommodate large corporate events as well as smaller private parties. Go big with the ballroom, which can accommodate up to 1,500 guests, or take it down to a 12-person meeting room or the 20-person executive-level boardroom with adjacent dining space. Need something in between? Check out the penthouse-level Altitude Bar, which can impress 150 to 300 guests with views of both downtowns and the Mississippi River Valley. InterContinental MSP offers a number of food and beverage options, a full event staff, and state-of-the-art technology throughout the building.
---
International Market Square
Up to 4,000 guests
275 Market St., Minneapolis
612-238-4444 • damicocatering.com
MINNEAPOLIS — International Market Square is on the National Register of Historic Places. It was built between 1905 and 1915 as the manufacturing facility for Northwestern Knitting and later housed the headquarters for Munsingwear Inc., creator of the union suit. In 1985, the space became International Market Square. This venue is one of the state's largest renovated buildings and an important Upper Midwest home and commercial interior design marketplace. The building's glass-roofed five-story atrium can hold a business event for a whopping 4,000 guests. It has about 5,000 square feet of meeting and banquet space. D'Amico Catering is available for catering services.
---
Inwood Oaks
10 to 1,500 guests
484 Inwood Ave. N., Oakdale
612-253-0255 • mintahoe.com
OAKDALE — Inwood Oaks is an elegant venue featuring state-of-the-art lighting and A/V systems in the former Prom Center, recently renovated by new owners Mintahoe Catering & Events. The main space is a ballroom with capacity for 1,500 people, which can be divided into two smaller ballrooms. The Fireside Room is a good fit for meetings and dinners with up to 85 guests. The lobby also can be used for events, or it can be combined into the ballroom areas for even more space. Inwood Oaks offers flexible spaces that can be booked for as few as 10 guests. It features the catering services of its owners and free parking.
---
James J. Hill Center
8 to 300 guests
80 W. Fourth St. St. Paul
651-265-5599 • jjhill.org
ST. PAUL — With James J. Hill Center's grand Reading Room and intimate Great Northern Room, there's a space for all event types and sizes. The Reading Room has capacity for up to 300 guests and features soaring ceilings, iconic columns, and shelves of books lining the mammoth, multistoried walls. Various layouts, equipment, and A/V rental are available for the space. The Great Northern Room is a smaller conference room suitable for meetings of up to 14 people. The room features Wi-Fi and a flat-screen smart TV, and the oval conference table and leather executive chairs are complemented with wood accents and a commanding portrait of railroad baron James J. Hill, the center's namesake.
---
Muse Event Center
50 to 1,100 guests
107 Third Ave. N., Minneapolis
612-345-8344 • musemn.com
MINNEAPOLIS — For a space to brand to the max, Muse Event Center is right up your alley. Using the venue's high-definition televisions, on-site projector, modular staging, programmable lights, and more, it's easy to make the space your own. Private happy hours, game nights, breakout sessions, award ceremonies, mini conferences, product launches, parties, and more can be hosted in various spaces in the 9,500 square feet of rentable space—the foyer (1,000 square feet), loft (1,500 square feet), Club Room (1,500 square feet), mezzanine (2,000 square feet), or ballroom (3,500 square feet). CRAVE Catering prepares all food on-site, and bar packages are available for purchase.
---
Nord Social Hall at French Meadow
86 to 150 guests
2610 Lyndale Ave. S., Minneapolis
frenchmeadowcafe.com
MINNEAPOLIS — French Meadow Bakery & Café has welcomed a new addition: Nord Social Hall. Located at the Lyndale Avenue flagship location, the space features the restaurant's trademark moss-green walls, hardwood floors, rustic slated-wood accent wall, moveable wood and glass bar, 20-foot ceilings, and clusters of eclectic chandeliers. The hall can be arranged and decorated for a customized business event. Daytime and evening event menus feature organic, farm-to-table cuisine. Gluten-free, vegan, and vegetarian options are available.
---
Pique Travel Design
Up to 200 guests
306 Water St., Excelsior
612-801-1005 • piquetravel.com
EXCELSIOR — This 1940s lumber warehouse, renovated in 2014, has a new purpose and style. The building features its original wood floors and barrel roof, with modern amenities. It has a lodge-like feel, including a large stone fireplace. With offices for Pique Travel Design by day, the space is ready for parties at night and on weekends. Offering 3,000 square feet of indoor space and 600 square feet on the outdoor deck, it can accommodate up to 200 guests and includes four handmade farm tables and a bar area. The venue also provides a list of preferred vendors.
---
Renaissance Minneapolis Hotel, The Depot
Up to 2,400 guests
225 Third Ave. S., Minneapolis
612-375-1700 • marriott.com/mspdd
MINNEAPOLIS — With 18 event rooms totaling more than 61,000 square feet, the Renaissance Minneapolis Hotel, The Depot, can accommodate small and large events. The renovation expansion of 24,000 square feet of glassed-in meeting space in the historic train shed offers a change of scenery for your company's next meeting or hospitality event. To customize an event, The Depot offers A/V equipment, cameras, LCD and film projectors, computers, and polling devices. The venue is within walking distance of the Stone Arch Bridge and the Guthrie Theater. Catering is available for meals, receptions, and breaks.
---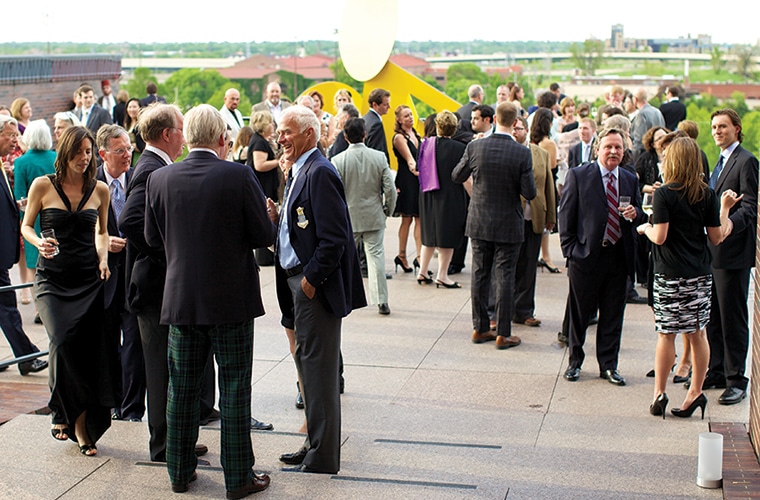 Walker Art Center
25 to 1,000 guests
725 Vineland Pl., Minneapolis
612-253-3408 • walkerart.org
MINNEAPOLIS — Your next business event can be surrounded by works of art at the Walker Art Center. The museum features rental spaces such as the 3,100-square-foot Skyline Room overlooking downtown Minneapolis, the 800-square-foot Crosby Conference Room with views of the sculpture garden, and the 385-seat McGuire Theater. There also are a number of galleries, terraces, and lounges. The venue comes with unique bonuses such as free gallery admission, private exhibition tours, artist-designed mini-golf, and private screenings. Walker Art Center offers a number of special packages for business events.
---
Windows on Minnesota
Up to 1,000 guests
710 Marquette Ave., Minneapolis
612-333-4545 • windowsonminnesota.com
MINNEAPOLIS — Perched 775 feet above the bustling streets of downtown Minneapolis on the 50th floor of the IDS Center sits Windows on Minnesota. It's a 13,000-square-foot space with 241 11-foot-tall windows offering panoramic views. The space can be separated into four ballrooms, and the two smallest of those can be divided with retractable walls to accommodate smaller groups for meetings and demonstrations. Completely renovated in 2017, the venue also features customized catering, state-of-the-art technology, and an on-site events staff.
---
W Minneapolis, The Foshay
Up to 342 guests
821 Marquette Ave., Minneapolis
612-215-3700 • marriott.com
MINNEAPOLIS — Many have seen the exterior of the art deco Foshay Tower in downtown Minneapolis, but if you book this distinctive venue for a business gathering, you can also take a look inside. With eight event rooms totaling almost 10,000 square feet, W Minneapolis, The Foshay, offers numerous options for meetings or business celebrations. The Great Room fits up to 342 guests; studio or focus rooms serve smaller groups. This venue offers AV systems, a 30th-floor observation deck overlooking the metropolitan landscape, and a steakhouse. Because it's in a hotel, this venue is convenient for attendees who want to stay overnight.
Tess Allen is TCB's associate editor.