The Value of North
From sports to supermarkets, Minnesota has embraced "North" as our brand. But is there any evidence it's been good for business?
If this is the winter that "North" peaks, chicken wings will get the credit. A year after Minnesota's successful "Bold North"-branded Super Bowl, Cub Foods is one of several companies determined to keep the slogan alive. Last winter, it was downtown concerts in the cold on Nicollet and zip-lining across the icy Mississippi. This winter, it's buckets of Bold North wings—served with a side of Bold North tater tots.
"We fell in love with the concept immediately," says Cub's vice president of merchandising, Darren Caudill. Cub's parent company, SuperValu, was a sponsor of Super Bowl LII in Minneapolis. The grocer intends to continue pushing its Minnesota roots, despite (or perhaps in response to) being purchased this summer by Providence, Rhode Island-based United Natural Foods Inc. Cub stores currently feature a "Bold North Tailgate Zone," and Caudill says the slogan will continue to be a tagline beyond football season. "The mantra wraps up how we feel about our place in the community—our rugged Minnesota lifestyle. It doesn't matter what the temperature is, it's how you embrace living here. Cub is for your life. We think Bold North is part of our life."
So does the Minnesota Lottery, which will launch a Bold North scratch game in January.
The Minnesota Super Bowl Host Committee board transferred the Bold North license to Greater MSP, the nonprofit regional economic development partnership. "We want the name to live on, be associated with great, fun things, and, ultimately, benefit the economic development of Minnesota," says Maureen Bausch, who was CEO of the host committee. Wendy Williams Blackshaw, who ran sales and marketing for the Minneapolis Super Bowl, now oversees Bold North license requests in her new role as senior vice president of Greater MSP.
Of course there's no license required to use the word "North," as evidenced by its recent proliferation across local industries. Our professional sports teams are all-in, from the Timberwolves' "All Eyes North" slogan to the Vikings' "Defend the North" to Minnesota United's "North Is Rising." And "North" has become the descriptor of choice for homegrown startups: there's Grow North, the University of Minnesota's General Mills-funded resource for food and agricultural entrepreneurs, and Great North Labs, a St. Cloud-based venture fund for next-gen tech companies. Dozens of smaller operations are using it, too, from Paddle North, a local manufacturer of premium paddleboards, to Northerly, a traveling photo booth camper.
Photo courtesy of Brandon Werth Photography.
It's clear that "North" as a concept has assuaged Minnesota's inferiority complex in the five years since Eric Dayton's store, Askov Finlayson, introduced knit ski caps with the cardinal direction embroidered on them. That first batch of North hats sold out faster than a sled on ice; so has each collection since. The Askov Finlayson website now describes them as "the hats that started a movement." And on that point, everyone from city officials to branding experts seems to agree.
"North as an idea is bursting with character," says Michael Fanuele, General Mills' former chief creative officer and founder of branding consultancy Talk Like Music. He does draw a distinction, though: As compelling as North is as a narrative, Bold North, he says, sounds like "we're protesting too much." Nuance aside, Fanuele urges a look beyond the label.
"More important than saying 'North' is being North—creating companies and communities that represent toughness and resilience and also the camaraderie and the warmth that happen when you're born into a climate that's cold."
Winter tourism, talent recruitment, technology innovation, an end to global warming—just a few of the big objectives that have been linked to North.
"North, like any great brand idea, can mean many things," Fanuele says. "But it can't mean everything."
The question now is can a northern state of mind drive measurable gains for Minnesota?
Scenes from the City of Lakes Loppet. Brandon Werth Photography
Environmental entrepreneurship
Anticipating a question about the impact and opportunity of North, Eric Dayton brings show-and-tell for our conversation in the bar of his Nordic-inspired restaurant, The Bachelor Farmer.
First, he shares a letter from a local who wrote that "Midwestern" never felt right to him, "but when I started hearing you describe us as 'the North,' it really resonated with me." So much so that the gentleman gave his dog club a new tagline: "premier club of the north."
Dayton beams. "The Super Bowl was a really exciting global platform for this idea, but this letter means as much to me as the big things. It's a sign that this idea is really taking hold in a deeper, grassroots way."
Dayton's second item—no surprise—is a North hat. But there's a twist. This season, for the first time, the Askov Finlayson hats are being made with 100 percent recycled yarn. It's a gesture that Dayton hopes will help connect the idea of North to the mission of environmental activism. Earlier this year, Askov Finlayson committed to calculating the cost of its carbon footprint—from manufacturing to transportation to materials—and will donate 110 percent of the total to organizations dedicated to stopping climate change. Dayton pledged at least $1 million over the next five years.
"We've told people we're the North. Now the work begins to fill that in with meaning. Personally, I want to make sure it becomes a movement for good." ​—Eric Dayton
"We've told people we're the North," Dayton says. "Now the work begins to fill that in with meaning. Personally, I want to make sure it becomes a movement for good."
That's the weight of legacy talking, as the son of the governor and the great-grandson of Dayton's department store founder George Draper Dayton, who established the family ethos of giving, which his son George Nelson Dayton formalized into the policy of donating 5 percent of profits to charity. To that heritage, Dayton adds a mission—a strategy that has been extremely effective for national brands like TOMs and Patagonia at a time when consumers increasingly want to attach meaning to their purchases.
"If you were to pick an issue we should all be able to unite around, it's climate change," Dayton says. "Minneapolis is one of the fastest-warming cities in the country. It threatens a lot of the things we talk about celebrating. We could be out in front. It presents our business community with an opportunity for leadership."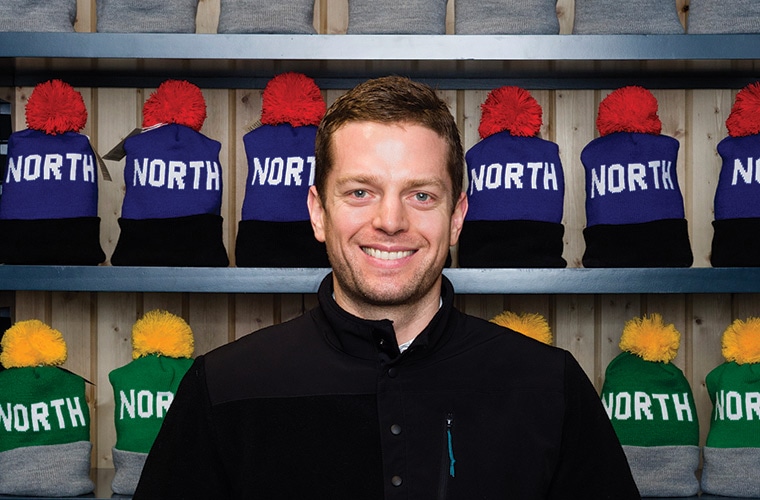 Eric Dayton
Target, the company his family built, sees the value.
"Eric's ability to honor his predecessors is incredibly relevant today," says Target's chief creative officer, Todd Waterbury, who was instrumental in creating a collection of Askov Finlayson's North goods that was sold locally at Target stores leading up to the Super Bowl.
"When we started thinking, 'What is the truth about a company based in Minneapolis hosting a Super Bowl?' North felt like a perfect way to embrace what makes us different but also what makes us stronger. It wasn't about football, but a cultural moment we wanted to support: inclusivity, connection, and leveraging the authority we have through design."
Adds Waterbury, "Brand is an encapsulation of a set of beliefs, then translated into behaviors and actions. North hats are shorthand to let others know your values."
Minnesota Tourism by Season

Super Bowl Live on Nicollet.
Winter capital of the world
"Accentuate winter as a novel adventure."
That's one of eight initiatives listed in Destination Transformation 2030, the first-ever tourism master plan for Minneapolis. The new plan comes with a goal of boosting the number of winter tourists from 6 million to 11 million annually. Currently, Minneapolis/St. Paul metropolitan area hosts 33.3 million tourists annually. Winter tourism lags behind summer visits, with 24 percent of total visitors compared to summer's 37 percent.
"The greatest opportunity to increase tourism is in the winter," says Melvin Tennant, president and CEO of Meet Minneapolis.
The Super Bowl proved to the world that it's possible to make Minnesota seem welcoming even when the temperature is in the single digits. "We had a lot of very positive comments from clients we hosted that week," Tennant says. "We heard, 'If you can do a Super Bowl in the winter, you can certainly do our event.' "
The NCAA Women's Volleyball Championship will take place at Target Center in December, and Minneapolis just won its bid to host the Cross Country Skiing World Cup at Theodore Wirth Park in 2020. That's in addition to the NCAA men's Final Four in 2019 and the women's Final Four in 2022. As the city continues to expand its reputation as a first-class host for major sporting events, the hospitality industry continues to grow. Hotel room supply in the Minneapolis-St. Paul market increased by 4.2 percent from August 2017 to August 2018—more than double the national rate, according to Explore Minnesota.
Visits to the North
Minnesota attracts 71 million visitors annually.
The Minneapolis/St. Paul area attracts 33.3 million tourists annually.
Minnesota ranks 22nd nationwide for traveler spending.
524,000 Canadian travelers stay overnight in Minnesota each year.
292,000 international travelers visit from countries other than Canada.
Sources: Meet Minneapolis and Explore Minnesota
The challenge is tying national events that take place in the winter to ongoing local efforts, Tennant says. That was the goal in creating the Great Northern Festival, a three-year-old nonprofit umbrella organization for the Twin Cities' major cold-weather happenings—the St. Paul Winter Carnival, City of Lakes Loppet, and U.S. Pond Hockey Championships.
Why add an organization on top of three popular, well-established events?
"A lot of people from around the world fly in for the U.S. Pond Hockey Championships. Do they know there's a concert happening the next day? A dinner? A ski race?" asks Dayton, board president of the Great Northern. "If we create an ecosystem of complementary and diversified activities and programming, suddenly this becomes a winter destination. We should be the winter capital of America. Who does winter better?"
It's not necessarily the cold that keeps people away. When Meet Minneapolis evaluates reasons conventions don't come to town, weather is in the top five but not No. 1. "That's encouraging," Tennant says. Of course, it leaves Minneapolis to address the other barriers: not enough hotel rooms near the convention center and, says Tennant, "a feeling that other cities have stronger international flavor."
That might change, he believes, if Minneapolis can do a better job of getting visitors into neighborhoods.
"We've got an aggressive campaign going on right now to market not just downtown but neighborhoods," Tennant says. "How do we alert visitors to all of the things available all over town, and how do we help them get there? We're looking at signage and other infrastructure."
Celebrating the North at the Saint Paul Winter Carnival. Photo courtesy of Brandon Werth Photography
Where is 'North'?
Leisure and hospitality sales in Minnesota have been trending north for eight years running, which mirrors a national uptick in tourism. Explore Minnesota CEO John Edman hesitates to take too much credit.
"I attribute it to the economy," Edman says. "When the economy is doing well, people are willing to travel."
Travel to Minnesota generated $15 billion in gross sales in 2016, Explore Minnesota reports. Edman's objective is to continue offering a wide variety of reasons to visit Minnesota. Based on consumer research, he says the emphasis is on natural resources.
"We're focusing on things found here that are unique to Minnesota—lakes, rivers, prairie, forest. We have small towns and big cities. We're a state that has a lot to offer." But the region, by any name, can still be a tough sell, Edman acknowledges. Outsiders—especially internationally—"don't get where we are whether you say Midwest or North," Edman says. "If you say headwaters of the Mississippi, they understand."
Minnesota's most famous food star, Andrew Zimmern, who spends about as much time traveling as he does at home, agrees that as much as North has done for the local psyche, it has yet to really enhance the state's reputation nationally. He thinks we need to do more—and includes himself in that call to action.
"What Eric Dayton has done to date to inspire and create is nothing short of amazing. We all need to help him push the ball over the end line."  —Andrew Zimmern
"I'd love to do a restaurant pop-up on Lake Calhoun. Embrace the ice, so to speak," Zimmern says. "What Eric Dayton has done to date to inspire and create is nothing short of amazing. We all need to help him push the ball over the end line."
Tennant says he gets asked frequently if zip-lining will make a return to Minneapolis this winter.
"I would hope the owners of that attraction would reconsider or maybe come back at a different time of year. But for a business owner, it's about the ability to make it work financially."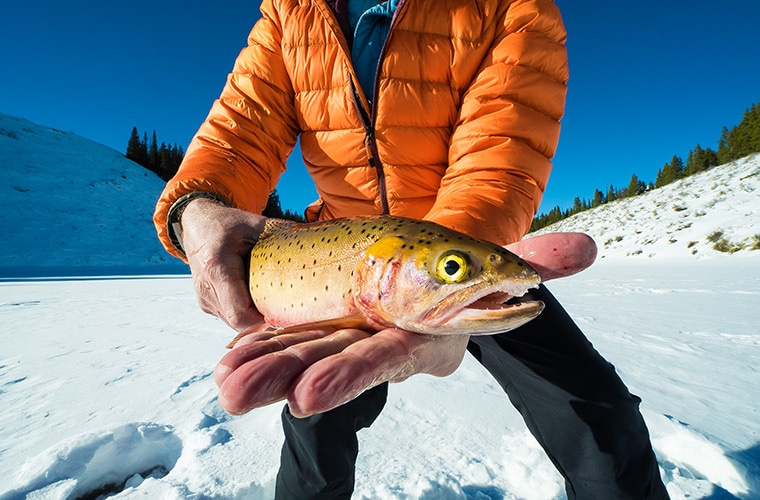 Cold is a metaphor
Fanuele moved to Minneapolis in 2011 to work for Fallon, subsequently joining General Mills. He fell in love with the lifestyle but remembers how tough it was to convince outsiders. "It's really difficult to recruit talent to the Twin Cities. People would say, 'It's so cold there.' Behind that is a fear that it was dull here. North, as a rallying attitude, is very powerful."
But not as a way to attract new talent—at least not yet.
Growth in Minnesota Tourism
"I haven't seen a specific shift in perception," says Angela Lurie, senior regional vice president of Robert Half in the Twin Cities. "But I can tell you that as recruiters, we frequently see that once job seekers settle in Minneapolis, they typically don't leave." Because getting people here remains a struggle, tourism and community building are vital, marketing experts say.
When Red Bull's Minneapolis-based marketing manager Samantha Ogborn told her executive team in Santa Monica, California, that she thought the beverage company should sponsor snow art at Target Field last winter, her West Coast bosses didn't get it.
"When they come here in the winter, they're suffering," Ogborn says. "It's challenging for them to understand that people here welcome the cold and take advantage of everything the outdoors has to offer."
But mining local distinctions is exactly why Red Bull divides its marketing team into a dozen regions across the country—to really dig into values of individual communities.
The Great Northern Festival commissioned snow artist Simon Beck to create a snow design at Target Field the week of the Super Bowl. Photo courtesy of Brandon Werth Photography
The snow-art stunt during Super Bowl week last year received local raves and garnered national press from Travel +Leisure and USA Today, among others.
"We put a lot of emphasis on events and giving consumers experiences they won't get with other brands," Ogborn says. "We want to show them we're part of the community. North represents that state of mind—a unified belief that people here are proud, happy, and active."
Of course, old habits die hard. And worrying that people don't get North, or won't share our enthusiasm, is classically Minnesotan.
As Idina Menzel belted out on Nicollet Mall last winter, let it go.
"All of the greatest brand ideas start with an internal audience," Fanuele says. "If North can give narrative to amazing things happening here, from medical breakthroughs to great restaurants to the Boundary Waters, it gives us a way of understanding our distinct position. Inevitably, then, that becomes magnetic to the rest of the world."
Allison Kaplan is editor in chief of Twin Cities Business.