TCB Poll: 38% Support State Aid for Mayo Expansion
While Mayo Clinic's request for expansion funding is being considered at the Capitol, 38 percent of Minnesota business leaders said in a recent poll that they support state funding for the project.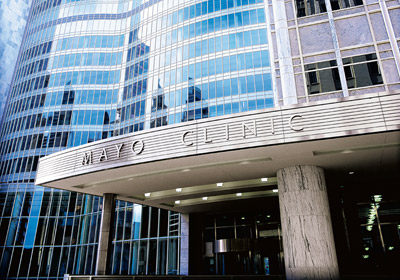 Amid ongoing discussions at the Minnesota Legislature regarding state funding for Mayo Clinic's planned expansion, 38 percent of respondents to a recent Twin Cities Business poll said that they favor state financial support for the health care system.
Meanwhile, 28 percent of business leaders responding to the survey said they do not support state funding for the expansion, and 34 percent said they have no opinion on the matter.
Mayo Clinic in January unveiled ambitious plans for a 20-year, $6 billion initiative—one that calls for the health system to invest roughly $3.5 billion to expand its facilities and services but also asks for significant private and public investments.
When announcing the plan, which is dubbed Destination Medical Center, Mayo said it would help attract private funding for the project, but it's also seeking $585 million in public funding to invest in infrastructure and economic development improvements in Rochester.
Twin Cities Business conducted its Mayo Clinic poll in conjunction with its most recent Quarterly Economic Indicator Survey, which polls hundreds of Minnesota business leaders regarding their business plans and sentiment about the Minnesota economy. A total of 751 business leaders responded to the survey question pertaining to Mayo Clinic funding. (Complete results of the economic indicator survey will be available in the May issue of Twin Cities Business, which hits newsstands later this month and will appear on TCBMag.com.)
Since its January unveiling, Mayo's plan has sparked debate over whether state dollars should be allocated to such a project. In a recent column, for example, Twin Cities Business Editor In Chief Dale Kurschner suggested that the request requires further thought, as it might be unfair for the state to fund Mayo while overlooking other hospital systems. Mayo CEO John Noseworthy responded in a guest column that funding Mayo will help secure Minnesota's place as a worldwide medical destination.
Some respondents to Twin Cities Business' recent poll said they oppose state funding for Mayo because it is unfair to subsidize individual businesses when similar opportunities are not offered to other companies.
Some of those in favor of the funding pointed out that Mayo generates a significant amount of revenue for the state and is one of Minnesota's largest employers. A couple of proponents said that funding Mayo would result in more economic development than the state dollars that have been dedicated to a new Vikings stadium.
The Minnesota Senate recently looked to reshape Mayo's funding request, according to a Star Tribune report. The revised proposal, drawn up with Mayo's blessing, cuts $60 million from the request and pays for it out of the state's general fund, rather than using dedicated state and local tax receipts, the Minneapolis newspaper reported.
The Senate Taxes Committee had planned to consider the new plan last Friday, but Senator Rod Skoe, a Democrat from Clearbrook and chair of the committee, said the altered plan needs work before moving forward, according to an Associated Press report.