Smaller Workspaces, More Amenities
Twin Cities area tenants are willing to pay for better office "experience."
In the world of commercial real estate, the 1980s—sometimes referred to as the "go-go '80s"—seem like a distant galaxy. The decade saw an unprecedented, and so far unrepeated, office building boom.
Swashbuckling developers were building many speculative or "spec" buildings, projects that began without a single lease in hand. Deal-making bankers fought to land the business through increasingly lax underwriting standards. The party ended in the late 1980s with rampant bank failures. Commercial overbuilding and lending were key factors in the savings and loan crisis.
Minneapolis was not immune. From 1988 to 1990, downtown Minneapolis saw the addition of seven new towers with approximately 5 million square feet of office space. When the music stopped playing, vacancy rates shot up while rental rates plummeted amid an office space glut that took years from which to recover.
"Most of the [lease] deals were between zero and two to three dollars per square foot," recalls Steve Chirhart, principal with Minneapolis-based TaTonka Real Estate Advisors. "It was a really challenging time for owners."
Today's office market has different problems. Most companies are leasing less space than firms had previously done. Many have adopted open-plan office layouts and designs to boost both collaboration and flexibility. The growing co-working phenomenon is reshaping some parts of the office landscape. Some smaller business owners will opt for co-working space rather than signing a traditional lease in an office property. Everyone wants top-shelf amenities.
And spec development of office buildings is rare.

Ground was broken in October on 10 West End, an 11-story office building in St. Louis Park.
But in October Minneapolis-based Ryan Cos. US Inc. and St. Louis Park-based Excelsior Group broke ground on 10 West End, a 343,000-square-foot, 11-story office building in St. Louis Park. The building is slated for completion in early 2021.
Historically, when office vacancy rates fall below 10 percent, developers start eyeing new construction. The overall Twin Cities market is nowhere near that number. According to data from Cushman & Wakefield Minneapolis-St. Paul, metro-wide office vacancy stood at 16.4 percent. In downtown Minneapolis it was even higher at 19.3 percent.
Suburban office demand grows
But in the western suburban market, C&W reported Class A office space vacancy at 8.6 percent at the end of the second quarter. The total western suburban market—counting Class B and Class C space—had a vacancy rate of 9.5 percent. Those are the lowest office vacancy rates in the Twin Cities by a wide margin.
"It has the highest rents in the market," says Tony Barranco, senior vice president of real estate development with Ryan Companies, of the West End area. He adds there haven't been any recent construction projects for office buildings in that niche of the market. "There hasn't been anything built in that submarket in over 20 years," he says.
Perhaps the biggest challenge for a spec development is finding a lender who will finance a deal for a building with no committed tenants. "It was challenging," Barranco says. "We had to make the case for the market and make the case for the opportunity."
Now that construction is underway and prospective tenants know it's a real project, Barranco says interest has picked up significantly. "We always had interest," he adds. "I can say for sure our volume of requests has picked up two or three-fold since we got moving."
The project is slated to open in early 2021. If the building is successfully leased, there is the potential for a second phase—20 West End—which would be to the south of the building now under construction.
There are several other notable office projects in the pipeline.
Last summer reports surfaced that Houston-based Hines was planning a major mixed-use project in the North Loop area of downtown Minneapolis. Early concepts for the project named North Loop Green call for a 36-story apartment tower and a 14-story office tower with 340,000 square feet of space. It is not clear if Hines would move ahead with the office portion of the project on a speculative basis. Hines representatives declined comment. Hines previously had success with the T3 office building in the North Loop in Minneapolis, which was developed on spec.
Prime space in downtown tower
Minneapolis-based developer United Properties is now under construction on the RBC Gateway tower, which brings 531,000 square feet of new Class A office space to downtown Minneapolis. The project also includes a Four Seasons hotel and luxury condos. The building is anchored by RBC Wealth Management-U.S., which will lease 310,000 square feet of space there. When crews broke ground in June, the office space was nearly 85 percent leased.

A Four Seasons hotel is planned for the RBC Gateway project.
"The market from a historical perspective is about as healthy as I've seen it," Chirhart says. "The [Class] A market is operating as healthy as it's ever been."
Yet Chirhart notes that while rental rates are at an all-time high, there hasn't been much absorption of new space in the office market. The rates have "been driven by the high costs of TIs, tenant improvements," Chirhart says.
Tenant improvements, or simply "TIs" in commercial real estate parlance, are part of the negotiation for almost every lease of office space. Building landlords may agree to a tenant improvement allowance: the amount of money they will pay to upgrade the space. But ultimately the tenant is still paying those costs through a higher rental rate, a longer lease term, or a combination of both. Many tenants today are leasing less total space, so a higher rental rate does not necessarily mean that total real estate costs are higher.
Breaking ground in Minneapolis.
Landlords want longer leases as part of the deal for higher tenant improvement costs. "They're doing longer leases, that's a true trend," Chirhart says. "The market has much less volatility."
Employee amenities
Many buildings are adding a laundry list of perks—fitness centers, rooftop decks, conference centers, lounge seating areas for tenants, collaborative open-plan common space—to draw tenants and compete with other buildings.
"It has become much more important," says Chirhart of amenity packages. "The buildings that are winning are the buildings that have it or are putting it in."
But new buildings are likely to create big vacancies in existing buildings left behind by tenants moving to a flashy new tower.
"I think there's softness in the market ahead. There are definitely pockets, micro-markets, that are doing really well," says Tina Hoye, president and principal of Minneapolis-based NTH Inc., a tenant representation firm. She says the West End area is a micro-market where it makes sense to take a gamble on a spec project.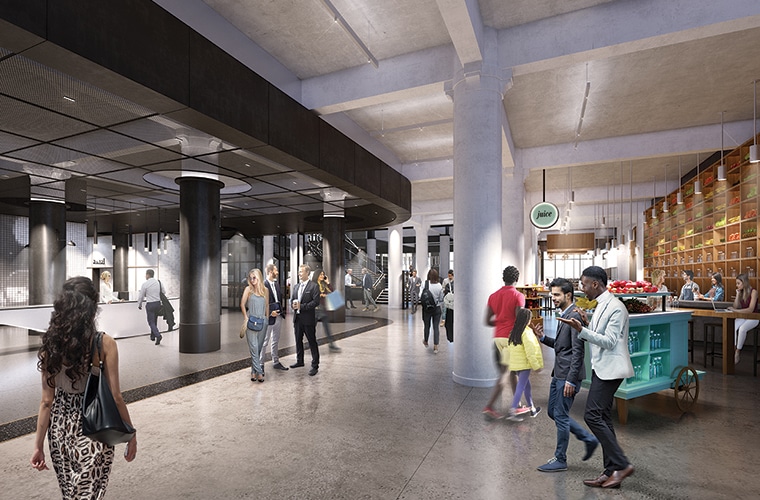 This drawing depicts an office lobby in the Dayton's Project, Minneapolis.
"The core downtown [Minneapolis], there are lots of large vacancies still," says Hoye, noting that her firm recently surveyed available space downtown and found a dozen buildings, including the Dayton's Project, that could accommodate a tenant seeking 50,000 square feet of contiguous space. (Developers are overhauling the former Dayton's store with a plan to create 750,000 square feet of office space.)
But what do tenants ultimately want in today's market?
"They want a building and a space that attracts and keeps quality employees," Hoye says. "That means downtown [Minneapolis] stays strong from an access standpoint."
Hoye says amenities once considered extra bells and whistles are now standard for Class A office properties.
"It's almost like the amenity package has become an expectation rather than something extra," Hoye says, noting big dollars are being spent on amenities. "It comes with a higher cost. That stuff's got to be paid for."
Companies continue to look to lease smaller amounts of space without cutting any jobs. Hoye says that if tenants are willing to change a company's work style and culture, they could trim as much as 20 percent of their leased space and still accommodate the same number of employees.
Office vacancy remains historically high across the U.S. At the end of the third quarter, New York-based REIS, a provider of commercial real estate data, reported the national office vacancy rate at 16.8 percent. That's nominally up from the 16.7 percent vacancy rate seen in the third quarter of 2018. During the third quarter in 2019, REIS noted that office vacancy actually increased in 29 of the 79 metro areas it tracks. And in recent years, the market has not gained much ground. REIS reported: "Overall vacancy has declined only 0.3 percent in the last five years."
REIS reported that the office vacancy rate in the Minneapolis metropolitan market stood at 18 percent at the end of September 2019, higher than the national average. Minneapolis ranked 45th among the 79 metros in the survey. New York had the best vacancy rate at 7.9 percent. But many large cities are in worse shape than the Twin Cities. Phoenix, Dallas, Las Vegas, Detroit, Memphis, and Houston have vacancy rates ranging from 22.5 percent to 23.5 percent.
But at the same time that vacancy ticked up slightly, REIS reported that average office space rental rates were up 2.6 percent from the third quarter of 2018. So vacancy's high, but the sky isn't falling?
Reaching a new normal
"This is a new normal," says Barbara Byrne Denham, a senior economist with REIS, a division of Moody's Analytics. "The rate of growth in this expansion is so steady and slow."
Denham says the Twin Cities market has been hurt as job growth has stalled.
"The thing about Minneapolis is its office employment. Total job growth year-over-year in Minneapolis is zero," Denham says. "The office employment numbers for the office sector in Minneapolis are negative."
Jim Vos, principal with the Minneapolis office of Cresa, a Washington D.C.-based tenant representative firm, says that tenants now favor "experience over price." In other words, how does the office space feel? Does it create an inviting environment where people want to show up every day?
"I think the acceleration that we have seen in the last two to three years is toward experience over price," Vos says. "People care more about amenities, access, parking … about how it feels to be an employee in that building. The experience matters more than ever."

The Riversedge project is proposed for St. Paul.
The tight labor market is a factor in the office market because companies are intensely competing to land the best people.
Many companies are assigning less individual space per employee, Vos says. "We're giving up knee space to get we space."
Vos has heard anecdotal reports that Sleep Number Corp. has seen a boost in its recruiting efforts since moving from suburban Plymouth to downtown Minneapolis. He's also bullish on the outlook for Ryan's West End project, the RBC Gateway tower, and the Hines mixed-use project in the North Loop.
"If you believe in the live-work-play model, I think that is a very well-positioned site," says Vos of the proposed Hines development. "That site offers a really interesting confluence of live and work and play. Downtown remains vibrant and strong. It's where people still want to be."
Burl Gilyard is TCB's senior writer.