2020 Entrepreneur of the Year Winners
2020 Winners, Minnesota
Atif Siddiqi
President and CEO
Branch, Minneapolis
EY elevator pitch: Branch provides hourly workers with steady access to capital—despite significant variability in their weekly hours resulting in highly volatile paychecks. Employers use it as a benefit to help them attract and retain workers. Employees can receive a zero-fee bank account, free instant access to earned wages, and budgeting tools to help them manage cash flow between paychecks.
Revenue: Total undisclosed; grew 400 percent in 2019
Employees: About 90
Business: Provides financial services for "unbanked" hourly employees
Interview with Siddiqi:
How did you come up with the idea for Branch?
The mission behind Branch is helping hourly workers get ahead. We initially homed in on this idea to help employees earn more income by picking up extra shifts at their employers.
We kept digging to find out why these employees were constantly looking for more hours and income. We found that they were dealing with a large number of financial challenges. For instance, volatile income—they'd get 20 hours one week, 30 hours the next. That made it hard for them to manage their cash flow between paychecks. They also had little or no access to credit and no savings. That led us on the path to becoming a challenger bank.
What is a "challenger bank"?
It simply refers to a digital bank that has a limited suite of financial products and typically has no physical branch location. The suite of products we focused on includes free checking accounts for people who are underbanked or unbanked and a line of capital they can tap into.
You grew up and went to college in southern California. What brought you to Minnesota?
I relocated the company from California to Minnesota in 2016. We were one of the first companies accepted into the first Target + Techstars retail accelerator. We ended up staying here, and we have been finding great talent locally.
Why do employers want to work with your company?
We provide employers a quick, reliable way to move money to employees digitally, including by direct deposit, with no fees to either employer or employee. A second reason: Employees are expecting tips or reimbursements at the end of every shift, but with digital payments there's no cash at the end of the day. We're able to move that digitally to employees' accounts.
Are certain sectors particularly attracted to Branch?
Most of the industries that we work with have a very high degree of turnover—anywhere from 50 to 100 percent annually. We've been particularly strong in foodservice, retail, and health care. These employers look at Branch as a benefit that will help them retain employees for longer periods of time.
---
Chris Smith
President and CEO
Kipsu, Minneapolis
EY elevator pitch: Kipsu has developed and delivers a robust, customizable software platform that enables clients to communicate directly with their customers in real time across an array of digital conversation channels, including text, social messaging, and integrated in-app engagement channels. The company's clients are primarily service organizations such as hotels, public transit systems, rental car operators, and shopping environments. Kipsu's solution increases and enhances meaningful human interactions between companies and their customers.
Revenue: $9 million
Employees: 55
Business: Digital customer-communications platforms for service businesses
Interview with Smith:
You worked in venture capital in California and Minnesota before launching Kipsu. Why make the move from VC to CEO?
Venture capital is a really fun business, but at the heart of it, it's sort of a passive business. You support the companies, but you're not the one driving the car. I was interested in running a business, and I was looking for something that would be a good fit with the assets we have here in Minnesota—something that would provide a competitive advantage over well-funded companies from the coasts. The kernel of the idea was seeing that people aren't always comfortable saying when something is wrong with the service they've received or that they need help.
Why was this a problem for the markets you targeted?
People have all sorts of outlets for sharing feedback. An unhappy customer might not tell you during the service experience, but they can go on Tripadvisor and tell the rest of the world. This is frustrating to managers of service organizations, because they don't get the opportunity to address and fix the problem and to do so in a timely manner.
How did you and Kipsu adjust when Covid-19 devastated hospitality and public transit—two of your chief markets?
We made the decision upfront that we were going to do everything we could to save our relationships with our customers and at the same time do everything we could to save our team, because we'd invested so much in building them up. Surprisingly, we've done well. We provided deep discounts to our customers, and we're slowly pulling them off of those discounts as we get back to kind of normal. And our team is all back to work, which is great.
What's next for Kipsu?
We've found a lot of people in the health care domain who've experienced our solution in hotels and have told us, 'We think that what you do is really applicable to the complexities and the communications gaps that exist in health care.' We're starting to add a lot of work in that sector, too.
---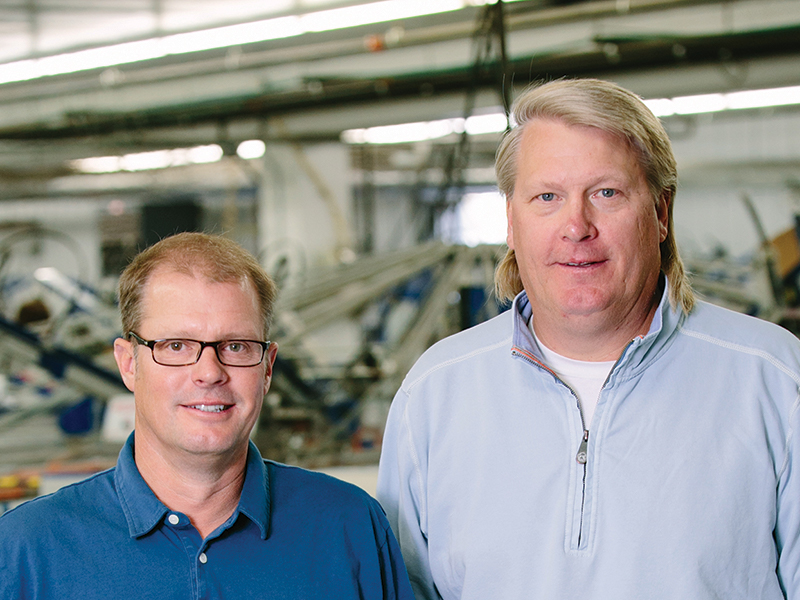 Mark Fritz and Michael Hutchinson
Co-CEOs
Lakeshirts, Detroit Lakes
EY elevator pitch: Lakeshirts is a custom, art-driven design apparel and accessory business. The company serves a customer base of more than 4,000 resort town retailers and 1,500 college and campus bookstores. What started in a founder's basement has grown into a 325,000-square-foot production and warehouse facility. Lakeshirts strives to exceed not only its customers' expectations, but also to bring value to all the stakeholders—customers, employees, vendors, owners, and the community.
Revenue: More than $100 million
Employees: 500
Business: Designs and prints T-shirts and other apparel items for colleges and resorts
Interview with Fritz and Hutchinson:
Did you imagine Lakeshirts would become as big as it has when you started out?
Fritz: Both Mike and I had a lot of little businesses since we were young—mowing lawns, putting in docks, painting houses, waxing skis. In college, we started printing shirts. It occurred to us that we could sell to bars, restaurants, and resorts in and around Detroit Lakes.
Did we imagine it would become as big? If you saw us back then, you would have thought there was no way we would have made it three weeks, let alone this long. (Laughs.)
Hutchinson: We always thought that if you shoot low enough, you'll be sure to hit it, so we might as well aim a little higher. We weren't afraid of change, and we kept resetting our business as it grew.
How did you get into the college and resort apparel markets?
Hutchinson: We were actually in and out of the college market a few times. In 2008, we acquired the assets of a small collegiate licensing company. That gave us NCAA licensing and college playoffs, and we had a lot of good products that seemed to fit into that market.
Fritz: We have 412 lakes in a 20-mile radius. When we were starting, there were probably about three times as many resorts as there are now. We were local, we turned product around quickly, and we serviced them well. Five or six years after we started, we added sales reps. From there, it took off.
What is the "added value" you provide customers?
Fritz: Before we had great art, before we had great garments, before we had an exceptional sales force, we turned orders around faster than the other guy. And we've added equipment, people, and space as we needed it to stay fast.
Why stay in Detroit Lakes?
Fritz: We grew up here. We love this community, and we have super people working here. And it's somewhat central, since we are a national company. It can be challenging to find enough employees in a small community. But because of our culture and our goal of making Lakeshirts a great place to work, we've been able to make it work.
---
Mark Ties
CEO
Perforce Software, Minneapolis
EY elevator pitch: Perforce provides enterprise-scale software solutions to technology developers and development operations teams during all phases of the development life cycle. Its portfolio includes solutions for API (application programming interfaces) management, automated mobile and web testing, embeddable analytics, open source support, version control, and many other software development projects. The company's 20,000-plus customers include top tech companies such as Nvidia, Pixar, Ubisoft, and VMware.
Revenue: More than $300 million
Employees: About 900
Business: Support platforms for software developers
Interview with Ties:
You have experience in accounting, finance, operations, M&A, and tech; what led you to Perforce?
Our board chair, Janet Dryer, and I conducted market research in the developer operations space. Through that research, we were lucky enough to find Perforce. It was run by a great entrepreneur; it had a solid customer base in a great market. And we were able to buy the business.
How would you describe Perforce to non-tech people?
We provide tools for software developers so that they can plan, manage, store, and test their work. The world's most popular smartphones are developed using our technology; 19 of the top 20 game studios in the world use our technology to design their products. And nine of the top 10 chip manufacturers, nine of the top 10 automotive companies, and most of the large financial institutions in the world use our technology to build or test their products.
How has your background contributed to Perforce's growth?
I've done more acquisitions than I can count. We're an organization making acquisitions, so that skill set helps me. I know how to raise capital so that we can grow. Right now, my main role is making sure that the team is pulling in the right direction.
And I have a great team. We check our egos at the door, and whenever we have a conversation, our goal is to solve a problem.
How many acquisitions has Perforce made since you became CEO?
We've completed 10 total since we bought Perforce in 2016 and four since I became CEO. That may not sound like a lot in numbers, but those last four acquisitions tripled the size of the company. We went from $80 million to over $300 million. The bigger an acquisition is, the more work it requires.
Our industry is in a consolidation phase—and it is required to go to a customer with a suite of products. We have to be mindful that our acquisitions fit what we are becoming, which is an enterprise-scale software company. We want to sell to the enterprises of the world with large development teams and very complicated challenges.
---
Kristen Denzer
Founder and CEO
Tierra Encantada, Minneapolis
EY elevator pitch: Tierra Encantada, Spanish for "enchanted land," provides education and care for children ages six weeks through six years. It set itself apart from other daycares and preschools through not only its language immersion curriculum but also its day-to-day operations. Tierra Encantada provides a stimulating curriculum of activities for children that encourages well-rounded creative childhood development with a focus on diversity and inclusiveness. And its fresh-cooked meal program is designed to expand young palates.
Revenue: $8.2 million (2019)
Employees: 162
Business: Daycare featuring a Spanish immersion curriculum
Interview with Denzer:
You've created two businesses besides Tierra Encantada.
Before Tierra, I owned an event rental company and a dog daycare and boarding facility. Both were profitable the first year they opened. I operated all three companies from 2013 to 2016. It was stressful!
I started the event rental company in 2008 and grew it to booking almost 500 events annually. In 2016, after having 22 weddings in one weekend, I knew I was ready to move on, and I sold the inventory and book of events to a competitor. I also sold my half of the dog daycare in 2016 so I could focus 100 percent on Tierra.
Why start a daycare business?
I have kids, and I was amazed by the waitlist for quality daycare. Having started other businesses, I thought, "I need to do this." Tierra was really designed around what I wanted for my own children—they were the first students! I didn't know what I was doing, but I worked hard and taught myself a lot those first years. Knowing more than one language is so important, and I'm proud to offer families this option.
Your meal program is one of your differentiators.
Our tuition includes meals that are cooked fresh onsite using organic ingredients. Parents have so much pressure to be perfect these days. With their children attending Tierra, they feel just a little less guilty ordering pizza delivery for dinner knowing their child had spinach and mushroom quiche muffins for breakfast and quinoa with avocado for lunch.
You've grown from 100 children to more than 1,000 children at five locations. Last year, you began franchising to cities nationwide. Why the success?
When parents sacrifice time with their children and spend a significant portion of their income on that care, they want to feel like it is worth it. In our program, they know their children are learning Spanish, eating healthy meals, and most importantly are loved. That resonates deeply not only with families but also with franchisees.
---
George Hicks
Co-founder and co-CEO
Marcia Page
Co-founder and
executive chair
Värde Partners, Minneapolis
EY elevator pitch: Värde Partners is a global alternative investment firm that focuses on unlocking value. The firm generally seeks opportunities in less efficient markets and pursues assets at a discount to their intrinsic or potential value. Investments span corporate and sovereign credit, restructurings, real estate, mortgages, private equity, and direct lending. The firm now has 13 offices worldwide, and it currently manages more than $14 billion in assets.
Revenue: Not provided
Employees: More than 300
Business: Alternative investment firm
Interview with Hicks and Page:
What inspired you to launch Värde Partners?
We met working at Cargill and shared entrepreneurial ambitions to start a firm where we could shape the investing strategies and the culture. We launched Värde 27 years ago in the nascent years of the alternative investment industry, and we believed we could distinguish ourselves by building a platform that could invest across a wide spectrum of asset classes, weathering cycles and markets.
Has your business changed during those 27 years?
Värde has grown from a Midwest startup to a leading global alternative investment firm with offices around the world. We have expanded into new strategies and markets, investing more than $75 billion across 70 countries since inception. But we remain rooted in our credit heritage. At a fundamental level, Värde seeks to create value for our investors. Värde means "value" in Swedish.
What's an example of an under-the-radar opportunity you saw that was particularly successful for your firm and your investors?
A core issue in the 2008 housing crisis was the securitization of low-quality residential mortgage-backed securities with high rating-agency scores. We identified that certain loans in these portfolios were not only more likely to default than the ratings agencies indicated, but many financial institutions had likely breached their reps and warranties as a result. Yet few were reading the disclosures that held underwriters accountable for buying loans back at par, an arrangement called a "putback." Värde was one of the first to recognize the potential opportunity in putback claims.
Any future plans you can share?
The world is experiencing a major credit cycle resulting from the Covid-19 pandemic, and we believe we are well suited to invest through the changing market landscape. We are excited about an increasingly global opportunity set, particularly in Asia, where we have been on the ground for over a decade and opened our most recent office in India.
2020 Winners, Beyond Minnesota
Mike Black
President and CEO
Dent Wizard International
Founded: 1983
Headquarters: Bridgeton, Missouri
Mission: To provide automotive reconditioning services—including paint-less dent removal and minor body repair—across North America.
Major impact: Dent Wizard International employs more than 1,600 technicians and services more than 4,000 customers, including vehicle dealers, auto body shops, and insurance companies. The company is anchored on four core values—excellence, innovation, integrity, and customer devotion. Among the services that Dent Wizard International provides are bumper repair, wheel restoration, interior repair, appraisal, key origination, and duplication. It offers vehicle protection products under the Evolution brand.
---
John Thomson
Founder and CEO
PayIt
Founded: 2011
Headquarters: Kansas City, Missouri
Mission: To provide a digital platform that allows citizens and business owners to easily interact with government on financial transactions.
Major impact: PayIt allows people to access government services from any device. So instead of standing in lines or mailing in payments, residents can use a digital platform to pay their property taxes or renew a driver's license. In 2019, PayIt received about $100 million in funding from a New York-based venture capital firm. PayIt is capitalizing on the market opportunity as government agencies are under increasing pressure to modernize and digitize their processes. John Thomson got the idea to found PayIt after he was standing in line to renew his vehicle registration.