Duluth's Bent Paddle Brewing Moving to New, Larger Taproom Across the Street
They expect to finish 2017 having brewed roughly 17,000 BBLs, or barrels of beer—up from 15,680 BBLs last year.
Bent Paddle Brewing Company is expanding its local presence in Duluth by opening a new, larger tap room across the street from its current location. 
The new digs will include an event space for up to 70 people and a new brewing system for experimental and smaller craft beer batches.
The move follows an industry trend of craft brew companies focusing on their tap rooms as a way to drive local sales and brand recognition, with one well-known local example being Surly Brewing Company's $30 million destination tap room in Minneapolis. 
"Our taproom is meant to be a focal point of our brand. When you visit our new taproom we want you to feel at home — we often refer to it as our 'living room,'" said Pepin Young, Bent Paddle's tap room manager, in a prepared statement. "The space itself will have distinct areas that offer our guests different levels of experience that we hope highlight all those different situations where you may enjoy our beer in everyday life or simply to come in and shake off the trail." 
The brewing company's move caps years of steady growth. Since opening in 2013, Bent Paddle has increased production from approximately 1,500 BBLs, or barrels of beer, to 15,600 BBLs in 2016. They expect to finish 2017 having brewed roughly 17,000 BBLs of beer, up from 15,680 last year.
Those numbers have been bolstered by Bent Paddle's move into new markets in northern and western Wisconsin, according to regional sales manager Brent Rowe. 
Bent Paddle's leading beer is their Bent Hop Golden IPA, which they make twice as much of as any other beer. But their Kanu Session Pale Ale has done well this year, trending behind Bent Hop in most of their markets, Rowe said.   
Opening up their new facility will also allow them to use their current taproom for additional  production pace, Karen Tonnis, Bent Paddle's co-founder, explained.
"Due to the needs of production and the increased customer demand within the current taproom we do not have the ability to physically grow the taproom in the current space. The best solution was to move the taproom to a beautiful new location one block from the brewery," Tonnis said.
Bent Paddle co-founder Laura Mullen added that the new location is reflective of Bent Paddle's commitment to the neighborhood, and to the company's role in the recent revitalization of Duluth's "Craft District". They plan to feature local craft businesses and artists in the design of the space. 
"We are also working with as many other local visual artists and artisans as possible to showcase their artwork as well as hand-crafted canoe paddles," Mullen said.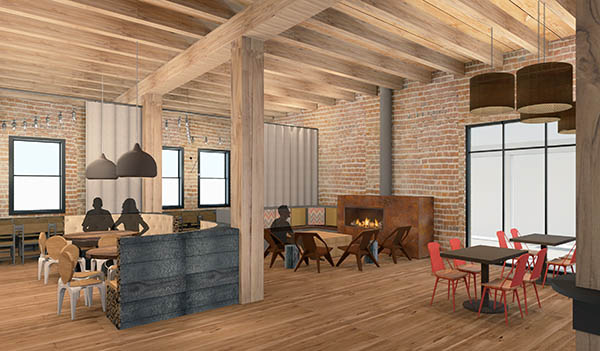 A rendering of the seating area in the new taproom, provided by Bent Paddle Brewing Company.