Hiring With A Global Mindset
Employers are looking for new hires with global mindsets, and Minnesota colleges and universities are finding new ways to teach students about the world.
Global higher education has evolved beyond learning a language or spending time studying abroad. Those traditional opportunities still exist. But today colleges and universities have gone all-in on internationally focused education, helping students build global experience and learning through internships, volunteer work and research.
At any given time during the school year, Minnesota schools pave the way for students to participate in some form of international travel. That might mean doing an internship at a company in Berlin, studying health inequities in South Africa or tracing Hmong family roots in Southeast Asia. Not only do these experiences open students' eyes to the world, they can have lasting effects as graduates embark on their careers.
When students travel internationally, it's mutually beneficial. They get pushed outside their comfort zones and learn from observing the ways other countries operate. Their future employers reap the rewards of graduates' broader perspectives and experience interacting with people from different cultures.
"It is massively important for educational institutions to be concerned with intercultural skills development and helping students be more prepared to work with people from other backgrounds," says Roger Adkins, director of the Center for International and Cultural Education at Gustavus Adolphus College in St. Peter. "It's very important for the state of the world and for students' success in the future. I can't think of a field where people don't need these skills."
Global exposure
employers love hiring people with a global mindset because they see parallel experiences between international travel and work. In both settings, employees need to be flexible, handle situations that make them uncomfortable and learn to communicate effectively with others from different cultures or even business functions, says Dianna Shandy, associate dean of the Institute for Global Citizenship at Macalester College in St. Paul, which has embraced globally focused education for more than 40 years.
"There is nothing like that immersive experience when studying abroad. It's seeing the world from the point of view of someone who lives it, rather than looking in from the outside," says Shandy, an anthropology professor. "Getting embedded in a different country and culture means navigating obstacles and feeling resilient in those experiences. It makes a big impact."
Though roughly 10 percent of college students spend time outside of the United States, that number has been steadily rising in recent years, according to the Institute of International Education. The reasons are multifaceted. Students have grown up in a more globally connected world and want to head out to experience some of it. Plus, schools strive to give their students a multicultural, global mindset, while employers keenly seek new hires who can adapt to different cultures and operate in foreign countries.
Minnesota colleges and universities take varied approaches to providing students with a global outlook. And it doesn't always mean leaving the state or even the country. Students are engaging with the bigger world from domestic soil.
Campus diversity
Developing a global mindset often happens right on campus. Many Minnesota schools have significant populations of international students, who share their cultures and perspectives with American students.
At St. Cloud State University, 1,300 international students hail from 90 different countries, along with many domestic students who come from immigrant families. In addition to hearing their perspectives in class, students have rich options for getting to know people from other cultures and countries. International student organizations host regular culture nights to share their food, music, dance and clothing, says Shahzad Ahmad, interim executive director for international studies and director of multicultural student services.
Many schools also make a pointed effort to integrate global perspectives into their classes. Studying difficult global issues builds on student experiences studying abroad and it opens the world more to students who haven't traveled yet, says Scott Carpenter, a French professor and director of global engagement at Carleton College in Northfield. Next year, Carleton will offer an interdisciplinary course on immigration and refugees spanning history, economics, political science and Middle Eastern or Latin American studies, using texts and discussions to examine historical and current events.
Other colleges and universities tap into the potential of cultural exchange with technology, using Skype or email to communicate with students in other countries. Called globally networked learning, it can happen in a multitude of ways.
Annika Ericksen, assistant professor of anthropology and sociology at Gustavus, directs her students to interview Mongolian students over Skype—and vice versa—to provide opportunities to engage with people from other backgrounds. At Carleton, professors encourage students to use an alum-created nonprofit called Paper Airplanes. It connects students learning Arabic and Turkish with native speakers so each party improves their language skills.
Global requirements
Some schools value global learning and cultural proficiency so much they require students to learn a language or travel abroad. For example, students at Macalester, Carleton, and Gustavus require that students develop proficiency in a foreign language. Carleton also mandates global citizenship courses in both international and domestic cultures. This all combines to open windows to other cultures, histories and challenges around the world.
Building on a long-standing tradition of international study, the University of Minnesota's Carlson School of Management in Minneapolis requires that students have at least one academic global travel experience. This practice started in 2007 when school leaders found that half of its student body already studied abroad. Carlson graduates' significant international experience through travel and exposure to global business issues is an advantage with employers, notes Kirsten Canterbury, director of education abroad at the Carlson Global Institute.
The options vary in length and commitment. Some students do a hybrid program where a Carlson professor teaches a topic for seven weeks, followed by a two-week trip to visit companies, nonprofits and cultural sites abroad. Carlson offers a course called Tracing the Global Supply Chain, where students find a product sold in a local retail store and follow it back through the port of Los Angeles to its origins in Shanghai. They visit the factory where it's manufactured and learn about global supply chain issues.
MBA students also participate in global study, for a full or partial semester. Recognizing that many MBA students work while in school, Carlson offers a hybrid program where students engage in a live consulting project for local multinational companies. They typically work on an international consulting project for companies such as Cargill, 3M or Toro, and then visit the country for on-site analysis and learning about a real-world global business issue.
Students benefit from global exposure regardless of the format or duration, Canterbury says. "They develop a tolerance for ambiguity and the ability to adapt to changing circumstances," she adds. "That is really put to the test in an international setting. Stepping outside of your comfort zone and learning to maneuver and survive in another context is really important."
They also learn how to respond to varied communication styles, audiences and different norms—all experiences and skills that will apply on the job. "They get an understanding of how U.S. culture is perceived by others and an understanding of the way business is done in different parts of the world," Canterbury says. "It impacts the way you approach your work and what it means to need to adapt while communicating with someone from another part of the world."
Work and study abroad
longstanding way of immersion into another culture is to spend time studying in another country or doing an internship overseas. These options have never been more popular for students, and most colleges and universities offer ways to send them to a huge swath of the world.
Carlson connects students with internships in places like Singapore and Hong Kong, pairing experiential learning with coursework to add deeper context. Carleton students identify their areas of interest and language abilities, and the college lines them up with internships such as working in a French biology lab or curating at a museum.
Gustavus works with CIEE, a Maine-based organization that pairs academics with internships at global companies around the world. These immersive experiences open a window onto other countries' work cultures while giving the students hands-on experience, Adkins says.
Study abroad isn't exclusive to four-year degree-seekers. Students at Normandale Community College in Bloomington have long participated in international travel programs through the college, which regularly embeds cultural learning in its courses, says Jen Bouchard, a French faculty member. Recent offerings include studying global health issues in the Dominican Republic or Icelandic literature in Iceland.  
Study Abroad Host Regions When American college students leave home to study in foreign countries, a majority of them choose programs in Europe. The most popular choices are in Italy, Spain, France and the United Kingdom. The figures below are for the 2014-15 school year, the most recent available data.
Such opportunities will expand to more Normandale students thanks to a recent grant that's funding its Accessible Global Immersion Learning Experiences (AGILE) program. Students may earn an international experience certificate for coursework in language, culture and intercultural communication, with a capstone trip to Senegal, Peru or China. The AGILE program aims to raise the percentage of community college students who study abroad above 3 percent.
There are so many benefits to educational travel, Bouchard says. "I hope students gain a sense of self-awareness and an understanding that diversity is a strength. If we're going to continue to be innovative in the business communities of Minneapolis–St. Paul, we have to have the skills to all work together to come up with creative solutions to problems."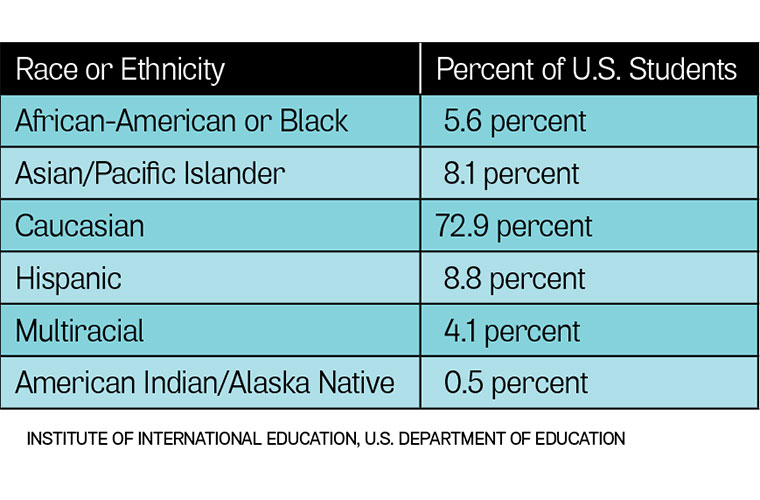 Profile of U.S. Global Students More than 300,000 U.S. students typically study abroad during a given academic year. For the 2014-15 academic year, here is the racial and ethnic breakout.
St. Cloud State also has a wealth of study abroad programs, taking students to places like Dubai, Ghana, South Korea, Chile and Croatia. In addition, it offers a unique program for freshmen, who may spend their second semester abroad in Australia, South Africa, Malaysia or England. The university started targeting freshmen about 10 years ago because they have more flexibility with their course loads. Its research found that freshmen who study abroad have higher GPAs and better retention rates, Ahmad says.
"By traveling they learn more about a region, its history, culture and politics than they could in the classroom," he adds. "This accelerates their learning and helps them decide what they want to do with their lives. These students finished their first year already exposed to a bigger world. They understand what competition, skill sets and opportunities exist, and their own personal goals become different."
Often, global components in a college education help graduates stand out. Shandy sees it happen all the time, including when one Macalester graduate beat out a field of 1,300 candidates for a nonprofit job because she speaks French, studied in Cameroon and did summer research in Switzerland.
With about one-third of Americans holding passports, companies and organizations highly value employees who understand global business, diversity and intercultural communications. Colleges and universities work to help students secure those skills by offering robust choices for language study, travel abroad and opportunities to get to know people from other countries and cultures.
---
Suzy Frisch is a Twin Cities-based writer and editor.