Gail Cederberg
Principal engineer and senior client manager of environmental services, American Engineering Testing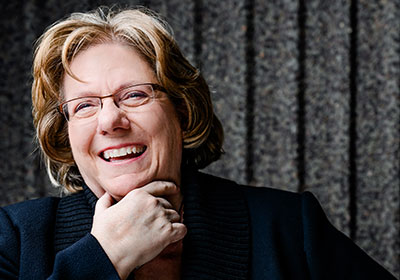 American Engineering Testing
Employees: More than 400 (employee-owned)
Revenue: $40 million (2013)
Locations: Sixteen offices throughout the Upper Midwest
Milestones
Career
1984 Team lead and senior hydrogeologist, proposed Yucca Mountain high-level nuclear waste repository at Los Alamos National Laboratory
1985 Ph.D. civil, environmental and water resources engineering, Stanford University
1988 Engineering and remediation manager for Virginia-based ENVIRON Corp.
1993 Principal engineer, operations manager and founder of Virginia-based GeoTrans' New Jersey office
1997 Senior compliance and remediation engineer at Oakdale-based Imation.
2003 Director, environmental, health and safety, Imation
2008 Policy fellowship, University of Minnesota Humphrey School of Public Affairs
2010 Principal engineer and senior client manager, AET; becomes AET's program manager for St. Paul's Central Corridor brownfield assessment project
Nonprofit board service
2010-present: Midway Chamber of Commerce, St. Paul (co-chair of the economic development committee; twice co-chair of annual economic development summit)
2013-present: Carleton College Alumni Council
Both in her work and in her outside activities, Gail Cederberg has sought to provide a better environment for people.
As principal engineer of environmental services at American Engineering Testing (AET) in St. Paul, she plays three major roles—managing client relations, building business for AET's nearly $5 million environmental compliance division and developing the company's offerings in environmental compliance.
Cederberg has been eager to share her professional success by helping others achieve their dreams. A graduate of Carleton College in Northfield, she serves as an alumni admissions representative, reaching out to prospective students and their parents. Often, Cederberg's work as an alumni representative goes beyond simply touting her alma mater's classes and culture.
A few years ago, for instance, she met a young woman who had come to Minnesota from Ethiopia. Cederberg met with the woman and her parents to go through the application and financial aid processes and forms, working with Carleton staff to obtain the information they needed. This June, that young woman will be graduating with an economics degree.
It's not only Carleton students Cederberg has helped. She's "one of the best mentors for the women in our office," says AET co-founder and CEO Terry Swor of Cederberg, who joined AET in 2010. "She's very approachable and can explain things very well," Swor adds.
Outside the office, Cederberg has put her talents to work as a board member of St. Paul's Midway Chamber of Commerce, where she builds and maintains connections between businesses, residents, nonprofits and public agencies stretching from the State Capitol to the University of Minnesota "Gail listens and brings other people into the discussion, and she brings a pragmatic viewpoint on things," says state Sen. John Hoffman, also a Midway Chamber board member. It's an approach Cederberg has taken throughout her career, and one she instills in others. "I like to take the theory I've learned and continue to learn and work toward solving practical problems," she says. "I love to share and make it our work, not just my work, and to mentor people to grow into their jobs."
First experience as a leader: "Teaching the most fearful students to swim at Carleton, who needed to pass the graduation requirement. I turned it into a team project, and the whole team celebrated each small success."
Hardest lesson: "Two years into my Ph.D., my advisor decided he didn't want to have students anymore. I found a new faculty member advisor and it added two years to my Ph.D., but giving up was never an option."
Greatest current challenge: "Trying to find balance. I put my time into things I'm passionate about, that I believe in, that I enjoy doing, and with people I enjoy being around. I've learned to say no."
Best mentor: "My doctoral advisor told me, 'It doesn't matter what you want to do in the future. What matters is today. Can you say that you've done your best work today?' "
Best habit: "Lifelong learning. What I learn helps me take theory and ideas and turn them into practical solutions for clients or myself or my family."
Worst habit: "Asking too many questions. Sometimes people feel I'm judging or quizzing them, but it's strictly because I want to learn."